On the weekend when CoLA clinched the D1W regular season title, FocusHoops' Darren Paul was spoiled for choice for his weekly awards.
As a writer, commentator, podcaster and more, Darren had 10 games to sift through, including a pair of wins for Pride to seal top spot, as he picked out his Player and Team of the Week.
Have your say on this week's choices and give a shout-out to the players you think deserve one using the hashtag #NBL2122. Don't forget to tag us!    
Twitter: @NBLengland / @FocusHoops  
Facebook: @NBLengland  / @FocusHoops  
Instagram: @nblengland / @focushoops  
How it works  
Darren will pick a Player of the Week and four other selections to round out his Team of the Week, paying attention to the following criteria:
Efficiency 

 

Stats 

 

Team and opposition strength 

 

Periods of influence in the game 

Being on a winning team (exceptional performances from players on losing teams will be considered for TOTW)
Other players will also receive a shout out as honourable mentions at the bottom of the piece.
The FocusHoops team of the week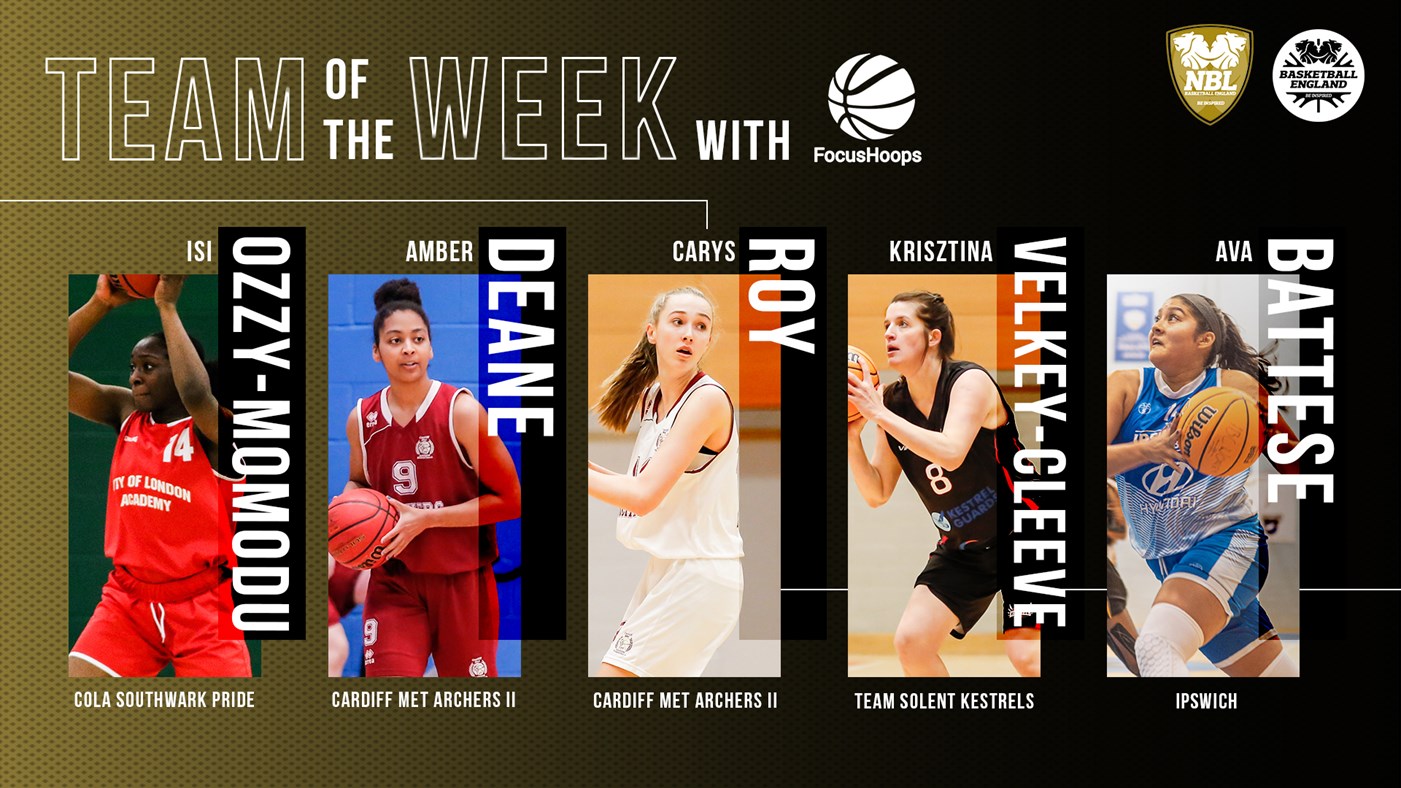 PLAYER OF THE WEEK
Isi Ozzy-Momodu - CoLA Southwark Pride, forward
17pts, 15reb, 4blk, 24eff @BRI
17pts, 16reb, 2ast, 2stl, 2blk, 28eff @TVC
In yet another hugely competitive week, Isi Ozzy-Momodu's pair of championship-clinching performances sealed her Player of the Week honours as CoLA Southwark Pride took down Bristol Flyers and Thames Valley Cavaliers.
In the decisive victory over TVC, Ozzy-Momodu finished with a 17 point, 16 rebound double-double, including 63% scoring in 26 minutes of action.
Ozzy-Momodu took down the boards on both ends, finishing with an impressive six on offence, giving her side second chance opportunities (16 points scored).
The Player of the Year candidate was also a standout defensively, finishing with two steals and two blocks whilst only conceding two fouls and being fouled six times herself.
Amber Deane - Cardiff Met Archers II, forward
22pts, 7reb, 9ast, 12stl, 42eff @REA
30pts, 20reb, 3ast, 4stl v WOR
Amber Deane had a weekend for the ages as she has done on multiple occasions this season. 
The American combined for 52 points, 27 rebounds, 12 assists, 16 steals in wins over Reading and Worcester, clinching Cardiff a playoff berth in just their second season of D1 play.
Deane excelled in both fixtures this weekend, with the only negative that she fouled out just one assist shy of a remarkable triple-double bid on Saturday.
The Cardiff forward scored efficiently, hitting over 50% from the floor in both matchups as the American demonstrated her unquestionable value to Cardiff.
Deane also enjoyed 17 points, 11 rebounds and seven assists in last night's 83-69 road win against Worcester, showing that she and the Archers will be a tough matchup for anyone come the post season.
Krisztina Velkey-Cleeve - Team Solent Kestrels, guard
16pts, 11reb, 4ast, 5stl, 26eff
Krisztina Velkey-Cleeve, what more can be said about the Solent guard? One of the most dangerous players in the league put in another fine performance in the Kestrels' crucial 78-66 win over Thames Valley.
Velkey-Cleeve finished the match up with 16 points on 40% shooting, including 1-1 from outside, 11 boards and five steals.
The Hungarian also dished two dimes as Solent clinched their place in the playoffs and will look to improve their seeding in the coming weeks.
Ava Battese - Ipswich, guard
13pts, 11reb, 2Ast, 4STL, 19eff @WOR
26pts, 6reb, 2Ast, 5STL, 30eff @REA
Ava Battese has week in, week out proven her value to Ipswich with performances that do a little bit of everything, built on a foundation of efficient scoring.
Battese finished with 26 points on 64% shooting from the field on Sunday in the 86-60 win over Reading, including going an excellent 5-9 from three-point range, a result that will strengthen their push for a top four finish.
Battese added to her scoring performance with six rebounds and two assists whilst also being a menace to the Rockets on defence, picking off five passes.
Add that to a useful double-double on Saturday against Worcester and Battese will be a major figure for Ipswich as they mount a bid to retain their playoff crown.
Carys Roy - Cardiff Met Archers II, forward
28Pts, 19reb, 2ast, 1BLK, 36eff @REA
23pts, 10REB, 3AST v WOR
Carys Roy put in another great performance in Cardiff's 84-61 win over Reading as her Archers side clinched their playoff berth this weekend with a pair of wins.
Roy played the full 40 minutes and finished with 28 points on 50% inside scoring and pulled down 19 boards, 8 of which were on the offensive glass, in another tremendous display from the Welsh wonder.
Roy also shone against Worcester 24 hours later, recording a 23-10-3 double-double as Cardiff completed a perfect weekend which sets them up well for the rest of the regular season and beyond.
Team Basketball
CoLA CLINCH the title in style
CoLA Southwark Pride clinched the D1W regular season crown thanks to a pair of wins this past weekend, including a hard earned 63-47 W over high-flying Thames Valley Cavaliers.
CoLA were led in their wins over Bristol and Thames Valley by Isi Ozzy-Momodu, who has been a standout for the London outfit for the past two seasons.
Emilie Black also came up with a huge 16 point contribution against the Flyers and Molly Lavin finished with a double-double effort in the deciding win over TVC.
CoLA will now turn their attention to closing out the regular season in the same manner they have played their first 20 games of the year before looking to avenge their playoff final defeat from a year ago.
Cardiff are playoff bound after two-win weekend
Cardiff Met Archers II have clinched their first ever D1W playoff berth in just their second season of top flight action thanks to two strong wins built on the foundation of dominance from Amber Deane and Carys Roy.
Cardiff took down Worcester, with whom they were promoted alongside two seasons ago, and 2019 playoff finalists Reading this weekend, with two free scoring performances.
The highlight for Cardiff was arguably how they closed the win over Reading on the road, in front of the NBL Live cameras no less, as they took down the Rockets 27-9 over the final 10 minutes.
Cardiff will be looking for a strong finish to their regular season before heading into the playoffs for the first time.
Honourable mentions
Cameron Taylor-Willis (IPS) - 23P/9R/5A/3S/29EFF @WOR
Katrin Hulme (ARU) - 17P/14R/2A/27EFF @NTU
Saffie Jarju (TSK) - 6P/15R/3A/2B/20EFF
.