The Dynamik National Schools Finals took place in Manchester with 
seven champions crowned at the National Basketball Performance Centre.
St Bonaventure's School, Bristol Metropolitan Academy, St Aloysius College, Holy Trinity Storm, Becket Keys C of E School, County Upper School and John Madejski Academy came away as winners after a day of hard-fought action.
Results, live stats and recap of each final are below with a picture gallery at the foot of this article.
Results and live stats
.
St Bonaventure's claimed the first win of the day as they beat Helsby High School 97-58.
A 27-8 opening quarter put the London school in control, eventually leading the final from tip to buzzer.
The game's MVP award would be a tough one to pick through three quarters before one player streaked ahead late to put his name on the trophy.
Emilis Zibuda (30pts, 6reb, 8ast, 4stl) got the job done for his team, including 16 points in the fourth quarter alone, with David Banjoko (17pts, 10reb), Danylo Martyniuk (13pts, 11reb) and Daniel Banjoko (12pts, 10reb) all collecting double-doubles.
Helsby were  competitive for large periods of the game, only coming unstuck due to a slow start and a tough fourth quarter chasing from behind.
The North West side were led by captain Sean Graham (20pts, 9reb, 5ast), whilst Rafi Pierre-Louis and Alex MacNab scored 14 apiece.
.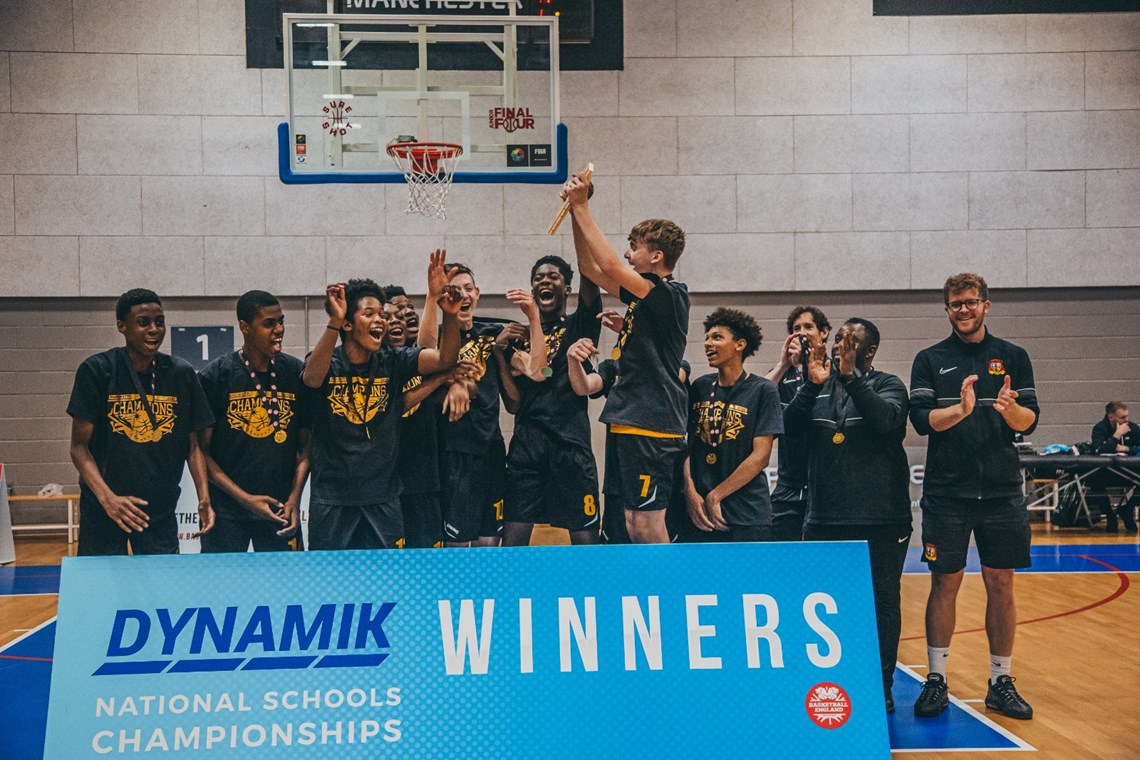 .
Bristol Met closed their U14 Girls season with a championship as they beat Trinity High School 74-46.
Leading 20-10 after the first quarter and taking a 34-24 advantage into the half time break, Bristol would keep their opponents at arm's length the rest of the way to seal the W.
Trinity tried to reduce the lead and played hard to begin the third, but the longer the final wore on, the more coach Wallace's team would be able to stretch their advantage.
The game's MVP award was a close run thing, with two Bristol players putting on a show. Captain Kamilah Yakubu would eventually do just enough to take it, closing with a 34 point, 12 rebound double-double to go with three assists and five steals.
Team mate Angel Whyte certainly played her part, chipping in a massive 28 point, 16 rebound double-double to go with seven steals.
Irene Oboavwoduo did all she could to keep Trinity in contention, finishing with 34 of her team's 46  points, adding 13 rebounds and three blocks.
.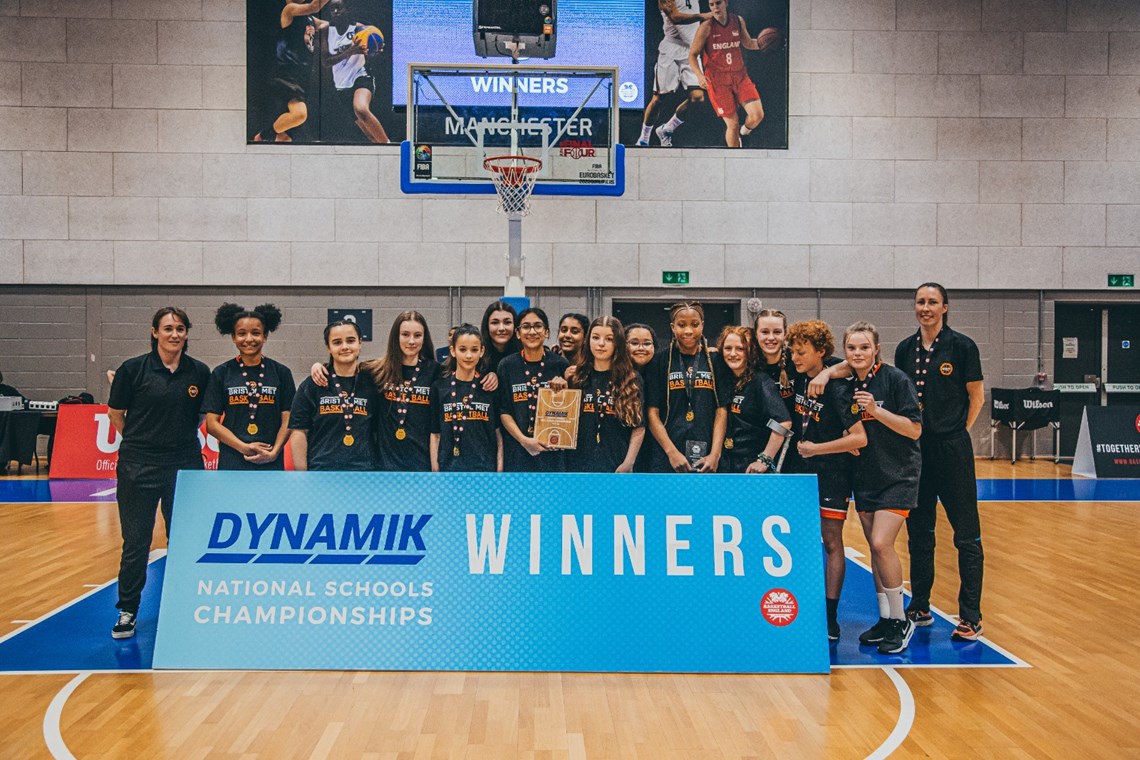 .
In a final that neither team deserved to lose, St Aloysius College narrowly edged past Myerscough College 79-75.
As hard-fought as it was entertaining, neither side could gain a foothold in the contest and only twice would the lead go past four points for either team.
The London side moved ahead when it mattered most though, going in front 70-62 with 2:53 remaining before surviving a late Myerscough fightback to ice the game from the line.
MVP honours could have gone to more than one candidate, but it was captain Manie Joses who would hear his name called for the part he played in the win. He had 17 points and 12 rebounds for the double-double, whilst Berkay Sahin (21pts), Remy Udeh (18pts, 10reb) and Tyresse Poku-Mensah (12pts, 5reb, 5ast) all contributed.
Myerscough's top scorer was Lewis Smith on 19 points, with Kamarni Steadman (16pts) and Taylor Campbell (15pts) rounding out the top three scorers.
.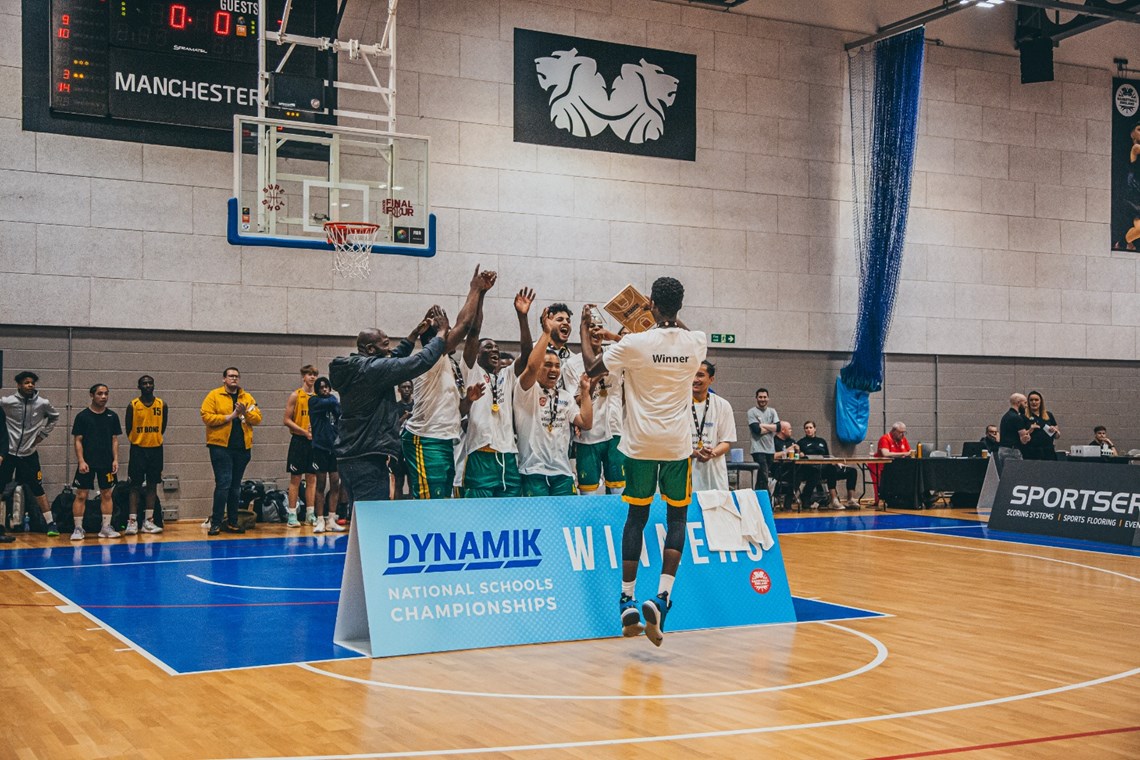 .
It took a period of overtime but Holy Trinity School were eventually crowned U16 Girls champions after a 48-42 win against Trinity High School.
HTS had led by as many as eight points for periods of the second half, but both teams would take a chance to move ahead in the closing minutes before settling for an extra period.
Storm enjoyed a 6-0 run in OT that would eventually set up the win, taking the frame 8-2 and with it, the title.
Aisha Bass-Mekere was selected as the game's MVP, finishing with 16 points, four rebounds, three assists and two steals. Megan Verbeeten (12pts, 8reb) and Success Osemwegie (8pts, 8reb) also played well in the win.
Isobel Robinson (20pts, 16reb) and Irene Oboavwoduo (13pts, 13reb) both tried to will Trinity over the line, but it wasn't to be as the North West school suffered their second loss of the day.
.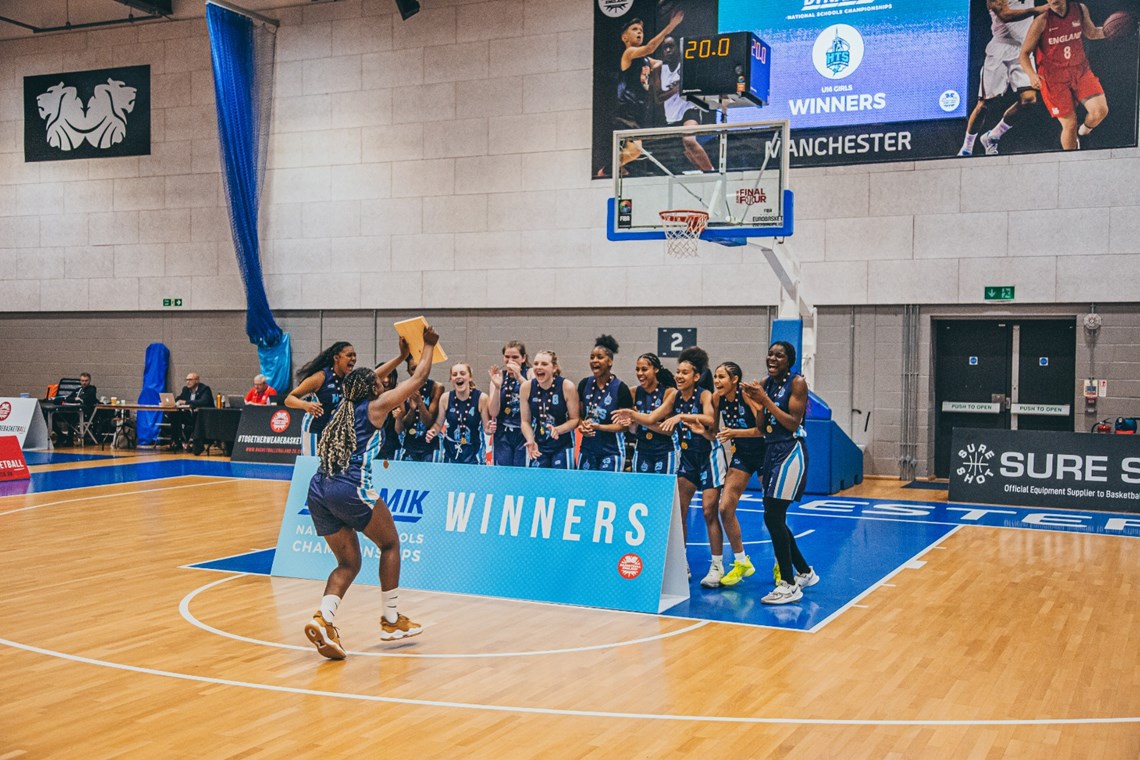 .
In one of the games of the day, Becket Keys beat St Bonaventure's 78-76 to take the U16 Co-Ed title.
The biggest lead for either team in the entire fourth quarter was just four points, building the tension at the National Basketball Performance Centre with every basket.
A Melchi Egbeyemi jumper with 64 seconds left would put Becket up 77-76 before the Brentwood programme sealing the game from the foul line as St Bon's offence went cold at the worst time possible.
Egbeyemi's late basket would factor into his MVP award, though he also played a quality game throughout to drop 40 points to go with six rebounds, five steals and three assists.
St Bon's were paced by 22 points from Domas Vazgys and 19 more from Ajani Rowe-Fuller.
.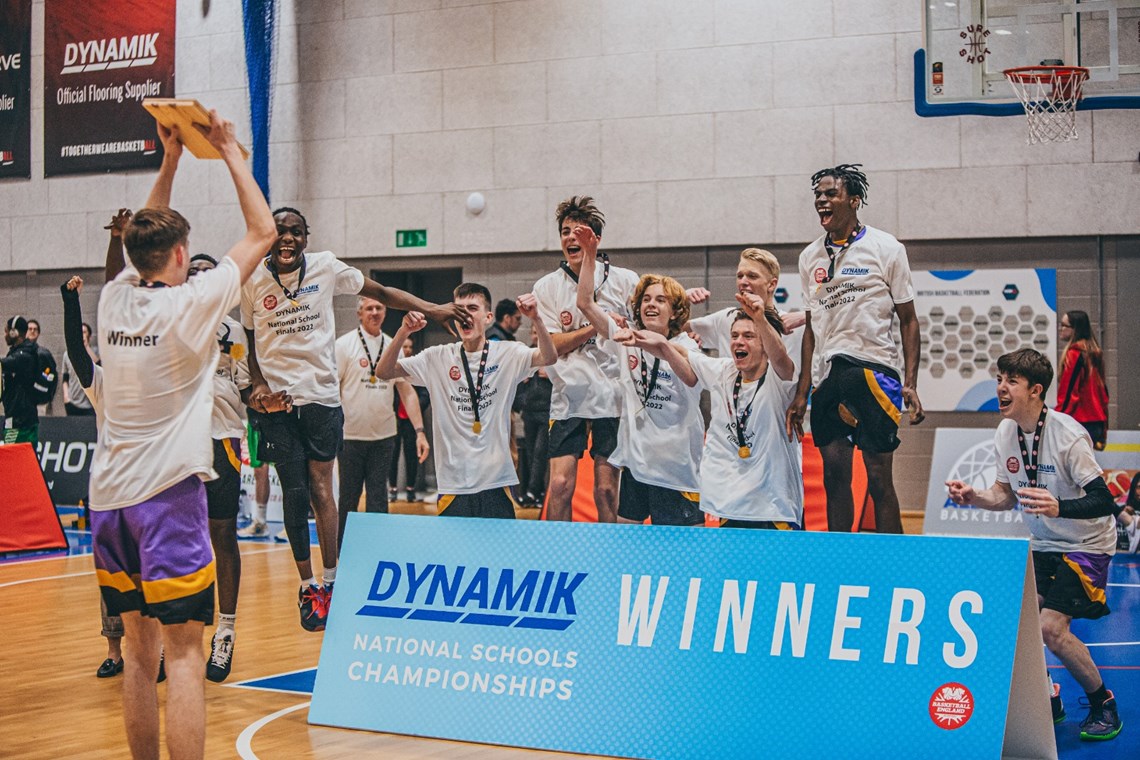 .
County Upper outclassed Holy Trinity to win 90-37, taking the U19 Women's title in the process.
Claiming the opening frame 16-8, the Suffolk programme began to put the game beyond doubt with a 31-11 second quarter.
Enjoying a 47-19 half time lead, the deficit was too much for HTS to erase as the majority of their roster began to tire after also featuring in the U16 Girls final beforehand.
Talented forward Lizzy Sanders' double-double of 29 points and 12 rebounds was enough to seal the MVP nod for County Upper, with team mates Alex Popova (17pts, 11reb) and Grace Spooner (19pts, 11reb, 8ast, 7stl) both contributing to the one-sided score line.
Megan Verbeeten top scored for coach Blake's team, she had 10 points and five boards as the only Storm player to reach double digits.
.
John Madejski Academy won the last final of the day, seeing off Myerscough College 51-45.
Myerscough led 27-22 at the half but came unstuck after the break, recording just 18 second-half points as JMA stormed to a famous victory.
Rhys Grocott recorded a 14-point, 10-rebound double-double off the bench to nab the MVP award, with Sean Treacy contributing a game-high 16 points to go with 10 boards.
Myerscough's offence was led by Ben Prince, the only scorer to double-digits as he dropped 15 points whilst pulling down 18 boards.
.