FocusHoops' Darren Paul is back to have his say on the Team and Player of the Week candidates from last weekend's D1W action.
As a writer, commentator, podcaster and more, Darren gives his expert view on another great selection of games, with no shortage of potential choices.
Have your say on this week's choices and give a shout-out to the players you think deserve one using the hashtag #NBL2223. Don't forget to tag us!    
Twitter: @NBLengland / @FocusHoops  
Facebook: @NBLengland  / @FocusHoops  
Instagram: @nblengland / @focushoops  
How it works  
Darren will pick a Player of the Week and four other selections to round out his Team of the Week, paying attention to the following criteria:
Efficiency  
Stats  
Team and opposition strength  
Periods of influence in the game 
Being on a winning team (exceptional performances from players on losing teams will be considered for TOTW)
Other players will also receive a shout out as honourable mentions at the bottom of the piece.
The FocusHoops Team of the Week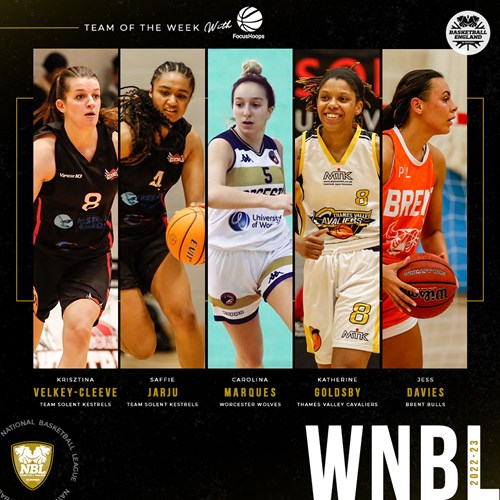 Player of the week
Krisztina Velkey-Cleeve - Team Solent Kestrels, guard
28PTS, 12REB, 3AST, 2STL, 38EFF 
Krisztina Velkey-Cleeve continues her magnificent run of form as she claims my Player of the Week honours thanks to a 28-point, 12-rebound, double-double on the road against Ipswich.
In Solent's 25-point victory, Velkey-Cleeve shot efficiently, hitting 68% of her shots, including sinking 5-6 from outside and going 6-10 from two-point range in what was an excellent performance.
She coupled her scoring with solid work on the defensive glass where she took down nine rebounds, as well as tacking on three assists and two steals. It was another well-rounded performance from the Solent skipper as the second-placed outfit continue to pressure CoLA at the top of the table.
Saffie Jarju - Team Solent Kestrels, guard 
12PTS, 25REB, 2AST, 34EFF 
Saffie Jarju (pictured below, red kit) had the rebounding performance of her life this weekend as she helped her Kestrels take down Ipswich.
Jarju pulled down a career-high 25 rebounds, with a staggering 17 of them coming on the offensive end of the floor. Her work on the glass was certainly a contributory factor as Solent more than doubled Ipswich's second chance points and took 36 more shots from inside the arc than the hosts.
The Solent standout scored 12 points for a deserved double-double, made two assists and finished with five steals in an excellent performance that helps her side remain in the top two of the table as the season nears the half way stage.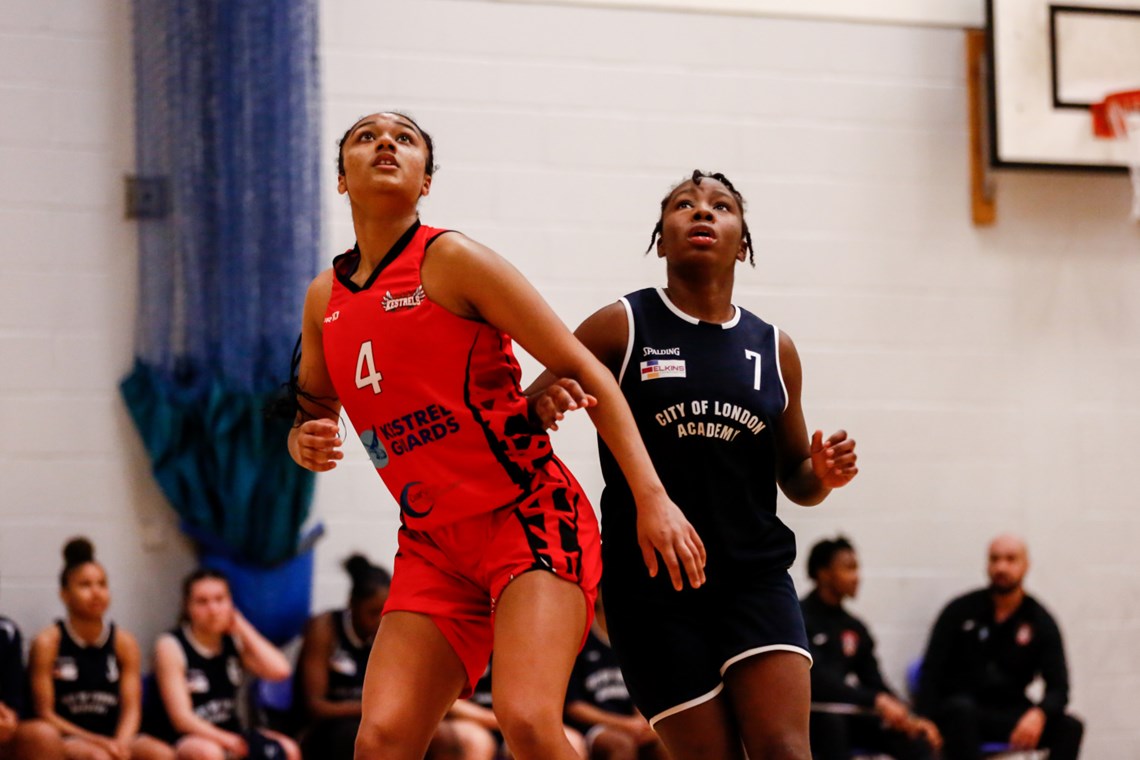 Carolina Marques - Worcester Wolves, guard
23PTS, 3REB, 5AST, 27EFF

 
Carolina Marques's 23 points helped Worcester Wolves side take down the London Lions II at home, picking up their second win of the season in the process.
Marques bagged her points on 58% shooting, including hitting four triples, and went a perfect 5-5 from the charity stripe.
The Wolves star was also a constant thorn in the side of the Lions as she drew eight fouls in her 40 minutes of action.
Marques bagged five points in the final period as the Wolves survived a tough fight back from the visitors, also pulling down three boards, dished five assists and swiped two steals in a performance that had a bit of everything.
Kat Goldsby - Thames Valley Cavaliers, guard 
28PTS, 8REB, 6AST, 30EFF 
Kat Goldsby shoiwed she is a captain that leads by example as TVC took down the Loughborough Riders on the road.
Goldsby finished with 28 points, shooting at 50% that including sinking four triples and going 4-5 at the stripe in a fine shooting performance that helped TVC come away with the 12 point victory.
Goldsby put in great work on the glass, pulling down seven defensive boards and dished a team-high six assists as the TVC leader demonstrated her all-round ability in a well rounded display that also saw her swipe three steals and send a shot back.
Jess Davies - Brent Bulls, forward
11PTS, 17REB, 4AST, 25EFF 
Jess Davies (pictured below) dominated the boards for her Brent Bulls side as they took down the winless Bristol Flyers at home to finish the round in third position.
Davies finished with an excellent six offensive boards for Brent as they outscored Bristol 21-3 on second-chance points.
The former Loughborough product also bagged a double-double with 11 points on 40% shooting and went 5-6 from the stripe in a sound scoring performance.
Davies did a little bit of everything as she dished four dimes to go along with her single steal and block as Brent return to winning ways.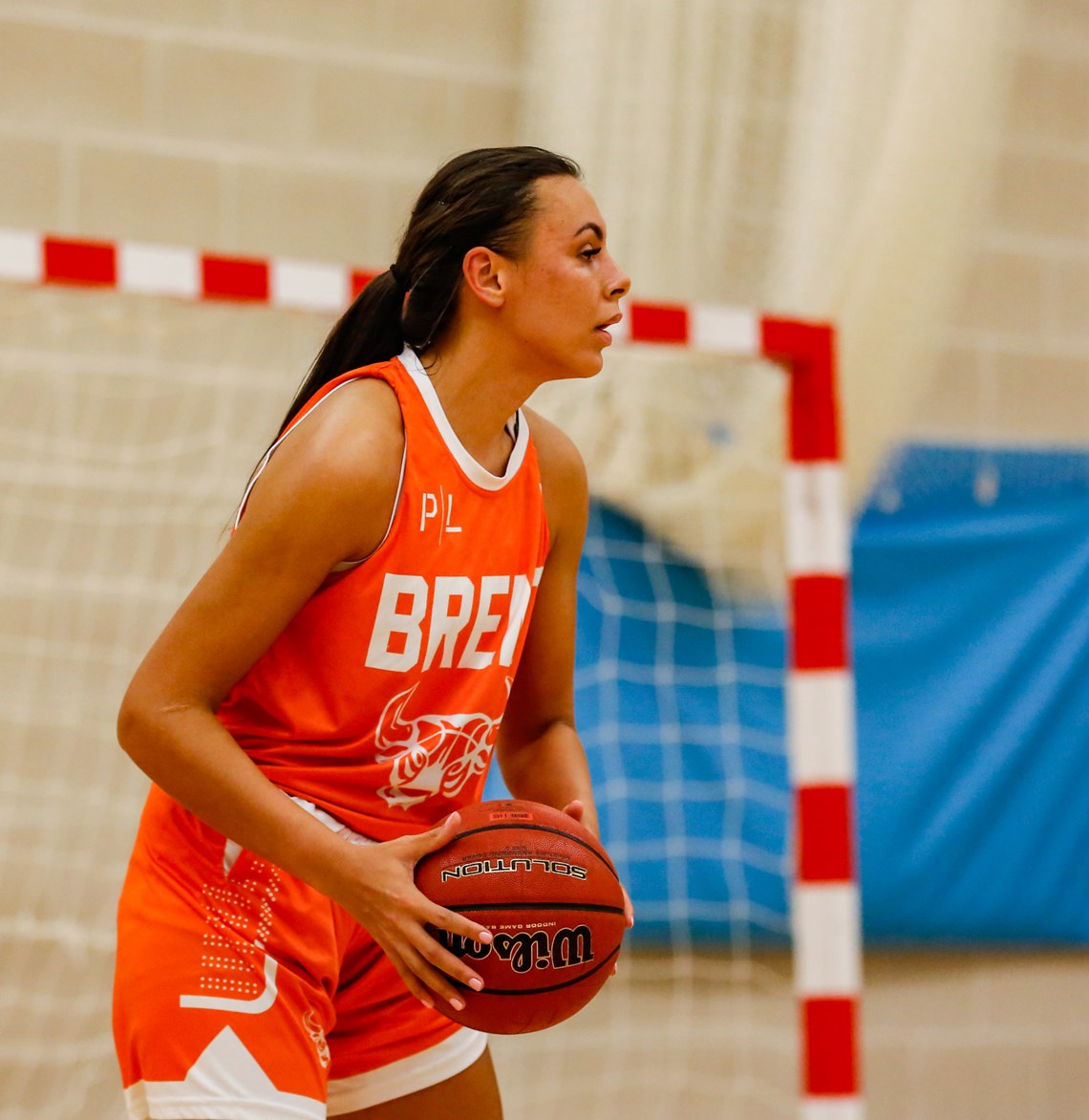 Team basketball 
CoLA edge past Reading to stay top
CoLA Southwark Pride retained the top spot as they edged past the Reading Rockets in a tight, low-scoring contest that demonstrates the progress Reading have made, but also the strength of CoLA despite many of their key players moving on in the summer.
CoLA were led in scoring by Ebere Egbirika and Blanche Toualeu, who both finished with 15 points, whilst Reading were led by a 9-8 performance from Lindsey Cleary.
Reading, consigned to just their second loss of the season, remain in the top five at the end of the round and can be proud of the strides they have made in this campaign based on the relegation troubles of a year ago.
TVC make a statement in loughborough
TVC took down the Riders on the road in a 12-point win thanks to a huge third period that tipped the tie in their favour.
Winning the frame 26-14, the advantage also allowed the Cavs to fend off a late fight back from the hosts down the stretch.
TVC were led in scoring by 26 points from Kat Goldsby and 14 points from former Rider Robyn Aigne, whilst Helene Trailin did her work on the glass to pull down 11 boards and seal a double-double.
Loughborough, as always, were led by the indomitable Alia El Shabrawy, who bagged 21 points and six assists with Sasha Lecuyer also grabbing 13 points in a defeat that sees the Midlands outfit firmly mid table with a 5-4 record.
TVC improved to 6-2 and remain in the top three after their fine start to the campaign.
Honourable mentions 
Blanche Toualeu (CoLA) - 15P/11R/1A/18EFF 
Helene Trailin (TVC) - 10P/11R/21EFF 
Megan Dorney (TSK) - 21P/11R/4A/23EFF 
.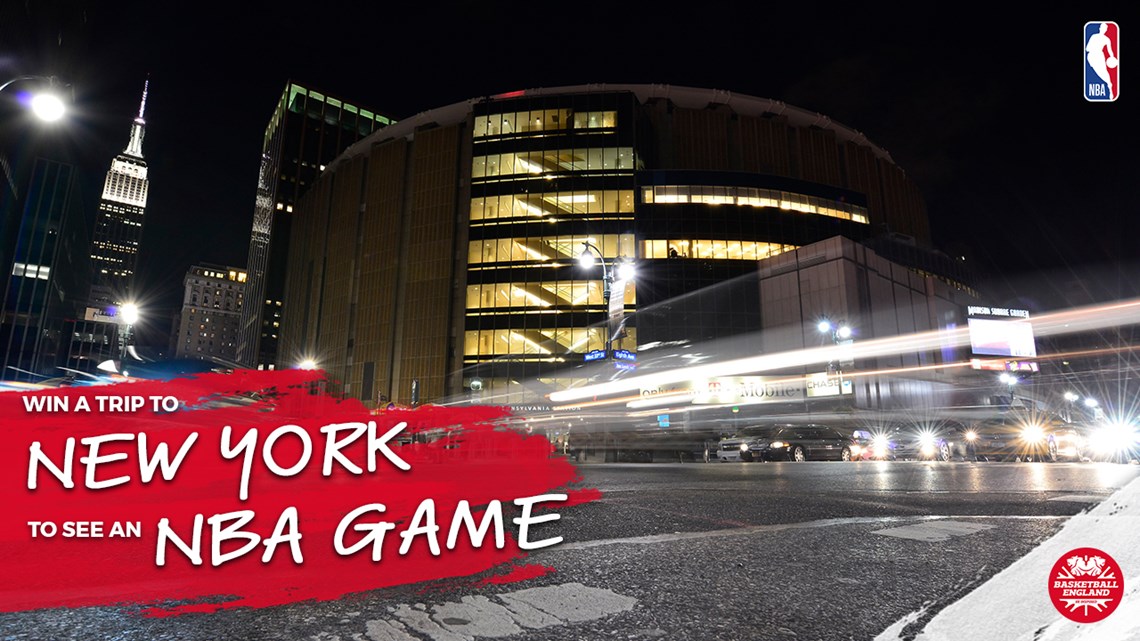 Join Basketball England for free and win a trip to New York City, courtesy of the NBA.
Whether you have a Supporter Account as a fan, follower, enthusiast or advocate, or a Full Account and have paid for a licence to play, coach or officiate in competition, you can enter our prize draw.
Basketball has the power to change lives. Our #GameTime campaign aims to raise awareness of the positive impact that basketball can have on people no matter who they are or where they are from.
.
.
Main image credits: Luke Simcock
Graphic images: Luke Simcock, Loughborough Basketball