FocusHoops' Darren Paul is back for a new season, picking his Player and Team of the Week from this weekend's openers in the WNBL.
As a writer, commentator, podcaster and more, Darren had five interesting games to keep tabs on, including road wins for Loughborough, Ipswich and CoLA.
Have your say on this week's choices and give a shout-out to the players you think deserve one using the hashtag #NBL2223. Don't forget to tag us!    
Twitter: @NBLengland / @FocusHoops  
Facebook: @NBLengland  / @FocusHoops  
Instagram: @nblengland / @focushoops  
How it works  
Darren will pick a Player of the Week and four other selections to round out his Team of the Week, paying attention to the following criteria:
Efficiency 

 

Stats 

 

Team and opposition strength 

 

Periods of influence in the game 

Being on a winning team (exceptional performances from players on losing teams will be considered for TOTW)
Other players will also receive a shout out as honourable mentions at the bottom of the piece.
The FocusHoops team of the week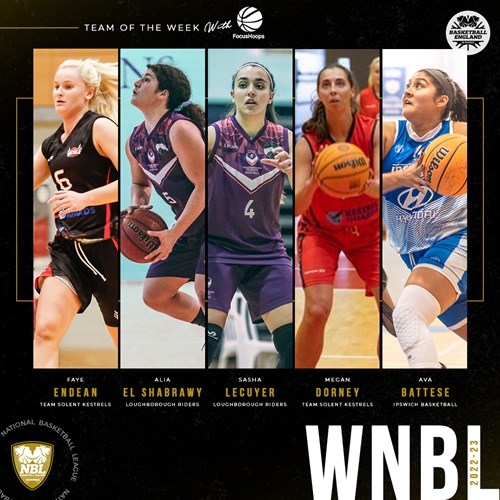 PLAYER OF THE WEEK
Faye Endean - Team Solent Kestrels, guard
27pts, 3reb, 6ast, 26eff
Faye Endean got her 2022/23 campaign off with a bang via a fabulously efficient outing at home to Thames Valley Cavaliers. The young star put up a 27-point game off the back of 81% shooting from inside and going 9-13 from the charity stripe.
Couple that with a bit of rebounding, six assists, two steals and a block and it spelt victory for Endean and her Solent outfit, looking to go one better this season after a positive 2021/22 campaign that saw the South coast side defeated in the Playoff Final.
Alia El Shabrawy - Loughborough Riders, guard
13pts, 15reb, 8ast, 25eff
El Shabrawy spent much of the summer rehabbing a knee injury she picked up at the end of last season but upon her return, she hasn't missed a step.
The Loughborough guard is pound for pound one of the top rebounders in the WNBL and finished the Riders' victory over Bristol with a 13 points 15 boards double-double, just two assists shy of an opening day triple-double.
El Shabrawy was a menace in the passing lines, picking off five passes to end with a game-high in steals in an all-around display from the tenacious guard that helped carry her side to a commanding victory.
Sasha Lecuyer - Loughborough Riders, guard
11pts, 12reb, 17eff
Loughborough got off to a winning start this weekend and Sasha Lecuyer's 11 points, 12 rebounds double-double was a huge factor in the victory.
Alongside the exploits of El Shabrawy, mentioned above, Lecuyer's efficient shooting performance inside the arc was supported by five offensive and seven defensive boards from the Maltese Guard, making for a solid one-two combo that carried the Midlands side to the win.
Megan Dorney - Team Solent Kestrels, forward
14pts, 8reb, 3ast, 22eff
This weekend included a fine debut for Team Solent Kestrel's American forward Megan Dorney as she helped her side to a 72-40 victory over TVC on Saturday. Dorney finished the contest with the second highest efficiency in the contest after netting 14 points, pulling down eight boards and dishing three assists.
Dorney, who joins with a reputation as a top-class defender, finished with a game-high three steals and ended with just a single personal foul in a great outing.
Ava Battese - Ipswich, guard
20pts, reb, 1ast, 16eff
Ava Battese was one of the leading scorers in Ipswich's 71-65 win against Cardiff, netting five triples whilst going five of six from the stripe in the hard-fought road win.
Battese complemented her outside scoring with eight boards, including three offensive plus one assist. Battese did a great job of retaining possession, not committing a single turnover and being tabbed with just a single foul in her 30 minutes of time on the floor.
Team Basketball
Team Solent Kestrels stun Cavaliers
Team Solent Kestrels got the Merrill era off to a winning start thanks to a commanding 32-point victory over Thames Valley Cavaliers on Saturday afternoon. 
New coach Jerry Merrill will be delighted with the start his side made, rushing out to an 8-2 lead in the opening period that would leave them in a commanding position throughout the rest of the contest.
Led in scoring by Endean, the leader Kristzi Velkey-Cleeve and the newcomer Dorney, victory never looked in doubt for the Southampton outfit.
Ipswich outlast Cardiff on the road
Ipswich and Cardiff had arguably the game of the round and it was the English visitors that came out on top 71-65.
The win was built on a great opening quarter from Nick Drane's side as Ipswich was led in scoring by Ava Battese and Saruna Gudza and a strong debut appearance by Louisa Gibbins. That trio certainly helped the Suffolk side overcome the impressive scoring and double-double outings from Cardiff's Sol Lemoigne and Issy Bunyan.
Despite a late comeback and Gibbins fouling out, Ipswich did enough to hold out and take a win over the spirited South Walians thanks, in part,  to a great start in the fourth quarter.
Honourable mentions
Louisa Gibbins (IPS) - 8P/7R/2A/17EFF
Sol Lemoigne (CAR) - 25P/15R/23EFF
Issy Bunyan (CAR) - 19P/16R/2A/31EFF
.
.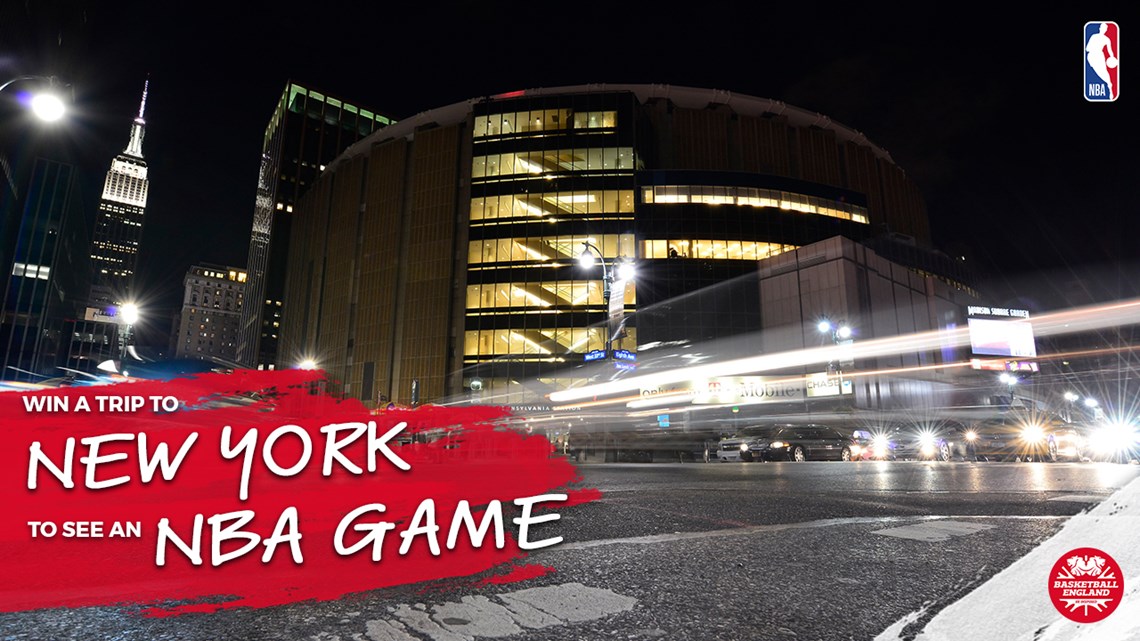 Join Basketball England for free and win a trip to New York City, courtesy of the NBA.
Whether you have a Supporter Account as a fan, follower, enthusiast or advocate, or a Full Account and have paid for a licence to play, coach or officiate in competition, you can enter our prize draw.
Basketball has the power to change lives. Our #GameTime campaign aims to raise awareness of the positive impact that basketball can have on people no matter who they are or where they are from.
.
Main image credit - Luke Simcock
TOTW graphic credits - Luke Simcock, Loughborough Basketball, Kaits_conscience, Pavel Kricka