FocusHoops' Darren Paul is back once again, picking his Player and Team of the Week from across D1W.
As a writer, commentator, podcaster and more, Darren had a hefty six games to look through, with all 12 top-flight teams in action across the weekend.
Have your say on this week's choices and give a shout-out to the players you think deserve one using the hashtag #NBL2223. Don't forget to tag us!    
Twitter: @NBLengland / @FocusHoops  
Facebook: @NBLengland  / @FocusHoops  
Instagram: @nblengland / @focushoops  
How it works  
Darren will pick a Player of the Week and four other selections to round out his Team of the Week, paying attention to the following criteria:
Efficiency 

 

Stats 

 

Team and opposition strength 

 

Periods of influence in the game 

Being on a winning team (exceptional performances from players on losing teams will be considered for TOTW)
Other players will also receive a shout out as honourable mentions at the bottom of the piece.
The FocusHoops Team of the Week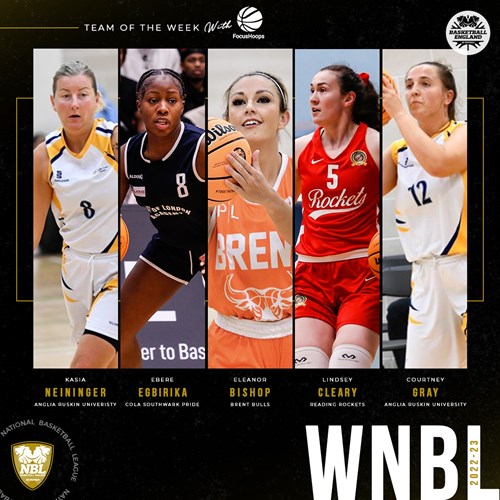 PLAYER OF THE WEEK
Kasia Neininger - Anglia Ruskin University, forward
20PTS, 11REB, 6AST, 23EFF
ARU took their first win on the season this past weekend, led by a tremendous double-double from a stalwart of the programme in Kasia Neininger.
Neininger has been an important part of Ruskin's successes in the last five years and was integral to the 90-84 road win over local rivals Ipswich this weekend.
The Polish forward led ARU with an impressive 20 points on 47% shooting, with 11 of her points coming in the final period. That late push saw Ruskin overturn a five point deficit and eventually take the win.
Neininger completed her double-double with 11 rebounds, including 7 offensive, plus six dimes and a steal in a huge performance for the Cambridge club.
Ebere Egbirika - CoLA Southwark Pride, guard
11PTS, 16REB, 2AST, 20EFF
Ebere Egbirika makes her first appearance of the season in my Team of the Week after a terrific 11 point, 16 rebound double-double helped CoLA fend off a tricky challenge from London Lions II.
In her 29 minutes off the bench, Egbirika hit 50% from inside the arc but it was her jaw dropping numbers on the glass that stand out, pulling down seven offensive boards and nine defensive boards.
The young guard finished the contest with two assists and three steals in an important win for last season's champs.
Eleanor Bishop - Brent Bulls, guard
19pts, 4reb, 4ast, 18eff
Brent Bulls continued their excellent start to life in WNBL D1, thanks in part to Eleanor Bishop's flamethrower, going 5-8 from beyond the arc to finish with a team-high 19 points.
Bishop tacked on four boards, two at either end of the floor, and dished four dimes in the road win against Worcester, capping off a sound offensive outing.
Back-to-back threes in the fourth quarter from the former Thames Valley standout put the contest beyond doubt, allowing Brent to manage the remainder of the game and stay perfect on the year.
Lindsey Cleary - Reading Rockets, forward
15pts, 6reb, 5ast, 17eff
Reading Rockets pulled off a statement victory this weekend, thanks in no small part to 15 points on 50% shooting from Lindsey Cleary.  That output allowed the Rockets to take down in-form Loughborough Riders 72-54.
Cleary did the bulk of her work around the rim, pulling down six defensive boards along with her scoring exploits.
The American import finished the contest with five assists, one steal and zero personal fouls in a disciplined display against one of the toughest teams in the league.
Courtney Gray - Anglia Ruskin University, forward
10pts, 13reb, 6AST, 23eff
Courtney Gray earned her first Team of the Week honours of the new year this weekend thanks to an efficient 10 points, 13 rebounds double-double in Ruskin's road victory over local rivals Ipswich.
Gray went 50% from the floor and pulled down 12 of her 13 boards on the defensive end, vital rebounds in a close contest, to secure Ruskin's first victory on the year.
Gray's final assist came on a Nadege Talva and-one play which gave Ruskin a two possession lead that they wouldn't give up for the remainder of the contest.
Team Basketball
ARU edge Ipswich in East Anglia Derby
Anglia Ruskin University's new head coach Ben Naylor had plenty to celebrate this weekend as the coach's permanent appointment was announced just hours after a hard-fought first win of the year over fierce local rivals Ipswich.
Ruskin were led by Kasia Neininger and Courtney Gray, who both finished with double-doubles, but victory would not have been secured without great performances from the returning Marianna Maddaloni and Nadege Talva, who rolled back the clock as Ruskin finished with seven players in double-digit scoring.
ARU overcame a spirited performance from Saruna Gudza, who played the full 40 minutes for 22 points, plus Yazmin Edwards' 21 point outing for the hosts.
Reading stun Loughborough on the road
Reading Rockets resurgence continues as the Berkshire outfit handed Loughborough their first defeat of the season, despite another near triple-double from Alia El Shabrawy (17-10-9).
Reading finished with four players in double-digits scoring, with new signings Lindsey Cleary and Kristina Karpova top scoring on 15 points, with all of Karpova's scoring coming from beyond the arc!
Candela Hermida Nunez finished with 12 points, as did Jade Blackburn, as the Rockets put in a fine team performance to overcome one of the early season standouts on the road.
Both sides move to a 3-1 record as the intriguing Rockets continue to impress early in the season.
Honourable mentions
Faye Endean (TSK) - 17P/6R/3A/3S/17EFF
Kat Goldsby (TVC) - 16P/5R/1A/17EFF
Marianna Maddoloni (ARU) - 13P/7R/3A/22EFF
.
.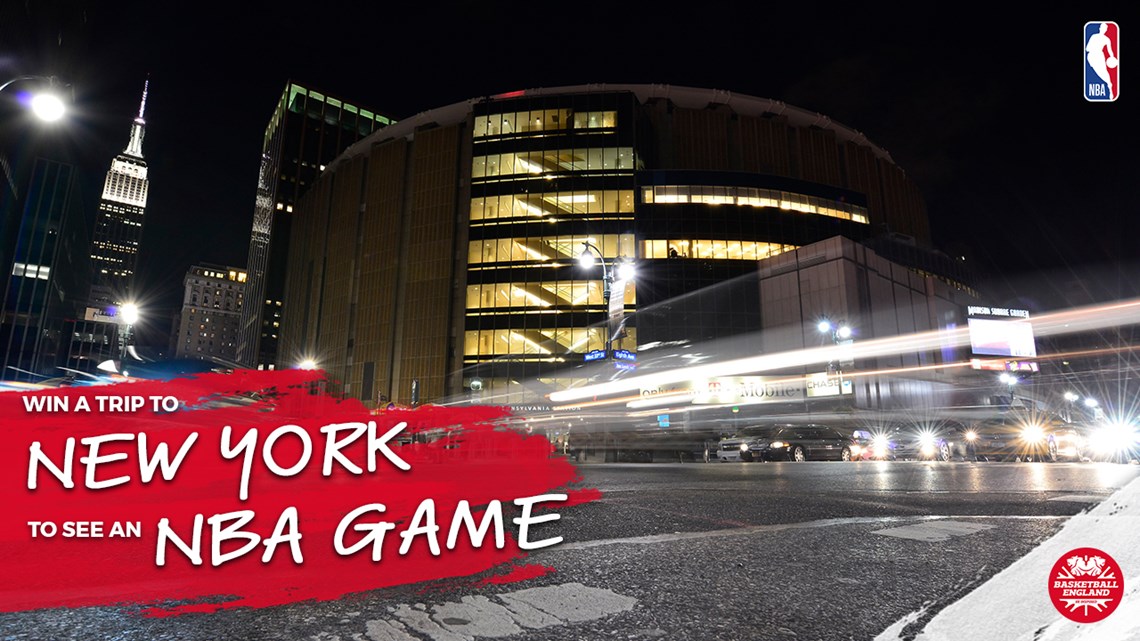 Join Basketball England for free and win a trip to New York City, courtesy of the NBA.
Whether you have a Supporter Account as a fan, follower, enthusiast or advocate, or a Full Account and have paid for a licence to play, coach or officiate in competition, you can enter our prize draw.
Basketball has the power to change lives. Our #GameTime campaign aims to raise awareness of the positive impact that basketball can have on people no matter who they are or where they are from.
.
TOTW graphic credits - Flo Alalade, Luke Simcock