Great Britain have confirmed the Men's and Women's rosters for the FIBA Under-18s European Championships.
Craig Nicol's U18 Men will compete in the competition's 'A' Division in Izmir, Turkey, from 30 July where they'll compete against some of European junior basketball's best sides, in a pool alongside France, Israel and North Macedonia.
Kenrick Liburd (pictured) will take his U18 Women's side to Sofia, Bulgaria, for the 'B' Division tournament from 30 July, where they'll be part of a five-team pool alongside Croatia, Luxembourg, North Macedonia and Portugal.
Information on fixtures, where to watch the action and to follow the standings can be found on FIBA's websites for the Men's and Women's competitions.
Both squads have had preparation games in Ireland and Serbia, while the Women will take part in the Pauline Prior Tournament this weekend along with the GB U16 Women.
Looking ahead to his Men's side getting their tournament underway against France (11:45am) on 30 July, Coach Nicol said: "It is a great opportunity for these guys to showcase what they're capable of as a national team and compete in the 'A' Division. They've been working really hard and gearing up to playing some of the best teams in the world.
"The guys are really hard-working and the way they've managed to gel over the course of our preparations has been really impressive and a great testament to them. We've seen big steps forward from the group, with marginal gains every day, and some individuals have really improved a lot over the last few weeks as well.
"We just want to compete as best we can in the Championships. We know we're playing the best teams in Europe so we'll take each game as it comes, do our best to compete and play hard and the guys will hopefully do enough to get some wins along the way."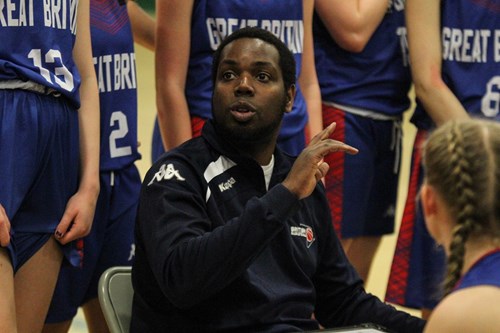 'This is a group that we expect to have an opportunity to win the thing'
Coach Liburd's Women's side get their campaign in Bulgaria underway against Luxembourg on 30 July (11:45am) and he said: "Our preparations have been good. We had a good opportunity to play against power and strength and size in Ireland U20s, then going to Serbia to face opposition our own age without one of our stronger personalities, we learnt a lot and different people got opportunities to step up and we tried a few different things.
"This is a group that we expect to have an opportunity to win the thing. We want to be challenging for the highest honours and as a minimum giving ourselves a chance of making that Division A competition. The goal of our GB youth programme is to get the players ready to be senior internationals and the only way you do that is by playing the best people so nothing shocks them.
"We're really excited about the opportunity. We'll be taking it one game at a time and making sure we are as good as we can be for the first game against Luxembourg and then continue to improve through the group."
Reading Rockets' Isaac Round, who has been selected as part of Nicol's Men's squad said: "Our trips to Serbia and Ireland provided great tests to measure how we matched up against some top European talent. We've progressed very well over the past month, team chemistry has been excellent and we've been able to learn some valuable lessons leading up to the tournament."
Issy Bunyan, who has represented Cardiff Met Archers in the WBBL for the past two seasons playing under the guidance of GB legend Stef Collins, is included in Liburd's squad and expressed her excitement for the challenge that lays ahead: "I'm most looking forward to getting on the court with these girls. It's a really good group and a pleasure to play with them! I'm really excited for the tournament to start. It will be a great experience and one I hope will stay with me forever.
"I'm really grateful for the opportunity to play in the WBBL. I think the pressure that comes with that has helped me grow as a player and taught me many lessons. Playing WBBL is something I am really proud of and has offered me the biggest opportunity to improve as a player.
"Our team can do a lot of damage at the Championships! It's a great bunch of girls who I believe in. We are going into the tournament with high expectations and will play for each other and GB."