Happy International Women's Day! The annual awareness day that celebrates the social, economic, cultural and political achievements of women.
This year's theme breaking the bias is about working towards a world free of stereotypes and discrimination that is diverse, equitable and inclusive.  
Driving parity for basketball in the North West of England is avid baller Jade Bow-Butters, who alongside her two sisters – Autumn and Vogue Lucas – started the Female Basketball Association (FBA) in the gloomy days of the coronavirus lockdowns of 2020.  
Their mission: 'To provide more opportunities for women and girls to get involved in all aspects of basketball'. 
"We came to the realisation that there weren't enough opportunities for women and girls in all roles in basketball, so we went ahead and formed the Female Basketball Association," said Bow-Butters, who at the Senior National Cup Finals 2022 led WNBL Division Two side Stockport Lapwings to a fairy tale victory over Team Solent Kestrels to win the WNBL National Cup and earn herself MVP honours.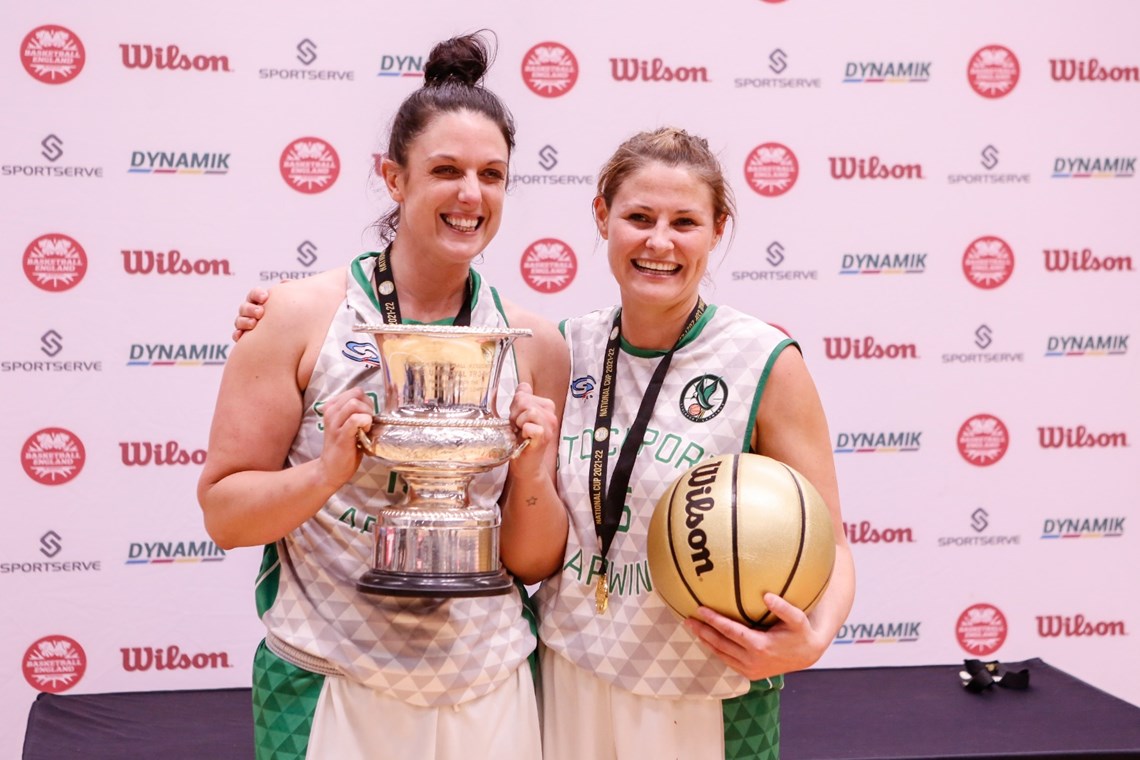 More women to be involved with basketball   
Looking at Sport England's Active Lives surveys, the trend for women participating in basketball at least twice in the last 28 days is falling, with nearly 40,000 fewer women recorded playing basketball in May 2020-2021 compared to May 2017-2018.   
Similarly, when looking at the Active Lives Children and Young People Survey Academic Year 2020-2021, over 200,000 more boys play basketball on a weekly basis than girls. 
Undoubtedly, the basketball community has been affected by the coronavirus pandemic and these numbers need to be taken in the context of a world-wide pandemic affecting opportunities for people to participate in basketball.  
At her post-game press conference at the Finals, Bow-Butters said that the FBA's intention was to extend its remit from Manchester to across the North West and create more centralised leagues for women to be involved with basketball.  
Using their collective 50 plus years of basketball playing, coaching and officiating experience, the sisters focused on creating a central venue, two-division league at Manchester College's Openshaw Campus.  
This, the 35-year-old said, has been very successful, attracting over 80 beginners and experienced players, who now make up eight teams that play and develop over a four-week reoccurring programme. 
"The league started in February for beginners and in March for experienced players, and only women and girls are involved in all the roles. 
"The first three weeks are league games and then we have one week of training, where we coach players through individual and team skills, therefore directly developing players through our association." 
Since September last year, the Association has also run eight Level 1 refereeing courses and one table official course, qualifying over 35 female and 40 male officials for clubs and schools in Greater Manchester. Additionally, once referees are qualified, the FBA offers ongoing support to integrate referees into suitable leagues so that they can continue their officiating journey.
Basketball England has supported the FBA's endeavours through the Tackling Inequalities Fund, contributing to court hire and Level 2 coaching courses.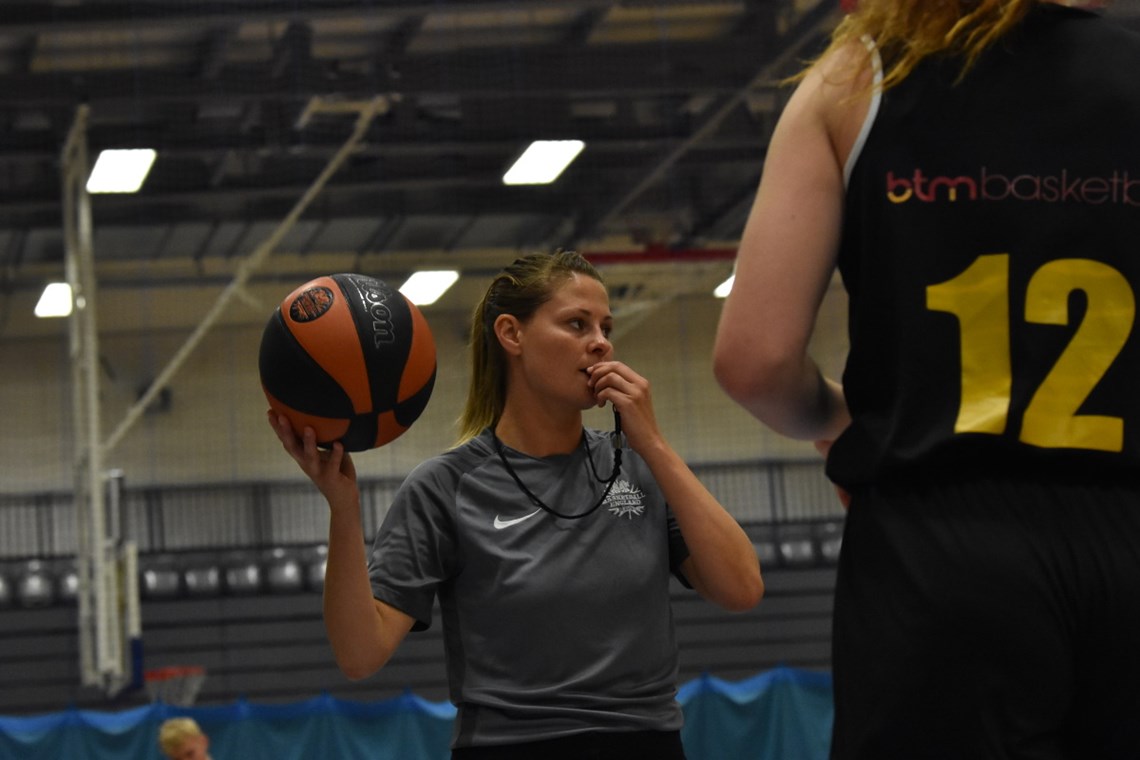 Reviving the Lapwings 
In 1963, coach Jim Bennison MBE founded the present-day Stockport Basketball Club, which the Stockport Lapwings are a part of. But from 2011-2018 they had a non-existent women's programme. Then in 2019, Bennison, who is 90-years-old, approached Bow-Butters to revive it.  
"I contacted 30 ex-basketball players and 22 women came back to say they were keen to start playing again at national level," said Bow-Butters. 
"In 2019, I signed 17 of them and started to player-coach the club. Initially we had a poor start to the season losing six of six, however, in the second half of the season we found cohesion within the team and won six on the bounce, and then there was a national lockdown. 
"We reinstated the team [for the 2021/22 season] and we've been fantastic, winning the WNBL National Cup and beating four Division 1 teams along the way. Currently, we're top of the North Conference in Division 2, only losing one game so far."  
After winning the cup final, Bow-Butters said there was lots of contact with the club from junior to senior levels, with inspired women and girls of all ages wanting to come back or start playing basketball. In response to the surge in interest, Stockport relaunched its U12 academy for girls and boys, attracting 40 new players. It also runs women's and men's local league teams in Manchester, and a NBL Division 3 men's team.  
Looking to the future, the FBA wants to dedicate some of its support to the GB women's team by attending their games and promoting their cause across FBA's social media channels. The Association also plans to run Level 2 officiating courses, an end of season tournament for both divisions of the Women's Elite Academy Basketball League – the premier junior basketball competition for U19 women in the country – host coaching clinics for women and girls and use funding to upskill female referees and coaches. 
Make no bones about it, Bow-Butters is basketball first. 
Over the last 25 years of playing, the Stockport-native has missed less than 10 training sessions. Not even birthdays or anniversaries can interrupt her passion for growing the women and girls' game.  
From the North West and interested in playing? Get in contact with Stockport Basketball Club.
Find out more about the Female Basketball Association. 

Basketball has the power to change lives. The #GameTime campaign will aim to raise awareness of the positive impact that our sport can have on people no matter who they are or where they are from. 
Basketball England aims to engage one million people in basketball via the Commonwealth Games 2022, 3x3 and more.  
Whether you want to: 
Support Team England

 

#GetInvolved as a player, coach, official, volunteer or fan

 

Or improve your local court with #ProjectSwish

 
...regardless of age, gender or background, across every part of the basketball family, it's #GameTime!