In what could be an NBL week like no other, there were countless top performances in D1M for Rebound's Chris Hughes to sift through.
Chris, a content producer, YouTube host and commentator, was truly spoiled for choice across a weekend when Solent claimed a historic fourth straight NBL title, with plenty of players rising to the occasion as potential Player or Team of the Week inclusions.
Have your say on this week's choices and give a shout-out to the players you think deserve one using the hashtag #NBL2122 and #ReboundTOTW. Don't forget to tag us!    
Twitter:  @NBLengland / @Rebound__  
Facebook:  @NBLengland  / @ReboundNBL  
Instagram:  @nblengland / @reboundnbl  
How it works 
Chris will pick a Player of the Week and four other selections to round out his Team of the Week, paying attention to the following criteria:
Efficiency 

 

Stats 

 

Team and opposition strength 

 

Periods of influence in the game 

Being on a winning team (exceptional performances from players on losing teams will be considered for TOTW)
Other players will also receive a shout out as honourable mentions at the bottom of the piece.
The Rebound team of the week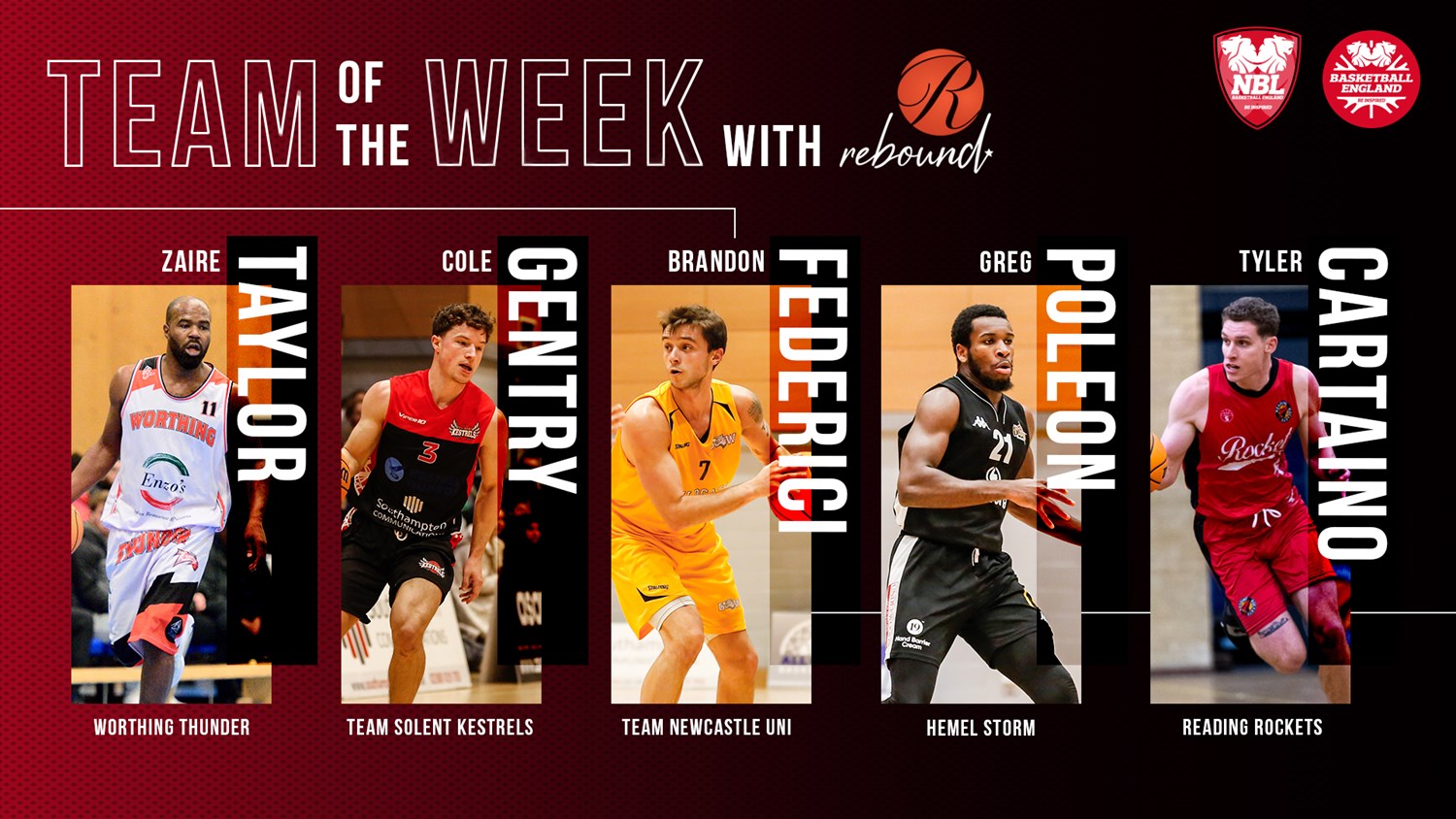 PLAYER OF THE WEEK
Zaire Taylor - Worthing Thunder, guard
60PTS (22-40FGM/7-15 3PM/9-12 FTM), 12REB, 10AST, 3STL, 61EFF
Zaire Taylor put on another show as part of his 'Last Dance' tour, teaching a young Oaklands side a lesson they and the NBL community won't forget any time soon.
A historic 60 point triple-double, with a final efficiency of 61,  was no doubt my easiest pick for 'Player Of The Week' this season!
Zaire went about his business efficiently, with Worthing's franchise player/GM enjoying some hot shooting from around the court to drain seven triples on an afternoon that won't soon be forgotten.
Cole Gentry - Team Solent Kestrels, guard
22PTS (6-9 3PM), 4REB, 9AST, 0TO, 2STL, +/-36, 29EFF v NOT
9PTS (3-4 3PM), 6REB, 6AST, 0TO, 3STL, +/-50, 21EFF V ESS
Cole Gentry was on fire this weekend, with Solent's #3 shooting an eye-watering 9-13 triples across the two games.
This season Solent have plenty of players that can run the point but their floor general was certainly the ace in the pack this weekend, as he has been for most of the season.
Gentry displayed many of the traits that have the American in the running for the D1M Player of the Year award, including handles, quick acceleration and being a high IQ player at both ends of the court.
His two stat lines this weekend both came in less than 27 minutes of action, showing how much of an impact Gentry can have whenever he's on the floor.
Brandon Federici - Team Newcastle University, guard
31PTS (5-9 3PM), 6REB, 3AST, 3STL, 39EFF v LOU
37PTS (11-15 3PM), 6REB, 2AST, 1BLK, 37EFF V HEM
Brandon Federici put in two Player of The Week worthy performance in a mixed double-header weekend for Team Newcastle University.
The versatile guard 'shot' Team Newcastle up the table this weekend to further help their playoff ambitions.
Federici efficiently led all D1M players in three pointers made this weekend, unsurprising for a man who is currently third in the league for 3P%.
The only downside for Federici and Newcastle was Sunday's 84-80 loss against Hemel. The result means Storm own the head-to-head tiebreaker with the North East side, should the playoff rivals finish the season level on points.
Greg Poleon - Hemel Storm, forward
17PTS V BRA
30PTS (13-17FGM), 17REB, 1AST, 2BLK, 43EFF @NEW
In a weekend where few teams enjoyed two wins from two, Poleon ensured Hemel could finish with at least one victory following a huge double-double on Sunday.
Poleon excelled in the fourth quarter of the 84-80 win over Newcastle with vital free throws, including an and-one play to go with a great offensive contribution.
The American's efforts swung the game by nine points in that final frame, helping Hemel pull off the win.
The reigning Player of the Year also dropped 17 points on Saturday, though that result wouldn't go Poleon's way as Bradford came out on top 87-79.
Tyler Cartaino - Reading Rockets, wing
31PTS (3-5 3PM), 7REB, 3AST, 2 STL, 1BLK, +/- 10, 32EFF
Tyler Cartaino was an integral part of a second half comeback as Reading beat Worthing 89-82 on Saturday.
With the visitors trailing by four points at the half-time break, Cartaino directly contributed in multiple ways across an 11 point scoring run as well as netting the winning bucket in the fourth quarter.
Cartaino and Reading are both finding their form as we approach the end of regular season, with five wins from the last six games. With their American star in this kind of form, that makes them a dangerous opponent for any team to have to match up with.
Team Basketball
Solent pass their way to a weekend to remember
Team Solent Kestrels sealed their fourth regular season title in row in style this weekend, showing no let-up with just two turnovers in the first half of each game.
An honourable mention must go to Travis Charles, in Sunday's game the 'King of the double-team' was one of the stand-out players in a slick passing, team display. The staggering 75-point win against Essex saw the entire  rotation contributing across numerous scoring plays.
Charles' smooth finishing and footwork allowed him to get into the paint with ease and the fact that the American closed the contest with a game-high 10 fouls was extraordinary.
Derby gunning for top four after successful weekend
Derby recorded two wins this weekend, strengthening their top four chances at the expense of the playoff hopes of both London Lions II and Bradford Dragons.
I was really impressed with Derby's shooting this weekend, hitting above 50FG% in both games. Honourable mentions for the likes of Jonas Dieterich and Ryan Bruggeman among others, a lot of Trailblazers really did excel this weekend.
Dieterich made eight of his 16 three point attempts over the weekend, whilst Bruggeman really came into his own on Saturday with a great two-way performance.
Dishing vital assists and securing timely steals, the American did it all without a turnover or getting into any kind of foul trouble.
Honourable mentions
Blake Bowman (DER) – 19P/10R/1B/23EFF V LL2 & 31P/6R/3A/1B/26EFF V BRA
Victor Olarerin (NOT) – 20P/1R/1A/3S/1B/24EFF @TVC
Kemel Archer (TSK) – 10P/8R/2A/2S/1B/19EFF V NOT &  19P/8R/3A/2S/28EFF V ESS
Lewis Diankulu (LEI) – 25P/21R/2A/1S/42EFF V LOU
Hakeem Sylla (TVC) – 15P/10R/3A/27EFF V OAK & 20P/12R/23 EFF V NOT
.