The road to Manchester starts here for the majority of NBL teams, though the D3 field has already been narrowed from 16 teams to eight last weekend.
Every team is trying to secure their ticket to the National Basketball Performance Centre on 23 and 24 April, where the senior leagues will reach what is sure to be a thrilling conclusion for 2021/22.
We take a look at all this weekend's games from across the five competitions, including live stats and streaming links where available.
Seedings have been included for all teams, and in some competitions a N or S for North or South has also been added where teams from different conferences cross over in the post-season.
Match-ups are displayed via brackets in the graphics below for illustration purposes, but it should be noted that in line with NBL regulations, the higher seeded team in any post-season game retains home court advantage.
If you want to attend the 2021/22 Playoff finals, tickets are now available from the BE online shop.
NBL Division One
#1 TEAM SOLENT KESTRELS V #8 READING ROCKETS (6pm Saturday) - LIVE STATS/LIVE STREAM
Solent begin their quest for a third straight playoff title with a home tie against Reading.
Winners of both their previous meetings this season, the home leg in Solent came way back on the first weekend of the regular-season. A 69-64 score line suggests these two teams were evenly matched then, but how they match up this weekend could be a very different story.
At 4-1 in their last five to finish the regular season, the Rockets have momentum on their side but they'll still be up against it on the South coast.
#2 THAMES VALLEY CAVALIERS V #7 TEAM NEWCASTLE UNIVERSITY (6:30pm Saturday) - LIVE STATS
Team Newcastle University take a trip down the country to face #2 seeds Thames Valley on Saturday evening.
In this fixture during the regular-season, the Cavs crushed Newcastle 101-64 behind a 24-point, 15-rebound double-double from Hakeem Sylla.
With Newcastle often leaning on guards David Moya and Brandon Federici for their offensive output, it'll be up to forward Ronald Blain to pitch in on defence down low whilst not compromising his 23.2PPG during the regular season.
#3 DERBY TRAILBLAZERS V #6 HEMEL STORM (7:15pm Saturday) - LIVE STATS/LIVE STREAM
Entering the playoffs with a seven-game winning streak, few teams are in better form that Derby right now.
They start their playoff journey against last year's finalists Hemel, a team they haven't faced since way back in January.
Storm's Taylor Johnson led the D1M scoring charts this year with 27.2PPG and will no doubt be a focus for the Trailblazers' defence, but tomorrow's hosts own the second best offence in D1M for a reason and if the game becomes a shootout, they'll fancy their chances. During their current winning streak, coach Shaw's team have failed to hit triple digits just once.
#4 NOTTINGHAM HOODS V #5 WORTHING THUNDER (8pm Saturday) - LIVE STATS
Two teams that are more than familiar with each other will play in the Midlands tomorrow night as Worthing head to Nottingham.
Meeting last weekend, the Hoods came out on top 87-81 as Morakinyo Williams played the full 40 to secure a huge 32 point, 17 rebound double-double.
He recorded a similar stat line 24 hours later against Hemel to pick up the Rebound Player of the Week award, and Worthing are going to need to find a way to slow the former BBL man down if Zaire Taylor's career is going to continue for one more week.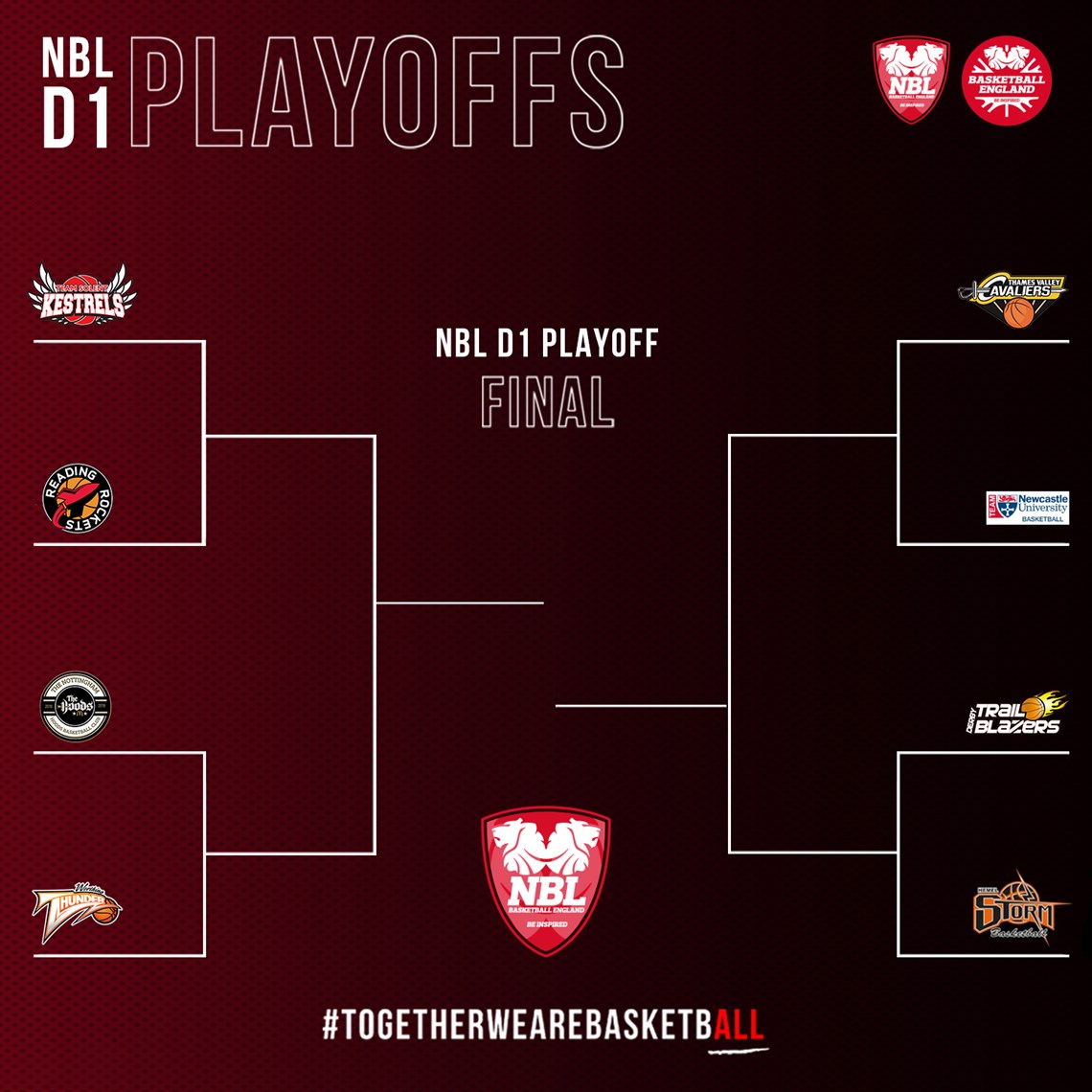 WNBL Division One
#1 COLA SOUTHWARK PRIDE V #8 BRISTOL FLYERS (2pm Saturday) - LIVE STATS
Coming off the high of winning a record third WEABL title earlier this week, CoLA can now turn their attention to claiming a first D1W playoff crown since 2016/17.
As the top seeds and regular-season champs they're the favourites to do just that, they start their journey this weekend with a home tie against Bristol.
The London programme have restricted the Flyers to just 45 points in both meetings this season and you'd think the visitors will need to find a way to raise that total if they're going to win tomorrow.
#2 LOUGHBOROUGH RIDERS V #7 TEAM SOLENT KESTRELS (12pm Sunday) - LIVE STATS
Second seeds Loughborough need to pick themselves up from a 69-48 defeat against Anglia Ruskin last weekend as they begin their playoffs run at home to Solent.
The Kestrels have plenty of quality at their disposal and reached this season's WNBL National Cup final, they can certainly cause the Riders problems behind the talents of Faye Endean and Krisztina Velkey Cleeve, both of whom made the latest FocusHoops Team of the Week.
The Riders beat tomorrow's opponents twice in the regular-season for a reason though, and they'll be eager to make it three in a row.
#3 THAMES VALLEY CAVALIERS V #6 CARDIFF MET ARCHERS (2pm Saturday) - LIVE STATS
Thames Valley spent much of the regular-season in a battle for the title before eventually having to settle for third spot.
The fact they managed to maintain such lofty ambitions is due to their deep and talented roster, but they'll need to be on form against a Cardiff team they lost 68-63 against last weekend.
This is the Archers' first trip to the D1W playoffs, but in Amber Deane they have a legitimate match winner. Add in former Player of the Week Issy Bunyan plus Carys Roy and Denisa Molnar, there's a lot to like about this playoff match up.
#4 IPSWICH V #5 ANGLIA RUSKIN UNIVERSITY (3:30pm Sunday) - LIVE STATS
ARU head to Suffolk in a 4 v 5 contest with plenty of intrigue on Sunday afternoon.
Katrin Hulme is in perhaps her best form of the season, reeling off a monster 30 point, 26 rebound, 50 efficiency outing last weekend. It's hard to look past the 2018/19 playoff champs if she can have another game like that here.
Ipswich's team has changed a lot since their own playoff success last season, but their new core has bedded in nicely as the current campaign has progressed.
Ava Battese closed the regular-season with a D1W fourth best 17.3PPG, whilst forward Cameron Taylor-Willis was second for both efficiency and rebounds per game.
NBL Division Two
#1N Manchester Magic v #4S Greenwich Titans (6:30pm Saturday) - LIVE STATS
North conference winners Manchester welcome Greenwich Titans to open the playoffs, looking to continue a great campaign that saw the Magic go 19-3 across the regular-season.
Sporting the best defence in D2, averaging just 65.9PPG allowed, the former D1M winners will no doubt fancy their chances of progressing here behind another solid display.
Arturo Noha may have something to say about that however, with the Greenwich man closing the season on 19.7PPG, seventh best in the league.
#1S Westminster Warriors v #4N Derbyshire Arrows (4:30pm Sunday) - LIVE STATS
Westminster's reward for a perfect regular-season is a home tie against Derbyshire Arrows.
With a sizable +/- of 480 points from their 22 games, that gave the Warriors an average margin of victory of nearly 22 points a contest this year.
That could spell trouble for the Arrows, who went 12-10 in the North before sneaking past Myerscough into fourth on a head-to-head tiebreaker.
#2N Northamptonshire Titans v #3S Team Solent Kestrels II (4:30pm Sunday) - LIVE STATS
2019/20 D3 East winners Northamptonshire Titans are already making waves in D2, securing second spot in the North and a home playoff game with Team Solent Kestrels II.
Unable to replicate the dominance of their parent team in D1M, the Kestrels are still a dangerous outfit in their own right behind the fourth best offence in D2M (85.7PPG).
Kai Walker, 21, has dropped 18.1PPG on his way to the third best efficiency rating in the league, whilst Tyler Johnson had plenty of range from beyond the arc (40% 3PT).
It's worth noting that the Titans have enjoyed an 8-3 record on their own court this season, whilst the Kestrels are just 6-5 on their travels.
#2S Sussex Bears v #3N Doncaster Eagles (5pm Saturday) - LIVE STATS
South conference runners up Sussex Bears are at home to North #3 seeds Doncaster, making for a long trip down the country for the Eagles.
Veteran Mathew Martin collected 21.2PPG this season for Doncaster as one of D2's top scoring options, his play was a key reason the former D3 conference winners enjoyed a 15-7 record this season. 
Sussex have plenty of momentum on their side however, entering the post season on the back of a five game win streak.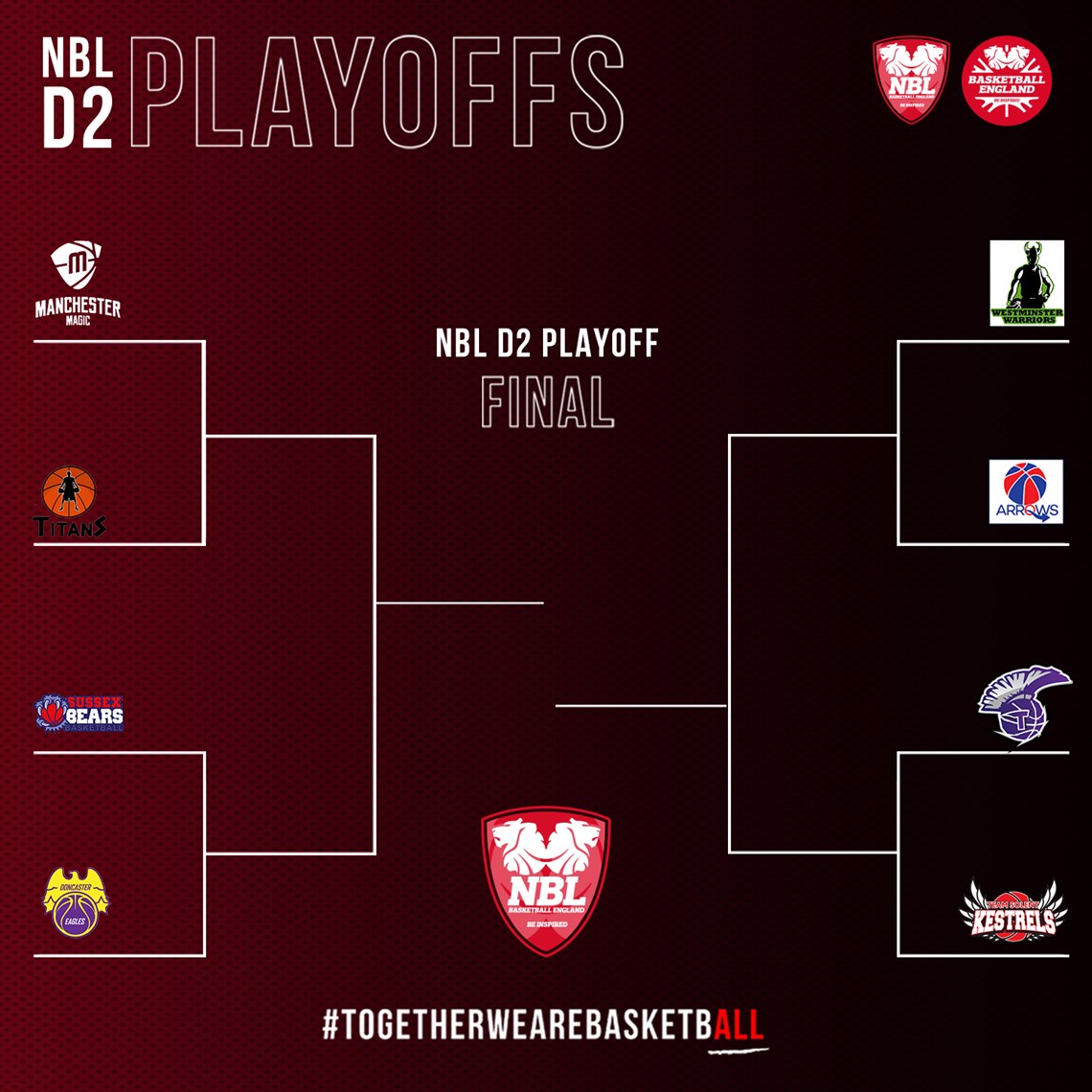 WNBL Division Two
2pm Saturday - #1N Stockport Lapwings v #4S Northamptonshire Titans
National Cup winners Stockport Lapwings won the North conference and begin their post season against South #4 seeds Northamptonshire Titans.
4pm Saturday - #1S Brent Bulls v #4N Derby Trailblazers
Brent Bulls went 13-1 in the regular season and look to be a tough nut to crack, a problem that Derby Trailblazers will need to solve if they're to avoid a one and done trip to the playoffs.
2pm Saturday - #2N Sheffield Hatters v #3S Team Solent Kestrels II
Solent's have four different teams in the post season right now but Sheffield Hatters will look to reduce that number this weekend as they play Kestrels II in South Yorkshire.
3:30pm Saturday - #2S West Herts Warriors v #3N Manchester Mystics
Manchester Mystics can win a first D2W playoff title since 2010/11 this year but to keep that dream alive they'll need to pick up a W from their trip to South conference runners up West Herts Warriors.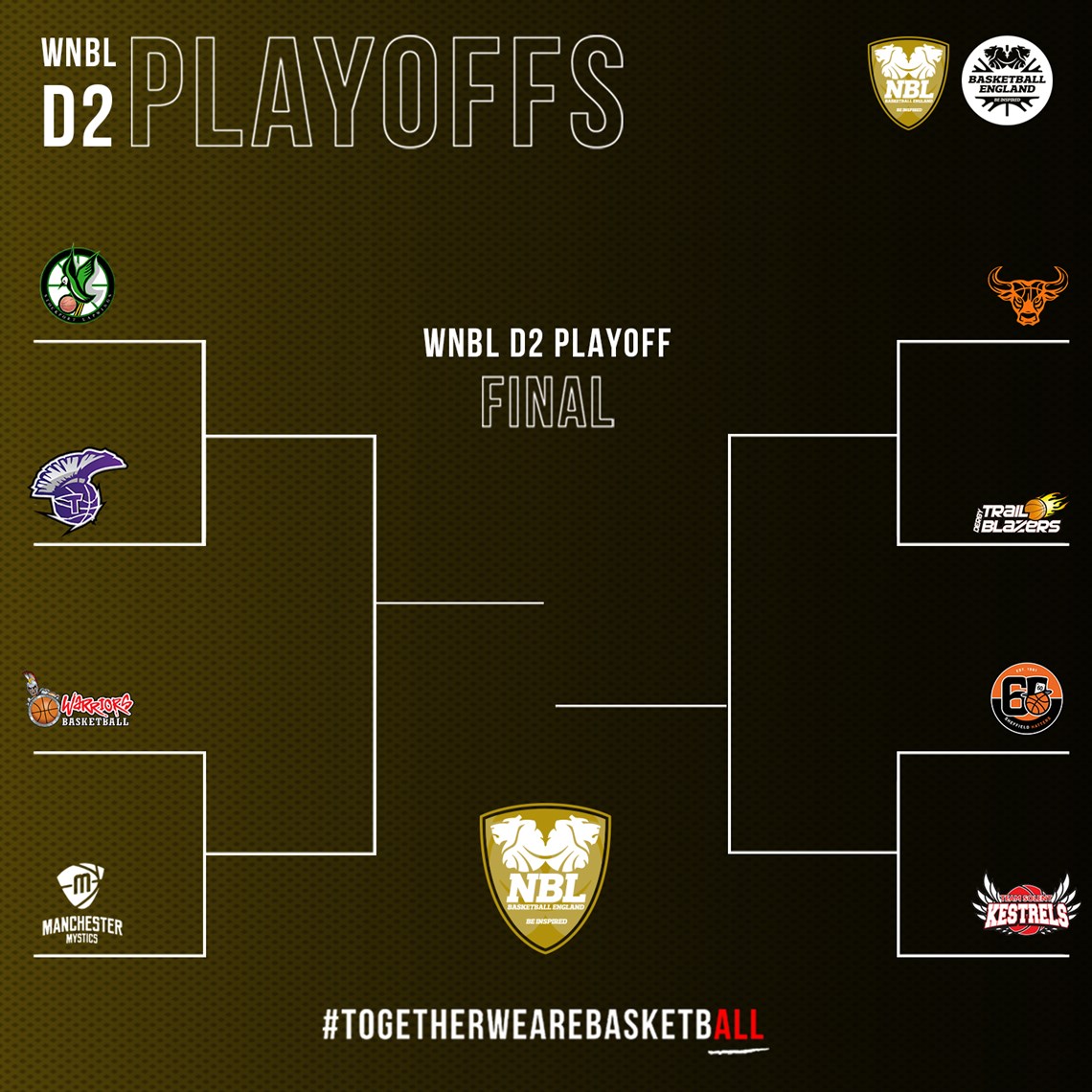 Division Three
3pm Sunday - #1 St Helens Saints v #9 Tees Valley Mohawks
Top seeds St Helens Saints converted a 20-0 regular season record into a win to start the playoffs. They'll try to keep their streak going this weekend as they play ninth seeds Tees Valley Mohawks.
6:30pm Saturday - #4 Bristol Basketball United v #5Teesside Lions
Bristol Basketball United opened the post season with a comfortable 94-49 victory against Bognor in round one. They entertain fifth seeds Teesside Lions in what should be an exciting contest.
5pm Saturday - #2 London Elite v #7 London Thunder
London Elite came through their matchup with University of Hertfordshire as 86-75 victors and now face cross-capital rivals London Thunder for a spot in the semi-finals.
3pm Sunday - #3 Worcester Wolves v #11 Manchester Swarm
Manchester Swarm upset Anglia Ruskin last weekend, winning 74-67 as the #11 seeds knocked out D3M's sixth seeds.
Their reward is a trip to Worcester Wolves, who went 15-1 in the regular season.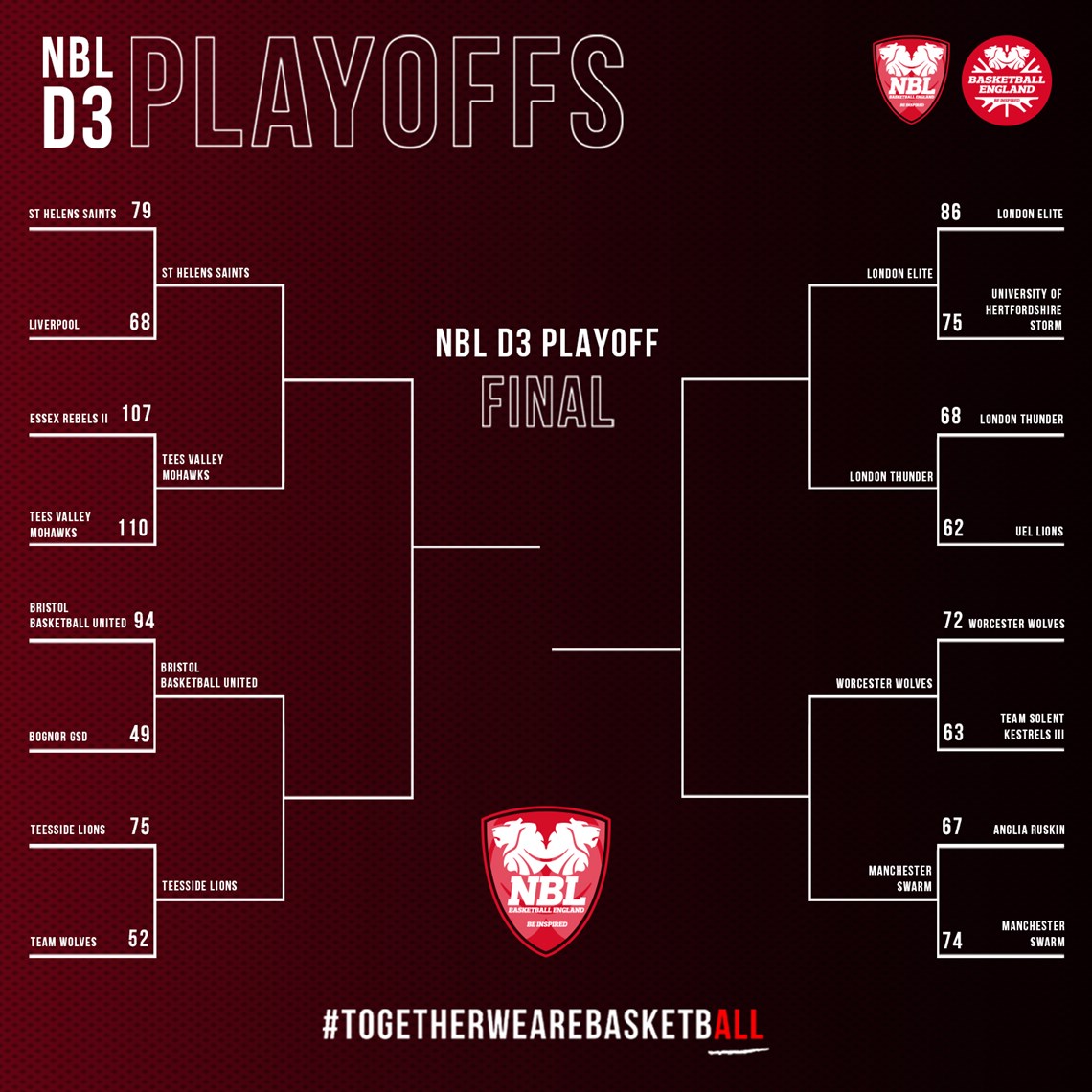 .