We're one step closer to crowning playoff champions for 2021/22 after a number of exciting games this past weekend.
The league's five competitions all narrowed their field to just four teams, with each side now just one win away from punching their ticket to Manchester's National Basketball Performance Centre on 23 and 24 April.
We take a look at all this weekend's action, including live stats and streaming links where available.
Seedings have been included for all teams, and in some competitions a N or S for North or South has also been added where teams from different conferences cross over in the post-season.
Match-ups are displayed via brackets in the graphics below for illustration purposes, but it should be noted that in line with NBL regulations, the higher seeded team in any post-season game retains home court advantage.
If you want to attend the 2021/22 Playoff finals, tickets are now available from the BE online shop.
NBL Division One
#1 TEAM SOLENT KESTRELS

100-72 #8 READING ROCKETS  - LIVE STATS/LIVE STREAM
Solent safely booked their place in the D1M final fours with a comfortable 100-72 win against Reading Rockets.
The eighth seeds managed to keep the defending champs within touching distance for most of the first half before the hosts slowly pulled out to a double digit lead that ballooned quickly during a 36-15 fourth quarter.
Orlan Jackman (17pts, 16reb, 5ast) was the pick of the bunch for Solent, as Andre Arissol top scored with 20 points off the bench.
Tyler Cartaino (14pts, 9reb, 4ast) and Meshack Lufile (14pts, 8reb) both played well for the Rockets, who now head into the off season earlier than they'd have hoped.
#2 THAMES VALLEY CAVALIERS

92-80 #7 TEAM NEWCASTLE UNIVERSITY - LIVE STATS
Thames Valley continued their playoff march with a 92-80 win against Newcastle.
As was the case in this fixture during the regular season, Cavs' forward Hakeem Sylla was the cause of Newcastle's undoing. The Player of the Year candidate had a massive 21 point, 20 rebound, 39 efficiency outing that the visitors simply couldn't overcome.
Centre Jack Cork top scored for Newcastle with 22 points, whilst Ronald Blain was held to just eight points on 4-17 shooting.
#3 DERBY TRAILBLAZERS 90-91 #6 HEMEL STORM (after 10t) - LIVE STATS/LIVE STREAM
There was an OT thriller in Derby as sixth seeds Hemel stole past the Trailblazers 91-90.
Storm's veteran guard Bode Adeluola hit a corner three with just two ticks remaining to draw the teams level at 74-74 and force the extra frame.
Jonas Dieterich would almost repay the compliment for Derby, but his triple could only shrink the host's deficit from four points to one, and with just a second remaining, coach Shaw's team would be out of time to find another basket.
Hemel's Taylor Johnson came close to a triple-double as he finished on 23 points, nine rebounds and nine assists, playing the full 45 minutes. 
Derby's Blake Bowman led all scored with 32 points, adding seven rebounds and four assists.
#4 NOTTINGHAM HOODS 88-79 #5 WORTHING THUNDER - LIVE STATS
Nottingham make up D1M's last four as they beat fifth seeds Worthing 88-79.
After a back-and-forth first half with multiple lead changes, the hosts grabbed the upper hand after the break. A 26-17 third put some daylight between the teams and created an advantage Nottingham would never relinquish.
Nottingham's starters all chipped in, with Kyle Jimenez (12pts, 13ast, 6reb) and Andrew Vickers (17pts) both excelling. Luke Mitchell had the stand out performance, however, scoring six threes to make him top scorer in the match. 
Zaire Taylor came off the bench in his final game, scoring seven points to go with four assists, as forward Howard Crawford tallied 19.
Semi-final fixtures
#1 TEAM SOLENT KESTRELS v #4 NOTTINGHAM HOODS

#2 THAMES VALLEY CAVALIERS v #6 HEMEL STORM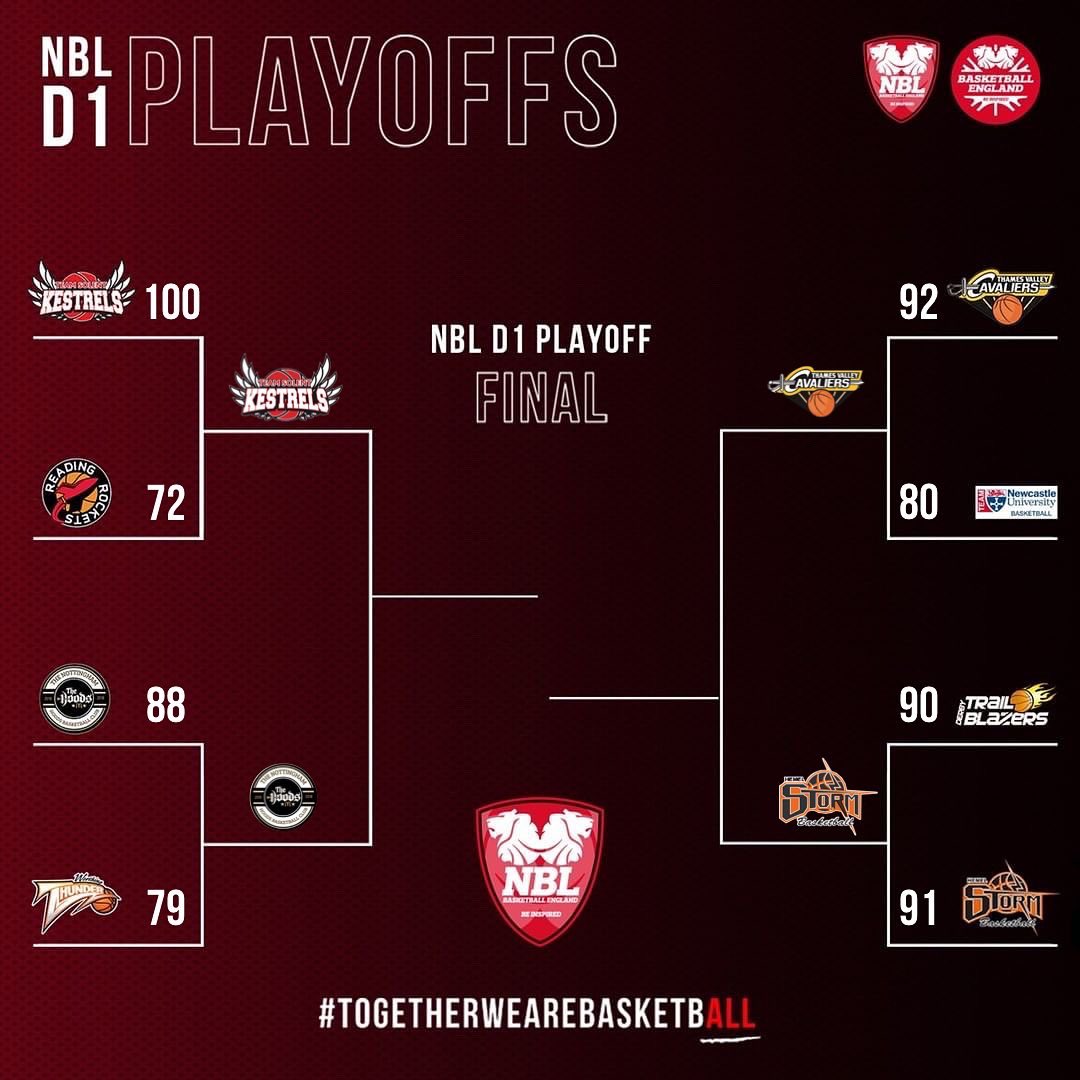 WNBL Division One
#1 COLA SOUTHWARK PRIDE

51-28 #8 BRISTOL FLYERS - LIVE STATS
CoLA once again put their impressive defence front and centre in a comfortable 51-28 win over Bristol.
Holding the eighth seeds to just three points in the opening quarter and 11 points across the first half, that allowed the hosts to stretch out to a lead they'd never look like losing.
Isi Ozzy-Momodu shot an efficient 5-6 in the contest to close on 10 points, adding 14 rebounds for the double-double.
Bristol were led by Emma Bailey on six points, with the guard also pulling down nine boards.
#2 LOUGHBOROUGH RIDERS 59-63

#7 TEAM SOLENT KESTRELS

- LIVE STATS
National Cup finalists Solent knocked out the second seeds this weekend following a stunning 63-59 road win.
Leading 52-44 going into the fourth, the Kestrels had to weather a Loughborough comeback to seal the victory. 
American Taylor Gaffney dropped the decisive basket late on, driving the lane to finish in traffic and put her team up 62-59 with 44 seconds to go.
The Riders would have their chances before the buzzer but couldn't convert as their post season challenge ends at the first hurdle.
Katie Januszewska had 16 points and 6 rebounds in her final D1W game for the Riders, she's set to leave for D1 American set up Saint Francis Brooklyn.
Gaffney's late heroics would take her to a game-high 24 points to go with six rebounds and three assists.
#3 THAMES VALLEY CAVALIERS

61-59 #6 CARDIFF MET ARCHERS - LIVE STATS
Thames Valley came through a nail-biter against Cardiff, squeezing by 61-59.
The hosts had led by as many as 18 early in the fourth before the Archers came roaring back to tie the game at 59-59 with 11 seconds remaining.
Kat Goldsby would then go to the line for the final scoring of the contest, hitting a pair of clutch free throws to send TVC into the semi-finals.
The American guard would lead her team with 23 points as Faith Okwuosa went to work on the glass for a team-high 12 boards.
Cardiff captain Amber Deane dropped a stunning 31 points on 12-14 shooting, adding nine rebounds  as Carys Roy (10pts, 14reb) added a double-double.
#4 IPSWICH 76-81

#5 ANGLIA RUSKIN UNIVERSITY

- LIVE STATS
Ipswich's defence of their playoff crown is over after they were upset by fifth seeds Anglia Ruskin 81-76.
The underdogs were unfazed by hitting the road in this one, starting fast to win the opening quarter 24-17.
Ipswich would sneak ahead in the fourth after a 12-2 run, but ARU quickly regained the advantage to win behind a 22 point, 17 rebound double-double from Katrin Hulme.
Fellow forward Courtney Gray (21pts, 10reb, 6ast) also shone, whilst Cameron Taylor-Willis (22pts, 7reb) top scored for the fourth seeds.
Semi-final fixtures
#1 COLA SOUTHWARK PRIDE v #5 ANGLIA RUSKIN UNIVERSITY

#3 THAMES VALLEY CAVALIERS v #7 TEAM SOLENT KESTRELS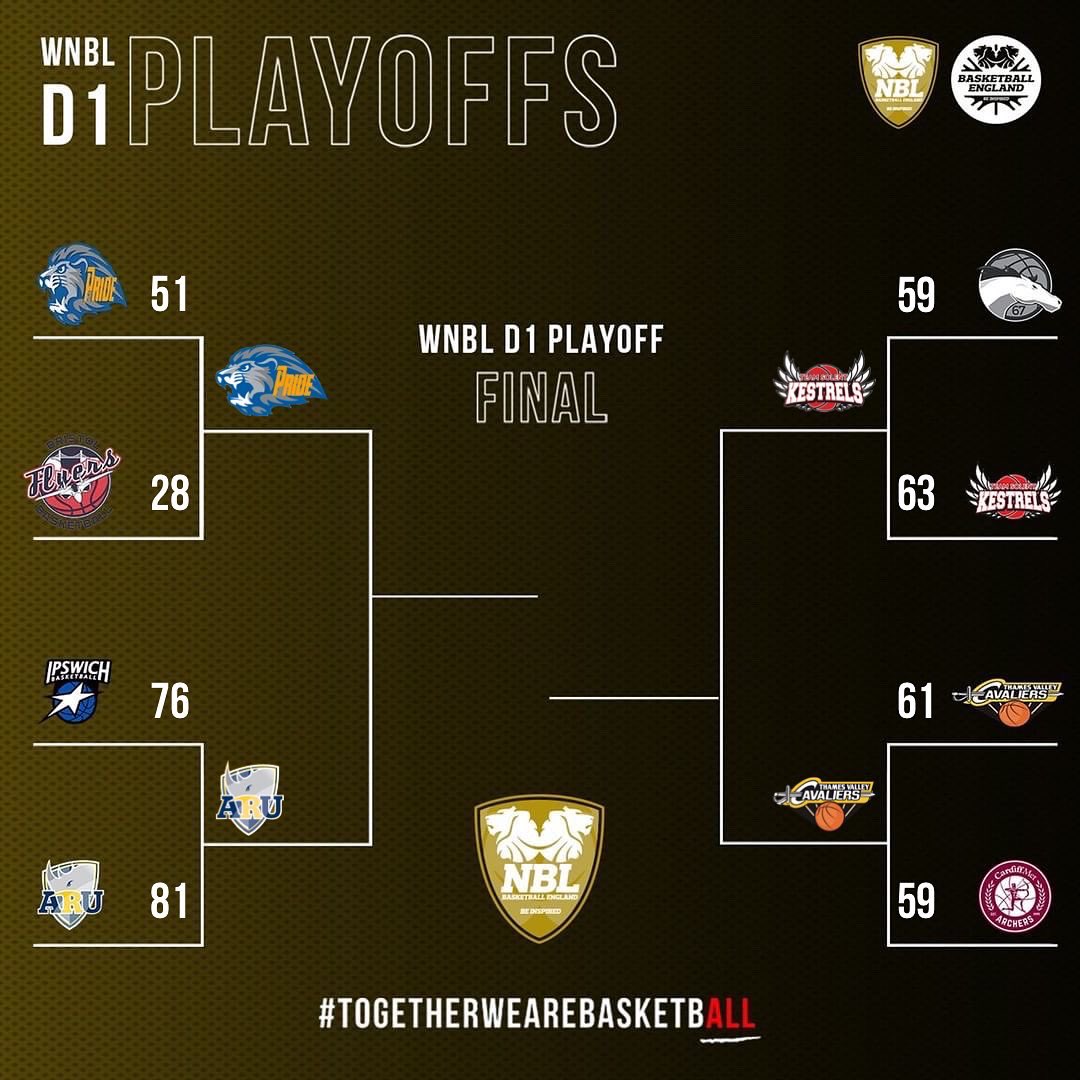 NBL Division Two
#1N Manchester Magic

83-72 #4S Greenwich Titans - LIVE STATS
North winners Manchester Magic allowed just 11 first quarter points to beat Greenwich 83-72.
The host's efforts in the opening frame allowed the North West side to lead this one from tip to buzzer, at one stage opening up a 17 point advantage.
Pharroh Gordon had a solid outing for Magic, scoring 22 points to go with eight rebounds, whilst Arturo Noha put in a captain's performance for the Titans to finish on 20 points.
#1S Westminster Warriors

94-64 #4N Derbyshire Arrows - LIVE STATS
Westminster's stunning year continues, tacking on a commanding 94-64 playoff win over Derbyshire Arrows to their unbeaten regular season.
Forward Justin Hitchman was in unstoppable mood to close with a sizable 24 points, 17 rebound double-double, supported by 13 more from captain Jon Johnson.
Fourth seeds Derbyshire gave this one their all but didn't have a lead outside of the first quarter, with guard Xavier Mcintosh top scoring on 19 points.
#2N Northamptonshire Titans 79-94

#3S Team Solent Kestrels II

 - LIVE STATS
Team Solent Kestrels II sprung an upset on Northamptonshire Titans, winning 94-79.
No further information was available at the time of writing, with the Kestrels now moving on to face a road tie against Westminster.
#2S Sussex Bears 58-71

#3N Doncaster Eagles

 - LIVE STATS
Doncaster made their long trip down to Sussex worth it this weekend as they knocked off the South conference #2 seeds 71-58.
With the Eagles narrowly ahead 52-49 heading into the fourth quarter, the Bears went cold at the worst possible time to drop the final frame 19-9, ending their quest for the playoff title.
Former BBLer Rob Marsden put together a stunning 16 point, 20 rebound, seven assist double-double to down the hosts, who were led by 17 points from Tomas Seduikis.
Semi-final fixtures
#1N Manchester Magic v #3N Doncaster Eagles
#1S Westminster Warriors v #3S Team Solent Kestrels II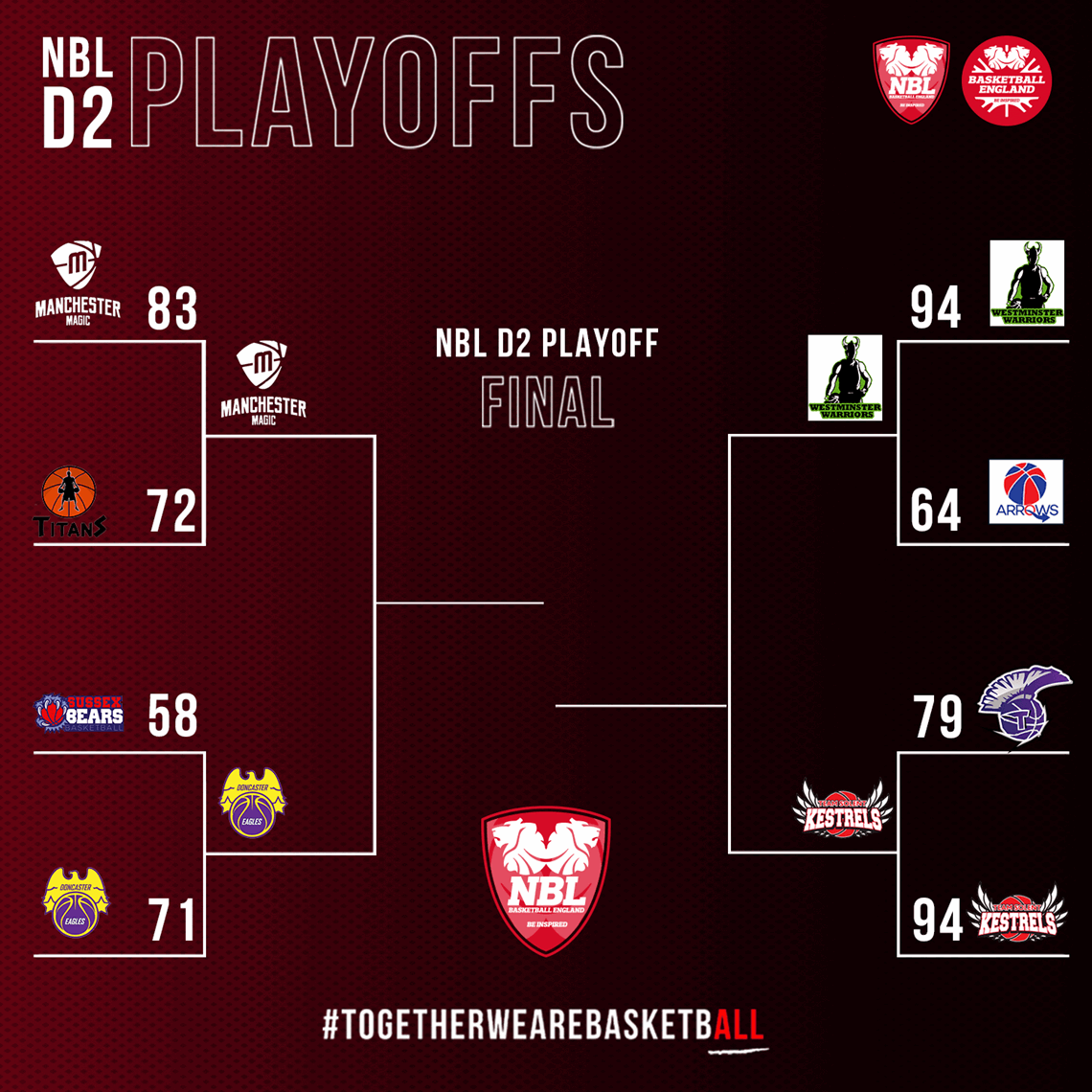 WNBL Division Two
#1N Stockport Lapwings

72-54 #4S Northamptonshire Titans
17 points from Megan Collins helped Stockport Lapwings past Northamptonshire Titans.
A 31-13 third quarter broke open the contest after what had been a relatively even first half, allowing the National Cup holders to ease into the next round.
#1S Brent Bulls

102-57 #4N Derby Trailblazers
South winners Brent Bulls also booked their spot in the final fours after the easily beat Derby 102-57.
22 points from Kenisha Whyte led the way for the hosts, who moved out of sight following a 34-10 second quarter.
WEABL standout Megan Lovatt's 18 points top scored for the Trailblazers.
#2N Sheffield Hatters

75-44 #3S Team Solent Kestrels II
Sheffield Hatters held Solent to just 20 first half points as they won 75-44 on Saturday.
Led by 20 points from former WBBL MVP Steph Gandy, WEABL North conference Most Improved Player Jasmine Graham also showed her worth to add 15 more.
Morgan Greene top scored in defeat for the Kestrels, she had a game-high 22 points.
#2S West Herts Warriors 49-69

#3N Manchester Mystics
Manchester pulled off the only upset of the weekend across D2W, beating higher seeded West Herts Warriors 49-69.
The victory sets up what is sure to be a much-anticipated local derby in the next round between the Mystics and Stockport Lapwings.
Semi-final fixtures
#1N Stockport Lapwings v #3N Manchester Mystics
#1S Brent Bulls v #2N Sheffield Hatters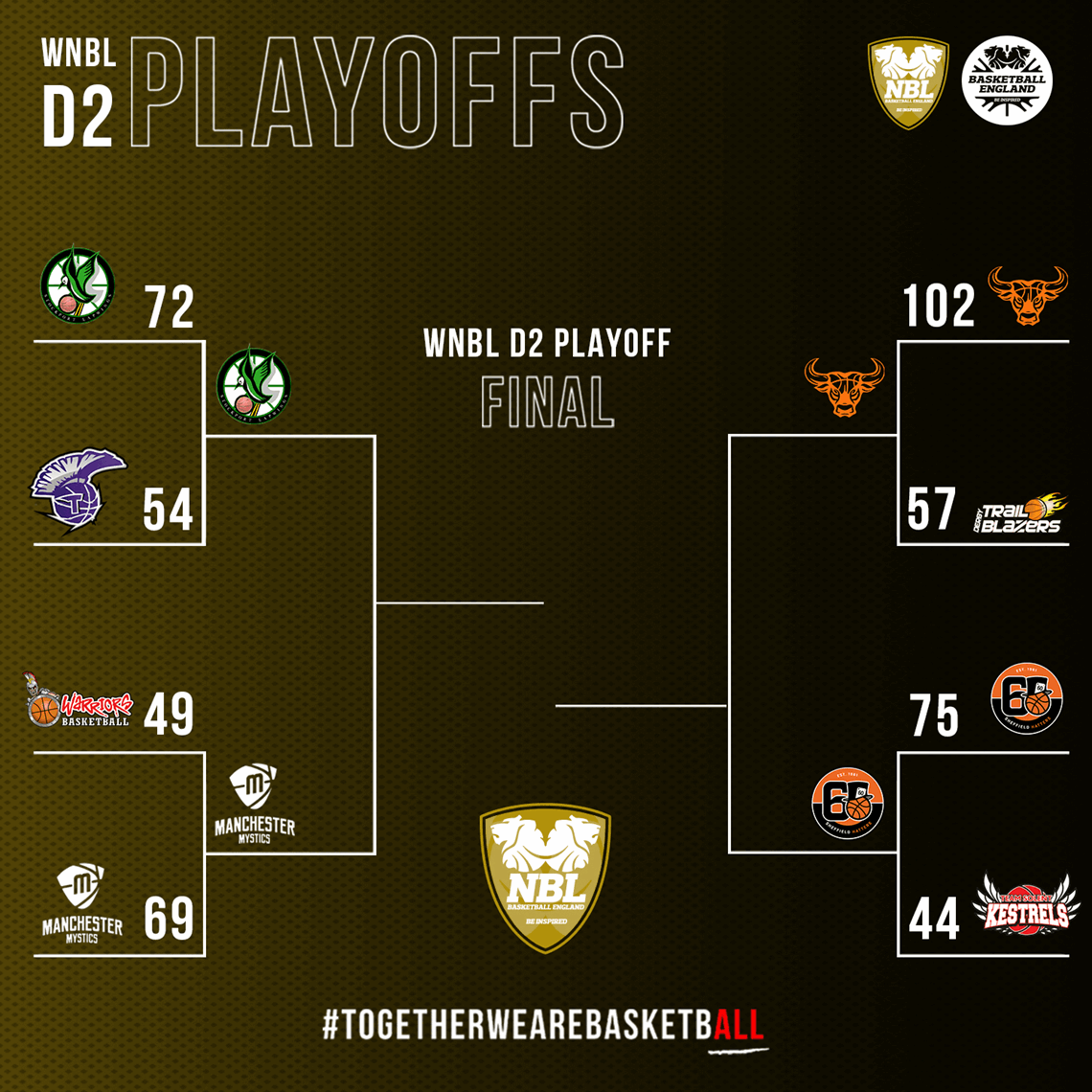 Division Three
#1 St Helens Saints

81-51 #9 Tees Valley Mohawks
Top seeds St Helens Saints' perfect season continued this weekend as they beat Tees Valley Mohawks 81-51.
Adding on to their unbeaten regular season, the North West side had no problems here to win by 30 behind top scorer Connor Murtagh.
#4 Bristol Basketball United 69-90

#5 Teesside Lions
34 points from Theo Turner allowed Teesside Lions to upset Bristol Basketball United, with a final score of 90-69.
Winning the second quarter 30-15 set the visitors up for success come the final buzzer, with Chris Taylor's 19 points unable to stop the hosts from falling to defeat.
#2 London Elite 80-83

#7 London Thunder
London Thunder won the battle of the cross-capital rivals, beating London Elite 83-80.
They'll now travel to face Worcester in the semis.
#3 Worcester Wolves

70-55 #11 Manchester Swarm
Worcester Wolves ended Manchester Swarm's playoff hopes as they won 70-55 yesterday.
Former EABL standout Ian Rodriguez top scored for the hosts with 19 points, as former BBL forward Nathan Schall had a game-high 23 for Swarm.
Semi-final fixtures
#1 St Helens Saints v #5 Teesside Lions

#3 Worcester Wolves v #7 London Thunder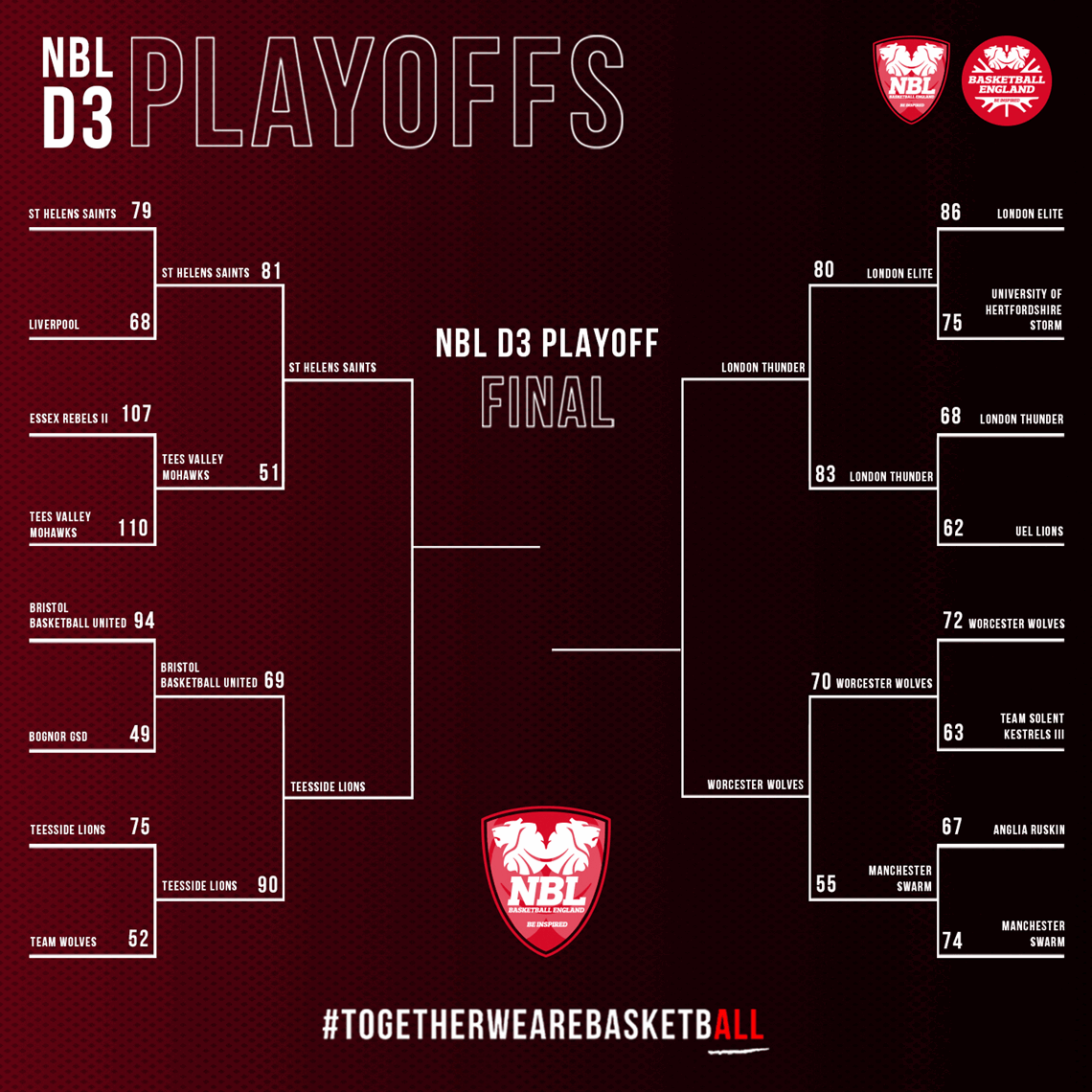 .