Project in the Paint is
'promoting engagement in UK grassroots basketball'
one art court at a time.
And the community interest company, headed up by director Gareth Roberts, has just finished its latest art court instalment - brought to life by artist Murugiah - in Great Baddow in the Chelmsford borough of Essex.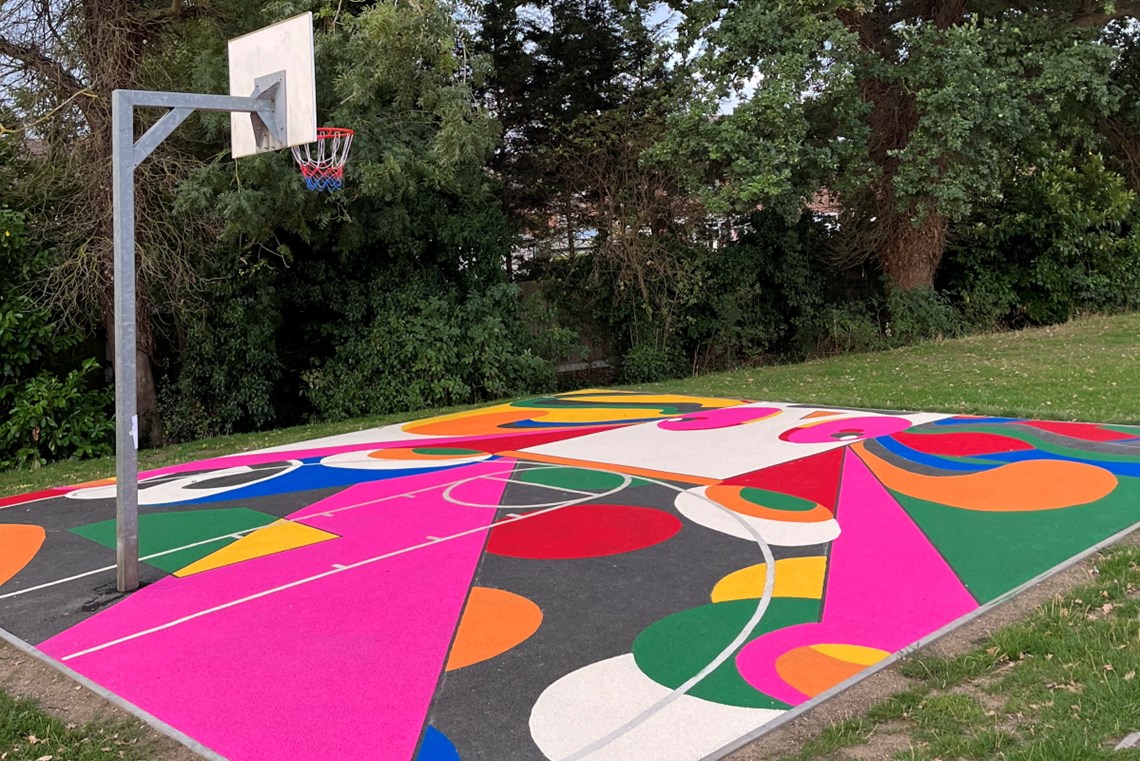 "There's been a court there for about 25-30 years and it hadn't been looked at since it was originally laid. Its concrete surface had weeds coming up through it and it was just kind of going into disrepair, even though it's a really popular spot in the park," said Roberts, who lives in Essex.  
[The parish council] allocated a budget to repair it and that included consulting me about repairing it from the ground up. The surface needed to be relayed and the basketball lines redrawn before we even came in and injected a bit of art into it. That was one of my prerequisites, that they just improve the facilities to begin with. Then on top of that, it was working with them from an art perspective." 
Broken window theory 
Originally from the Midlands, Roberts started Project in the Paint in 2019 citing his children as an inspiration and wanting them to inherit the game of basketball, which he played to a high standard representing England at U18. However, he would often turn up to local basketball courts with his two girls and be met with the harsh reality that some were havens for anti-social behaviour, not for shooting hoops.  
A graphic designer by trade and working in the visual arts for almost 20 years, the 42-year-old understood the power of design and art to influence and change people's behaviour and set about crowdfunding £2,000 to transform a court at Viaduct Road Park, Chelmsford – the prototype to his long-term ambition to 'reimagine unloved basketball courts all over the UK'.  
"I used this kind of loose broken window theory that if you take care of an environment, by nature, people think that they should be reciprocating in the same way. So that was the theory, and I just wanted to see if it worked."  
Unique art and basketball experiences 
If you look through Project in the Paint's Instagram feed it is awash with colour and multifaceted designs of art courts from around the world, bringing to life in distinctive designs the deeply significant culture of basketball and what it means to people, but also brightening – like beacons of hope – the surrounding neighbourhoods that are too often dominated by the grey of our concrete environments.  
"Art draws attention to the game and it has always been that way," says Roberts a long-time supporter of and advocate for Basketball England's #ProjectSwish, which shares a similar vision for outdoor courts in the UK.  
"[The art] is not important, necessarily, for the people that are already engaged with the game, but I think it's important for the people who aren't aware of how big the game is in the UK. The more people that are aware of how much it's loved here, the more funding can be driven into the sport.  
"And I think the more likely it is to attract sponsorship and local council funding to improve facilities. So, the art firstly drives attention to the sport and then secondly, a piece of public art on the scale of a basketball court creates really interesting and unique experiences for people who see it and experience it by playing on that court. Additionally, their exposure to art becomes dramatically increased by that being there." 
Key steps 
#ProjectSwish's Court Renovation Guide provides step by step information for anyone looking to develop an outdoor court renovation project. For someone who has lived experience, Roberts says that the key elements to any art court regeneration project are the local community, funding, and the artist.  
Briefly, he recommends taking the following steps: 
Corral a group of people passionate about basketball and a specific space to play in your local community that needs regenerating. 

 

Engage with the local authority – county/city council – to talk about your idea/request and funding, then look to local and national businesses and governing bodies like Basketball England for additional support.

 

Connect with the art world! Find a local artist to design your art court or source ideas from a local school or run a competition. 

 
.
.
.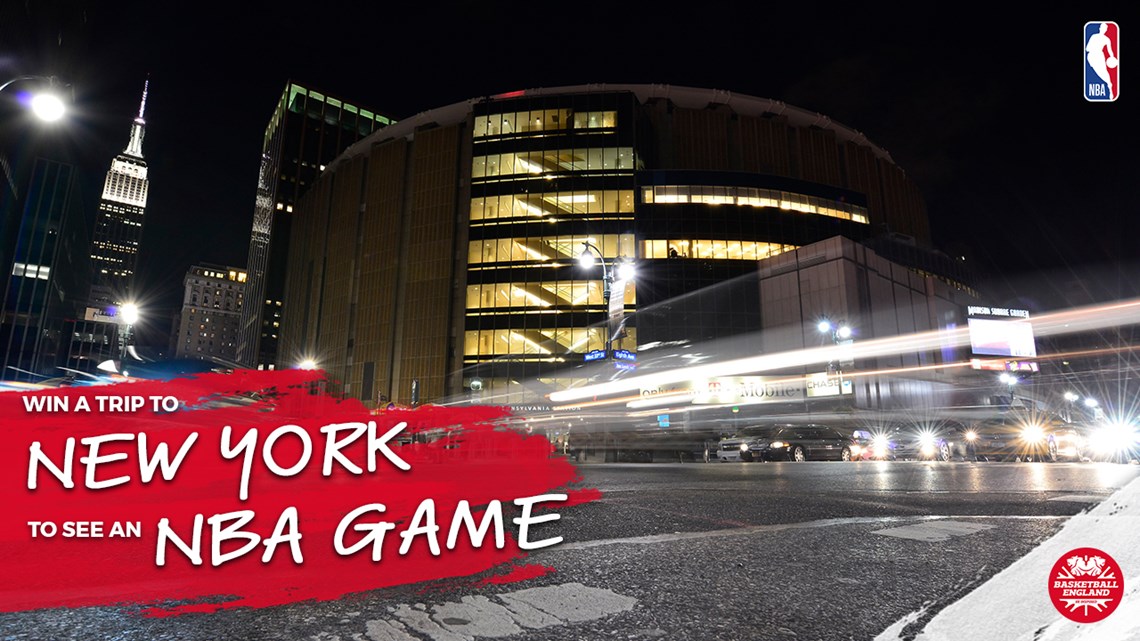 Join Basketball England for free and win a trip to New York City, courtesy of the NBA.
Whether you have a Supporter Account as a fan, follower, enthusiast or advocate, or a Full Account and have paid for a licence to play, coach or officiate in competition, you can enter our prize draw.
Basketball has the power to change lives. Our #GameTime campaign aims to raise awareness of the positive impact that basketball can have on people no matter who they are or where they are from.
.
.