Rebound's Chris Hughes had some stunning D1M contests to watch over this weekend, with a number of close games across the country.
Chris, the All-Star organiser, content producer, YouTube host and producer, commentator and social media observer, was also able to watch over the top of the table clash between Worthing and Hemel that proved to be one of the games of the season so far.
Have your say on this week's choices and give a shout-out to the players you think deserve one using the hashtag #NBL2223 and #ReboundTOTW. Don't forget to tag us!    
Twitter:  @NBLengland / @Rebound__  
Facebook:  @NBLengland  / @ReboundNBL  
Instagram:  @nblengland / @reboundnbl  
How it works 
Chris will pick a Player of the Week and four other selections to round out his Team of the Week, paying attention to the following criteria:
Efficiency  
Stats  
Team and opposition strength  
Periods of influence in the game 
Being on a winning team (exceptional performances from players on losing teams will be considered for TOTW)
Other players will also receive a shout out as honourable mentions at the bottom of the piece.
The Rebound Team of the Week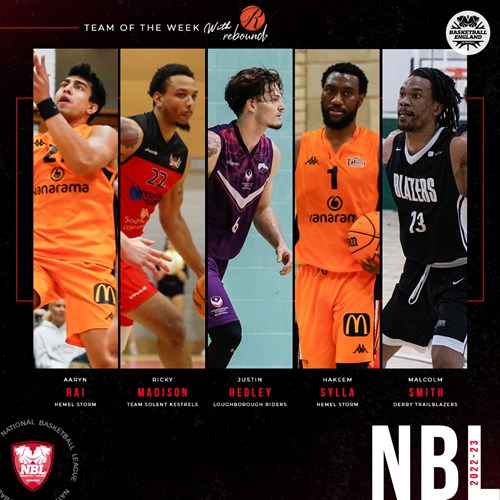 PLAYER OF THE WEEK 
Aaryn Rai – Hemel Storm, forward
30PTS, 16REB, 5AST, 35EFF  
Rai put smiles on Hemel fans' faces as the big man ensured they kept their unbeaten run at the expense of Worthing - unbeaten themselves prior to this encounter - with a stand-out double-double performance. 
In a pivotal third quarter with the Storm trailing by two points, Rai took the Storm to another level with 11 points from efficient shooting, while working Worthing at both ends. It meant a seven-point lead heading into the final quarter. 
Four points down the stretch for the former Dartmouth alumni kept the scoring going as Hemel edged a five-point road trip win.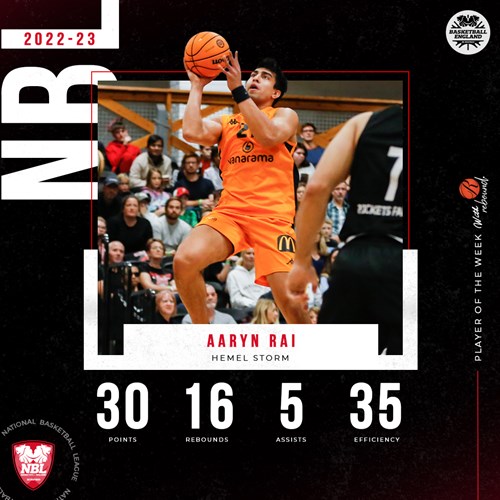 Ricky Madison – Team Solent Kestrels, forward
18pts @ DTB
34pts, 18reb, 2ast, 1stl, 1blk, 39eff vs not
Only the loss in Saturday's road-trip to Derby prevented Madison making it a back-to-back Solent 'Player of The Week' performances.  
He was a threat in Sunday's clash, going to the line more times than the entire Hoods contingency combined. The US forward netted the game-winning free throw from an and-one play on his way to seven fourth-quarter points. That output proved vital in helping Solent seal a two-point win after trailing by seven at the start of the fourth. 
The former NCAA High Point Panther star is a born competitor and also added 18 points in the narrow road trip loss to one of the league's finest in the form of Derby. 
Justin Hedley – Loughborough Riders, guard 
16PTS, 7reb, 5ast, 2stl, 1blk, 21eff vs man
19pts, 15reb, 6ast, 1stl, 3blk, 36eff vs ess
Hedley put in two elite two-way performances to keep Loughborough's great winter form going with efficient shooting from the line as he averaged 5.5 assists over the double-header, plus just shy of an impressive two steals and blocks. 
Hedley influenced both games down the stretch in multiple ways, with defensive stops, buckets and dimes to stretch the lead. 
Hakeem Sylla – Hemel Storm, forward
24PTS, 13REB, 1AST, 3STL, 2blk, 33EFF  
Sylla recorded six points, one assist and a steal in clutch moments to inspire Hemel to the five-point win against fierce title rivals Worthing.  
The Guinean international used his big game experience and size to dominate in the paint as Hemel out-scored and out-rebounded a very impressive team on the glass.
Defensively a game high of three steals limited the damage Hemel had from almost twice as many turnovers compared to Worthing.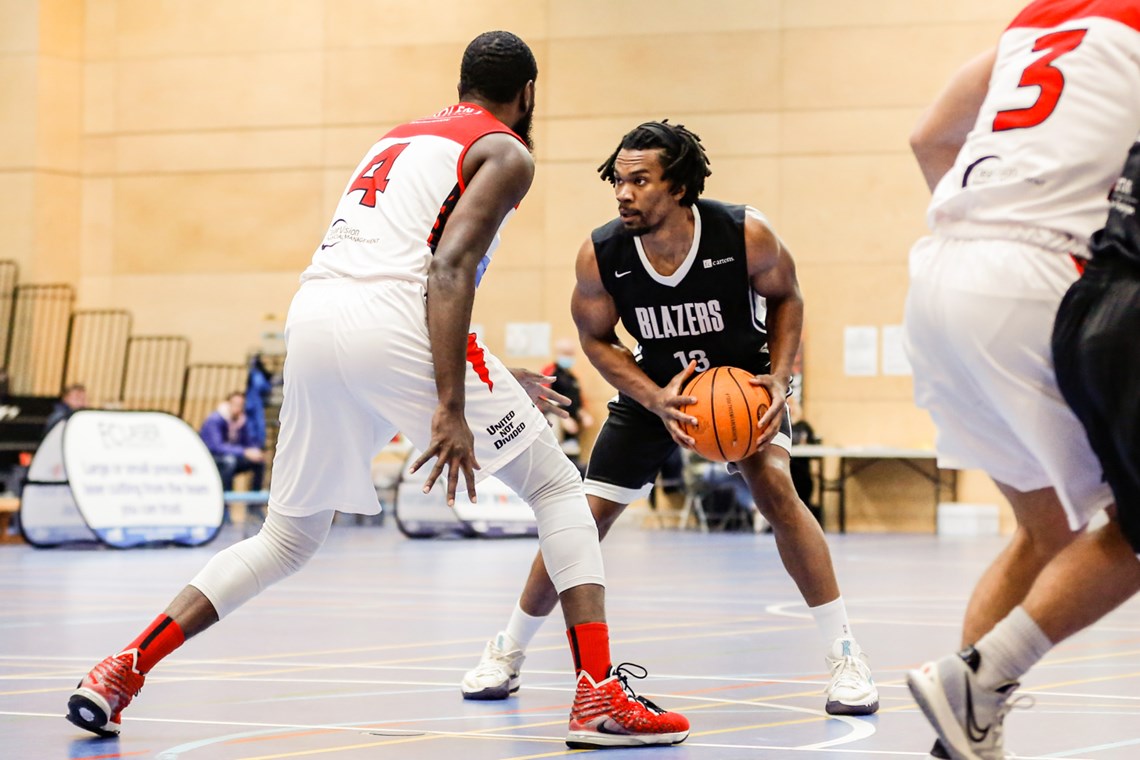 Malcolm Smith – Derby Trailblazers, forward
18pts vs tsk
25pts, 15reb, 2ast, 2stl, 3blk, 30eff @bra
Smith (pictured above) put in a back-to-back captain's performances and gave a reminder of his skillset, if one was needed. The former NBL MVP had a double-double and an 18-point performance to see off a resurgent Solent. 
Four clutch points down the stretch ensured Derby took the honours in the two-point road trip win at Bradford. 
Team basketball 
Riders' run continues
Loughborough have plenty of momentum with only one defeat since late October as they head into the New Year in high spirits. 
Across a double-header weekend they relied on four of the starting five making double digits in points. 
Honourable mention to Milo Gordon - his three blocks versus Magic were key and an attacking performance against Essex as proved in the stats at both games showed that Gordon can do a bit of everything. 
Bradford compete to the last play
Bradford's competitiveness has been a pleasing factor this season. It may have peaked this weekend as they were unfortunate to be on the wrong side of a two-point loss to high-flying Derby after an impressive win versus the hot-and-cold Cavaliers. 
In Saturday's win a 29-20 final quarter was needed to edge an eight-point win with an impressive 50 team FG% as all five starters scored double digits. 
Honourable mention to Rihard Sulcs who was on fire with a triple-double plus four steals to add in Saturday's win. 
Honourable mentions 
Rihards Sulcs (BRA) - 10p/11R/10A/4S/1TO/27EFF
Bode Adeluola (TVC) - 33P/4R/2A/38EFF
Ryan Bruggeman (DTB) - 19P
Seth Hall (NOT) - 35P/9R/5A/30EFF
Andre Gayle (MAN) - 24P/11R/3A/3S/27EFF @LOU & 17P/14R/1A/15EFF vs REA
.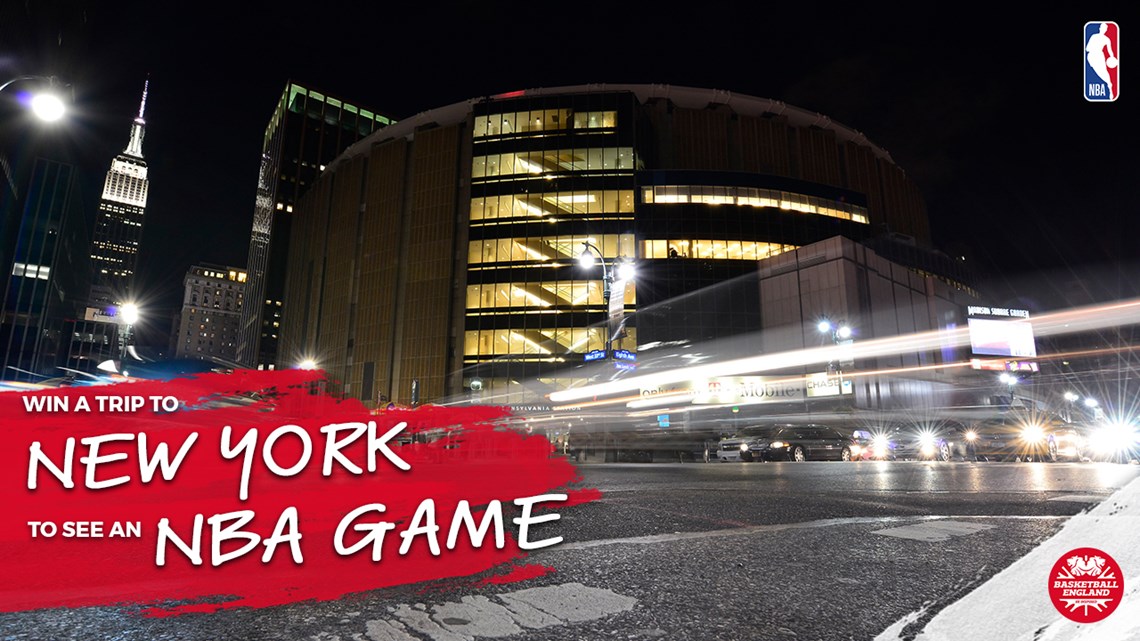 Join Basketball England for free and win a trip to New York City, courtesy of the NBA.
Whether you have a Supporter Account as a fan, follower, enthusiast or advocate, or a Full Account and have paid for a licence to play, coach or officiate in competition, you can enter our prize draw.
Basketball has the power to change lives. Our #GameTime campaign aims to raise awareness of the positive impact that basketball can have on people no matter who they are or where they are from.
.
.
Main images - Graham Hodges, Luke Simcock
Graphic images - Luke Simcock, Graham Hodges, Lauren Newham