Rebound's Chris Hughes is back to spotlight the top performers from the weeken's D1M contests.
Chris, the All-Star organiser, content producer, YouTube host and producer, commentator and social media observer, was looking for standout performances for his Player of the Week award and four other high-quality players to make up his Team of the Week in the process.
Have your say on this week's choices and give a shout-out to the players you think deserve one using the hashtag #NBL2223 and #ReboundTOTW. Don't forget to tag us!    
Twitter:  @NBLengland / @Rebound__  
Facebook:  @NBLengland  / @ReboundNBL  
Instagram:  @nblengland / @reboundnbl  
How it works 
Chris will pick a Player of the Week and four other selections to round out his Team of the Week, paying attention to the following criteria:
Efficiency  
Stats  
Team and opposition strength  
Periods of influence in the game 
Being on a winning team (exceptional performances from players on losing teams will be considered for TOTW)
Other players will also receive a shout out as honourable mentions at the bottom of the piece.
The Rebound Team of the Week
 
PLAYER OF THE WEEK 
Aaryn Rai – Hemel Storm, forward 
20PTS (7-8FGM)/14REB/11AST/1STL/4BLK/46EFF

  
Rai did a bit of everything in Hemel's win over big Saturday win over Thames Valley to protect Storm's unbeaten start to the season. 
He had an impressive 4p/3r/5a/3b first quarter to set the tone for the rest of the game. 
The former Dartmouth forward put in an epic two-way performance with a triple-double to add. He was on another level, only missing one of his field goals and leading all players with four blocks.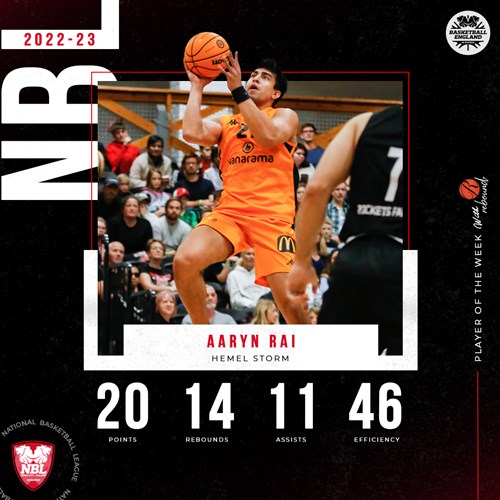 Sam Newman – Hemel Storm, guard 
26PTS (11-14FGM/4-6 3PM)/7REB/8AST/3STL/40EFF  
Newman once again showed what he brings to this star-studded team with an exciting performance with alley-oop assists and efficient three-point shooting on display.  
He led all scorers as his shooting and playmaking was a massive reason why Hemel shot a team 62FG%.  
David Moya – Worthing Thunder, guard 
19PTS/3REB/11AST/1TUR/6STL/28EFF 

 
The Rebound 'Team of The Year' guard once again reminded the league of his elite skillset with a two-way performance which included 11 assists and six steals and just one turnover in the win over Derby.  
Moya started the game well, with seven points and four assists in a breakout 38-18 first quarter aiding Worthing in a pivotal first quarter between two of the league's finest.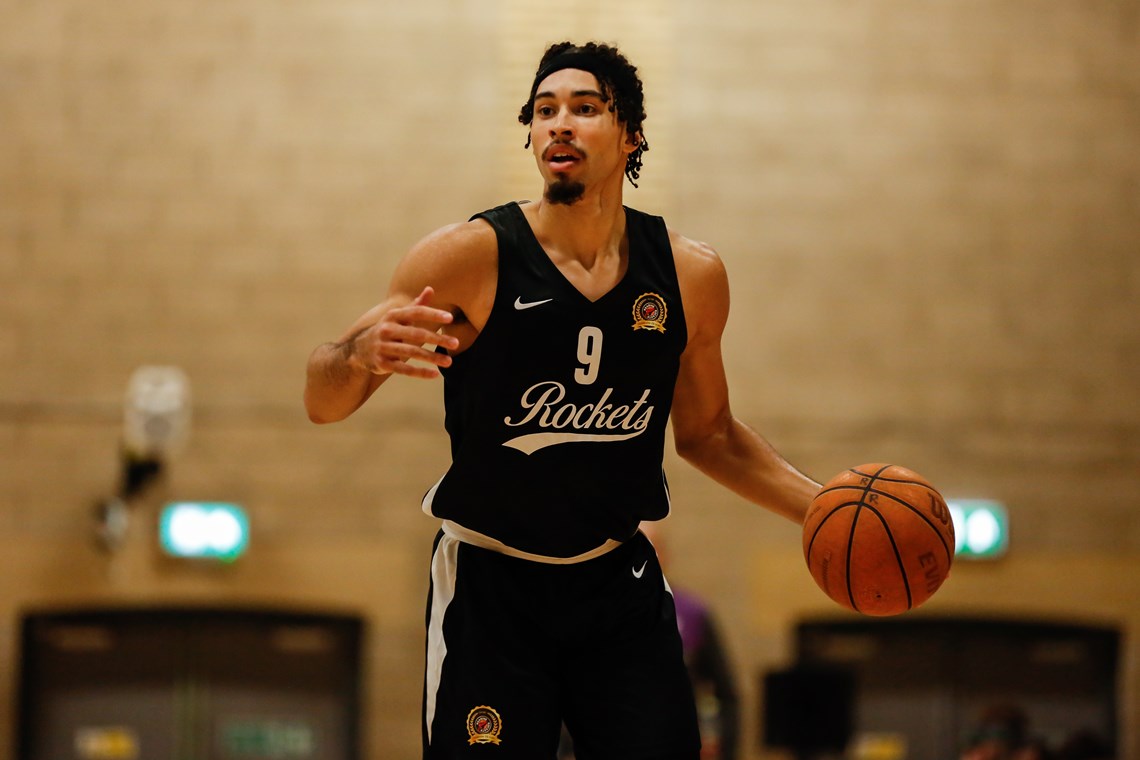 Troy Cracknell – Reading Rockets, guard 
24PTS(9-10FTM)/9REB/2AST/6STL/28EFF  
Cracknell (pictured above) put in a superb two-way performance to give Reading Rockets their first dub of the regular season against Bradford. 
Cracknell's 11 fourth-quarter points including a perfect five from the free-throw line as showed his big-time mentality. 
Lee Linton-Hodges – Essex Rebels, forward 
25PTS (8-11FGM/9-11FTM)/3-3 3PM/3-3FTM)/4REB/5AST/1BLK/30EFF  
Lee Linton-Hodges put on a masterclass cameo from the bench with lights-out shooting and a playmaking performance that saw him take three offensive rebounds and dish out five dimes with his 25 points in the road win at Newcastle. 
Linton-Hodges five points and two assists down the stretch prevented any chance of a comeback. 
Team basketball 
THUNDER END DERBY'S UNBEATEN RECORD 
Worthing are looking unstoppable at present with a dominant performance against a previously unbeaten Derby side. Ronald Blain really impressed in key moments and is unlucky not to make an honourable mention especially with his first-quarter contributions. 
Worthing managed to register two 30+ point quarters against one of the strongest defensive sides in the league as they proved to be too much for this Trailblazers side  
ESSEX ENJOY 100-POINT ROADTRIP 
Essex put on a team performance with the bench, led by Lee Linton-Hodges, outscoring the starters by four points in the tricky road assignment.  
Honourable mentions to Owen Chose and captain Rory Winter, as the pair kept the scoring going but also put a shift in defensively - part of a team effort leading 27 points from turnovers. 
Honourable mentions 
RYAN BRUGGEMAN (DER) – 14P(4-6FGM)/9R/8A/1S/26EFF 
JOSHUA GUDDEMI (NOTT) – 22P/11R/3A/4S/25EFF  
JAKE EYNON (ESS) – 15P/6R/7A/3S/23EFF  
ANDRE ARISSOL (WOR) – 21P(8-12FGM/5-8 3PM)/3R/2A/3S/23EFF  
HAKEEM SYLLA (HEM) - 17P(8-11FGM)/12R/1A/1B/27EFF 
Pictures: Luke Simcock
.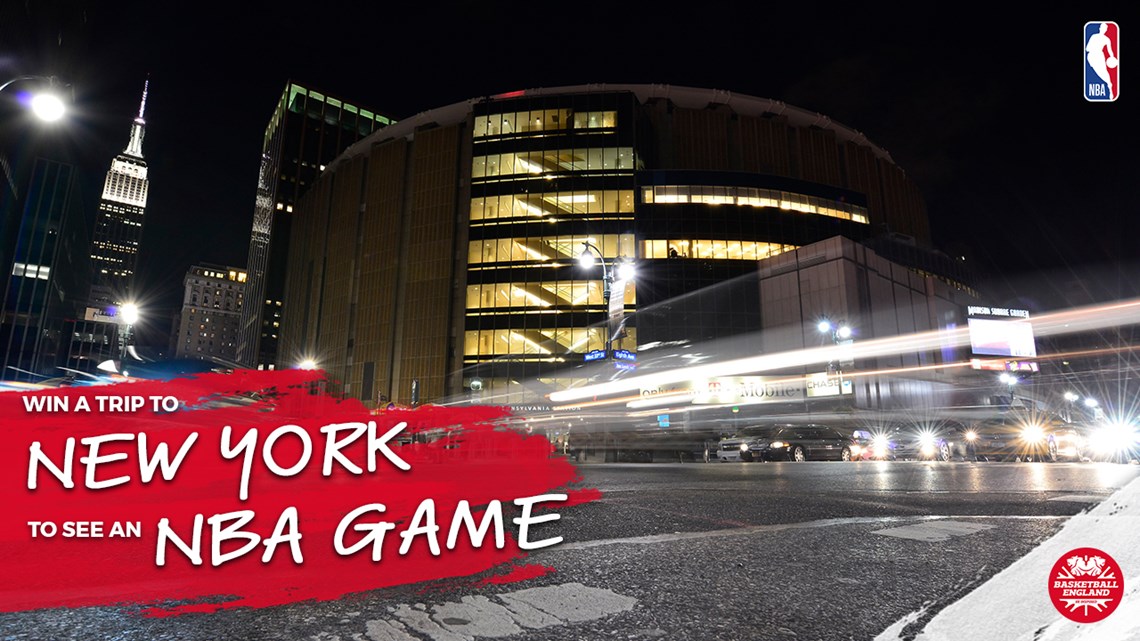 Join Basketball England for free and win a trip to New York City, courtesy of the NBA.
Whether you have a Supporter Account as a fan, follower, enthusiast or advocate, or a Full Account and have paid for a licence to play, coach or officiate in competition, you can enter our prize draw.
Basketball has the power to change lives. Our #GameTime campaign aims to raise awareness of the positive impact that basketball can have on people no matter who they are or where they are from.
.
.