Rebound's Chris Hughes is back once again to cast an eye over the top performers from the weekend's D1M contests.
Chris, the All-Star organiser, content producer, YouTube host and producer, commentator and social media observer, was looking for standout performances for his Player of the Week award and four other high-quality players to make up his Team of the Week in the process.
Have your say on this week's choices and give a shout-out to the players you think deserve one using the hashtag #NBL2223 and #ReboundTOTW. Don't forget to tag us!    
Twitter:  @NBLengland / @Rebound__  
Facebook:  @NBLengland  / @ReboundNBL  
Instagram:  @nblengland / @reboundnbl  
How it works 
Chris will pick a Player of the Week and four other selections to round out his Team of the Week, paying attention to the following criteria:
Efficiency  
Stats  
Team and opposition strength  
Periods of influence in the game 
Being on a winning team (exceptional performances from players on losing teams will be considered for TOTW)
Other players will also receive a shout out as honourable mentions at the bottom of the piece.
The Rebound Team of the Week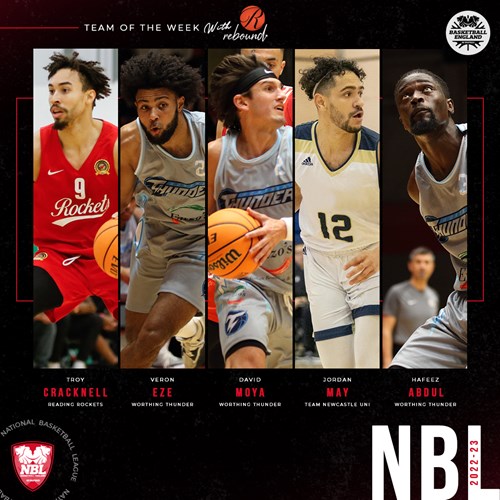 PLAYER OF THE WEEK 
Troy Cracknell – Reading Rockets, guard 
28PTS, 8REB, 3AST, 1STL, 1BLK, 33EFF  
Cracknell is this week's main man after Reading notched their second win of the regular season against London Lions II.  
Cracknell was the decisive factor in an eight-point victory, as Reading edged the second and third quarters behind the US import's combined tally of 18 points either side of the midway point. 
The former Augusta University star netted eight of his 10 attempts from the field, impressive considering the Lions pulled out all the stops, forcing him to the line 11 times, with nine shots converted.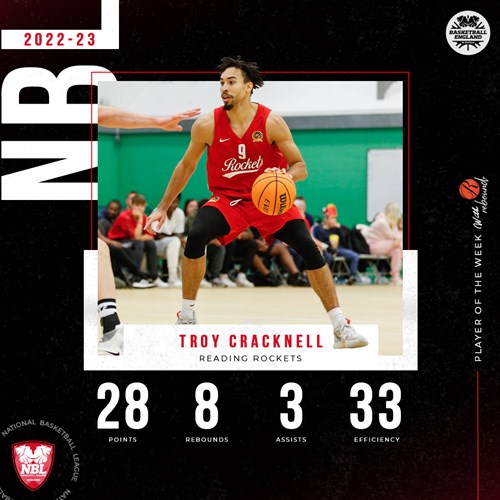 Veron Eze – Worthing Thunder, wing 
25PTS, 5REB, 2STL, 1BLK, 30EFF  
Eze is unfortunate not to get the stand-out gong. The Thunder gang routinely ask who is next to make Team of The Week and Eze is the answer this week, with the youngster making it look easy with a 25-point display against a strong Nottingham team. 
The Barking alumni shot the ball well, draining 10-13 from the field. On top of that, a trio of stops helped stretch the margin of victory over the Hoods to 24 points. 
David Moya – Worthing Thunder, guard 
22PTS, 5AST, 2TO, 4STL, +/- 28, 25EFF  
Moya is enjoying life on the South Coast and on the road. He led his team in the +/- against the Hoods as his influence shone with five assists, four steals and only two turnovers. 
He was also part of a team effort that forced Nottingham's starting guards into eight turnovers. 
Netting five of his eight attempts from long range increased the American's impact, finishing the game with an efficient 7 makes on 11 shots from the floor plus a perfect three from three from the charity stripe.
Jordan May – Team Newcastle University, guard 
25PTS, 5REB, 5AST, 1STL, 26EFF  
May is a legitimate three-point shooter and could not be contained by Thames Valley as he hit seven triples from 10 attempts.  
Newcastle shot 69% from beyond the arc, in part due to the spacing opened up by the focus on the hot hand from California State as May and his teammates handed the Cavaliers a 23-point L on their own court.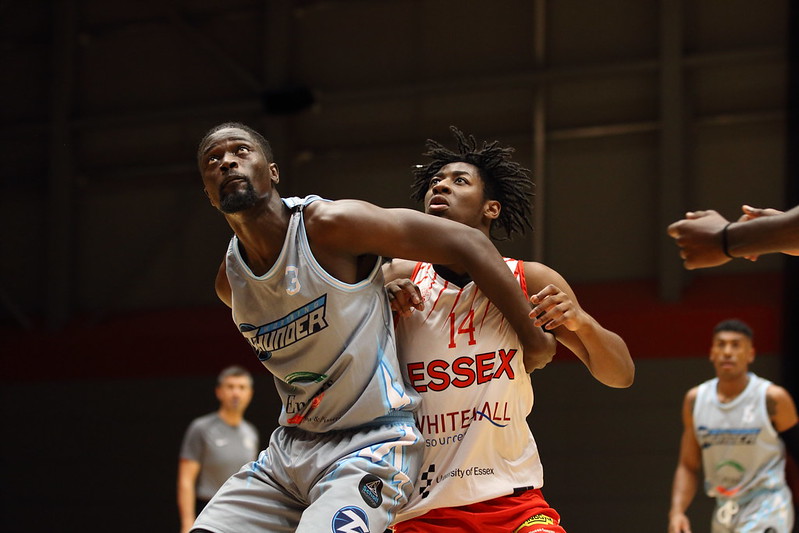 Hafeez Abdul – Worthing Thunder, forward 
19PTS, 12REB (5 O-REB), 3AST, 3STL, 27EFF  
Hafeez Abdul (pictured above, left) put on a show with a 19-point 12-rebound double-double as Worthing dominated under the basket at both ends. 
Abdul's five offensive boards helped as Worthing protected their unbeaten run. 
Team basketball 
READING'S SHOOTING STARS 
Reading built a strong team 56FG% with a 64/42/76 shooting stat-line as they finished six points shy of a ton with an offensive masterclass. 
They had four players in double figures (plus one more on nine points), however honourable mention to Finleigh Porter who blocked five shots along with his 12 points, while only missing one shot. 
LOUGHBOROUGH FINISH AN UNBEATEN NOVEMBER ON A HIGH 
Loughborough probably put in the best performance of their 4-0 November run with five players getting double digits on the road against promoted Westminster. 
Multiple three-point plays in the fourth turned the tide of a tight contest, with a strong 27-17 quarter sealing a three-point road trip dub.
Lane Campbell's 25 points off the bench and an efficient double-double from Harrison Gamble both saw them narrowly missing out on 'Team of The Week' honours. 
Honourable mentions 
Lane Campbell (LOU) – 25P/5R/1S/20EFF 
Harrison Gamble (LOU) – 14P(4-6FGM/2-3 3PM/4-4FTM)/10R/3A/25EFF  
Ronald Blain (WOR) – 25P(11-16FGM)/6R/3A/1B/28EFF  
Orlan Jackman (WOR) – (24:35) 10P(4-6FGM)/11R/6A/3S/24EFF  
Finleigh Porter (REA) - 12P(5-6FGM)/6R/1S/5B/24EFF 
.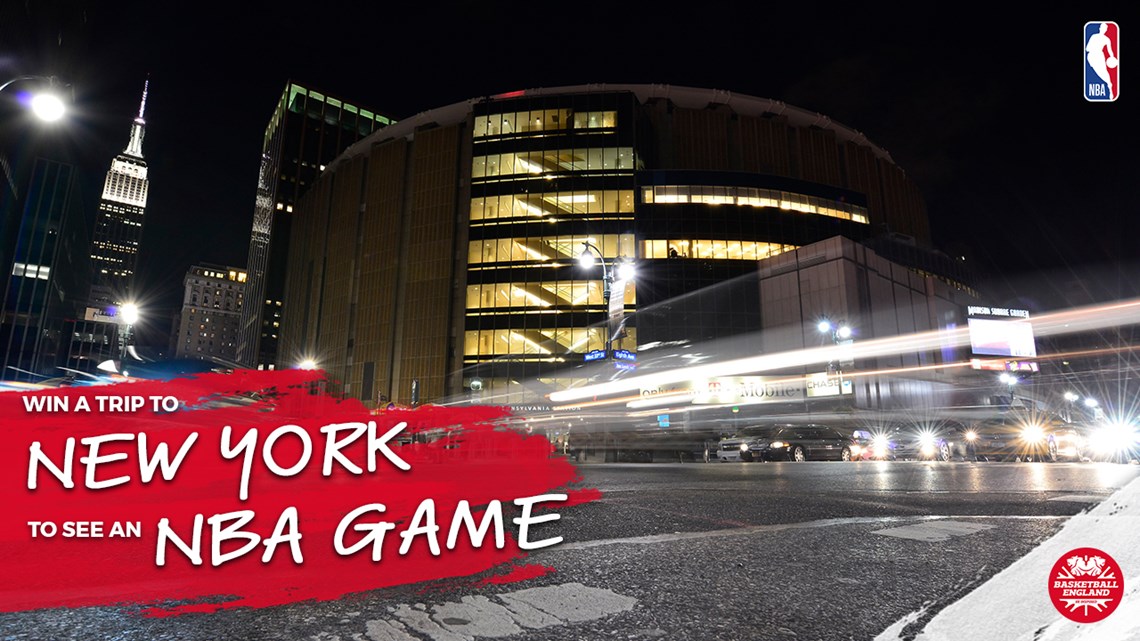 Join Basketball England for free and win a trip to New York City, courtesy of the NBA.
Whether you have a Supporter Account as a fan, follower, enthusiast or advocate, or a Full Account and have paid for a licence to play, coach or officiate in competition, you can enter our prize draw.
Basketball has the power to change lives. Our #GameTime campaign aims to raise awareness of the positive impact that basketball can have on people no matter who they are or where they are from.
.
.
Main images - Luke Simcock, Nick Winter
Graphic images - Luke Simcock, Nick Winter, Brent Dundore-Arias/CSU MB