Rebound's Chris Hughes is back once again to cast an eye over the top performers from another week of D1M action.
Chris, the All-Star organiser, content producer, YouTube host and producer, commentator and social media observer, was able to look over every team in the league this week in search for performances worthy of his Player of the Week award and four other high-quality players to make up his Team of the Week in the process.
Have your say on this week's choices and give a shout-out to the players you think deserve one using the hashtag #NBL2223 and #ReboundTOTW. Don't forget to tag us!    
Twitter:  @NBLengland / @Rebound__  
Facebook:  @NBLengland  / @ReboundNBL  
Instagram:  @nblengland / @reboundnbl  
How it works 
Chris will pick a Player of the Week and four other selections to round out his Team of the Week, paying attention to the following criteria:
Efficiency  
Stats  
Team and opposition strength  
Periods of influence in the game 
Being on a winning team (exceptional performances from players on losing teams will be considered for TOTW)
Other players will also receive a shout out as honourable mentions at the bottom of the piece.
The Rebound Team of the Week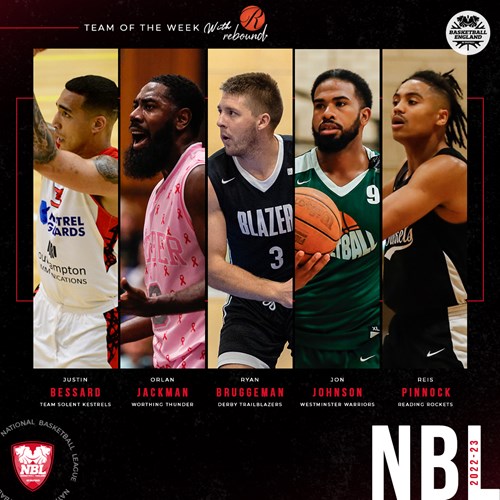 PLAYER OF THE WEEK 
Justin Bessard – Team Solent Kestrels, forward
22PTS, 13REB, 1AST, 2BLK, 29EFF  
With Solent needing their first home regular season win, Justin Bessard stepped up with a double-double performance against Thames Valley.
His rebounding and performance in the paint was a catalyst as Solent dominated both down low and in second-chance points.
The American went on a personal 6-0 run at the end of the third to give Solent a 14-point lead to ensure the Cavaliers had their work cut out over the final quarter.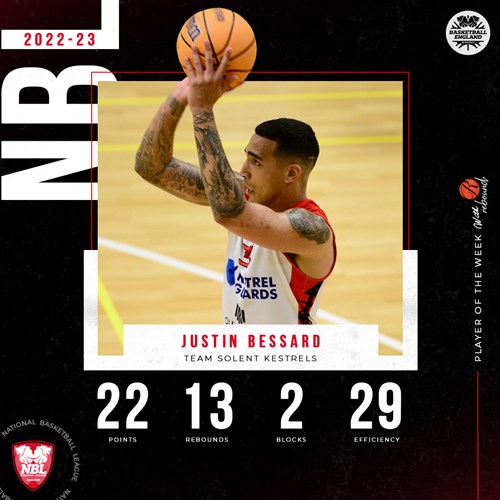 Orlan Jackman – Worthing Thunder, forward
23PTS, 12REB, 1ast, 4STL, 1BLK, 32EFF  
Orlan Jackman put in an epic two-way performance in the four-point road trip win against Westminster, staving off what would have been a huge upset against the league's basement side.
Jackman's performance in the first quarter was one of the few positives for Thunder as they were behind by eight points early on. The Team England man's presence on the boards as part of a team effort was also a key as Thunder out-rebounded the opposition on the way to a narrow victory.
Ryan Bruggeman – Derby Trailblazers, guard 
26PTS, 5AST, 10ast, 4stl, 29eff
Week in, week out Ryan Bruggeman chases that 'Assist King' crown with another double-double point and dimes performance on the road against Newcastle.
Bruggeman played a starring role in the first quarter, which Derby led by eight points, leading his side with an impressive eight points, including a 'and-one' play, coupled with assists and steals.
That early advantage gave Derby a platform to build from as they eventually sealed their seventh win of the season.
Jon Johnson – Westminster Warriors, forward
25PTS, 5REB, 5AST, 1STL, 26EFF  
Jon Johnson was very unlucky to be on the losing side with an efficient double-double versus the league's top dogs Worthing Thunder.
Johnson was seen as a threat as he was sent to the line eight times, with an almost perfect return and the Warriors' captain was directly involved in more than half of their successful first-quarter plays.
The talented shooter led his side with nine points in the first quarter as Warriors were up by eight after the opening frame, and Johnson also added nine points in the last quarter to ensure the game went down to the wire.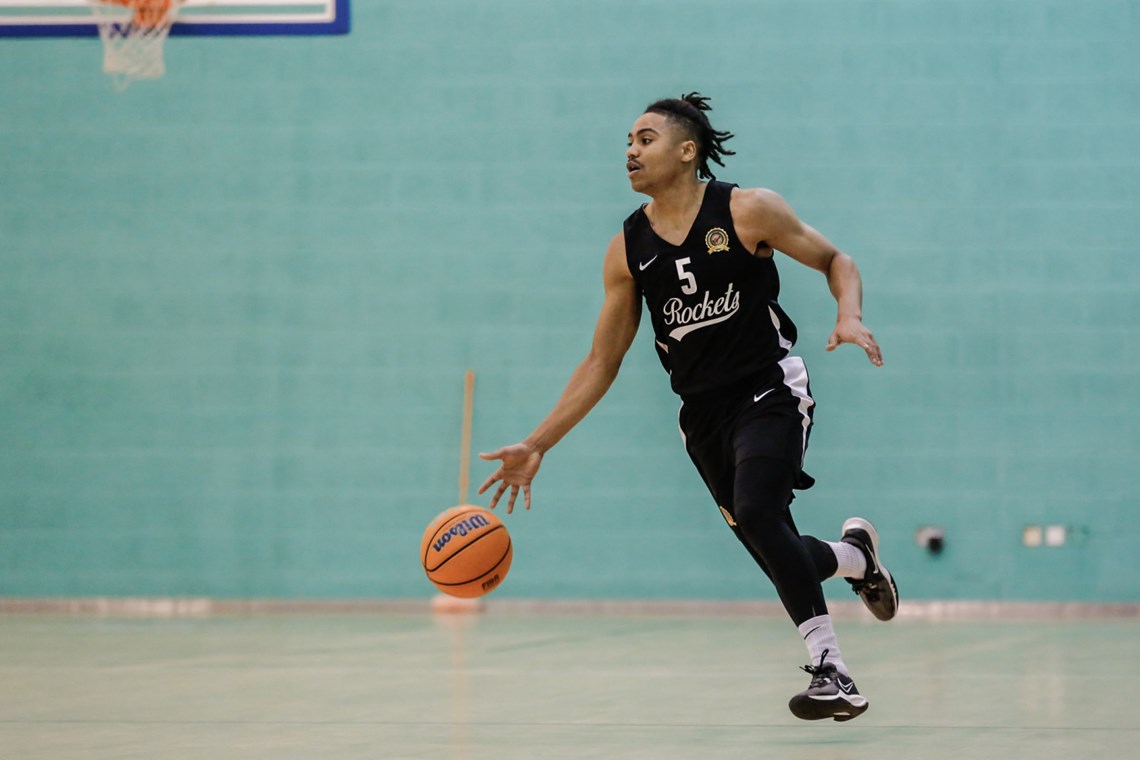 Reis Pinnock – Reading Rockets, guard
13PTS, 18EFF
Reis Pinnock (pictured above) put in an efficient performance on the road at Loughborough hitting 5-5 from two-point range.
Pinnock came back to haunt his former side as he helped Reading at both ends of the floor - via four assists and a couple of steals - as the Rockets put themselves in contention for the play-off spots.
Team basketball 
Hemel bring the ton up to see off nottingham
Hemel put in a team scoring performance this weekend against Nottingham, with five players making it to double digits on the scoreboard plus 32 points from the bench, all coming at an amazing team 54FG%.
An honourable mention must go to Seth Swalve for his two-way performance, dealing a game-high seven assists and three steals with only a single turnover alongside 12 points.
Derby keep on rolling with another dub
Derby disposed of Newcastle on the road to keep their title credentials alive with a strong performance by the starting five, whilst only using an eight-man rotation.
The sharp shooting side hit a nice 47FG%, 33 3P% and 78FT% as Newcastle did their best but ultimately could not keep up with the free-scoring Trailblazers.
Honourable mentions 
Jordan May (NEW) – 21P/7R/9A/2S/27EFF 
Jonas Dieterich (DTB) – 18P/8R/3A/1S/23EFF
Hafeez Abdul (WOR) – 17P/12R/5A/2S/18EFF
Elias Poorman (TSK) – 13P/4R/5A/5S/16EFF
Igor Stokic (LL2) - 16pts
.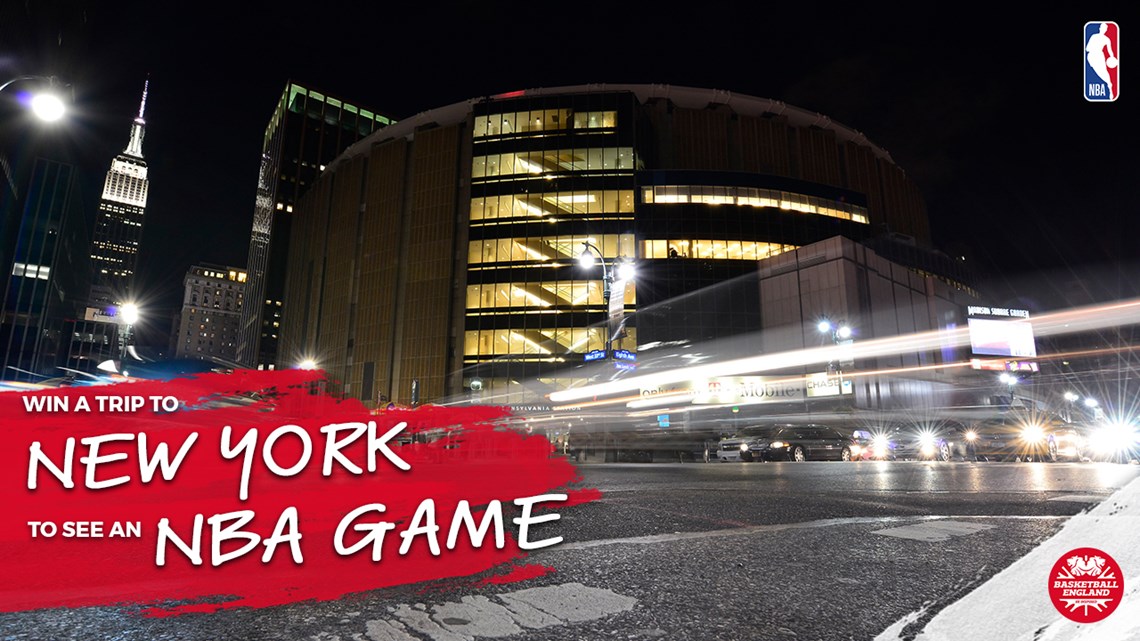 Join Basketball England for free and win a trip to New York City, courtesy of the NBA.
Whether you have a Supporter Account as a fan, follower, enthusiast or advocate, or a Full Account and have paid for a licence to play, coach or officiate in competition, you can enter our prize draw.
Basketball has the power to change lives. Our #GameTime campaign aims to raise awareness of the positive impact that basketball can have on people no matter who they are or where they are from.
.
.
Main images - Kaitlyn Jeffrey, Luke Simcock
Graphic images - Graham Hodges, Lauren Newham, Luke Simcock