Rebound's Chris Hughes was finally able to take in some regular season action this past weekend, and the league's stars didn't disappoint.
Chris, the All-Star organiser, content producer, YouTube host and producer, commentator and social media observer, watched a hefty 12 games across the opening weekend of the D1M regular season,  selecting his Player of the Week and four other standouts to make up his Team of the Week in the process.
Have your say on this week's choices and give a shout-out to the players you think deserve one using the hashtag #NBL2223 and #ReboundTOTW. Don't forget to tag us!    
Twitter:  @NBLengland / @Rebound__  
Facebook:  @NBLengland  / @ReboundNBL  
Instagram:  @nblengland / @reboundnbl  
How it works 
Chris will pick a Player of the Week and four other selections to round out his Team of the Week, paying attention to the following criteria:
Efficiency 

 

Stats 

 

Team and opposition strength 

 

Periods of influence in the game 

Being on a winning team (exceptional performances from players on losing teams will be considered for TOTW)
Other players will also receive a shout out as honourable mentions at the bottom of the piece.
The Rebound Team of the Week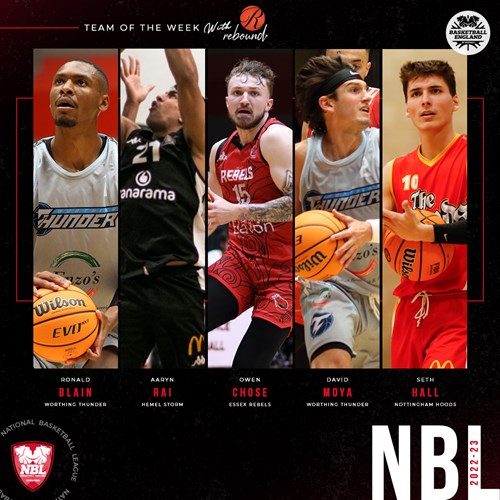 PLAYER OF THE WEEK
Ronald Blain – Worthing Thunder, forward
23PTS (8-12FGM), 12REB, 11AST, 3STL, 41EFF @ LL2
13PTS, 7REB, 5AST, 2STL, 1BLK, 22EFF @ LOU
In a double-header road trip weekend, Ronald Blain delivered a triple-double against London Lions II and an efficient 18-minute cameo against Loughborough to ensure Worthing started the season in style.
Against a young Lions side, Blain was a key part of a team effort to tame the opposition and build a 48-point half time lead that effectively put the game to bed with 20 minutes still remaining.
It was an epic performance across the weekend by the MVP candidate, proving that he can lead his team to glory as they are now 7-0 in all competitions.
Aaryn Rai - Hemel Storm, forward
17PTS, 9REB, 11AST, 3STL, 2BLK, 30EFF vs bra
33PTS, 13REB, 5AST, 2STL, 3BLK, 47EFF @ LL2
Aaryn Rai deserved every one of his minutes on the court this weekend as the Dartmouth alumni put in two 'Player Of The Week' worthy performances, just missing out on my top spot.
On Saturday Rai was one board away from a triple-double against Bradford, creating the time and space needed for the rest of the Storm's starting five to shine as well.
On Sunday, a sluggish first quarter by Hemel was erased as Rai raised the bar with 10 second-quarter points. That provided Hemel with a nine point lead at the half-way point, an advantage which they further extended the longer the game wore on.
Owen Chose - Essex Rebels, guard
22PTS, 8REB, 4AST, 1BLK, 23EFF Vs WW
27PTS (4-6 3PM), 6REB, 4AST, 2STL, 32EFF Vs TVC
Formerly with NCAA D1 school Stonehill, Owen Chose starts his NBL season with a bang as the Rebels claimed back-to-back wins across their double-header weekend.
In Saturday's game against newly promoted Westminster, Close demonstrated both his range of shooting and his playmaking ability to lead Essex in both points and assists (tied), opening up space on offence as the Rebels' shot an impressive 49% from the floor.
In Sunday's surprise 87-79 win against the Cavaliers, TVC almost made a late comeback. Essex's scoring had dried up with a meagre 16 points in the final frame, however seven points from Chose was enough to push his team over the line, nabbing him a spot in my TOTW in the process. 
David Moya – Worthing Thunder, guard
15PTS, 1REB, 8AST, 5STL, 20EFF @ LL2
24PTS (9-12 FGM/4-6 3PM), 5REB, 4AST, 3STL, 29EFF @ LOU
David Moya is doing a bit of everything to ensure respect is put on his name as part of a talented Worthing roster. The stand out two-way guard is averaging close to eight assists and five steals per game in all competitions so far, demonstrating his use to the Thunder's cause.
A lights-out display to spook Loughborough saw the American hit with four triples from his six attempts, further demonstrates Moya's ability at both ends of the court.
Coupled with the guard's impressive physical attributes, it once again created a winning combo for the former Newcastle man.
Seth Hall – Nottingham Hoods, guard
23PTS, 5REB, 2AST, 1STL, 2BLK, 20EFF Vs LOU
21PTS, 2REB, 2AST, 3STL, 13EFF @ REA
Seth Hall's Saturday performance saw him take up the lead role in Nottingham's offence. The Hoods beat Loughborough 74-66, with the American's 24 points coming in a distance ahead of the next top scorer (Josh Guddemi on 14)
On Sunday, Hall contributed 13 first-quarter points, including a valuable and-1 possession, to give the Hoods an early lead. The talented guard would haunted the Rockets again on the game's final play as well. It took guts to take the deciding shot in the dying seconds (which is available to view below), but just like Kobe, Hall took his shot.
Team Basketball
Rebels have a new hope after back to back wins
After spending most of last season struggling at the wrong end of the D1M standings, a tenacious Essex side beat newly promoted Westminster as well as title contenders Thames Valley Cavaliers to begin the new campaign on a much better trajectory. They did it by averaging just shy of a 50% team field goals across both games as well.
In Saturday's win, six of the 10-man rotation netted nine or more points as almost everyone feasted. The Winter brothers netted 15 points in both games as the pair put in a steady two-way performance around the standout efforts from Chose.
Hoods remain unbeaten after key wins over riders, rockets
Nottingham weathered third quarter comebacks in both their games this weekend, using first half leads to ensure it was a winning double-header weekend.
An honourable mention needs to go to Joshua Guddemi. His rebounding ensured Nottingham kept a lid on their opponent's second chance opportunities as the big man went to work on the glass for his team.
Honourable mentions
Juan Manning (TVC) – 31P(10-10 FGM/5-5 3PM/6-7 FTM)/3R/2A/3S/38EFF vs MAN & 18P/1R/3A/1S/1B/16EFF @ESS
Andre Arissol (WOR) – 13P/2R/7A/3S/14EFF vs LL2) & 23P(8-12 FGM/6-9 3PM)/3R/7A/1TO/5S/31EFF @LOU
Seth Swalve (HEM) – 30P(11-14FGM/7-9 3PM)/3R/2A/2S/30EFF vs BRA & 18P/4R/5A/2S/1B/22EFF @LL2
Joshua Guddemi (NOT) – 14P/10R/2A/1B/14EFF vs LOU & 22P(4-7 3PM)/8R/2A/1S/21EFF @REA
Christian Alexander (TNU) - 19P(9-11FGM)/9R/4A/30EFF vs TSK
.
.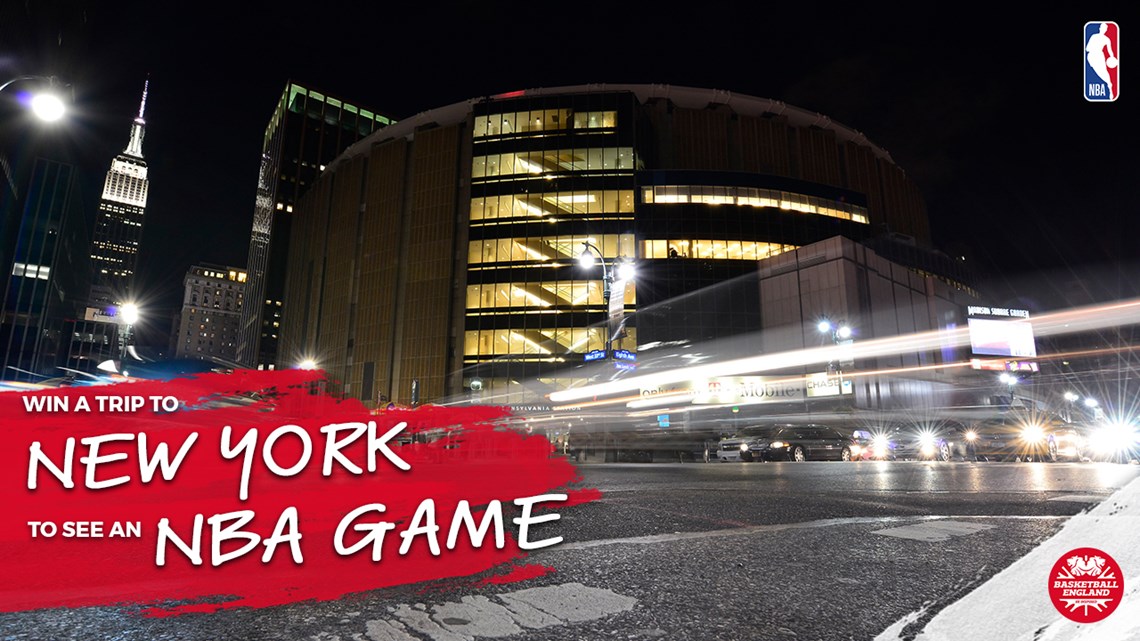 Join Basketball England for free and win a trip to New York City, courtesy of the NBA.
Whether you have a Supporter Account as a fan, follower, enthusiast or advocate, or a Full Account and have paid for a licence to play, coach or officiate in competition, you can enter our prize draw.
Basketball has the power to change lives. Our #GameTime campaign aims to raise awareness of the positive impact that basketball can have on people no matter who they are or where they are from.
.
.
Main image credit - Nick Winter
Graphic image credits - Nick Winter, Joanna Charles, Luke Simcock