Rebound's Chris Hughes casts his eye over the regular season action from the weekend and gives his verdict on the star performers.
Chris, the All-Star organiser, content producer, YouTube host and producer, commentator and social media observer, had seven games to enjoy across a busy Saturday,  selecting his Player of the Week and four other standouts to make up his Team of the Week in the process.
Have your say on this week's choices and give a shout-out to the players you think deserve one using the hashtag #NBL2223 and #ReboundTOTW. Don't forget to tag us!    
Twitter:  @NBLengland / @Rebound__  
Facebook:  @NBLengland  / @ReboundNBL  
Instagram:  @nblengland / @reboundnbl  
How it works 
Chris will pick a Player of the Week and four other selections to round out his Team of the Week, paying attention to the following criteria:
Efficiency 

 

Stats 

 

Team and opposition strength 

 

Periods of influence in the game 

Being on a winning team (exceptional performances from players on losing teams will be considered for TOTW)
Other players will also receive a shout out as honourable mentions at the bottom of the piece.
The Rebound Team of the Week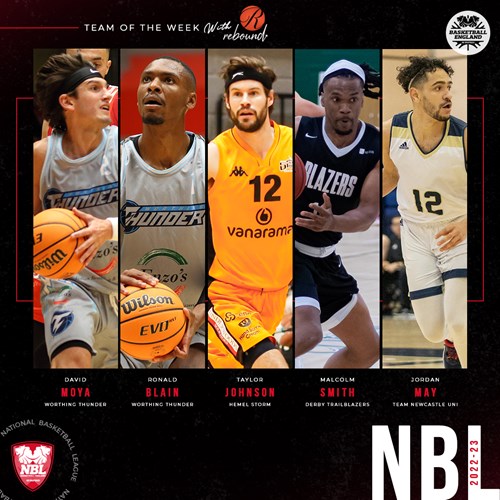 PLAYER OF THE WEEK
David Moya – Worthing Thunder, guard
26PTS (6-8 3PM), 6REB, 4AST, 4STL, 31EFF
David Moya gave another masterclass across the board to further cement Worthing's title credentials. In the 33-8 third-quarter which put Reading Rockets to the sword, Moya contributed multiple steals and dimes to cap off a great performance.
The flashy guard really found his range, hitting six out of eight from three point range. Moya's performance in the second half was a major catalyst in the 62-point second half blow-out.
Ronald Blain – Worthing Thunder, forward
21PTS (9-12FGM), 8REB, 3AST, 2STL, 29EFF
A 22-minute cameo performance added to Ronald Blain's MVP credentials as another opponent succumbed to what the team referred to as a 'cardio session'.
A 14-point second half show from Blain, including multiple and-one plays, was the icing on the cake as Worthing dismantled any possible Rockets' resistance.
Taylor Johnson – Hemel Storm, guard
25PTS, 10REB, 5AST, 2STL, 33EFF
Taylor Johnson led Hemel to a 105-79 victory against Loughborough this weekend, though Storm did make hard work of it at times. Johnson's two-way performance at the start of both halves, especially in the opening quarter, helped push the hosts to an eventual win.
Johnson was un-guardable in the first, netting 17 of Hemel's 27 points. He barely missed a shot, converting two and-one plays as the American was directly involved in all but three of Hemel's baskets.
Malcolm Smith – Derby Trailblazers, forward
32PTS, 5REB, 4AST, 2STL, 1BLK, 32EFF
A previous D1M MVP, Smith is aging like a fine wine as he showcased his skill and experience to make light work of a talented but inexperienced Essex Rebels.
Smith put on a shooting masterclass with Derby claiming 50 points in the paint as they showed their strength under the rim.
With Derby leading by six at the half-way mark, Smith's 14 points in the second half were vital in ensuring another good day at the office for his side.
Jordan May – Team Newcastle University, guard
24PTS (8-10FGM/5-6 3PM), 2REB, 2AST, 1STL, 20EFF
Jordan May put in an efficient shooting display that will have D1 clubs on high alert after only missing one of six shots from beyond the arc.
May set his stall out early and posted 17 of his 24 points in the first quarter to help Newcastle take the opening frame 26-8.
Playing just under 19 minutes, it was an impressive outing from a player who looks to have a bright future in D1M.
Team Basketball
WORTHING's 60-POINT SECOND HALF KEEPs THEIR UNBEATEN START INTACT
Virtually every player was directly involved in scoring as Worthing turned what was a four-point game at half-time into an eventual 46-point blow-out.
Thunder seem to relish the physical nature of  their contests, aiming to out-run the opposition and tire them into submission.
DERBY BRUSH OFF RESURGENT ESSEX REBELS WITH TEAM-FIRST PERFORMANCE
Both teams came into this one unbeaten but Derby's strong 30-point fourth quarter performance ensured they ran out deserved winners.
Trailblazers are blessed with multiple playmakers who can also flat out shoot the ball, with four players notching four or more assists in what is becoming routine for this talented side.
The selflessness of this side is best represented by Charlie Brown, who flirts with an unusual double-double from rebounds and assists while shooting just one or two shots per game.
Honourable mentions
Ryan Bruggeman (DER) – 11P/5R/10A/2S/22EFF
Orlan Jackman (WOR) – 15P/9R/1A/3S/25EFF
Joshua Guddemi (NOT) – 31P(3-5 3PM/8-10FTM)/12R/1A/1S/30EFF
Hakeem Sylla (HEM) – 20P/15R/4A/1S/2B/29EFF
Jordan Whelan (BRA) - 25P/7R/3A/1S/26EFF
.
.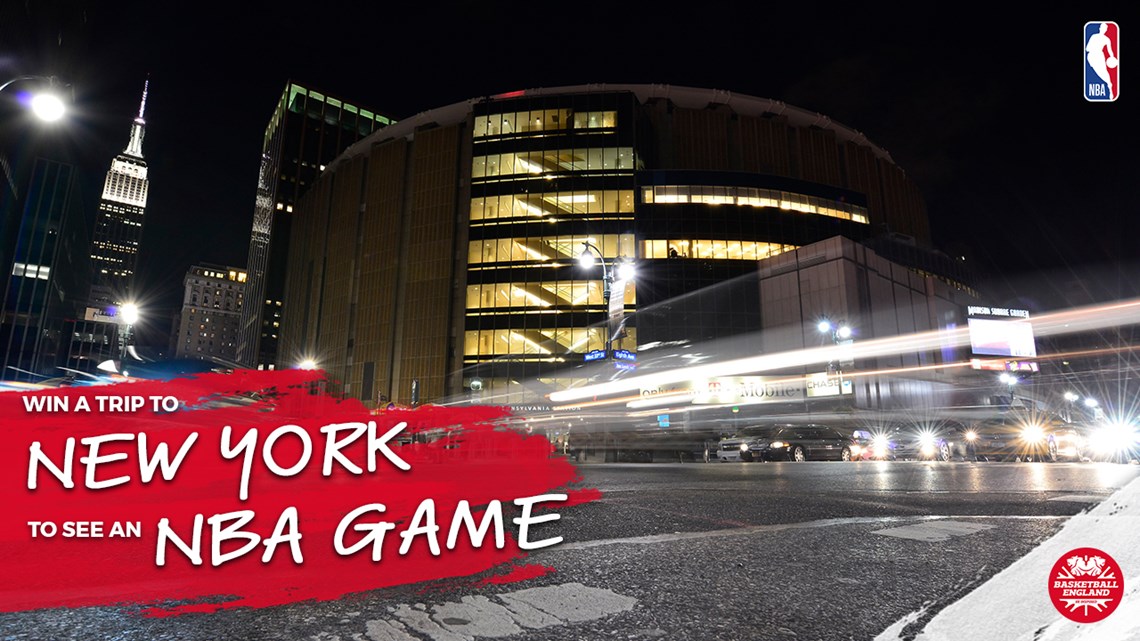 Join Basketball England for free and win a trip to New York City, courtesy of the NBA.
Whether you have a Supporter Account as a fan, follower, enthusiast or advocate, or a Full Account and have paid for a licence to play, coach or officiate in competition, you can enter our prize draw.
Basketball has the power to change lives. Our #GameTime campaign aims to raise awareness of the positive impact that basketball can have on people no matter who they are or where they are from.
.
.
Main image credit - Nick Winter
Graphic image credits - Nick Winter, Joanna Charles, Lauren Newham, Brent Dundore-Arias/CSU MB