The name Tahir Hajat is synonymous with British basketball.
An experienced master of ceremonies, tv and radio presenter, basketball announcer, crowd engagement consultant, community project manager and basketball coach, Hajat has worked with some of the worlds' biggest sports brands and organisations such as Matchroom Sport, World Snooker, Sky Sports, ITV, NCAA, Commonwealth Games, Leicester City Football Club, Basketball England, British Basketball League, British Wheelchair Basketball and more.
But his love and affection for hoops has made him a fan favourite at basketball events across the UK.  
In this piece, Hajat writes about his background in basketball and how he got into his profession, and hopes to inspire people to get involved in basketball through its many avenues.
---
My philosophy is this: When I was a basketball player and I walked into a gym, I wanted thousands of people to be sitting in the stands, I wanted the music pumping, I wanted there to be a little Biriyani pot in the corner with food given out to people, and people selling merchandise.
This was the dream world I wanted because I knew it would enhance the atmosphere in which I performed.
If I can enhance the atmosphere in which a player has to perform in, then they are going to perform to their highest possible level. And in return, the fans and I have the best possible opportunity to watch the highest level of sport together and share all the emotions that brings.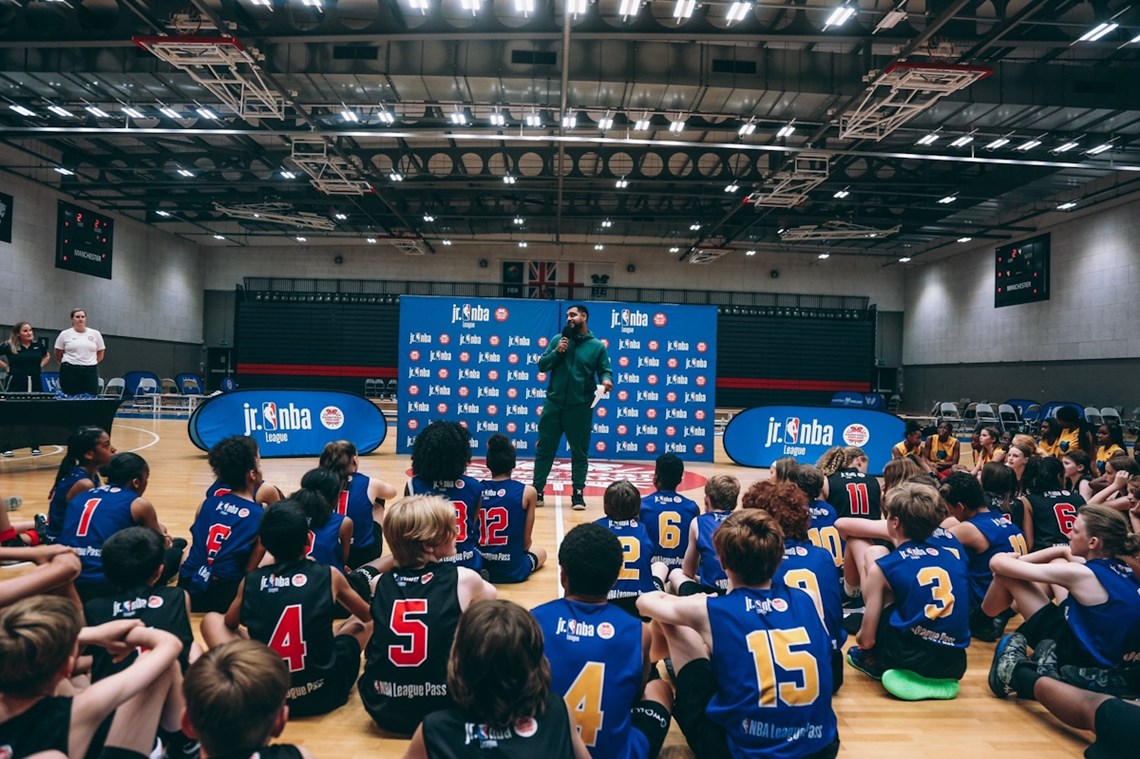 From a chance opportunity to Master of Ceremonies
About 2014/15, Russell Levenston, MD of the Riders, asked me if I would fill in and announce a game in Loughborough. As they say, the rest is history.
I then did it for the WBBL at the NIA in Birmingham and opportunities started coming thick and fast.
Since, I have worked with the BBL, Basketball England, NBL, Ball Out 3x3, HoopsFix, FIBA. I have been flown out to the States to do the NCAA Mid-American Conference Finals, then to Ireland for the Metro Atlantic Athletic Conference Dublin Challenge, then England for the London Basketball Classic and was posted-up in Birmingham for last year's Commonwealth Games.
I cannot tell you how proud I was to do the Commonwealth Games and on my birthday, England in the finals and then winning gold. Honestly, stuff that dreams are made of.
My first big event outside basketball was hosting the World Cup of gymnastics at The O2, engaging with over 25,000 people.
But the event organisers didn't think my profile suited the sport. They didn't want me to be involved anymore, quite simply because I was South Asian. It was tough to take because I had never seen my race as a barrier.
But fortunately, Emily Frazer at Matchroom Sport never gave up on me, saw my potential and kept giving me opportunities to ply my trade: The Weber Cup, World Table Tennis Championships, the Mosconi Cup, the World Nineball Pool Tour.
And off the back of that they gave me the opportunity to work the World Snooker Tour and be the first ever British South Asian master of ceremonies.
I also support the fan game day experience at Leicester City Football Club.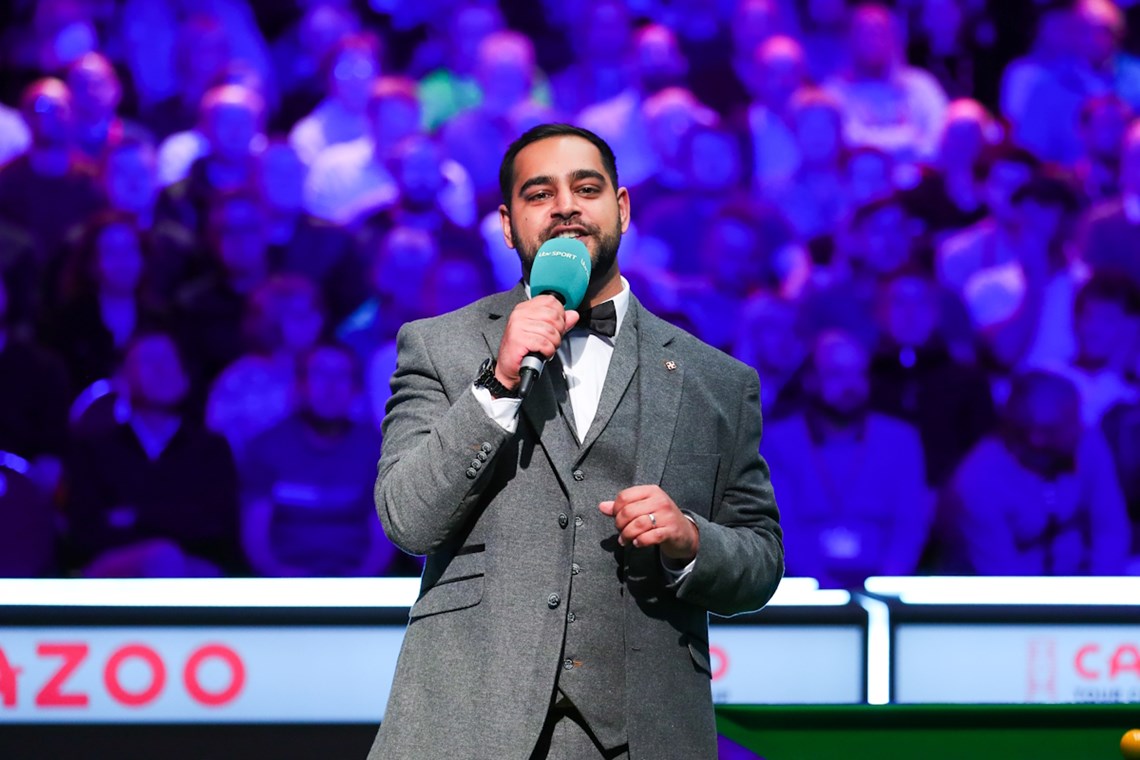 Find ways that bring people together
Awareness campaigns like South Asian Heritage Month are moments for us to really educate the wider community about different cultures. But it should be an all-year-round thing. It should not be pinned down to a month.
Being the person to deliver the overall package of all the hard work that has gone into these sporting events makes me really proud. And at no point do I think about the colour of my skin or my heritage in those moments, until someone reaches out to me and says it is good to see another South Asian doing something like this.
However, for me, what is more important is finding ways that bring people together, not what separates us as individuals.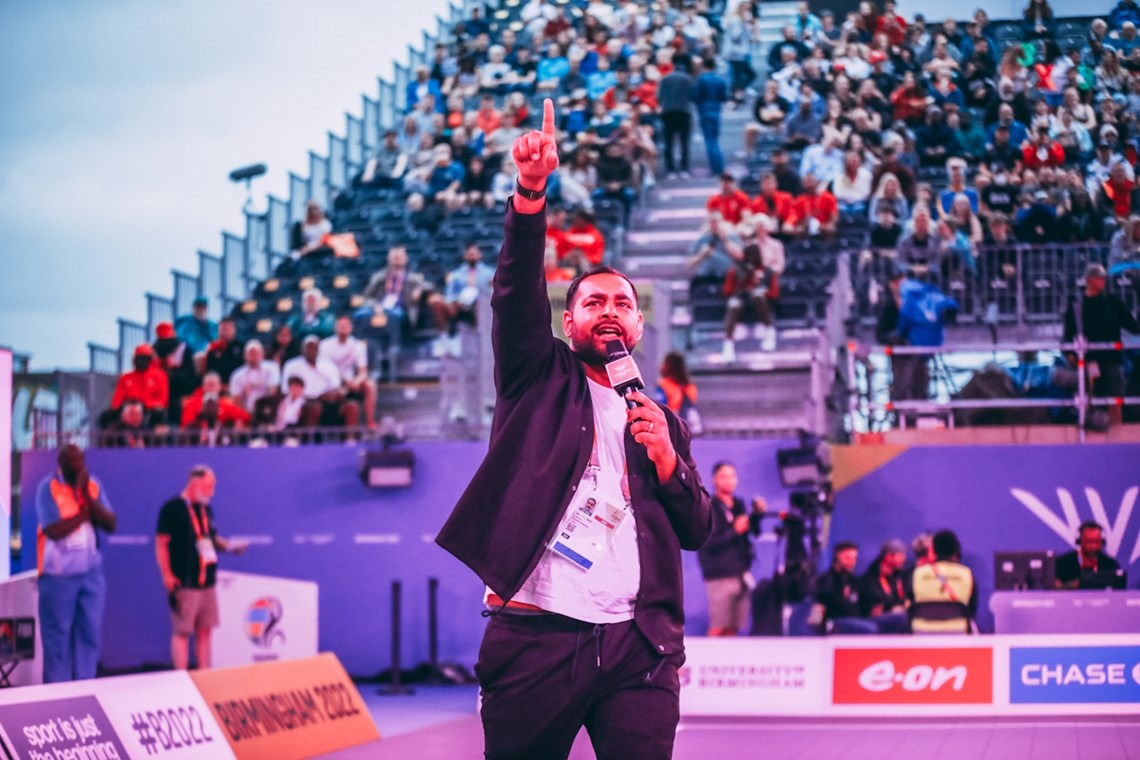 Passion, patience and perseverance
Whether it's announcing, coaching, playing, whatever you want to do in basketball, you must be passionate.
Do it for the right reasons. Don't do it because you think it would be something cool to do; Do it because you love the sport.
Second is patience. It's not going to come overnight. Take the opportunities as they come.
Thirdly, persevere, because people are going to knock you down; People are going to choose other people over you.
Maintain your student mentality, keep asking for feedback and keep asking for support. Get yourself to a position where you're solid at what you do.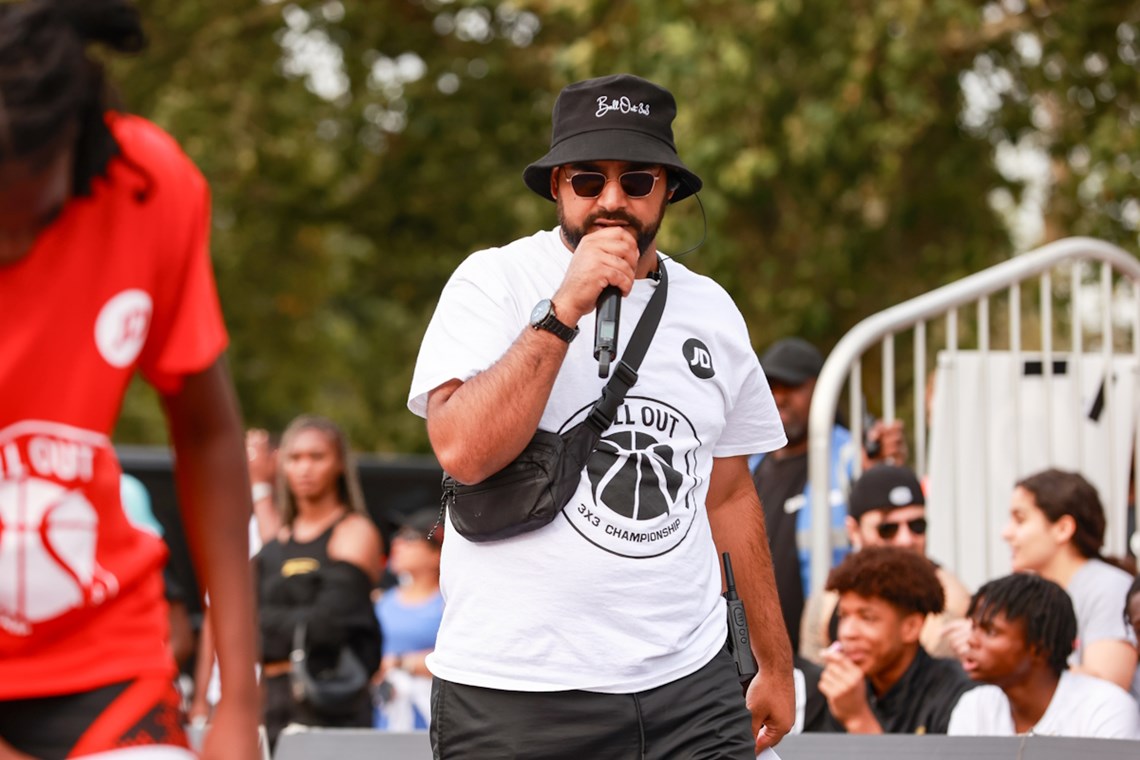 A deflated Spalding basketball
I was introduced to basketball through a deflated Spalding ball in the back of my parents' house in Leicester when I was about five years old. But the concept of basketball was truly solidified on Fridays at an after-school club at Southfields Drive Sports Centre.
There was a woman there called Linda Bryant, a former England national team representative, who coached me and developed my skill set. She taught us all the fundamentals, but most importantly, she taught us discipline and how that improves the way the game is enjoyed and your ability to develop as a player.
In those early years, I got to know the Leicester Riders too, through legend Hilroy Thomas, who is a close family friend, and I used to go to Granby Halls with my friend Michael and his family, who were season ticket holders. They were great times. You never really watched the game too much, there was a little space behind the stands where you could play basketball.
At Lancaster Boys School, I started taking basketball seriously and progressed from there, eventually playing junior national basketball league under Mandy Payne for the Leicester Canons.
My mum had instilled a hard work ethic in me and in the school holidays, I used to coach with Riders' legend Dave Harris at his school camps. I had been bitten by the coaching bug and continued to coach when I went to college under the tutelage of Carl Brown and the Leicester Warriors.
Beauchamp College was a basketball academy of its day, way before the EABL, and under Dave Greenaway I lived the dream of playing basketball every day at all the major competitions and continuing my studies.
I didn't do too well in my A-Levels, but because I had experience with coaching young people, I was accepted to study childhood and youth at Northampton University, which was focused on the health and well-being of young people, youth court and justice and all these kinds of elements. And of course, I found the basketball team as soon as I got there.
After university, I came back to Leicester and Liz Jennings and Kiran Wiltshire of the Riders reached out and asked if I would be a community coach. I was then given the opportunity to start the club's Jnr. NBL programme. We had an incredible group of young people that I took from nothing – winning only one game in their first season – to, by the time they were 16, winning the regional title and heading to the playoffs. An incredible feeling.
I also worked with young people from disadvantaged communities, delivering a project to high-risk offenders with the youth offending service and the police and crime commissioner. We utilised basketball to develop their key life skills and employability opportunities. Over the 3-4 years of the project, the rate of reoffending reduced by 70%.
I have coached thousands of young people, and without doubt this was the most meaningful experience, helping people out of difficult situations and onto a better path.
.
Join Basketball England for free. Whether you have a Supporter Account as a fan, follower, enthusiast or advocate, or a Full Account and have paid for a licence to play, coach or officiate in competition, you can be part of the basketball family.
Basketball has the power to change lives. Our #GameTime campaign aims to raise awareness of the positive impact that basketball can have on people no matter who they are or where they are from.
.