Basketball is back, and 2023/24 gets underway this weekend with KitKing Trophy action.
The competition will again be organised by NBL1 Men's clubs in partnership with naming rights holder Kitking.co.uk and BE.  
It will see all 13 NBL1 clubs, plus a trio of invited Division Two sides, competing in four regional groups of four.   
The additional Division Two teams for 2023/24 are last season's NBL Division Three playoff champs Milton Keynes Breakers, who beat a number of NBL Division One sides as part of a lengthy National Cup run a year ago, former NBL D1 outfit Manchester Magic, and last season's South runners-up Brighton Bears.
The pool fixtures are set to take place over the next two weekends, with ten games pencilled in for this coming Saturday and Sunday.
We take a look at all of them below, including the start of Hemel's title defence as they entertain Essex Rebels.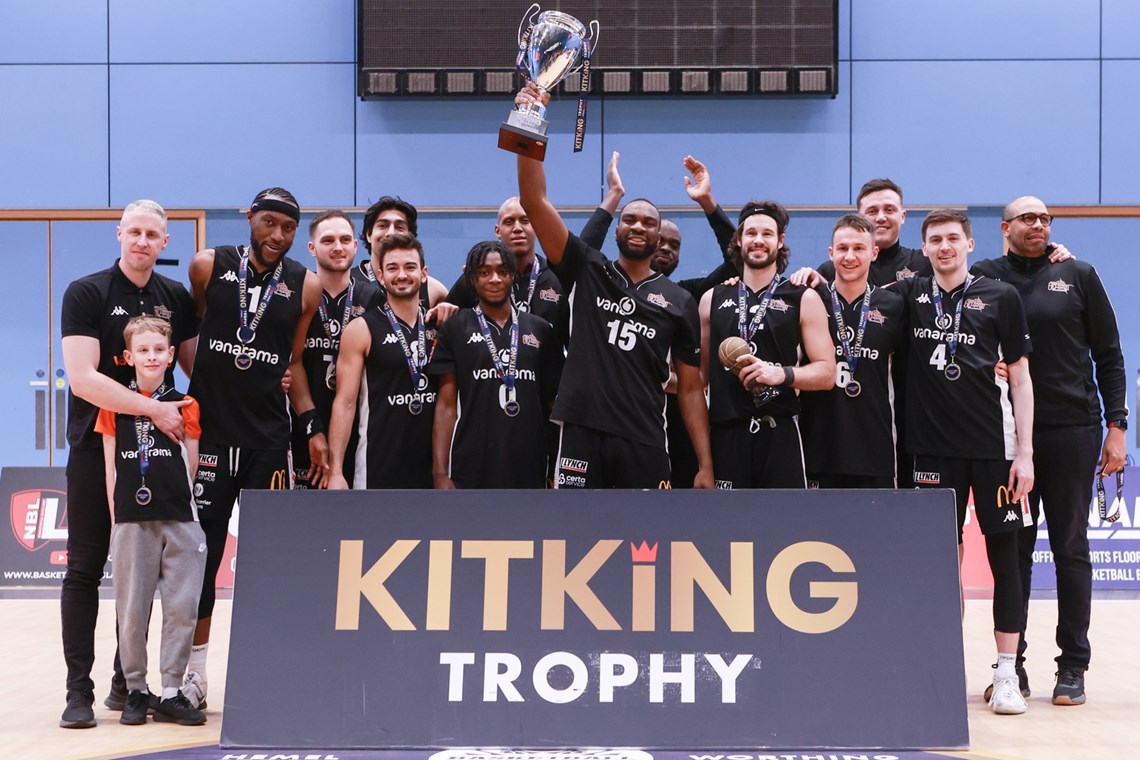 Group 1
There's a trio of games in Group 1 this weekend, starting with Reading Rockets against Worthing Thunder.
The Rockets will be hoping to have new signing Taylan Rowe available after the American joined the club this week, with the former Pfeiffer University alum joining up with Australian Mitch Clarke and the likes of returning stars Reis Pinnock, Lewis Champion and Zach Powell.
Last season's league and playoff runners up Worthing Thunder complete their double-header with Sunday's home game against Barking Abbey, who went 6-20 a year ago.
Thunder added former BBLer Daniel Johnson-Thompson last month, and he's set to link up with returnees Hafeez Abdul and Tom Ward this year.
The other game from Group 1 sees Barking host D2 invitees Brighton Bears in East London on Saturday afternoon to begin BA's own double-header weekend.
Barking will be able to call on the services of reigning EABL finals MVP Moziah King-Danchie after his strong summer with the GB U18s, but fellow standout Nedas Cholevinskas has left the programme after signing his first pro deal in Lithuania. 
Former Thames Valley and Westminster Warriors' guard Juan Manning should also be a useful addition for the Londoners.
Group 2
There's just the one game in Group 2 this weekend, but it's a big one as defending champs Hemel Storm get their season underway against Essex Rebels.
Storm went unbeaten last year and claimed an incredible quadruple, last tasting defeat in the 2021/22 Playoff final against Solent.
If Storm are to continue their dominance they'll have to do it without the standout pair of Aaryn Rai and Taylor Johnson, who both moved to the BBL this offseason.
The reigning champs have recruited hard throughout the summer however, bringing in New Zealand international Brayden Inger, as well as former Worthing Thunder guard Veron Eze and new head coach Mark Clark to couple with standout forward Hakeem Sylla, who dropped 25 points against USA Select last weekend.
Essex have been busy themselves, retaining the Winter brothers, Rory and Ben, whilst adding Victor Olarerin (from Thames Valley), Zain Poorman and Kyron Martin (from Solent) and Ebuka Ekwegh (from Bristol Flyers II) as they look to improve on an 8-18 league record in 2022/23.
Group 3
Newly promoted City of Birmingham Rockets get their first taste of top-flight action tomorrow as they host Nottingham Hoods before travelling to Loughborough Riders on Sunday.
CoB announced the signing of Commonwealth Gold medallist Orlan Jackman this week as the experienced forward moves to the West Midlands from Worthing Thunder, joining Kayne King, Ronald Oberia, Karl Teesdale and last year's D2M playoff finals MVP Martyn Gayle.
The Hoods welcome back Josh Guddemi (22.6PPG, 8.9RPG), who impressed in D1 last term, along with former BBL man Johde Campbell as they attempt to improve on a tenth-place finish a year ago.
Harrison Gamble is back for the Riders, adding to a solid returning core of CJ Hayden, Joe Bielak, Justin Hedley and more as the Midlands outfit try to make it back-to-back D1M playoff appearances this season.
That leaves Milton Keynes Breakers to get their season underway as they host the Hoods on Sunday evening, with MK looking to continue their rise up the NBL pyramid after conquering D3 in their debut season.
Former D1M Defensive Player of the Year Andre Arissol has moved over to the Breakers from Worthing, and 6'9 forward and former BBL champion Chris Tawiah is also now in the mix for the Buckinghamshire outfit.
Blayne Freckleton, Dante Langley and Jordan Spencer are all set to return, making the Breakers a team to fear despite their D2 status.
Group 4
The 2021/22 Trophy champs Derby will play their first game in Group 4 tomorrow as they welcome Manchester Magic, whilst Bradford Dragons host Newcastle University in West Yorkshire.
Former D1M MVP Malcolm Smith returns for his sixth season with DTB, slotting in alongside new arrivals Corey Johnson and Rob Marsden plus the returning Raheem May-Thompson, who all boast BBL experience.
Magic dropped out of D1M last year following a 4-22 campaign, and they'll turn to the likes of Andre Gayle and Pharroh Gordon, plus young talents Shaq Furlonge, Saul May and Luca Lara-Sanchez as they tune up for life in D2M again.
Bradford welcome back last year's scoring champ Justin Williams (24.3PPG) plus veterans Jordan Whelan, Ricky Fetske and D1M's scoring leader since 2003/04 Rihards Sulcs.
Newcastle have brought in Brits Daniel Delsol-Lowry from University of New York - Potsdam and wing Matthew Allman from Minnesota Crookston University, plus American Justin Hopkins from Texas Southern. That trio will feature alongside 6'6  wing Logan Rooney, who has moved back to the programme following a stint with Loughborough.
That pair of intriguing fixtures is following up by one final Group 4 game on Sunday afternoon as Manchester travel to Newcastle.

This weekend's fixtures:
Saturday 16 September
2pm - Reading Rockets vs Worthing Thunder - LIVE STATS
2pm - Barking Abbey vs Brighton Bears - LIVE STATS
6:15pm - Bradford Dragons vs Newcastle University - LIVE STATS
7:30pm - City of Birmingham Rockets vs Nottingham Hoods - LIVE STATS
7:30pm - Derby Trailblazers vs Manchester Magic - LIVE STATS
Sunday 17 September
3pm - Newcastle University vs Manchester Magic - LIVE STATS
4pm - Loughborough Riders vs City of Birmingham Rockets - LIVE STATS
5pm - Worthing Thunder vs Barking Abbey - LIVE STATS
6pm - Hemel Storm vs Essex Rebels - LIVE STATS
6pm - Milton Keynes Breakers vs Nottingham Hoods - LIVE STATS
.
.