FocusHoops' Darren Paul is here with his final Player and Team of the Week awards for the 2022/23 regular season.
As a writer, commentator, podcaster and more, Darren had four games left on the slate for this season, though only three were live statted, as the playoffs are set to begin next weekend.
Have your say on this week's choices and give a shout-out to the players you think deserve one using the hashtag #NBL2223. Don't forget to tag us!    
Twitter: @NBLengland / @FocusHoops  
Facebook: @NBLengland  / @FocusHoops  
Instagram: @nblengland / @focushoops  
How it works  
Darren will pick a Player of the Week and four other selections to round out his Team of the Week, paying attention to the following criteria:
Efficiency  
Stats  
Team and opposition strength  
Periods of influence in the game 
Being on a winning team (exceptional performances from players on losing teams will be considered for TOTW)
The FocusHoops Team of the Week
Player of the week
Veronica Iweanya - Bristol Academy Flyers, forward
16Pts/27rbs/4ast/34EFF

Iweanya rounded off her excellent season with a huge double-double and Player of the Week honours as Bristol downed playoff-bound Anglia Ruskin.
She finished with 16 points on 41% shooting, all her baskets coming in that paint and six made freebies at the stripe, but her rebounding set her apart.  
Coming away with an eyewatering 27 rebounds, including eight offensive boards, Iweanya pulled down more than double the next nearest rebounder and capped off the performance with four assists and a steal whilst being fouled seven times. Dominant.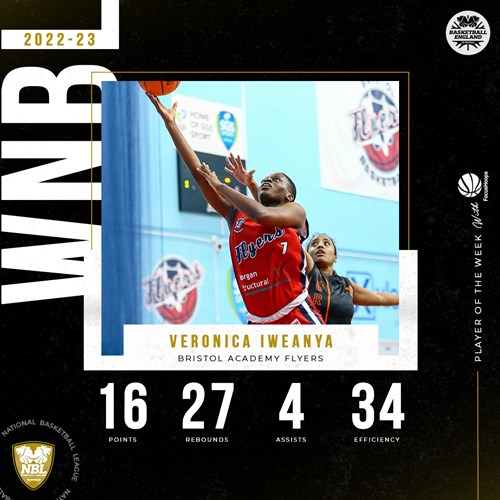 Josephine Maignomo - Brent Bulls, forward
19pts/2rbs/3ast/20EFF

Maignomo started Brent's win over London off hot on Saturday, ending the first period with nine points on her way to a team-high 19 points on 72% shooting, going 8/9 from the paint and a flawless 3/3 from the line in her 20 minutes of court time.  
In the second half as London looked to make a run, the Bulls forward helped keep them at bay with a further eight points, not missing a shot in the process.
Maignomo contributed two defensive rebounds and found teammates with three assists in a great outing before heading into the playoffs at the first time of asking.  
Lindsey Cleary - Reading Rockets, guard
18Pts/9rbs/4ast/3stl/24EFF

Team of the Week regular Cleary capped a tremendous campaign with a team-high 18 points in Reading's tough overtime loss to the champions Team Solent Kestrels on Sunday.  
Cleary did her damage in the paint and at the elbow, sinking 43% of her shots and going perfect at the stripe, knocking down all four attempts.
She flirted with a double-double, coming one rebound short, with eight on the defensive end and found teammates with four assists, finishing with team highs in points, assists and rebounds.
Cleary was trouble in the lanes, finishing with three steals in 43 minutes of action.  
Rian Rawlings - Anglia Ruskin University, guard
20pts/12rbs/2ast/24EFF 

It wasn't the result the Ruskin skipper was hoping for, but Rian Rawlings led, as she so often has this season, by example. She left Bristol with a 20 points and 12-rebound double-double, heading into the playoffs after a very strong individual performance.  
Rawlings hit 50% of her shots, downed four triples and went 4-6 at the stripe, drawing five fouls in the contest.
She cleaned up on the glass for Ruskin, taking down 12 rebounds, all defensive, and dished two dimes – sending two shots back and picked one pass to cap off her debut regular season in the WNBL.  
Megan Dorney - Team Solent Kestrels, forward
16pts/10rbs/1ast/2stl/21EFF 
Dorney's four points in overtime helped end the champions' regular season on a high as Team Solent took down Reading on the road.
Dorney scored 16 points and pulled down 10 rebounds in a big double-double outing, which will serve as the perfect tune-up before the playoffs.  
She shot efficiently, hitting 6/8 from the floor and draining 4/5 at the stripe, and pulled down seven defensive and three offensive boards, as well as finding Anna Nevison in overtime with her one assist to give her side a lead they wouldn't drop.  
Team basketball
TSK win OT Thriller
Team Solent Kestrels rounded out a championship season with a hard-fought overtime win over an impressive Reading Rockets on the road.
The Kestrels were led in scoring by Anna Nevison, who finished with 19 points on 50% shooting, including seven points in overtime and making the clutch free-throws at the end of the fourth to send the game into extras. 
Buoyed by strong games from Faye Endean and Krisztina Velkey-Cleeve who both flirted with triple-doubles and a great scoring performance by Megan Dorney TSK was able to overcome the efforts of Lindsey Cleary and former Kestrel Kristina Karpova who led in scoring for the Rockets. Both sides enter the playoffs in good form and could well meet again in April.  
Bristol End tough season on a high
Led by another monster double-double from Veronica Iweanya, the Bristol Flyers ended a challenging season with a win over old rivals Anglia Ruskin at home.
Led in scoring by Iweanya, Leila Jepson and Estella Maloney-Danvers, who rained down triples on Ruskin, Bristol took the lead in the opening period and never looked back. 
Iweanya helped lock down the boards, as Bristol outrebounded the visitors and Maloney-Danvers' five threes were just two fewer than the entire Ruskin squad on the day.
Rian Rawlings led the way for ARU with a 20-12 double-double, but an understrength Ruskin shot poorly and struggled to get the looks they'd have wanted.  
Bristol will be looking for more days like this in 2023/24 as ARU will look to bounce-back in their first found match up with another old rival in Reading.  
Honourable mentions
Faye Endean (TSK) - 14P/9R/6A/19EFF  
Kenisha Whyte (BRE) - 16P/9R/20EFF 
Krisztina Velkey-Cleeve (TSK) - 10P/9R/8A/18EFF  
Anna Nevison (TSK) - 19P/2R/1A/15EFF
.

Join Basketball England for free. Whether you have a Supporter Account as a fan, follower, enthusiast or advocate, or a Full Account and have paid for a licence to play, coach or officiate in competition, you can be part of the basketball family.
Basketball has the power to change lives. Our #GameTime campaign aims to raise awareness of the positive impact that basketball can have on people no matter who they are or where they are from.
Main image credit - B.East Photography