FocusHoops' Darren Paul is back for one last time in 2022, having his say on the Team and Player of the Week candidates from D1W.
As a writer, commentator, podcaster and more, Darren gives his expert view on another great selection of games, with no shortage of potential choices.
Have your say on this week's choices and give a shout-out to the players you think deserve one using the hashtag #NBL2223. Don't forget to tag us!    
Twitter: @NBLengland / @FocusHoops  
Facebook: @NBLengland  / @FocusHoops  
Instagram: @nblengland / @focushoops  
How it works  
Darren will pick a Player of the Week and four other selections to round out his Team of the Week, paying attention to the following criteria:
Efficiency  
Stats  
Team and opposition strength  
Periods of influence in the game 
Being on a winning team (exceptional performances from players on losing teams will be considered for TOTW)
The FocusHoops Team of the Week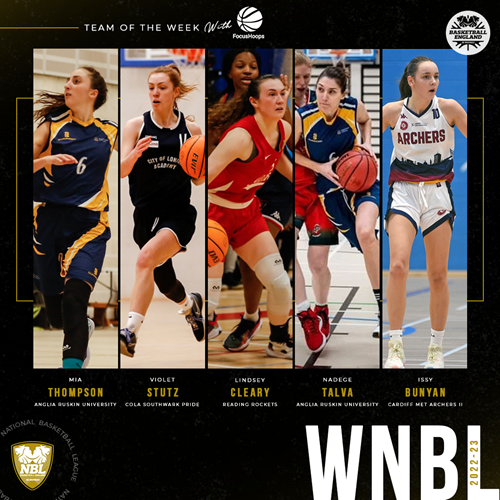 PLAYER OF THE WEEK
Mia Thompson – Anglia Ruskin University, Guard 
27PTS, 5REB, 27EFF 
A very strong shooting performance from ARU guard Mia Thompson sees her take top honours this week, thanks to her 27 points on 61% shooting in the win over London on Saturday.
Thompson hit an efficient 5-7 shots from inside along with three triples as she helped ARU up to fourth as we head into the winter break.  
Thompson was a constant threat to London as she was fouled seven times and made the Lions pay, going a perfect 8-8 from the charity strip. In addition to her shooting, Thompson also pulled down five boards, dished two dimes and swiped one steal in a strong all-around performance.  
Violet Stutz – CoLA Southwark Pride, Guard 
20PTS, 3REB, 2AST, 22EFF 
Stutz shone for CoLA as they took down Worcester at home on Sunday. She shot very efficiently in the contest, finishing with 20 points from 63% shooting, with 18 coming from beyond the arc on nine attempts from outside.  
Stutz had a huge impact on the scoreboard in her 25 minutes of time on the floor as well as pulling down three boards, finding teammates with two assists and swiping two steals.
She blew the game open in the first period, going back-to-back-to-back from three to grow CoLA's early lead, and it was ultimately an advantage that the Londoners wouldn't come close to losing.
Lindsey Cleary - Reading Rockets, Forward  
11PTS, 15REB, 4AST, 5STL, 22EFF 
Cleary (below right, red kit) continued her reign of terror in the WNBL with another dominant display for the Reading Rockets as the American forward used an 11-15 double-double to defeat Brent at home on Sunday.
Cleary scored all her points in two-point land, including extending her range for a mid-range jumper and made her way to the line to shoot 3-4.  
Cleary was one of the most dominant rebounders this weekend, pulling down 15 boards, 10 on the defensive end, helping keep Brent off the boards and guide her side to an important win over the tough London outfit.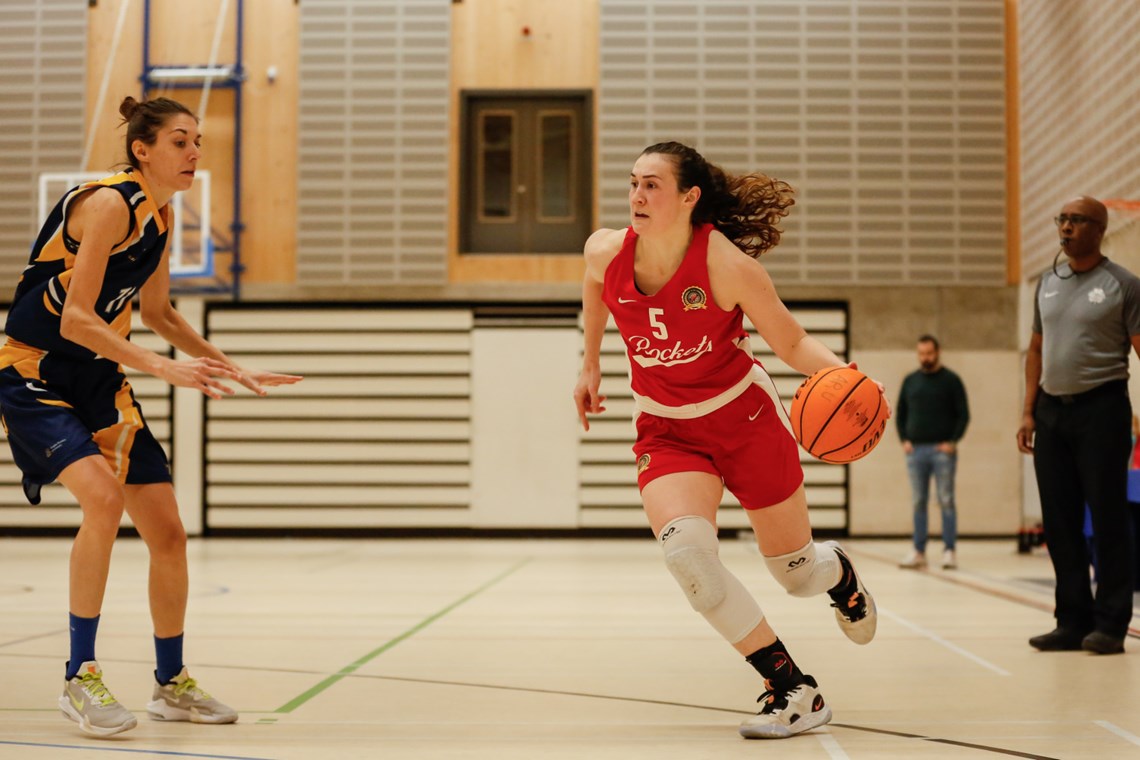 Nadege Talva – Anglia Ruskin University, Forward/Guard 
16PTS, 4Reb, 4ASt, 22EFF 
Talva's (above left, blue kit) fine return to the WNBL has seen the Ruskin favourite re-establish herself as a vital member of the Cambridge based outfit.
She shot efficiently this weekend, going 6-9 in the paint and hitting 4-6 from the charity stripe in ARU's win over an ever-improving London Lions to finish with 16 points in the contest.  
Talva tacked on four boards, four assists and stole three passes, mixing it up physically to draw and concede four fouls, but with the ball she was flawless, ndtaying turnover free across 27 minutes of play.  
Issy Bunyan – Cardiff Met Archers II, Wing
31PTS, 17RBS, 4AS, 5ST, 3BLK, 38EFF 
Bunyan's Cardiff fell to a barrage of baskets from Ipswich but her individual performance in the loss was exceptional. Bunyan finished the contest with a 31-17 double-double, making 46% of her shots, including sinking three triples in her near 40 minutes of play.  
Bunyan pulled down 14 defensive rebounds and three offensive rebounds, leading all D1W rebounders this weekend. Her effort did not change the outcome of the game, but she was responsible for more than half of her team's points plus dishing the rock for four assists, stealing the ball five times and rejecting three shots in a tough performance for the Welsh star.  
Team basketball 
Ipswich down Cardiff 
Ipswich were led in scoring by Olivia Forster at the weekend as they took down Cardiff by 19 points, 79-60. Forster went for 39 points on 40% shooting as the Suffolk outfit added to a tough first half of the season for the Welsh capital club.  
Along with Forster's impressive scoring was 14 points from Christabel Osarobo and 11 from Millie Pearson off the bench, shooting an efficient 62%. It was another crucial win for Ipswich who will be looking to kick on through 2023 and secure a high playoff seeding.  
Reading hammer Brent 
Brent Bulls started the season incredibly hot, but have had a more difficult time of late and Reading were more than happy to continue the Londoners' return to Earth. Reading came away with the big win at home on Sunday 82-54, led by the American Forward Lindsey Cleary's 11-15 double-double, which also saw her finish with four assists and five steals.  
Six Rockets finished in double-figures scoring with Parfaite Ando on 13 and Tyra Phelan, Kristina Karpova and Saioa San Francisco all finishing on 12 points in the content.
Brent did battle back with Josephine Maignomo in fine form, scoring 18 points on 53% shooting, and the sharpshooting Eleanor Bishop hitting double-digits with 11 points. Both sides will be keen to continue strong starts to the season as we head into the new year.  
Honourable mentions 
Olivia Forster (IPS) – 39P/5A/5R/5S/21EFF 
Christabel Osarobo (IPS) – 14P/6R/2A/4S/18EFF 
Fatmata Janneh (LL2) – 23P/9R/4A/24EFF 
.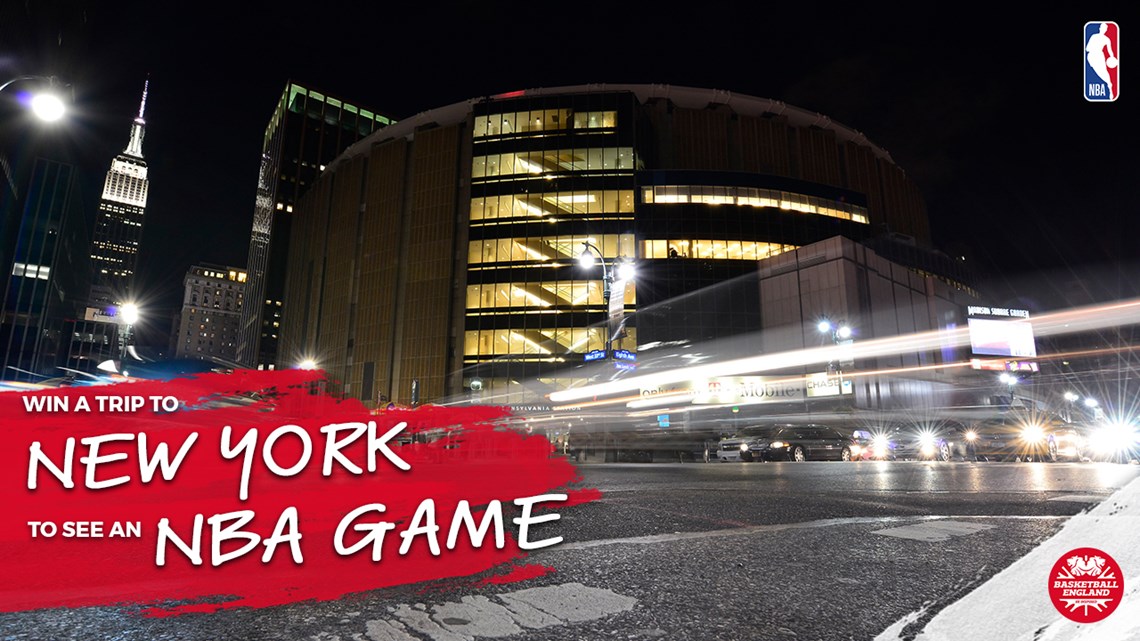 Join Basketball England for free and win a trip to New York City, courtesy of the NBA.
Whether you have a Supporter Account as a fan, follower, enthusiast or advocate, or a Full Account and have paid for a licence to play, coach or officiate in competition, you can enter our prize draw.
Basketball has the power to change lives. Our #GameTime campaign aims to raise awareness of the positive impact that basketball can have on people no matter who they are or where they are from.
.
.