FocusHoops' Darren Paul is back to have his say on the Team and Player of the Week candidates from last weekend's D1W action.
As a writer, commentator, podcaster and more, Darren gives his expert view on another great selection of games, with no shortage of potential choices.
Have your say on this week's choices and give a shout-out to the players you think deserve one using the hashtag #NBL2223. Don't forget to tag us!    
Twitter: @NBLengland / @FocusHoops  
Facebook: @NBLengland  / @FocusHoops  
Instagram: @nblengland / @focushoops  
How it works  
Darren will pick a Player of the Week and four other selections to round out his Team of the Week, paying attention to the following criteria:
Efficiency  
Stats  
Team and opposition strength  
Periods of influence in the game 
Being on a winning team (exceptional performances from players on losing teams will be considered for TOTW)
The FocusHoops Team of the Week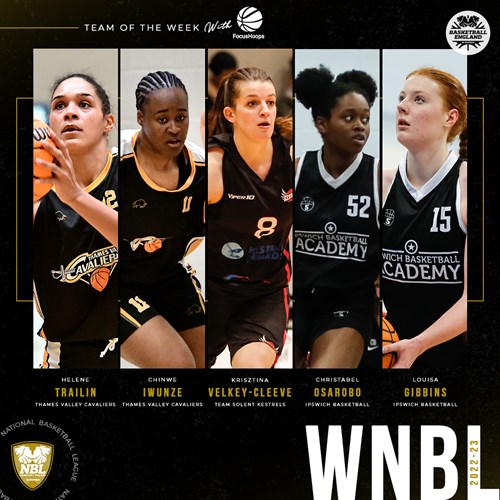 PLAYER OF THE WEEK 
Helene Trailin – Thames Valley Cavaliers - Forward 
20PTS, 11REB, 1AST, 28EFF 
Trailin was the weekend's leading scoring, leading TVC to a sound victory over Anglia Ruskin University on Saturday. She hit her 20 points on 58% shooting from the floor and was a perfect 6-6 from the charity stripe with all but one of her made field goals coming in the paint.  
Trailin's work inside continued by pulling down a game-high 11 boards, including four offensive boards generating second-chance baskets. Trailin tacked on one assist, two steals and a block in another well-rounded performance for the TVC star.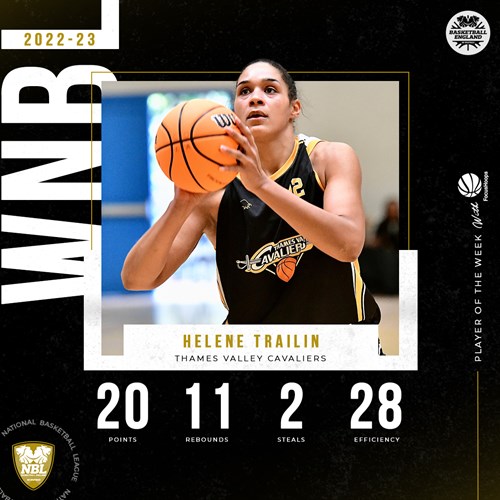 Krisztina Velkey-Cleeve - Team Solent Kestrels - Guard 
6PTS, 9REB, 9AST, 3STL, 17EFF 
The Team Solent Kestrels needed a captain's performance from Velkey-Cleeve to edge by a spirited Worcester and that's what she gave her side. Whie scoring a comparatively low six points, both from outside, Velkey-Cleeve worked hard on the glass pulling down nine boards and dished nine assists in a performance that another day would have seen the Solent Skipper finish with a triple-double.  
Velkey-Cleeve hit a major triple to tie the game up at 45 in the final period and then assisted on the next two field goals to guide her team by the battling Wolves.  
Chinwe Iwunze – Thames Valley Cavaliers - Guard 
15PTS, 3REB, 1AST, 20EFF 
Iwune's 19 minutes of action against Anglia Ruskin was a picture of efficiency as she finished with 15 points on 87% shooting, making six of her shots from under the basket with a mid-range jumper in the mix as TVC got the better of Ruskin inside.  
Iwunze pulled down three boards, dished an assist and picked three passes to finish on three steals. Iwunze spread her scoring throughout the contest, giving her side the lead in the opening period that they wouldn't let slip.  
Christabel Osarobo - Ipswich - Forward/Guard 
12PTS, 7REB, 1AST, 19EFF 
Osarobo (pictured below) packed in a lot to her 14 minutes of floor time on Saturday as she helped Ipswich by Bristol on the road. She finished with 12 points on 66% shooting and a perfect 4-4 at the stripe, and she dominated the offensive glass with six of her seven boards coming in Bristol's paint. 
Osarobo dished one assist and snagged one steal, whilst not committing a single turnover in an efficient performance that Ipswich fans will be hoping for more of as the Suffolk club look to make strides up the standings as we head towards the new year.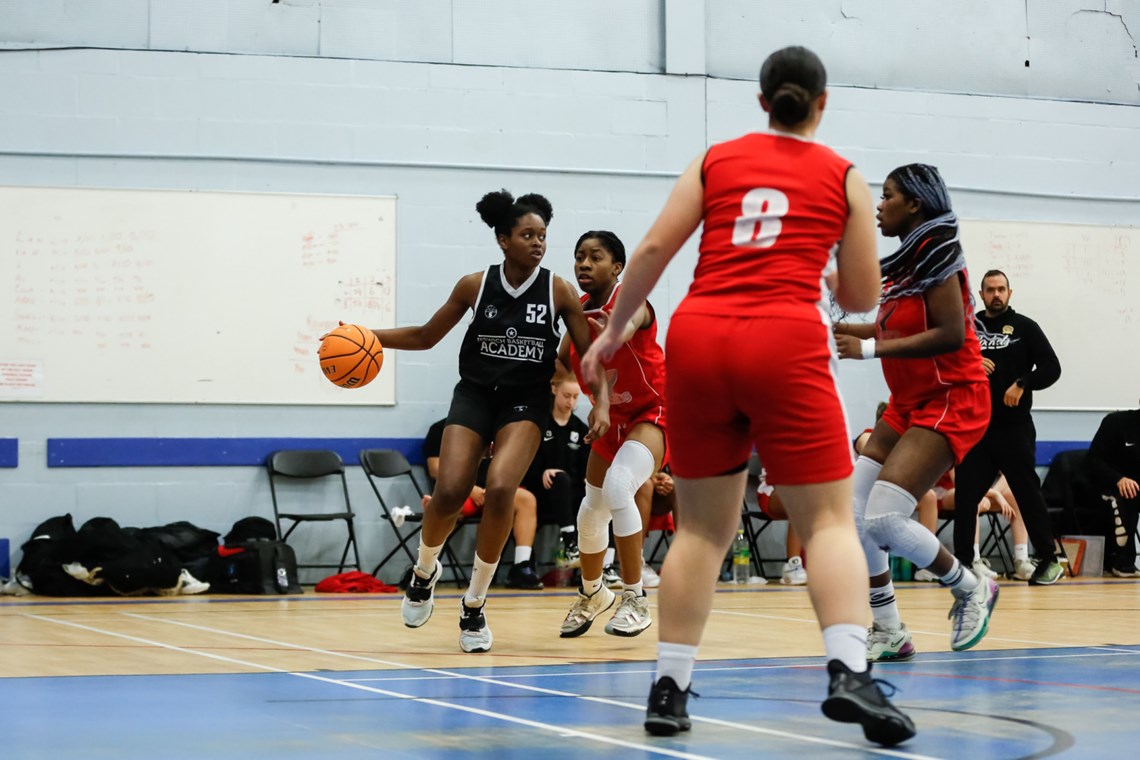 Louisa Gibbins - Ipswich - Forward 
12PTS, 12REB, 3AST, 18EFF 
Louisa Gibbins was in fine form as she was a vital part of Ipswich's take down of her old side Bristol Flyers, finishing with a 12-12 double-double as Ipswich pick up their fourth win of the year to move into the playoff positions.  
Gibbins was dominant on the offensive glass pulling half of her boards on the offensive end, generating second-chance opportunities a point of strength for Ipswich on Saturday. Gibbins also dished out three assists and ended the contest with a weekend high five steals as the former Flyer made life very difficult for her old side in an important win for the Suffolk outfit.  
Team basketball 
Team Solent Kestrels gut-out close win to stay top 
The Worcester Wolves gave Team Solent a major scare this weekend as the league leaders took a four point victory away from their clash with the tenth placed side in the WNBL. Solent were led in scoring by Megan Dorney who finished with 14 points and 8 boards and Erin Caldwell's 11 points, whilst their skipper Krisztina Velkey-Cleeve finished with an all-around solid 6-9-9.  
Worcester were led by an inspired a 19-point and seven-rebound performance from Sandra Hewakowska with Charlotte Finn supporting her with 11 points in a game that Worcester led in the fourth period and on another day could have taken a famous win over the WNBL's top outfit.  
Reading blast by Flyers into Cup semi-final 
Reading Rockets saw not one, but two triple-double performances on Sunday as they head into the semi-finals thanks to a 38-point victory over Bristol Flyers. Reading saw huge performances from the ever-present Candela Hermida Nunez who finished with 20 points 10 boards and 10 dimes, and their summer signing Lindsey Cleary with 32 points, 19 rebounds and 11 assists, finishing with a 53 index score.  
Bristol had no answer to Cleary who made 82 of her shots and was fouled six times in the contest. Bristol were led by 19 points from Leila Jepson as Reading booked their ticket for a last four match up with Loughborough.  
.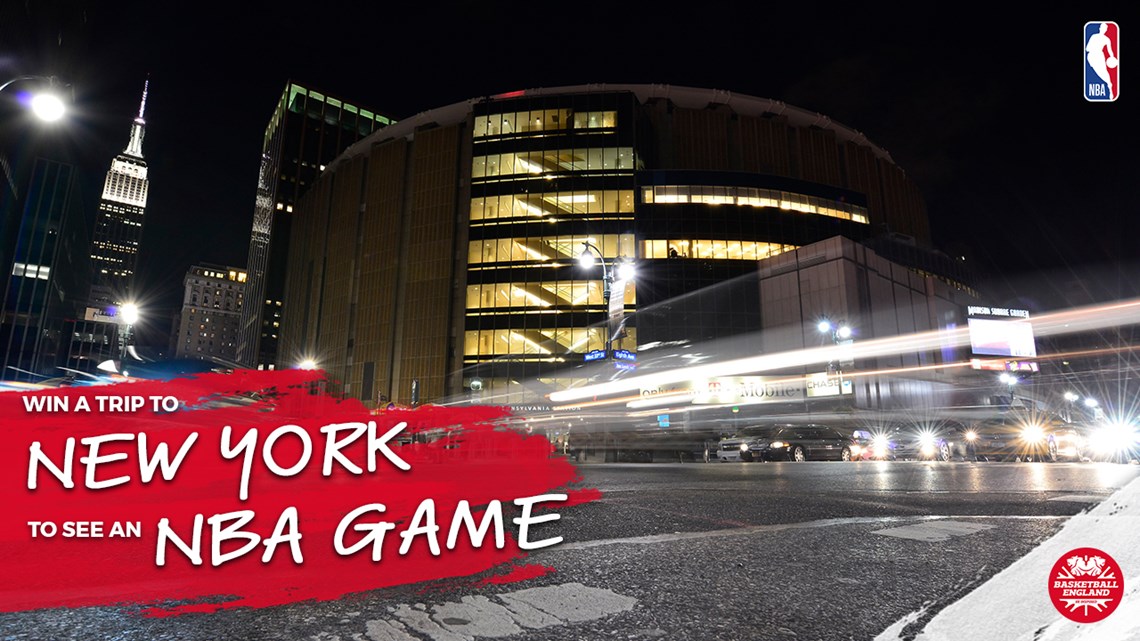 Join Basketball England for free and win a trip to New York City, courtesy of the NBA.
Whether you have a Supporter Account as a fan, follower, enthusiast or advocate, or a Full Account and have paid for a licence to play, coach or officiate in competition, you can enter our prize draw.
Basketball has the power to change lives. Our #GameTime campaign aims to raise awareness of the positive impact that basketball can have on people no matter who they are or where they are from.
.
.
Main image credit - Flo Alalade
Graphic image credits - Flo Alalade, Luke Simcock