FocusHoops' Darren Paul was spoiled for choice this week, with numerous standouts for Player and Team of the Week honours.
As a writer, commentator, podcaster and more, Darren had a healthy seven ties to pick from, including Ipswich's impressive road upset of title-chasing Thames Valley.
Have your say on this week's choices and give a shout-out to the players you think deserve one using the hashtag #NBL2223. Don't forget to tag us!    
Twitter: @NBLengland / @FocusHoops  
Facebook: @NBLengland  / @FocusHoops  
Instagram: @nblengland / @focushoops  
How it works  
Darren will pick a Player of the Week and four other selections to round out his Team of the Week, paying attention to the following criteria:
Efficiency  
Stats  
Team and opposition strength  
Periods of influence in the game 
Being on a winning team (exceptional performances from players on losing teams will be considered for TOTW)
The FocusHoops Team of the Week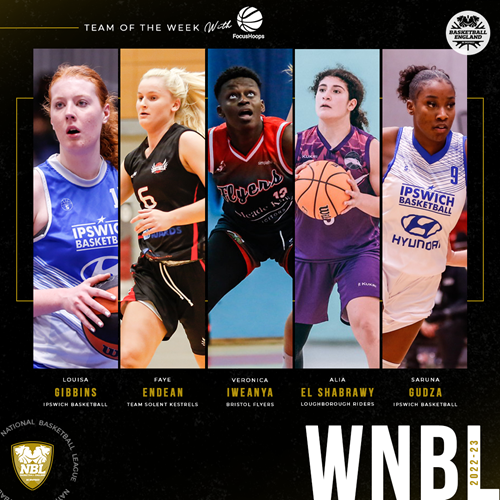 PLAYER OF THE WEEK
Louisa Gibbins – Ipswich, forward 
23PTS, 18REB, 2ast, 3blk, 39EFF 
Louisa Gibbins was the catalyst for Ipswich to pull off the upset of the week as they took down second-placed Thames Valley Cavaliers on the road.
An incredibly efficient performance from Gibbins saw her bag 23 points on 58% shooting, draining five three-pointers on nine attempts to best the title challengers.
Gibbins was dominant on the glass to pull down 18 boards, 13 on the defensive end, sending back three shots and nabbing a steal in a solid defensive outing that complemented her excellent scoring.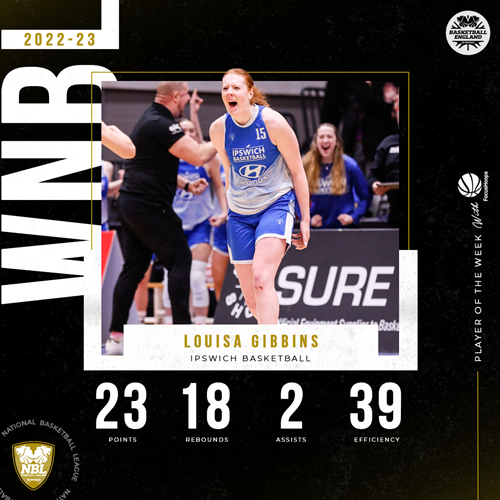 Faye Endean - Team Solent Kestrels, guard
16PTS, 10REB, 11AST, 3stl, 3blk, 26EFF
Faye Endean put in another superstar performance this weekend as Team Solent Kestrels beat WNBL National Cup finalists Reading Rockets.
Endean's 16 point, 10 rebound and 11 assist triple-double included 45% shooting from the floor as the talented young guard also went 4-4 at the charity stripe, drawing five fouls whilst only committing a single infraction of her own.
Endean pulled down 10 rebounds, eight on the defensive end, and found teammates with ease throughout the contest, showing just how important Endean is to the Kestrels' success and to the league as a whole.
Endean capped off an outstanding performance with three steals and three blocks.
Veronica Iweanya – Bristol Academy Flyers, forward
15PTS, 16REB, 1AST, 3stl, 4blk, 30EFF vs CAR
8PTS, 5REB, 3AST, 13EFF @ CAR
Veronica Iweanya was the key figure for Bristol as they took down Cardiff twice this weekend, sealing back-to-back wins against the Welsh outfit.
Bristol's forward finished with a 15 points and 16 rebounds double-double in Saturday's home leg, closing as one of her side's top scorers and easily the leading rebounders in the contest for either team.
Iweanya's points came from 55% shooting, all in the paint, and an excellent 5-6 makes from the stripe. Splitting her rebounds equally between offensive and defensive to pull down eight of each, Iweanya was also defensive force with a huge seven stops (three steals and four blocks) in a dominant performance to protect the paint.
A quieter outing on Sunday still saw Iweanya and Bristol claim their second win in as many days, breathing new life into the Flyers' race to avoid D1W's potential trap door.
Alia El Shabrawy – Loughborough Riders, guard
19PTS, 8Reb, 7stl, 24EFF 
Alia El Shabrawy was in fine form for Loughborough as they took down Worcester Wolves on the road.
El Shabrawy finished the contest with 19 points from 43% shooting, going a perfect 4-4 from the line and doing most of her damage around the basket.
The Loughborough guard, as is customary as an elite rebounder, finished with a team-high eight boards, three offensive, but it was her defensive efforts (finishing with seven steals) that is the highlight number for me, finishing with four more than her next closest teammate.
Loughborough look on course to make the playoffs and finish in the top eight, and more performances like this from El Shabrawy could see them pick up a more favorable first round tie.
Saruna Gudza – Ipswich, guard
31PTS, 4RBS, 3ASt, 2STL, 25EFF 
Saruna Gudza led by example to play herself into Team of the Week with a brilliant 31 points display in Ipswich's huge upset win over Thames Valley. 
Gudza's 31 points came on 45% shooting, going for 9-19 from two points range but a game-changing 10-12 at the free throw line. She was a headache for TVC all afternoon, drawing seven fouls in the match up, whilst committing just a single foul herself.
It was a captain's performance, with a dagger basket coming in the final minutes of the game to put Ipswich up by four and effectively putting the game to bed.
Gudza contributed four boards, three assists and two steals whilst committing just a single turnover in a performance demonstrating her discipline and drive to win.
Team basketball 
Ipswich shock TVC
Ipswich won a tense encounter 90-86 over title-chasing TVC in Uxbridge this weekend, thanks in no small part to the play of Louisa Gibbins, Saruna Gudza and the scoring of Liv Forster.
Gibbins, Gudza and Forster combined for 74 of Ipswich's points, and Gibbins especially controlled the glass for the Suffolk outfit.
Gudza's discipline and efficiency was another key element of the game in which 37 fouls were called, she committed just one whilst being fouled seven times in reply.
TVC had five players in double-digit scoring, with captain Kat Goldsby leading the way on 16 points and pulled down a team-high 14 rebounds in a battling performance on a day where league leaders Team Solent Kestrels also took a crucial win against Reading.
Ipswich still have plenty of chances to improve their playoff position and this win serves as a reminder to the league just how dangerous Nick Drane's side can be.
Kestrels soar once again
Team Solent Kestrels' hold on the top spot got a little tighter this weekend as they defeated Readings, and watched on as Ipswich took down title rivals TVC in a brilliant weekend for the Southampton-based hoopers.
Faye Endean was once again incredible in front of the cameras for WNBL live this weekend, finishing with a brilliant triple-double performance, leading her side in scoring and assists and just one rebound shy of Saffie Jarju's 11 boards performance.
All five starters for the Kestrels bagged double-digit scores, with Jarju finishing on 15 points and the remaining starters with 10.
Reading were led by 15 points from Lindsey Cleary and 10 points from Jade Blackburn, but scoring didn't come easy for Reading who made just 27% of their shots to Solent's 44%, a discrepancy that will always hurt a team.
Reading remain in the fight for a home playoff berth whilst Solent have a four point lead on CoLA in second, and six over TVC in third as we head towards the closing stretch of the season.
Honourable mentions 
Solene Lemoigne (CAR) – 19P/7R/2A/23EFF 
Lindsey Cleary (REA) – 15P/11R/3A/31EFF
Ana-Isabel Andersson (CoLA) – 12P/9R/7A/21EFF 
.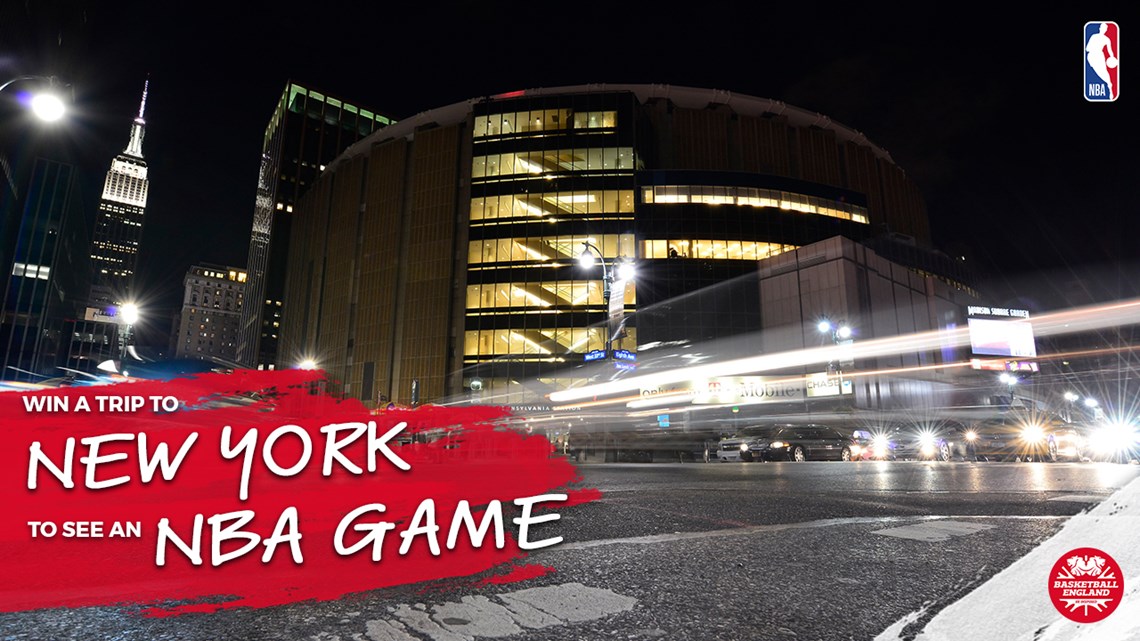 Join Basketball England for free and win a trip to New York City, courtesy of the NBA.
Whether you have a Supporter Account as a fan, follower, enthusiast or advocate, or a Full Account and have paid for a licence to play, coach or officiate in competition, you can enter our prize draw.
Basketball has the power to change lives. Our #GameTime campaign aims to raise awareness of the positive impact that basketball can have on people no matter who they are or where they are from.
.
.