The regular season keeps on ticking by, but nothing gets past FocusHoops' Darren Paul as he once again singles out his Player and Team of the Week selections.
As a writer, commentator, podcaster and more, Darren looked over six games from this past weekend, finally whittling the potential selections down to a chosen few.
Have your say on this week's choices and give a shout-out to the players you think deserve one using the hashtag #NBL2223. Don't forget to tag us!    
Twitter: @NBLengland / @FocusHoops  
Facebook: @NBLengland  / @FocusHoops  
Instagram: @nblengland / @focushoops  
How it works  
Darren will pick a Player of the Week and four other selections to round out his Team of the Week, paying attention to the following criteria:
Efficiency  
Stats  
Team and opposition strength  
Periods of influence in the game 
Being on a winning team (exceptional performances from players on losing teams will be considered for TOTW)
The FocusHoops Team of the Week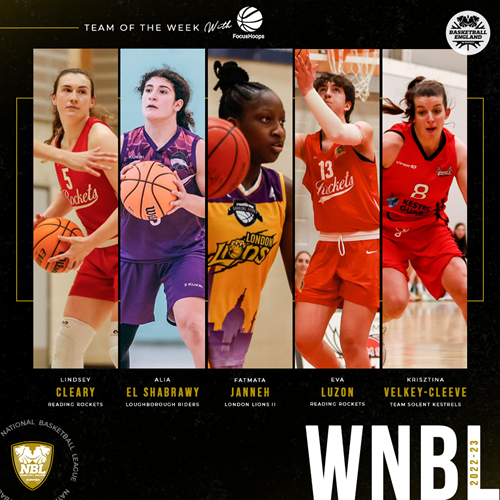 PLAYER OF THE WEEK
Lindsey Cleary – Reading Rockets, forward 
24PTS, 18REB, 8ast, 2stl, 36EFF 
Lindsey Cleary was automatic from the stripe this weekend as she helped Reading sneak by Bristol in double-OT, with a perfect 10/10 free-throws.
Cleary finished with a 24 points and 18 rebounds double-double, dominating the glass at both ends with eight offensive boards and 10 defensive, falling just two dimes short of the triple-double.
The American also swiped two steals and kept it clean, committing just two fouls whilst drawing nine fouls as the Rockets outscored the Flyers by 10 points at the line, making a big difference in a tight contest.
Alia El Shabrawy - Loughborough Riders, guard
25PTS, 9REB, 7AST, 2stl, 23EFF
Alia El Shabrawy continues her excellent run of form with a near triple-double of 25 points, nine rebounds and seven assists in Loughborough's win over Anglia Ruskin.
El Shabrawy did her damage from inside the arc, showing off a wide range of scoring from under the basket to long range two pointers.
Loughborough's standout guard once again led her side in rebounding with nine total (six defensive), and led the Riders with seven assists.
El Shabrawy also finished with two steals to cap off an excellent performance that helped secure an important victory in the battle for playoff positions.
Fatmata Janneh – London Lions II, wing
22PTS, 12REB, 5AST, 1stl, 24EFF
Fatmata Janneh was in efficient form for London this weekend as the Lions II took down Ipswich at home, thanks in part to Janneh's 22 points and 12 rebounds double-double.
Janneh's 22 points came on 50% shooting, including two triples, whilst the bulk of her game-high rebounding came on the defensive end, pulling down 11 defensive boards.
The talented youngster contributed five assists, just one shy of the team-high total and finished with one steal in an efficient half hour display from one of the stars of this young Lions team.
Eva Luzon – Reading Rockets, forward
20PTS, 16Reb, 3ast, 4stl, 1blk, 33EFF 
Eva Luzon dominated the paint for Reading as they were taken to the wire by Bristol this weekend.
Reading's forward made the most of the extra two frames in the OT marathon to finish with a 20 points and 16 rebounds double-double, with all her scoring coming either in the paint or at the stripe.
Luzon was on form throughout the contest, hitting a team-high 52% from the floor and dominating the defensive glass with 13 of her 16 boards coming on that end.
She finished with five stops, including four steals and a block, and also dished three dimes in a performance that had a little bit of everything.
Krisztina Velkey-Cleeve – Team Solent Kestrels, guard
14PTS, 13RBS, 7ASt, 2STL, 27EFF 
Krisztina Velkey-Cleeve led by example this weekend, as she so often does, as Team Solent toppled the Brent Bulls on the road with the standout guard chipping in a 14 points, 13 rebounds double-double.
Velkey-Cleeve did her damage with 41% shooting from the floor and went 3/3 at the stripe, leading her side in scoring and rebounding as she controlled the defensive glass with 11 boards. She also found her teammates for seven assists, nabbing a pair of steals for good measure.
The Solent captain once again demonstrated to the entire league her importance to the current D1W  leaders with another brilliant performance.
Team basketball 
Reading taken the distance by bristol
Reading Rockets just managed to take the win at home to a resurgent Bristol Flyers in double-overtime this weekend, thanks in no small part to the play of Lindsey Clearly and Eva Luzon, who dominated the glass whilst keeping the scorers very busy.
Kristina Karpova came up big off the bench with 15 points of her own to help put Bristol away, with Leila Jepson and Hannah Wallace doing the bulk of the damage for Bristol with 27 and 14 points respectively.
It was a tough loss for the Flyers after their recent uptick in form, but the South West side have plenty of positives to take from this one despite the result.
London take down ipswich to keep playoff hopes alive
Fatmata Janneh and Ruchae Walton helped keep London Lions II in the playoff hunt with an important win over Ipswich on Saturday.
Walton top scored with 27 points and Janneh went big with a 22-12 double-double with Tamara Smith-White and Nicholle Lavinier also contributing double-digit scoring.
Saruna Gudza and Olivia Forster were in the point for the Suffolk club with 22 and 20 points respectively, and defeat will no doubt leave Ipswich looking over their shoulder a little at the likes of Brent and London Lions II, who are both sniffing around for a top eight finish.
Honourable mentions 
Charlotte Finn (WOR) – 20P/5R/1A/19EFF 
Rian Rawlings (ARU) – 18P/4R/7A/23EFF
Ruchae Walton (LL2) – 27P/8R/1A/20EFF 
.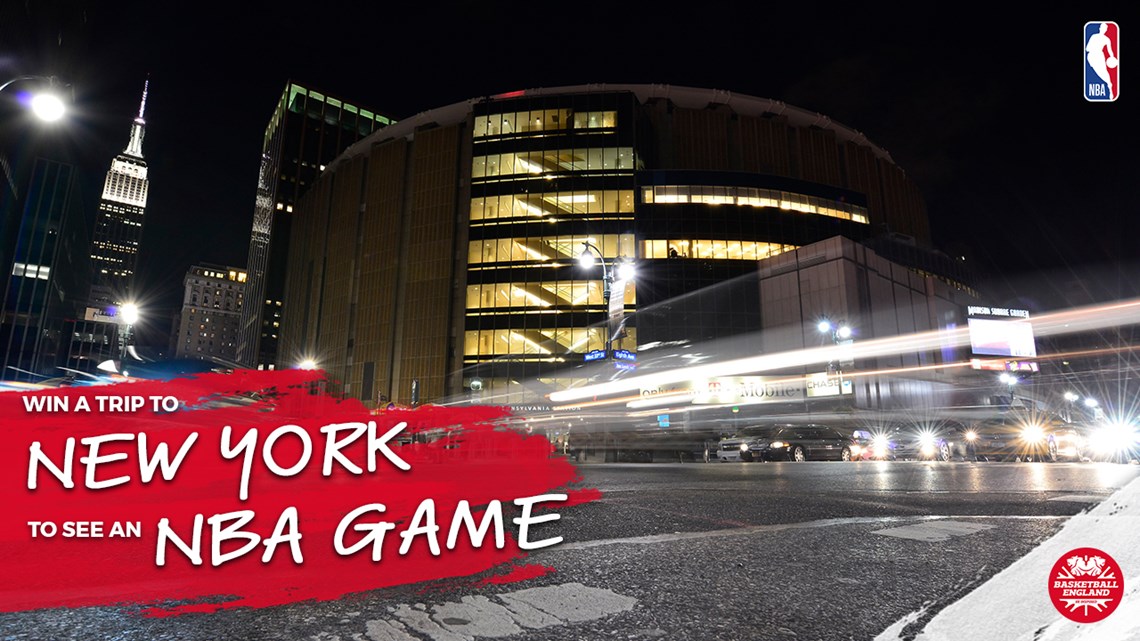 Join Basketball England for free and win a trip to New York City, courtesy of the NBA.
Whether you have a Supporter Account as a fan, follower, enthusiast or advocate, or a Full Account and have paid for a licence to play, coach or officiate in competition, you can enter our prize draw.
Basketball has the power to change lives. Our #GameTime campaign aims to raise awareness of the positive impact that basketball can have on people no matter who they are or where they are from.
.
.