FocusHoops' Darren Paul had plenty to enjoy this weekend, including a rare 40+ point outing to factor into his Team and Player of the Week decisions.
As a writer, commentator, podcaster and more, Darren had five games to pick from, including Solent's victory in their top of the table clash with CoLA.
Have your say on this week's choices and give a shout-out to the players you think deserve one using the hashtag #NBL2223. Don't forget to tag us!    
Twitter: @NBLengland / @FocusHoops  
Facebook: @NBLengland  / @FocusHoops  
Instagram: @nblengland / @focushoops  
How it works  
Darren will pick a Player of the Week and four other selections to round out his Team of the Week, paying attention to the following criteria:
Efficiency  
Stats  
Team and opposition strength  
Periods of influence in the game 
Being on a winning team (exceptional performances from players on losing teams will be considered for TOTW)
The FocusHoops Team of the Week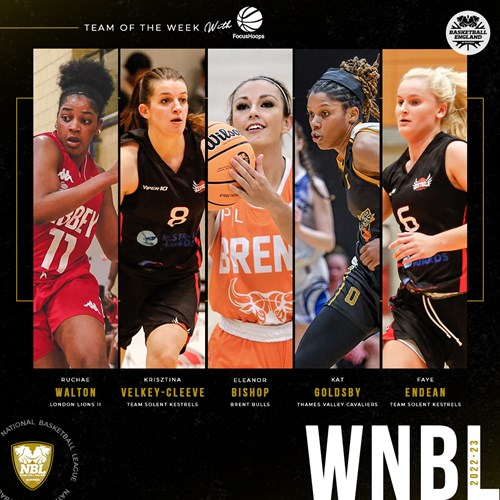 PLAYER OF THE WEEK
Ruchae Walton – London Lions II, guard 
41PTS, 11REB, 1ast, 3stl, 39EFF 
Ruchae Walton has been a major plus for the London Lions II since her arrival last season, and her 41 points and 11 rebound double-double against Cardiff was just the latest example.
Walton finished with exactly half of London's points in the 82-63 road victory, shooting efficiently in her 36 minutes to net 61% from the field and going 4/8 from outside the arc.
Coupled with her scoring, Walton pulled down a game-high 11 rebounds, six coming on the offensive end and notched three steals to further torment the club from Cymru.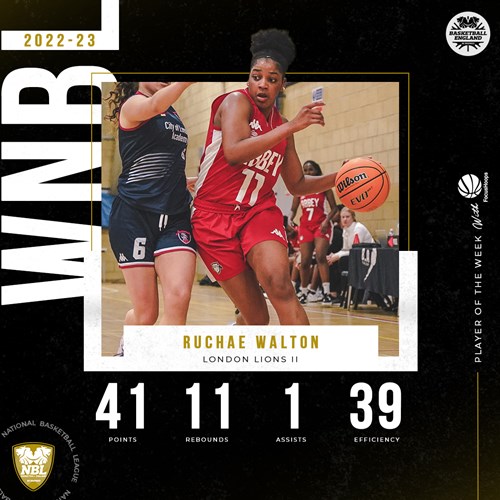 Krisztina Velkey-Cleeve - Team Solent Kestrels, guard
19PTS, 6REB, 9AST, 2stl, 26EFF
Krisztina Velkey-Cleeve continued to lead by example this weekend as her 19 points, six rebounds and nine assists saw her into my Team of the Week.
Topping the charts for her side in scoring at an efficient 60%, Velkey-Cleeve was on fire from outside, sinking five of seven from three-point land.
Solent's captain did her fair share of work on the glass, with five defensive boards, whilst also dishing nine dimes and swiping two steals in another all-around performance from a legend of the TSK program.
Eleanor Bishop – Brent Bulls, guard
14PTS, 8REB, 3AST, 21EFF 
Brent looks to have found their groove once more as Eleanor Bishop shot her way into my Team of the Week following the Bulls' 66-49 road win against Loughborough.
Bishop finished with 14 points in the contest on 62% shooting, including two triples and 2/2 from the stripe.
The former Thames Valley Cavaliers standout led her side in scoring as well as on the glass, pulling down eight boards that included three on offence, in addition to three assists in 26 minutes of action.
If Bishop can keep contributing like that, we can expect Brent to maintain a push for a home playoff berth come season's end.
Kat Goldsby – Thames Valley Cavaliers, guard
23PTS, 2Reb, 3ASt, 26EFF 
Captain, leader, and terrifying offensive talent, Kat Goldsby remains crucial to TVC's successes this season as she led the way with 23 points in TVC's win over Reading on Saturday.
Goldsby shot efficiently at 62%, going a perfect 7/7 from inside the arc and knocking down three triples.
The American also pulled down two rebounds and dished three assists in the contest, contributing in all areas but excelling at what she does best, leading by example and putting the ball through the hoop.
TVC is chasing down Solent at the top of the table and with two games in hand will be hoping for more of the same from Goldsby as we head into what should be an exciting conclusion to this season's title race.
Faye Endean – Team Solent Kestrels, guard
7PTS, 8RBS, 13ASt, 4STL, 1BLK, 23EFF 
Faye Endean dished the rock with style this weekend as Solent took down CoLA, finishing with an incredible 13 assists to go with her seven points and eight defensive rebounds.
Endean put in the work defensively, rejecting one shot and swiping four steals in a performance that demonstrates her immense value to the Southampton club's success.
The talented guard's passing down the stretch helped cement the victory, with three assists and multiple rebounds in the fourth quarter helping to halt CoLA's charge and secure a crucial victory. 
Endean's influence on the table toppers' success seems to grow as she continues to find ways to help the team pick up wins, no matter what that entails.
Team basketball 
Kestrels contain CoLA
Team Solent Kestrels remain firmly in D1W's top spot with a 12-2 record and a healthy points differential over TVC and their position was certainly helped by an impressive ten-point victory over CoLA on Saturday afternoon.
TSK were led in scoring by Krisztina Velkey-Cleeve, Erin Caldwell (14pts) and Yassin Belle-Mbaye (10ptS) who all contributed double-digit points as strong first and fourth quarters were enough to hold off last season's champs.
Ebere Egbirika led all scorers with 21 points for the visitors, but it wasn't to be for CoLA who remain third, on 10 wins but with four losses on the year.
Worcetser edge closer to playoff push with win over ipswich
Worcester Wolves took down Ipswich on Sunday thanks to a 76-66 performance in front of their home fans.
Worcester started on the back foot early but battled back thanks to 20 points from Grace Brownell and 18 more from Carolina Marques, whose impressive performance was marred slightly by picking up four fouls and limiting her floor time.
Ipswich was led in scoring by Liv Forster and Ava Battese, who bagged 19 and 16 points respectively, and edged the battle of the boards thanks to sterling work on the glass from Christabel Osarobo, who finished with a game-high 15 rebounds.
It wasn't enough to take the points back to Suffolk however, as Worcester scored an impressive 48 points in a back and forth first half which  built the platform to see out the contest after the interval.
Honourable mentions 
Carolina Marques (WOR) – 18P/1R/2A/19EFF 
Grace Brownell (WOR) – 20P/9R/1A/19EFF
Helene Trailin (TVC) – 12P/14R/19EFF 
.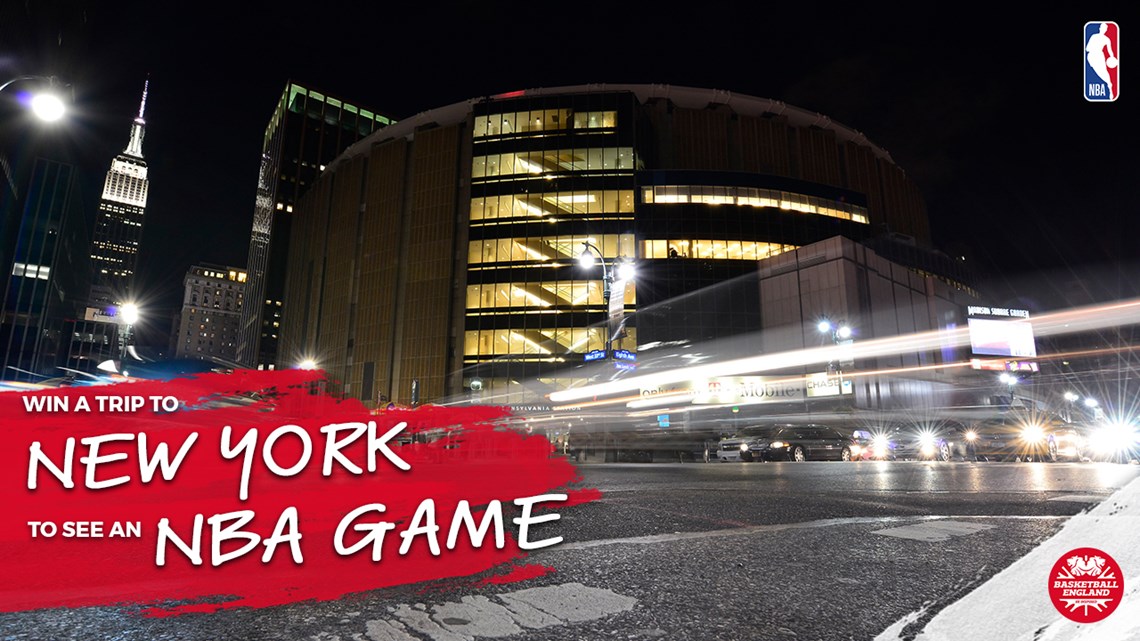 Join Basketball England for free and win a trip to New York City, courtesy of the NBA.
Whether you have a Supporter Account as a fan, follower, enthusiast or advocate, or a Full Account and have paid for a licence to play, coach or officiate in competition, you can enter our prize draw.
Basketball has the power to change lives. Our #GameTime campaign aims to raise awareness of the positive impact that basketball can have on people no matter who they are or where they are from.
.
.
Main image credit - Sam Neter/Hoopsfix