After a brief pause, FocusHoops' Darren Paul is back once again, having his say on the Team and Player of the Week candidates from D1W.
As a writer, commentator, podcaster and more, Darren couldn't select a TOTW last time out with just one game being played due to the National Cup, but with seven ties this past weekend he had more than enough worthy performances to choose from.
Have your say on this week's choices and give a shout-out to the players you think deserve one using the hashtag #NBL2223. Don't forget to tag us!    
Twitter: @NBLengland / @FocusHoops  
Facebook: @NBLengland  / @FocusHoops  
Instagram: @nblengland / @focushoops  
How it works  
Darren will pick a Player of the Week and four other selections to round out his Team of the Week, paying attention to the following criteria:
Efficiency  
Stats  
Team and opposition strength  
Periods of influence in the game 
Being on a winning team (exceptional performances from players on losing teams will be considered for TOTW)
The FocusHoops Team of the Week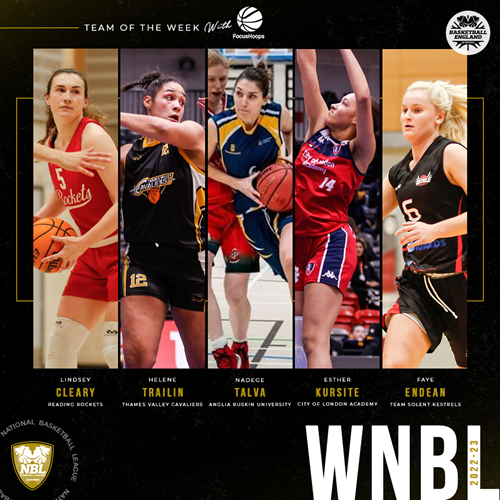 PLAYER OF THE WEEK
Lindsey Cleary – Reading Rockets, guard 
20PTS, 13REB, 3ast, 24EFF 
Cleary claimed my Player of the Week honours thanks to a 20-13 double-double in Reading's 60-52 win over Loughborough Riders on Saturday.
She led her team in scoring, hitting 50% from inside the arc with all her points coming in the paint, also making two of her free throws.
Her domination inside extended onto the glass, pulling down a team-high 13 boards, five on the offensive end, and eight defensive.
The talented American also dished three assists and committed just a single foul whilst being fouled seven times in the contest, demonstrating how much of a handful she was for Loughborough this weekend.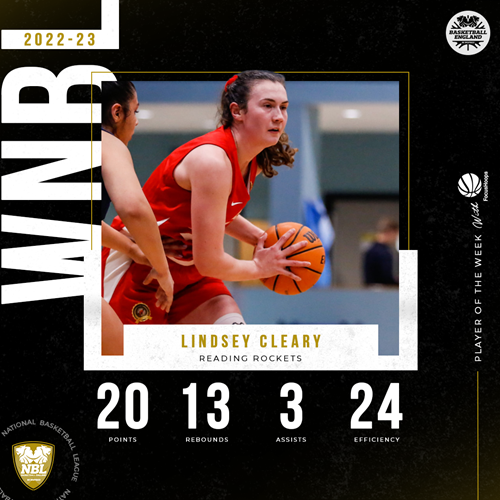 Helene Trailin - Thames Valley Cavaliers, forward
14PTS, 12REB, 2AST, 26EFF vs CAR
15PTS, 10REB, 2AST, 19EFF @ bri
Trailin's excellent season continues with two fine performances this weekend, the pick of them a 14-12 double-double in TVC's win over Cardiff.
The WNBL National Cup final MVP only featured for 18 minutes on Saturday, but her ruthless efficiency saw her go 7-9 in the paint and pull down eight offensive rebounds, generating second-chance opportunities for herself and her team, whilst keeping Cardiff off the glass with four defensive boards. Trailin was also on hand to dish two dimes and pick one pass in a fantastic display of efficient, dominant basketball.
Sunday was more of the same with a 15-10 double-double, showing her quality as one of the top forwards in the league this season.
Nadege Talva – Anglia Ruskin University, wing
16PTS, 10REB, 4AST,22EFF 
Anglia Ruskin won the East Anglian derby thanks in no small part to Talva's 16-10 double-double.
She remains one of the biggest stories of the season after retuning to the WNBL, showing her class once again this weekend to earn Team of the Week honours.
The ARU standout shot 53% from the floor, going 8-10 from inside the arc to show off her skill around the basket and out to the midrange.
Talva did her fair share on the glass as well, pulling down four offensive boards and six defensive to keep Ruskin close in the key rebound battle, whilst tacking on four assists and three steals in another all-round display from the returning star.
Esther Kursite – CoLA Southwark Pride, forward
25PTS, 12Reb, 1ASt,26EFF 
Kursite makes her debut in the Team of the Week after a fantastic display for CoLA against local rivals London Lions II.
She bagged a 25-12 double-double, going 9-14 from inside the arc, with a mix of midrange makes and good finishing around the rim.
The young forward was fouled seven times, making 7-12 at the stripe and punishing London for failing to keep it clean while defending her.
Kurstie led CoLA on the glass with 12 boards, eight defensive and four offensive boards, helping her side dominant in the rebounds department.
Finding time to add an assist for good measure, it really was an offensive masterclass.
Faye Endean – Solent Kestrels, guard
19PTS, 6RBS, 6ASt, 11ST, 27EFF 
Endean continues to excel in 2023 with team-highs in both points and assists during Solent's 71-56 win over Bristol on Saturday.
She finished the contest with 19 points, shooting 53% from inside the arc with two free-throws and one triple, the epitome of modern scoring, both at the rim and behind the arc.
The talented guard pulled down six board, one shy of the team-high, with two on the offensive end and four defensive.
Endean also led the game in assists, finishing with six dimes but it was her eye-wateringly impressive 11 steals that stand out the most. The Solent star was a menace to a spirited Bristol side as she nabbed more steals than Bristol did as a team.
Team basketball 
Ruskin win East Anglia derby against Ipswich
Anglia Ruskin University completed the double over their East Anglian rivals Ipswich this weekend with a 65-52 victory at home on Saturday afternoon.
ARU were led in scoring by Talva and Courtney Gray on 16 and 15 points respectively, with Mia Thompson also bagging nine points. Ipswich in response were led by 20 points from Liv Forster and nine points from Christabel Osarobo.
Ipswich edged the battle on the boards, but also committed more turnovers. That's where Ruskin made the difference in scoring, with turnovers and second chance points being crucial in the win.
reading rebound to beat loughborough
Reading Rockets took down Loughborough Riders 60-52 with 20 points from Lindsey Clear and 16 more from Saioa San Francisco, whilst Loughborough were once again led by Alia El Shabrawy as the Egyptian star finishing with 11 points and 13 boards whilst Rose Bryan chipped in 13 points.
Reading bounced back from last weekend's Cup disappointment to score 20 points more than Loughborough in the paint, which was ultimately the difference in the contest, with the Riders instead favouring the outside shot.
With the win, Reading improve their record to 8-3 on the season and sit in fifth in the standings with games in hand on three of the sides above them.
Honourable mentions 
Ana-Isobel Andersson (CoLA) – 17P/2R/5A/24EFF 
Alia El Shabrawy (LOU) – 11P/13R/6A/22EFF
Ruchae Walton (IPS) – 30P/2R/3S/24EFF 
.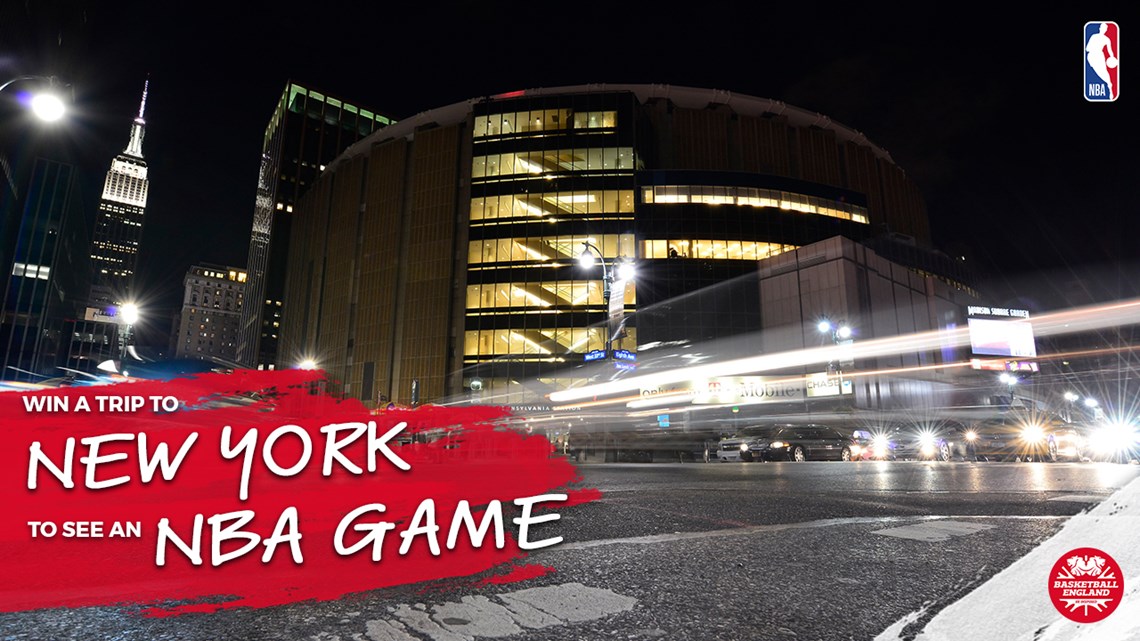 Join Basketball England for free and win a trip to New York City, courtesy of the NBA.
Whether you have a Supporter Account as a fan, follower, enthusiast or advocate, or a Full Account and have paid for a licence to play, coach or officiate in competition, you can enter our prize draw.
Basketball has the power to change lives. Our #GameTime campaign aims to raise awareness of the positive impact that basketball can have on people no matter who they are or where they are from.
.
.
Main image credit - Luke Simcock