Chema Buceta has confirmed the 12-player roster that will represent Great Britain at Women's EuroBasket 2023 campaign in Slovenia this week
The National Team travel to Slovenia today to compete in Women's EuroBasket 2023 and have been drawn in an exciting group alongside France, Germany and the co-hosting Slovenians where the four teams will compete for a place in the knockout stages of the tournament. 

The action gets underway on Thursday as GB take on the competition co-hosts, Slovenia, before facing France on Friday and Germany on Sunday, with information on where to watch all the games live set to be confirmed in the coming days. 

Coach Buceta's roster comprises several ever-presents who fans will recognise from the team's successful qualification campaign, as well as a cohort of new faces who will be making their first competitive appearances for the team this week.

A quartet of talent with WNBA experience is included in the roster, including Kristine Anigwe, Temi Fagbenle, Kiki Herbert-Harrigan and Sydney Wallace and all players in the roster – aside from Fagbenle – will be taking part in their first EuroBasket competition.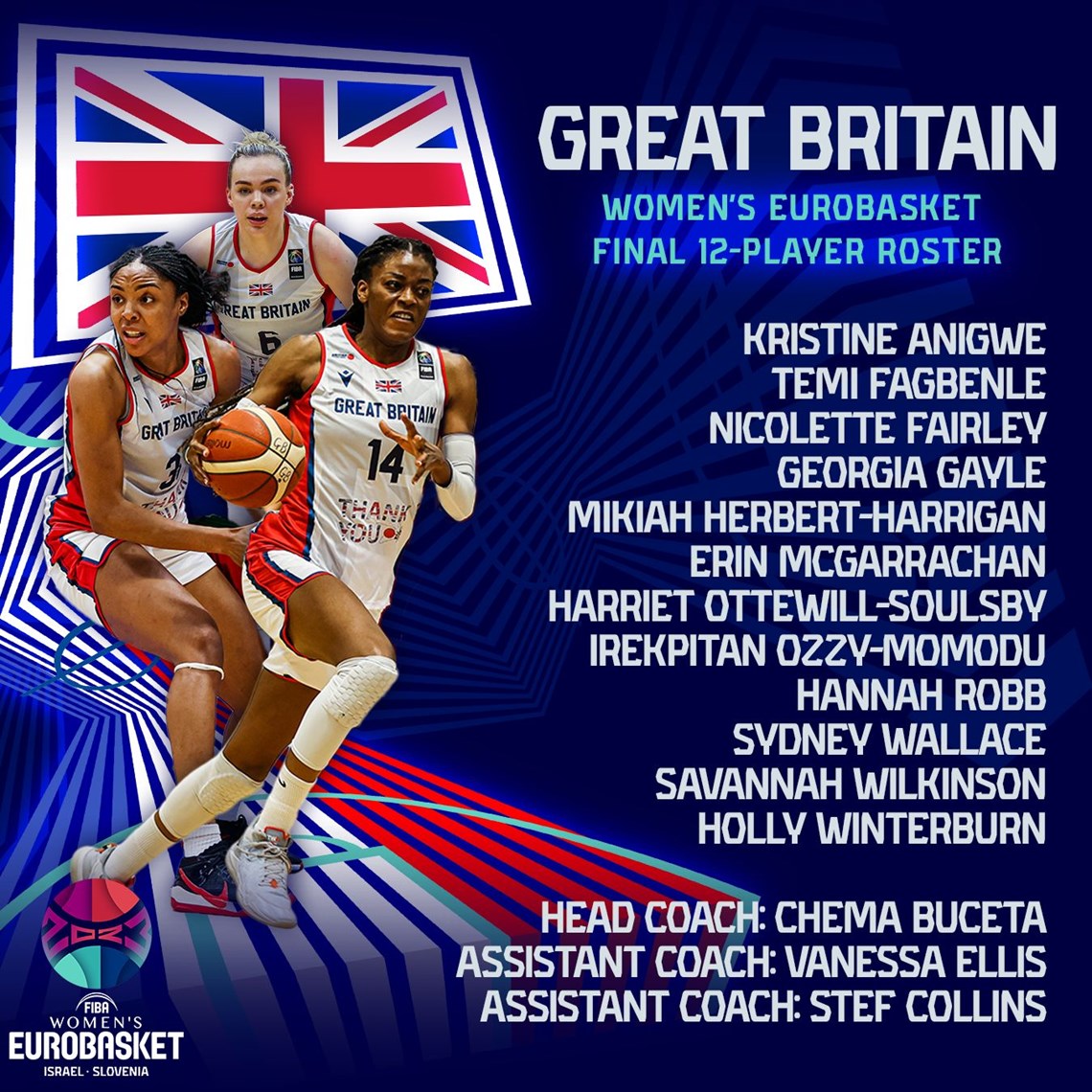 British Basketball fans will already be well-versed in the talents of Herbert-Harrigan having witnessed her MVP-winning season in the Women's British Basketball League for London Lions during the recent campaign, not to mention some dazzling performances in European competition for the Copper Box club.

As well as Herbert-Harrigan, an additional six players on the roster competed on home soil last season in the WBBL – Holly Winterburn, Hannah Robb, Harriet Ottewill-Soulsby, Erin McGarrachan, Georgia Gayle and Nicolette Fairley – showing the growing strength of the domestic league in retaining and nurturing top British talent. 

A 16-strong training camp roster has come together over recent weeks for robust tests against Czechia and France. Competing against two elite European sides across four friendlies has provided valuable opportunities for Coach Buceta to assess rotations before settling on the cohort of 12 players selected for the showpiece tournament in Slovenia.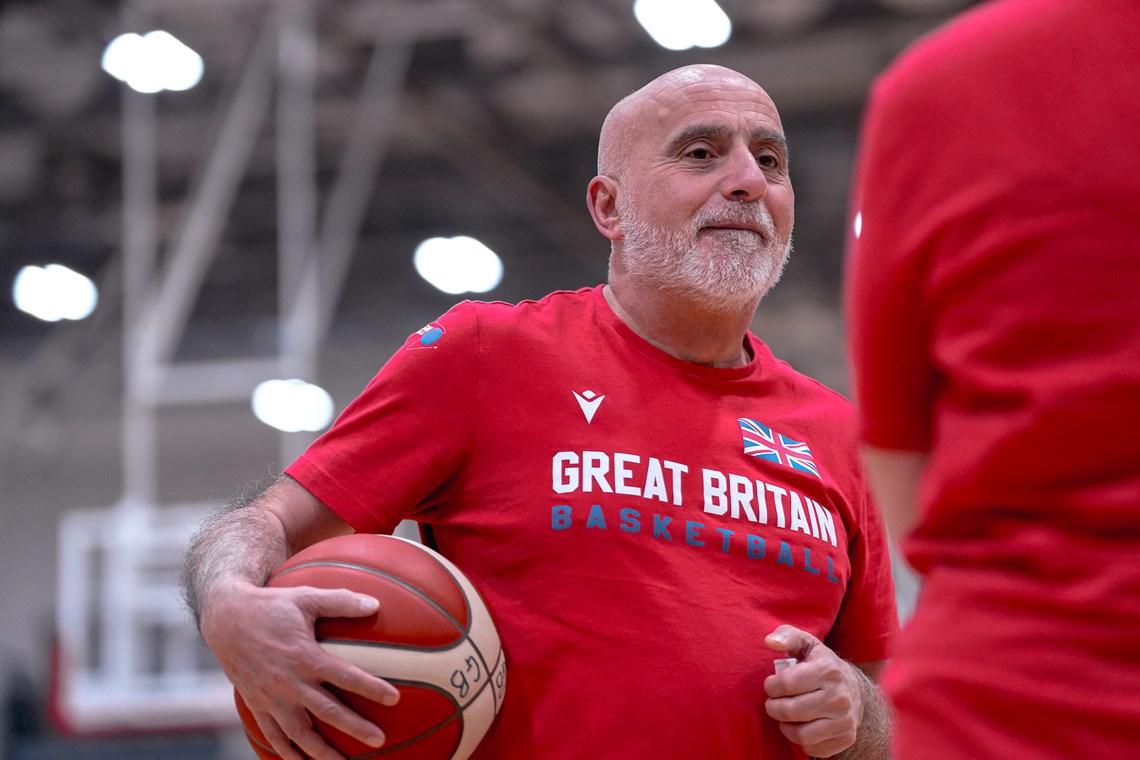 Great Britain Women's Head Coach Chema Buceta said:
"I am sure this team which we have selected after three weeks of practice is going to represent Great Britain very well at EuroBasket. I'd firstly like to thank the four players who were part of the camp but not selected for the final roster – Robyn Lewis, Shequila Joseph, Kirsty Brown and Gabby Niktinaite – for their generous and committed efforts to the team.

"I also want to thank and congratulate the 12 players who made the team for all of the hard work and effort they have also contributed to the last few weeks of preparations, but what is important now is that we go to EuroBasket and be ready to compete at a high level, and I am sure we will do that."
Great Britain's 12 player roster – Women's EuroBasket 2023
| | | | | |
| --- | --- | --- | --- | --- |
| NAME | POSITION | AGE | HEIGHT | CLUB (2022/23) |
| Kristine Anigwe | Forward | 26 | 6'4" | Chicago Sky (USA) |
| Temi Fagbenle | Forward | 30 | 6'4" | ZVVZ USK Praha (CZE) |
| Nicolette Fairley | Guard | 31 | 5'4" | Sheffield Hatters (GBR) |
| Georgia Gayle | Guard | 26 | 5'10" | Sheffield Hatters (GBR) |
| Mikiah Herbert-Harrigan | Forward | 24 | 6'2" | London Lions (GBR) |
| Erin McGarrachan | Forward | 31 | 6'0" | Caledonia Gladiators (GBR) |
| Harriet Ottewill-Soulsby | Forward | 27 | 6'3" | Durham Palatinates (GBR) |
| Irekpitan Ozzy-Momodu | Forward | 24 | 6'3" | Eastern Michigan University (USA) |
| Hannah Robb | Guard | 25 | 5'7" | Leicester Riders (GBR) |
| Sydney Wallace | Guard | 29 | 5'8" | Atomeromu (HUN) |
| Savannah Wilkinson | Forward | 24 | 6'1" | Southern Methodist University (USA) |
| Holly Winterburn | Guard | 22 | 5'10" | London Lions (GBR) |
Coaching Staff:
Chema Buceta – Head Coach
Stef Collins – Assistant Coach
Vanessa Ellis – Assistant Coach


Performance Staff:
Mark Lloyd – National Teams Manager / Head of Delegation
Peter Thain – Physiotherapist
Ross Knevett – Sports Therapist
Karen Barclay – Team Doctor
Jamie Thomas – Media Officer
Main image credit - Jamie Thomas
.

Join Basketball England for free. Whether you have a Supporter Account as a fan, follower, enthusiast or advocate, or a Full Account and have paid for a licence to play, coach or officiate in competition, you can be part of the basketball family.
Basketball has the power to change lives. Our #GameTime campaign aims to raise awareness of the positive impact that basketball can have on people no matter who they are or where they are from.
.