"The aim is gold. We want to win, but the squad will enjoy the whole experience no matter what happens" said head coach of the Special Olympics GB (SOGB) 3x3 women's squad Jacob Meaton, who's quintet will be competing at the Special Olympics World Games in Berlin.
From the 17-25 June 2023, 7000 athletes from 170 countries will descend on the German capital to compete for medals at the inclusive sporting event, which aims to achieve greater recognition and social participation of people with intellectual disabilities in society.
Ella Crawley, Fatima Omarji, Grace Colverd, Julie Freestone and Sophie Widdowson are set to compete in the women's 3x3 competition and will be hoping to emulate on an international stage the feats of Team England's 3x3 basketball teams, who won gold and silver at the Birmingham 2022 Commonwealth Games.
Captain Omarji said:
"It is a dream come true to represent my country at the games in Berlin. We are a strong basketball team and have done lots of training. I'm so proud of all my team mates. I would love to come back with the  gold medal, but whatever happens, I know I have given my everything and I will embrace every moment of this journey."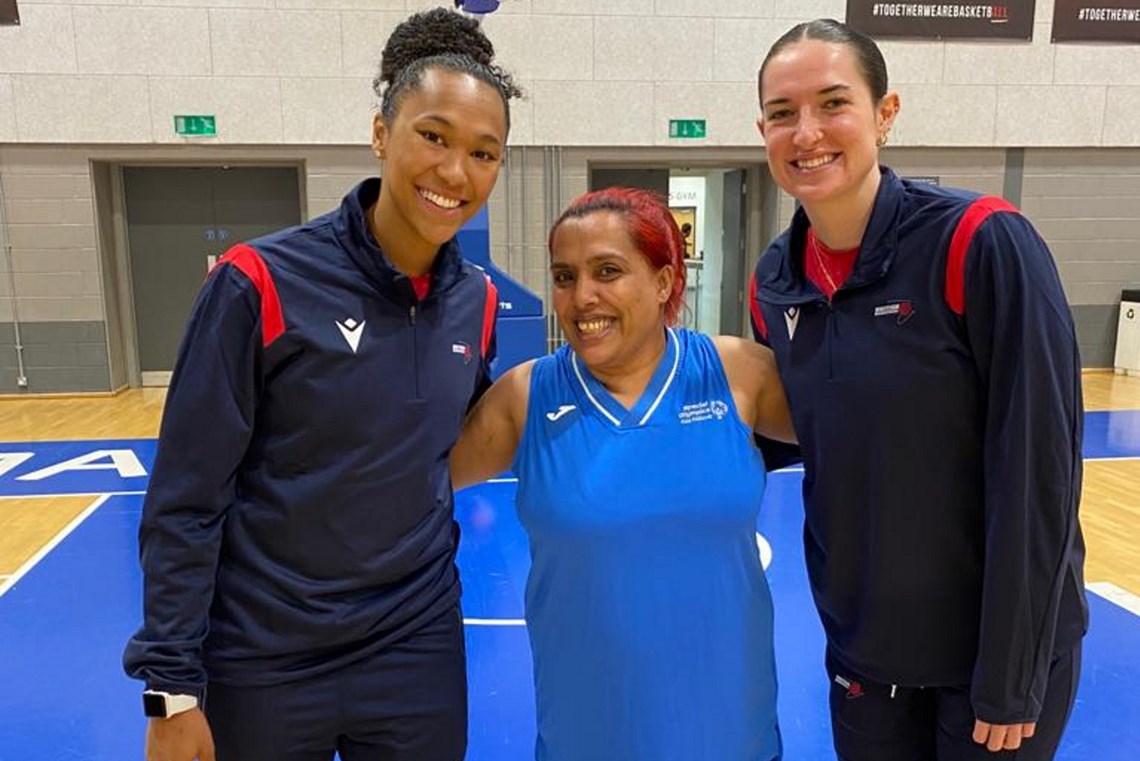 Meaton says that the 3x3 format was an entirely new concept for his players, who were used to 5v5, but they have taken the challenge in their stride.
"It's been great to see the progress from start to finish and I feel like we're in a good place heading out to the Berlin. The [team] are super excited. It's really dawned on us in the last couple of weeks that this is around the corner, this is the last stretch of preparation time before it gets real."
On arrival in Berlin, the squad will first go through a series of preliminary classification matches to decide which division they will compete in – 'divisioning' is fundamental to the Special Olympics' inclusive decree and sees athletes matched against others of about the same competitive ability.
"Until we get there and see the other competition, it's quite hard to plan because we don't know who we will be playing against," said Meaton.  
"Divisioning is a great opportunity to see the other teams in action, however. Some of the teams we play initially won't end up in the same division as us, but it'll give us a good feel around the overall standard of competition and really plan around how we're going to play."
Just as the Commonwealth Games in Birmingham is set to leave a legacy in the city through more playing opportunities and enhanced basketball spaces, Meaton thinks that the World Games will have a huge effect on people with intellectual disabilities wanting to get involved with basketball too, and says that his team of support staff and volunteers are still living off the stories and glories of GB athletes who competed at the last World Games in Abu Dhabi in 2019.
"We're in conversations with a SEN [special educational needs] school in Leicester, where two of our athletes come from, so, we're going do a little video call [with the students] when we're out in Berlin and give them a taste of what it's all about. That school is looking to push female [basketball] participation too, which is great for the legacy of the games.
"Our athletes are also going to go and pay them a visit afterwards as well. Hopefully, with nice shiny medals around their necks."
.
.

Join Basketball England for free. Whether you have a Supporter Account as a fan, follower, enthusiast or advocate, or a Full Account and have paid for a licence to play, coach or officiate in competition, you can be part of the basketball family.
Basketball has the power to change lives. Our #GameTime campaign aims to raise awareness of the positive impact that basketball can have on people no matter who they are or where they are from.