The battles for the final pieces of Division One silverware take place at the National Basketball Performance Centre on Sunday.
Unbeaten Hemel Storm, who already have three trophies to their name this season, face challengers Worthing Thunder in the men's showpiece.
That is preceded by the D1 Women's showdown between regular-season winners Team Solent Kestrels and CoLA Southwark Pride.
John Hobbs talks to key figures from all four camps to preview the two big clashes. There are live streams below. Click the red game titles for Live Stats.
Team Solent Kestrels and CoLA Southwark Pride meet again in Manchester on Sunday in a rematch of last season's epic WNBL1 playoff final.
Only this season, the roles are reversed as Solent, who lost out 55-53 last April, come into Sunday's final as WNBL1 champions with last season's league winners going into the finale as the third seed.
What hasn't changed though is both teams' desire to compete and win and if the two league fixtures are anything to go by, it will be a game that will go down to the final possessions, much like the tightly-contested game they played last year.
CoLA drew first blood on the Kestrels as 24 points from Ebere Egbirika was enough for a narrow 72-67 win in October at the City of London Academy.
It turned out to be the first of only three losses for Solent, as they gained revenge on Jackson Gibbons' side at Solent Sports Complex as Krisztina Velkey-Cleeve poured in 19 points for a 74-64 victory in February.
Despite playing different styles of basketball, with Solent preferring the fast break, open game whereas CoLA play a strategic game focuses on their inside presence, both teams are fairly similar in their season averages.
Solent average 73 points a game with the Pride not far behind at 67.6. Only Ipswich (73.8) and Thames Valley Cavaliers (74.4) average more.
Solent's transition game sees them lead WNBL1 in assists at 19.5 and rebounds as they pull down 44.5 rebounds a contest, led by league's Player of the Year, Faye Endean, who goes into Sunday's game averaging 19.1 points, 7 assists and 3.8 steals a game.
However, CoLA's unselfish team play and overall efficiency under the basket sees them lead the league in field goal percentage at 40.8%, while taking the fewest three-point attempts in WNBL1.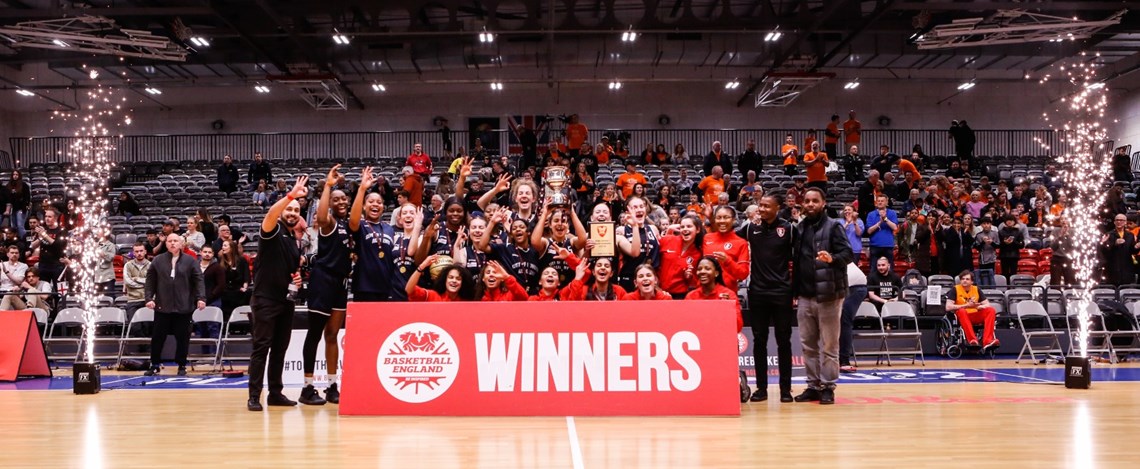 Stanley looking to bridge the gap
When Coach of the Year winner Ben Stanley arrived at Solent from Nottingham in the summer, he wanted to take the vacant post as women's coach along with his contracted position with the men's side.
And with fixture clashes and away trips halting Stanley from taking full-time charge, the ladies have had to adjust many times this season.
It didn't deter them as they head into Sunday's final dance with CoLA as league champions – their first league title since 2016.
"We're very excited and I'm very proud of our girls to be in the final," Stanley said.
"We know that CoLA is a very tough match up for anybody, we lost to them at their place, we took the win at our place, so we know that it is going to be a real game."
And despite lifting the league crown, Stanley is aware that CoLA will arguably boast more big-game experience, especially on the bench with his opposite number Gibbons preparing for his third straight playoff final.
"Jackson is a fantastic coach, great pedigree, this will obviously be my first time coming into a WNBL1 playoff final, so there's an experience gap there," Stanley concedes.
"But I think it's going to be a very competitive, very hard-fought, minute by minute final and that makes it all the more exciting. I'm looking forward to it and the group are looking forward to it."
Hemel Storm and Worthing Thunder will meet in Manchester for the fourth and final time this season with the NBL1 Playoff title at stake. 
For Hemel, they are one game away from perfection. Already 40-0 in all competitions, they have showcased their ability to win as a team, with proof of their mental toughness shown in their narrow 86-83 semi-final win over Reading Rockets as well as a 117-76 first-round win over Solent Kestrels. 
They own a perfect 3-0 record over Worthing this season with a slender 100-95 win in December's NBL Live fixture, followed by a 126-73 victory on 2 April. Hemel also captured the KitKing Trophy at Thunder's expense 99-92 in March.   
The Storm enter Sunday's Playoff Final with three trophies secured, they also lead the league in points (108.5), field goal percentage (54.8%), assists (26.5) and rebounds (43.4). 
To add to their ranks is the newly crowned NBL1 MVP in Aaryn Rai, who averages 24 points, leading the league in rebounds at 10.8 and overall efficiency a game.
On the other side, Worthing will be eager to make it fourth time lucky against their close rival, having taken Hemel to the limit in their encounter in December and in the KitKing Trophy last month. 
The Thunder finished runners-up this season, and until they faced Hemel on the south coast before Christmas, they also possessed a perfect record at 9-0. 
What followed was a minor bump in the road with losses on the road to Solent Kestrels and Reading Rockets, as well as a National Cup semi-final defeat to Derby Trailblazers in January. 
However, Worthing recovered to finish the season with home-court advantage in the post-season, where they saw off Bradford Dragons 83-73 and got revenge on Derby in the semi-finals with a 97-89 win. 
And to potentially be the '1' in 40-1, Thunder will need leading scorer Hafeez Abdul (16.3ppg), veteran Orlan Jackman (15.9ppg), and everyone on the court to be on top of their game if they are to conquer Hemel.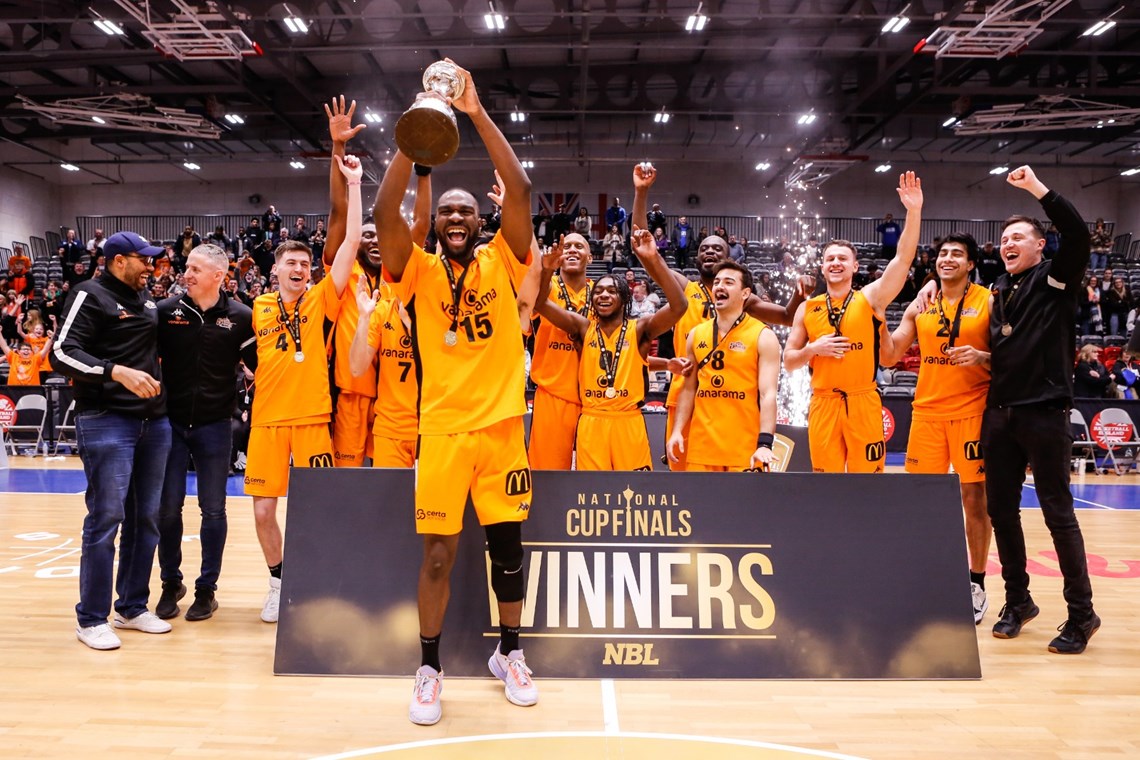 It's 2018 all over again for Darlow
The two teams last competed in the Playoff Final back in 2018, an occasion that Storm assistant coach Michael Darlow remembers well. 
Darlow led Hemel with 12 points, but his side lost 67-57 in a physical, defensive-minded contest. As he returns to the National Basketball Performance Centre, he wants Hemel to right the wrongs of 2018 and make it third time lucky in their third straight playoff final. 
"It was a fiercely competitive game, low scoring due to both defences playing some of their best basketball during the season and physically demanding; it was simply a battle," Darlow said. 
"We were poor on the offensive end that night; Bode (Adeluola) and AJ (Roberts), who had been awesome all year, just couldn't get going." 
And on this season's Worthing side, Darlow said: "Worthing are a really talented team and fully deserve to be in this final. Their defence is relentless, which has caused teams numerous challenges this year.  
"This, combined with multiple scoring threats who each have their own individual talent, make them a formidable outfit."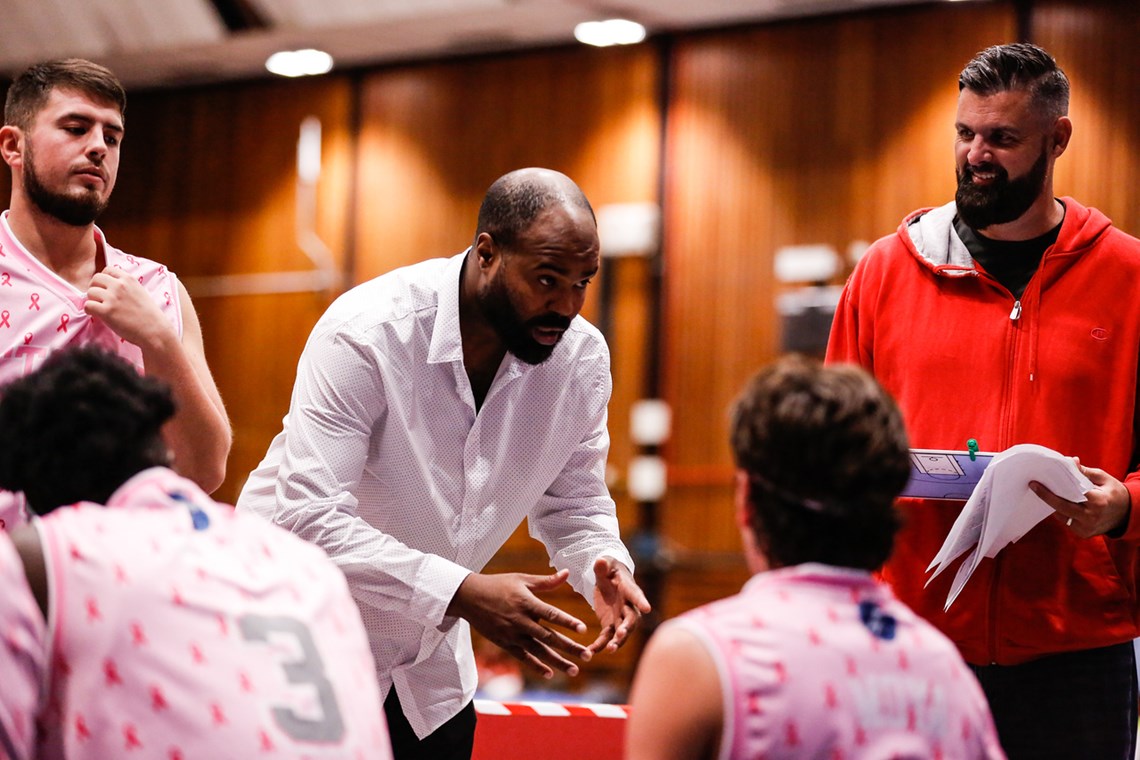 Rookie Zaire wants ultimate storyline 
Thunder coach Zaire Taylor is used to being the man counted on in big game situations, but this season, he concedes that he isn't. 
"It's the biggest difference between playing and coaching," he admitted. "Coaches can make a difference, but you never get the final say, and when I was a player, I usually had the final say as I was on the court." 
But Taylor – who leads Thunder to the Playoff final in his first year as head coach – believes that every big game is built on engaging storylines and that the game against the Storm could be reminiscent of a David vs Goliath contest. 
"The thing that makes sports great is storylines, and no matter which team wins this game, there is going to be an amazing storyline," Taylor said. 
"Hemel is 40-0 right now. They have had a historic season. It's incredible what they have done. On the flip side, we came into the season with people believing we would win something alongside Hemel, and the last time we played them, they hammered us, and for me, it could be looked at as David vs Goliath. 
"We've lost to them, we've lost to other teams, so we've had blips, and I take accountability because I am a rookie coach, but we are still here, we've made it to the final, now it's one game, and I have faith that we can make our own story of being that one team that beats Hemel." 
.

Join Basketball England for free. Whether you have a Supporter Account as a fan, follower, enthusiast or advocate, or a Full Account and have paid for a licence to play, coach or officiate in competition, you can be part of the basketball family.
Basketball has the power to change lives. Our #GameTime campaign aims to raise awareness of the positive impact that basketball can have on people no matter who they are or where they are from.
.