Hanley Park basketball court is the latest outdoor court upgrade to be added to the #ProjectSwish portfolio.
Situated in Stoke-on-Trent and used by local club Hanley Hustlers, the court was revealed on Sunday, 10 September to over 60 ballers, and their friends and family, who celebrated the launch by joining the club for one-to-one coaching, games and shooting contests.
Stoke's Lord Mayor Majid Khan and the Leader of Stoke-on-Trent City Council Councillor Jane Ashworth OBE were also present to soak up the atmosphere.
The collaborative project between Basketball England, Sport England and the Hustlers, and supported by the city council, saw over £15,000 injected into the facility – part of BE's strategic plan to create and grow England's network of accessible playing environments.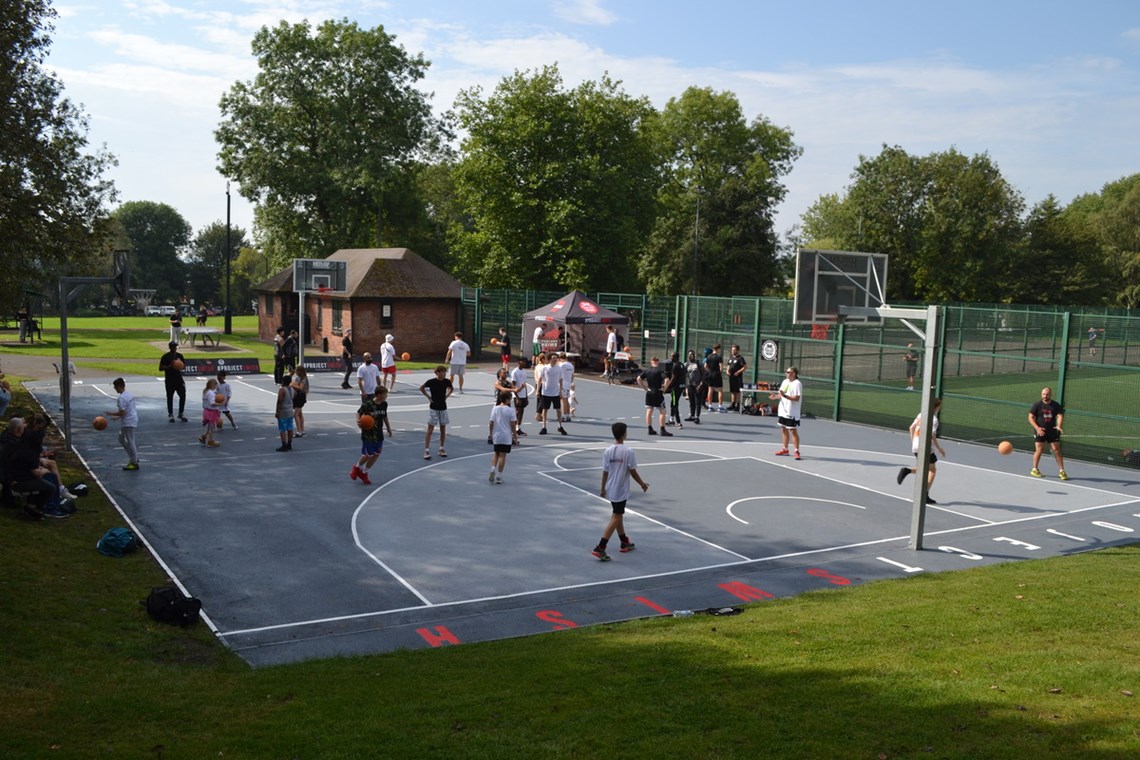 Basketball England's Head of Participation Pete Griffiths said:
"It has been a busy summer for our #ProjectSwish initiative, which has launched five court renewals across the country.
"Like many of our outdoor court facilities in England, Hanley Park was worn-out. We were pleased to work collaboratively with our stakeholders, and especially with Hanley Hustlers, to plan and finance this project.
"When a local club is involved in the refurbishment of their local court, you get a greater sense of their needs and what it means to them to have a beautiful place to play basketball outside. This facility will undoubtedly grow basketball participation and interest in the sport."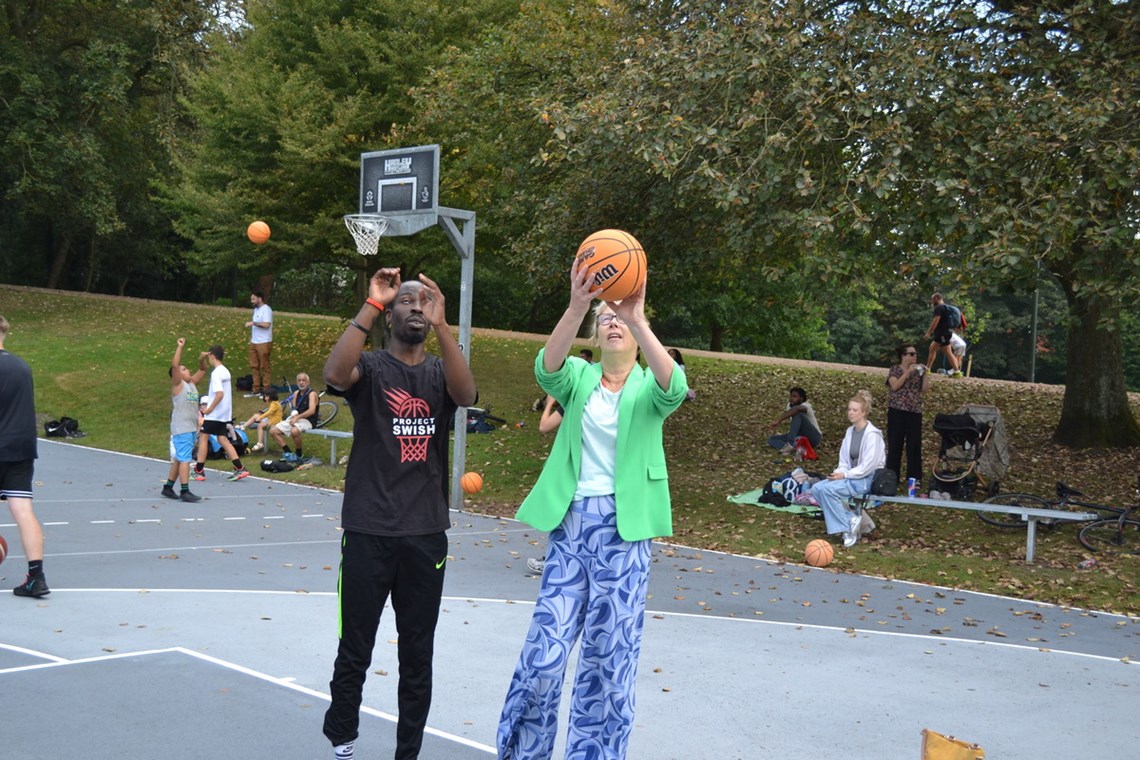 This is the place to go for hard grind and tough competition
"We are overwhelmed by the renovation," said Hanley Hustlers' Adam Lane.
"This venue has been brought back to life and means so much to the club. The Hustlers were founded here from a bunch of ballers that wanted more, so this project hits home for everyone in our club and the local basketball community. This is the place to go for hard grind and tough competition.
"This project has been ongoing for over two years and had multiple challenges thrown at us along the way. But since Basketball England stepped in with their #ProjectSwish initiative, their guidance and support has made the process so much easier and achievable."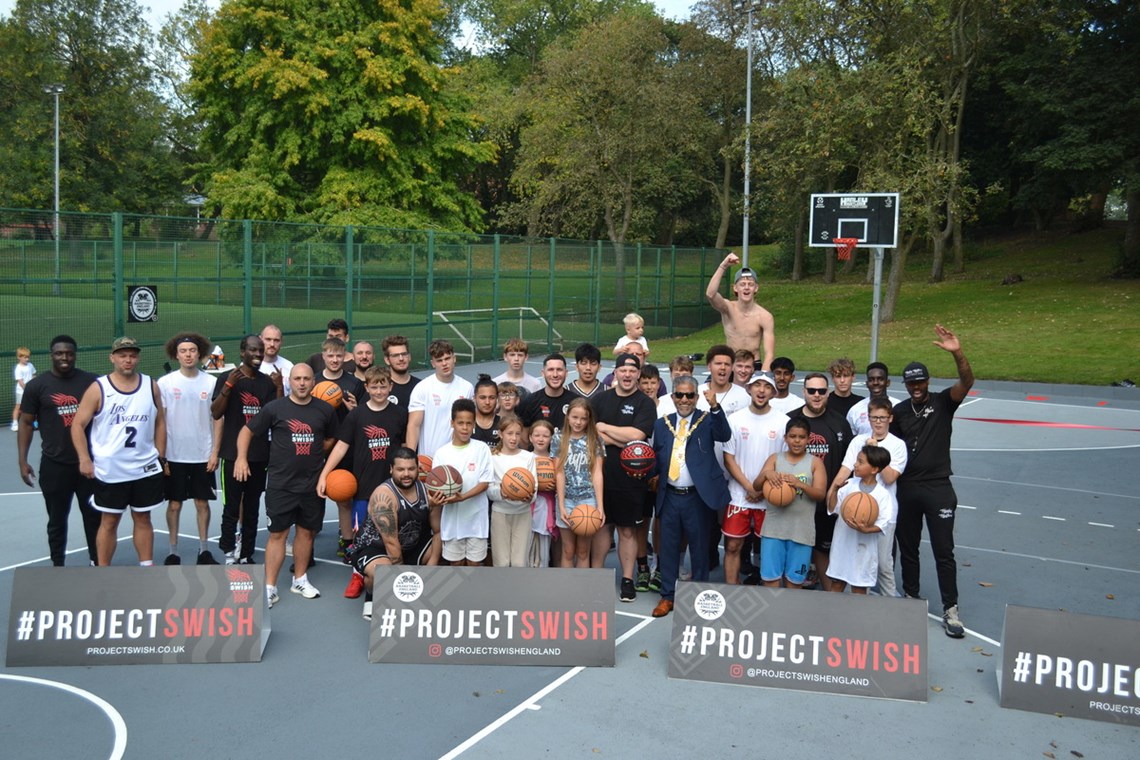 .Thanks to Her Majesty the Queen's Platinum Jubilee Fund, stage one of the project was completed in 2022, with the installation of new Sure Shot flexible basketball rings and fresh backboard art.
Stage two wrapped in September, with a full resurface and painting of a fresh two-tone colour way, with #ProjectSwish branding and benches for spectators.
#ProjectSwish is helping renovate and renew outdoor courts, working with partners and stakeholders to improve England's stock.
This year the following courts have received the #ProjectSwish treatment:
Hulme Park, Manchester in collaboration with Wilson Sporting Goods Co.
Platt Fields Park, Manchester in collaboration with Universal Pictures
Crowcroft Park, Manchester
West Park, Worthing
Freshwater, Isle of Wight
.
.