Rebound's Chris Hughes has made his choices for another week, putting the finishing touches on his Player and Team of the Week selections.
Chris, the All-Star organiser, content producer, YouTube host and producer, commentator and social media observer, had some strong candidates to select from this past week, making his decisions as difficult as ever.
Have your say on this week's choices and give a shout-out to the players you think deserve one using the hashtag #NBL2223 and #ReboundTOTW. Don't forget to tag us!    
Twitter:  @NBLengland / @Rebound__  
Facebook:  @NBLengland  / @ReboundNBL  
Instagram:  @nblengland / @reboundnbl  
How it works 
Chris will pick a Player of the Week and four other selections to round out his Team of the Week, paying attention to the following criteria:
Efficiency  
Stats  
Team and opposition strength  
Periods of influence in the game 
Being on a winning team (exceptional performances from players on losing teams will be considered for TOTW)
Other players will also receive a shout out as honourable mentions at the bottom of the piece.
The Rebound Team of the Week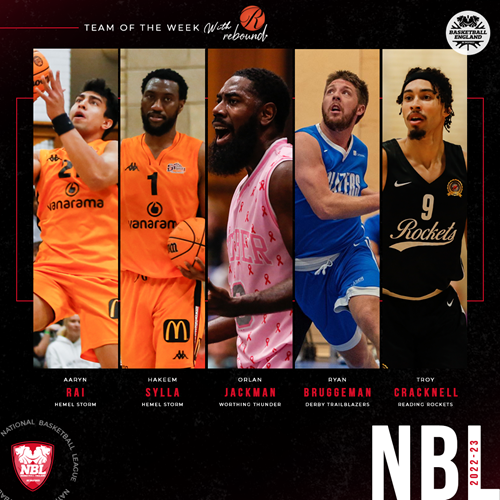 PLAYER OF THE WEEK 
Aaryn Rai – Hemel Storm, forward
31pts/17reb/4ast/42eff @ TVC
19PTS/7reb/2ast/27eff vs ess
Aaryn Rai's 16 first half points were mixed with numerous dimes in Saturday's narrow win over Thames Valley, ensured Storm had a 20-point advantage at the half-way point to hold off their local rivals after the break.
Rai is repeatedly putting in Player Of The Week performances at an all-round level of play that is making the Player of the Year race a little one sided right now.
He highlighted that case further by adding an efficient nine points down the stretch to finally seal Hemel's 84-80 win and keep their unbeaten streak alive.
In a double-header weekend, Rai put in another lights-out performance on Sunday as well,  shooting a perfect 8/8 that included three triples as Hemel saw off Essex to make it two from two.
Hakeem Sylla – Hemel Storm, forward 
22pts/16reb/1stl/2blk/29eff @ TVC
18PTS/9reb/1ast/1stl/26eff vs ess
In a double-header that including a return to Sylla's former stomping grounds at Thames Valley, the Guinean international almost got a double-double on the offensive end alone with nine offensive rebounds from his 16 total.
A dominant performance in the paint and contributing to key scoring runs meant that Sylla played his part in what was a a team effort in a very close encounter.
Sunday's clash was also fruitful as Sylla was one board shy of another double-double, shooting efficiently in a 22 and a half minute cameo
Orlan Jackman – Worthing Thunder, forward 
14pts/11reb/5ast/2stl/24eff
Orlan Jackman makes it back-to-back Team Of The Week honours following a strong performance off the bench against Derby.
The Commonwealth Games 3x3 gold medallist demonstrated his strengths with a handful of dimes to go along with both double-digit points and boards. 
Worthing started the game slowly but Jackman took the reins in the first few minutes of the second quarter with Thunder trailing by 12.
Following a four-minute burst, including two and-one opportunities, Jackman had contributed seven points efficiently alongside a board, two assists and a steal to bring it back to a one point game.
Ryan Bruggeman – Derby Trailblazers, guard
23pts/5reb/6ast/5stl/31eff @ NOT
29PTS/9reb/6ast/0TO/2stl/1blk/29eff vs wor
Another player in double-header action, American guard Ryan Bruggeman was at his consistent best despite Derby's mixed fortunes.
Bruggeman shot efficiently and facilitated an average of 6.0APG across two highly-efficient performances.
Worthing read the scouting report and knew the flashy guard would be a problem on Saturday night, but try as they might, they couldn't stop him by any means.
That included drawing the ire of the referees as Derby's number three went to the line 12 times, making all but one of his shots.
Last Thursday, Bruggeman was the catalyst for a solid win against local rivals Nottingham, with another well-rounded performance at both ends of the court in the 99-72 victory.
Troy Cracknell – Reading Rockets, guard
32PTS/8REB/2AST/1blk/35EFF
Troy Cracknell put on a shooting masterclass from under the basket, around the high post and free throw line this weekend, making 19/25 attempts within the three point arc.
The only slight on Cracknell's performance was a sub-par 1/6 from downtown, a minor blip against what was otherwise a highly-efficient performance in Reading's 95-78 win against positional rivals Bradford.
Team basketball 
Hemel use mental strength to top local rivals and valiant rebels.
Thames Valley Cavaliers are one of those sides that relish big games and almost spoiled Hemel's unbeaten run with a quick-fire 25-9 third quarter, however a team performance from Storm's starting five was enough to secure a four-point dub.
Sunday's win was more comfortable, aided by some strong scoring and rebounding performances from the bench to ensure there were no scares against the Rebels, with Storm sporting an impressive team 65/42/87 shooting stat line.
riders share the minutes and the love in 104 point outing
Only two players were on the floor for 20 minutes or more as Loughborough worked together to tame London Lions II 104-74.
American Logan Rooney was undoubtedly a standout but there were many fine performances across the evening, with three players (Justin Hedley, Joe Bielak and Jonathan Fakile) registering a combined 16 assists, two turnovers and four steals.
All but one of Loughborough's 12 registered at least one assist and all but one had at least one rebound, whilst every player scored two points or more.
With stats like that, this one must go down as one of the best team performances of the season so far.
Honourable mentions
Logan Rooney (LOU) – 30P/3R/3A/4S/30EFF
Bode Adeluola (TVC) – 33P/1R/1A/1S/126EFF  
Elijah Bailey (LOU) – 20P/1R/4A/0TO/1S/22EFF
Josh Guddemi (NOT) – 20P/8R/3S/11EFF v DER & 31P/11R/8A/4S/1B/37EFF vs WES  
Ricky Madison (TSK) - 29P/9R/1A/1S/30EFF
.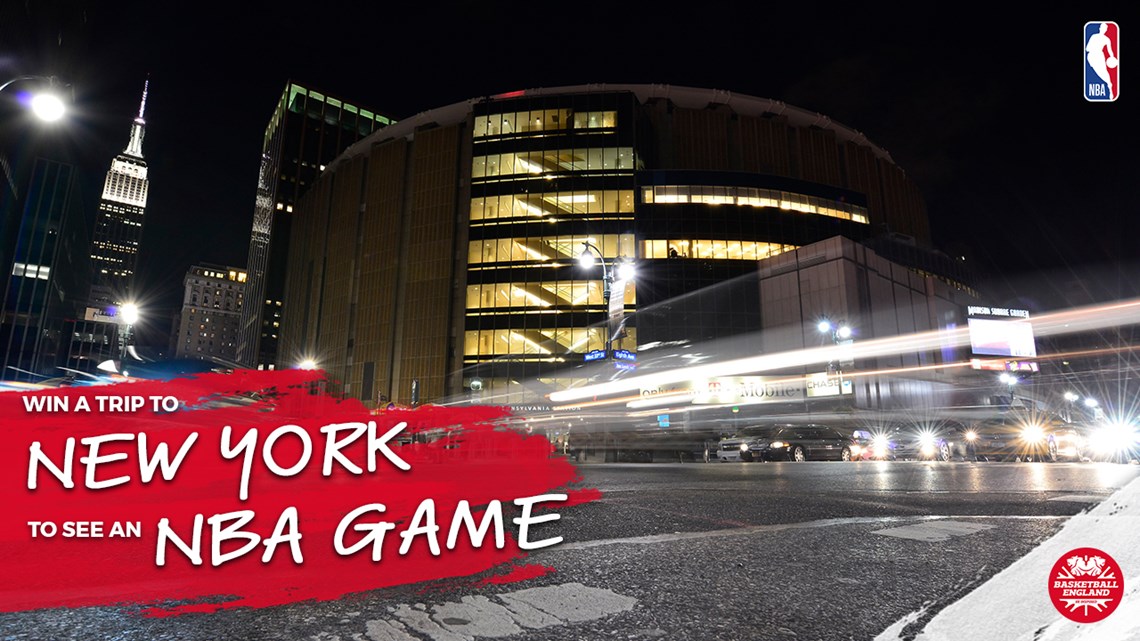 Join Basketball England for free and win a trip to New York City, courtesy of the NBA.
Whether you have a Supporter Account as a fan, follower, enthusiast or advocate, or a Full Account and have paid for a licence to play, coach or officiate in competition, you can enter our prize draw.
Basketball has the power to change lives. Our #GameTime campaign aims to raise awareness of the positive impact that basketball can have on people no matter who they are or where they are from.
.
.