Rebound's Chris Hughes is back once again, looking over all the best NBL action on his way to picking out some Player and Team of the Week honours.
Chris, the All-Star organiser, content producer, YouTube host and producer, commentator and social media observer, had a hefty eight games to sift through this past weekend, eventually whittling the potential nominees down to a single Player of the Week plus four others for his Team of the Week.
Have your say on this week's choices and give a shout-out to the players you think deserve one using the hashtag #NBL2223 and #ReboundTOTW. Don't forget to tag us!    
Twitter:  @NBLengland / @Rebound__  
Facebook:  @NBLengland  / @ReboundNBL  
Instagram:  @nblengland / @reboundnbl  
How it works 
Chris will pick a Player of the Week and four other selections to round out his Team of the Week, paying attention to the following criteria:
Efficiency  
Stats  
Team and opposition strength  
Periods of influence in the game 
Being on a winning team (exceptional performances from players on losing teams will be considered for TOTW)
Other players will also receive a shout out as honourable mentions at the bottom of the piece.
The Rebound Team of the Week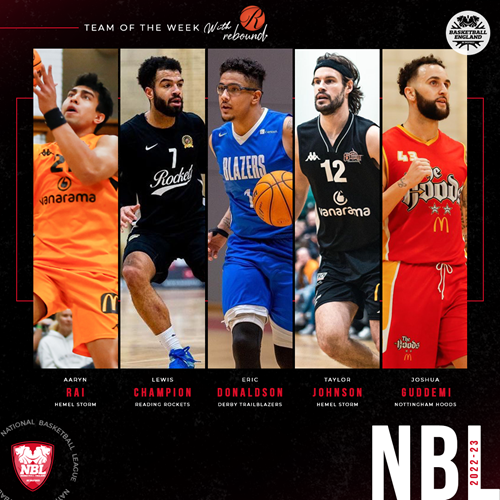 PLAYER OF THE WEEK 
Aaryn Rai – Hemel Storm, forward
23PTS/11REB/5AST/1blk/33EFF vs WW
Rai had a busy double-header weekend, going five quarters on Saturday in the OT win against Loughborough before putting in another dominant performance on Sunday to protect Hemel's impressive 13-0 D1M record.
Whilst no stats are currently available for Saturday's win, Rai play a major role in Hemel remaining undefeated as he converted an inbound pass with three seconds on the clock to force OT, where the visitors would eventually triumph over a spirited Riders team.
In Sunday's clash, Westminster threatened a comeback in a close second quarter, but Rai's 11-point, three-rebound and one-assist contribution ensured that Hemel had a healthy 21-point lead at the half way interval instead.
Lewis Champion – Reading Rockets, guard 
14PTS/1REB/7AST/2STL/0TO/+/- 27/22EFF 
Champion put on an offensive masterclass and is unfortunate to just miss out on Player Of The Week honours.
He didn't cough up a single turnover and played a key role in a team performance to restrict Worthing's playmakers, keeping Andre Arissol and former Player of the Week David Moya to a combined two assists and one steal, also forcing them into seven turnovers. For context, the pair average 10 assists and 6.2 steals combined per outing this season!
Champion efficiently recorded a nice 14 point, seven assist output and was integral in handing Worthing a painful loss in their chase to reel in leaders Hemel.
Eric Donaldson – Derby Trailblazers, forward 
21PTS/7REB/5AST/2STL/27EFF  
Donaldson is settling in very well to life at Derby. The recent signing put in an amazing performance from the bench this weekend to help his side get a 93-57 win on the road in Essex.
During an integral 24-6 third quarter, eight points alongside some elite two-way play showed why he deserved a spot on the Team of The Week. The talented forward also went 5/7 from three point range, further highlighting his impact.
Taylor Johnson – Hemel Storm, guard 
22PTS/5REB/4AST/1STL/0TO/28EFF  vs WW
Off the back of a National Cup MVP honours, Johnson wasn't resting on his laurels. A big double-header with a strong performance in the overtime win versus a top-four calibre Loughborough side went alongside a highly-efficient 23-minute cameo on Sunday to earn Johnson further plaudits here.
Westminster usually play hard and ensure a tough route to the basket if you decide to work inside. Johnson used both strength and skill to still find his way to the rim however, making it all too easy to rack up 18 points in the paint.
Adding five rebounds, four dimes and a steal to his stat-line once again highlighted that Hemel's standout really can do it all every time he steps on the court.
Joshua Guddemi – Nottingham Hoods, forward
31PTS/5REB/1AST/1stl/+/- 30/27EFF  
Guddemi definitely enjoys playing against Manchester Magic, pouring in another 31 points this weekend to match the season-high 31 he scored when the teams last met in mid-October.
The former Derby forward is really flying in his third NBL D1 season as Manchester couldn't stop him from scoring efficiently, even  sending the sharp shooter to the line 10 times.
The 28-year-old hit seven of his 10 efforts from the charity stripe, adding five rebounds for a +/- of 30 in the 118-81 win.
Team basketball 
TVC share the load to see of Westminster
You will be hard-pressed to find a better example of a team performance on the offensive end than the 95 points TVC shared among a 13-man roster this weekend. No player scored more than 13 points and only four players made it into double digits on the scoreboard, with every member of the roster contributing four or more points with a team 43 FG%.
I was also impressed with the entire team contributing on the glass as the Cavaliers out-rebounded their local rivals 53-52.
An honourable mention goes to Bode Adeluola, who contributed 13 points with a perfect four free throw attempts alongside a 44FG%.
Reading win the turnover battle to down worthing
Reading put in the performance of the weekend by adding an L to Worthing's record, pushing the Rockets into contention for a top-four spot in the process.
It was a team effort as Reading made over half of their shots from either side of the arc, recording an impressive 56 2P% and 56 3P%, and almost half of their 102 points came from the bench (45).
What stood out to me the most was the passing from the Berkshire side, who protected the ball with just 10 turnovers to Worthing's 21, yet still creating 21 assists as a team.
Honourable mentions
Sam Newman (HEM) – 23P/7R/3A/1S/1B/25EFF 
Zack Powell (REA) – 17P/4R/4A/2S/24EFF  
Ronald Blain (WOR) – 19P/8R/5A/0TO/24EFF
Ricky Madison (TSK) – 28P/14R/1A/1B/28EFF  
Rihards Sulcs (BRA) - 13P/5R/2A/2S/19EFF
.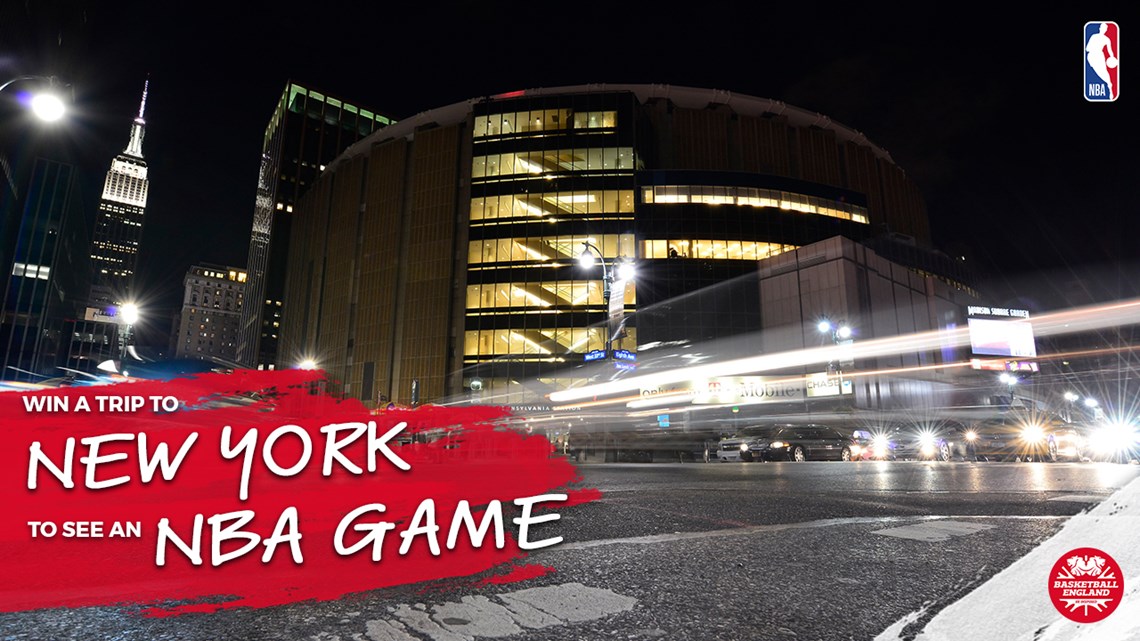 Join Basketball England for free and win a trip to New York City, courtesy of the NBA.
Whether you have a Supporter Account as a fan, follower, enthusiast or advocate, or a Full Account and have paid for a licence to play, coach or officiate in competition, you can enter our prize draw.
Basketball has the power to change lives. Our #GameTime campaign aims to raise awareness of the positive impact that basketball can have on people no matter who they are or where they are from.
.
.