Deeqa Jama is a silverware magnet.
Since joining the Cambridge Cats three years' ago, the youth coach and women's team player has had an immediate impact on the club.
In the 2022/23 season, she was part of the women's team that achieved the Essex Basketball League double, winning the regular season and the playoffs, and were runners up in the Norfolk Basketball League to boot.
As a coach, she led the Cats' U13 girls to their – and Cambrigshire's – first county championship in the Basketball England East Region Inter-County Tournament.
Described by Cats' Coach and Community Organiser Terry Reaves as having a 'keen eye for talent and ability to communicate and relate to young players', Jama started life at the local league club as an assistant coach for the U14 boys' team before being chosen to lead a new U12-U13 girls development programme that would feed the club's U14s national league squad.
"I love the grassroots side of coaching; getting girls to stick to the sport and seeing them through to national league," said the 29-year-old.
"This season, about half of my girls will move up [to U14s], but we have had a new influx. The programme is about getting them comfortable with training twice a week, playing scrimmages, and playing friendlies against other clubs.
"At the end of each season, all the coaches come together, and we pick out the players that are ready to move up and the ones that aren't do more work with me.
"I think I have a relatable coaching style; I learn from the kids, and they learn from me. You don't always want to be that constantly assertive coach. You want your players to trust you and that they can come to you if they have any problems or issues."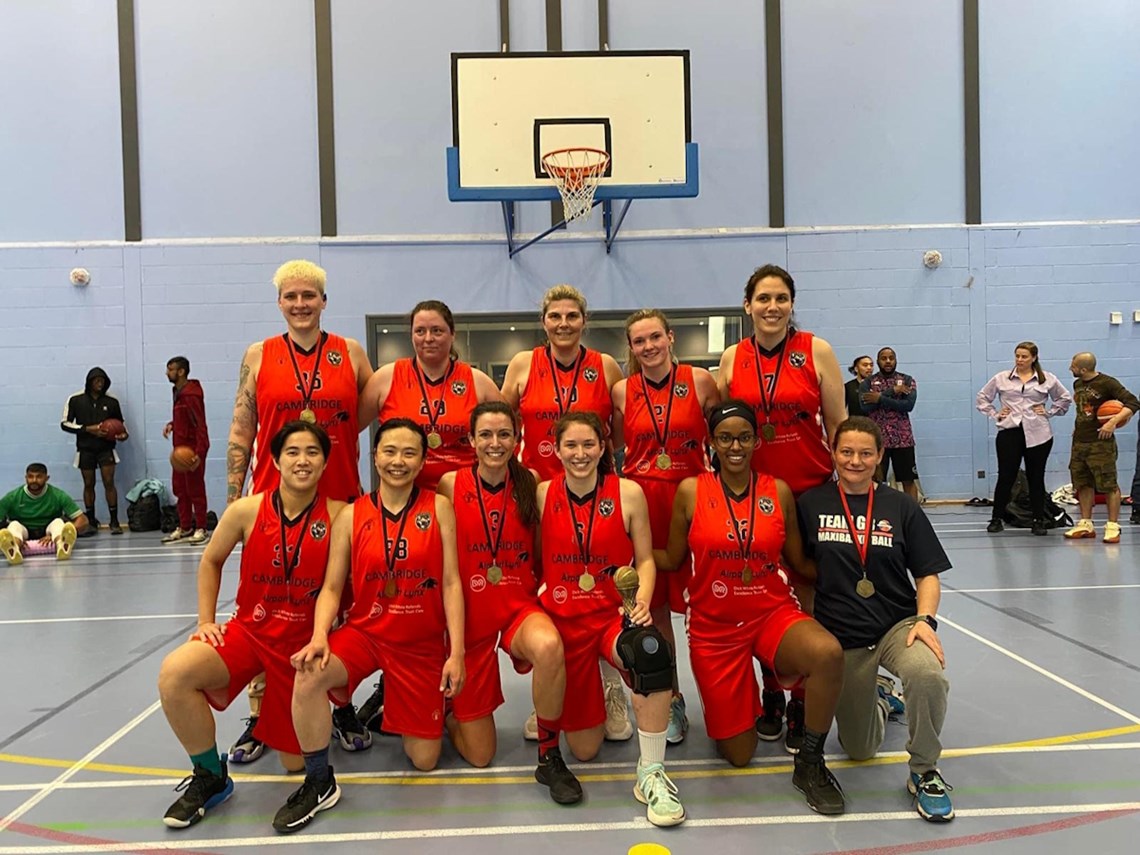 Celebrate success and drive greater representation
Based in Saffron Walden, Essex, Jama described winning Cambridgeshire's first championship as her favourite coaching moment so far and says that celebrating the success of Black female coaches can help drive greater representation and participation.  
"I don't know how many Black women coaches are involved in basketball [in the UK], I've come across one or two in the basketball community, but I feel like it's hard for us to gain a wider audience to show what's possible.
"My background is Somali, and, in my community, you hardly see any girls playing sport. There's more of a focus on studying, becoming a doctor or nurse, etc. It's a conversation for many years to come because of that mind set – but obviously you can be studious and still play sport.
"When I was growing up a lot of my coaches were male and I would have appreciated there being someone from a similar background to me, even just another woman. I think that is a reason for the deficit in girls' participation compared to boys.
"If you come across somebody with a shared background and who has shared values, it's nice because you're going to have something in common, they make you feel more comfortable, and you have got somebody to look up to."
.
.