One of the big stories from the WNBL offseason has been the return of former D1W Player of the Year Harriet Welham.
Claiming the award in both 2019/20 and 2020/21, Welham is once again back in the Ipswich ranks and ready to further increase her stature as an elite scoring option. 
Thanks to the research of daveowenbasketball.co.uk, the 26-year-old is the league's career points leader in the post-WBBL era, clocking up an impressive 1,837 points since 2014/15. 
Even more impressive, Welham has amassed her total in just six years of service, also spending time in D2W as well as the last two seasons as a pro in France's fifth tier for Besancon Basket Club. 
Now she's returned to Suffolk and adds to last season's second ranked offence, with Ipswich averaging 73.5PPG on their way to a 9-13 record.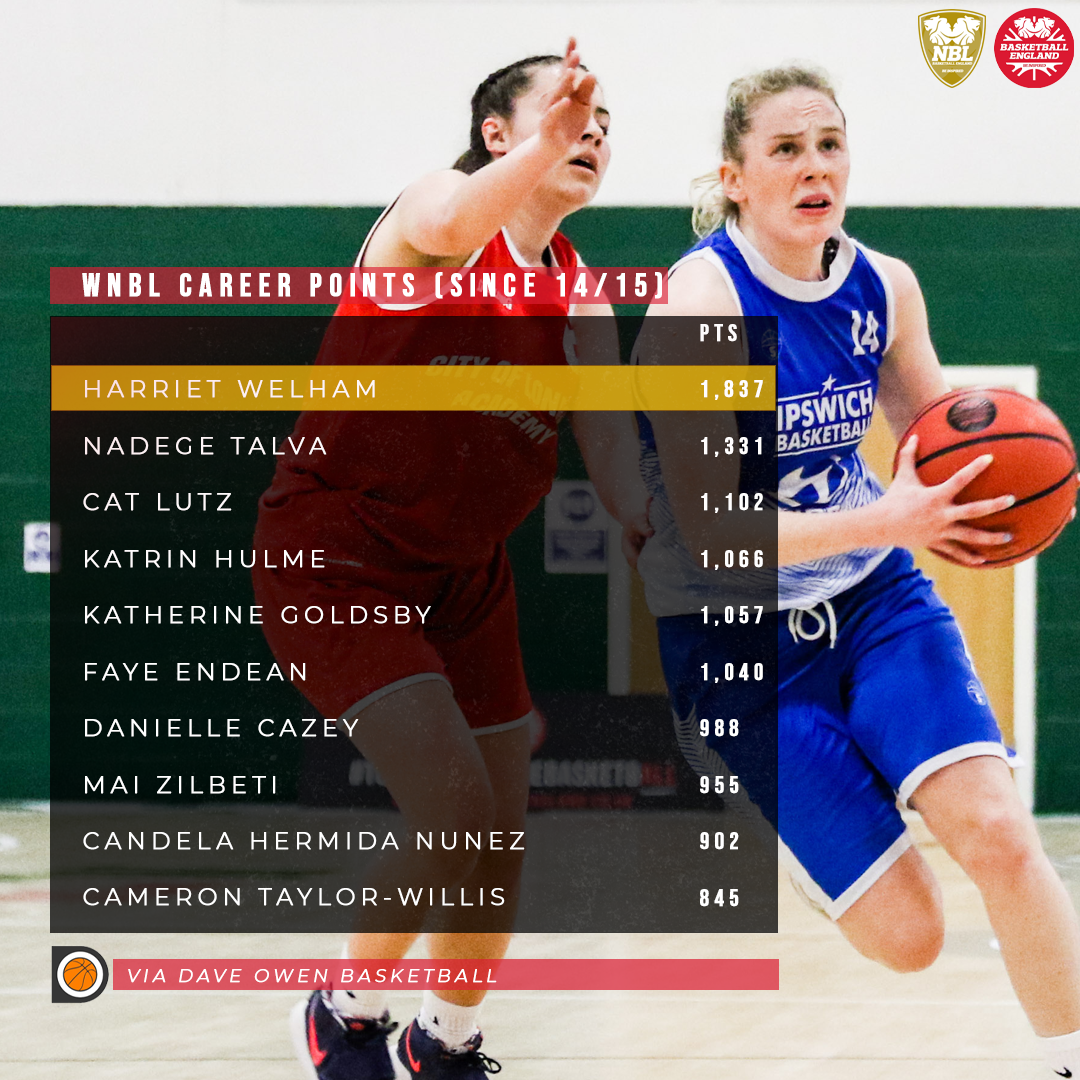 Second spot on the list goes to Anglia Ruskin's long-time standout Nadege Talva. The French national is some way behind Welham's total on 1,331 points, though she does have a significant cushion to third place Cat Lutz (1,102pts) who most recently plied her trade in the WBBL in 2019/20. 
Former MVP Katrin Hulme is fourth on the list (1,066), whilst American guard Kat Goldsby (1,057) played has played an integral part in Thames Valley's success in recent seasons, including claiming a maiden WNBL National Cup in 2022/23. 
Rising star Faye Endean (1,040) nabbed WEABL MVP honours a year ago and helped Solent to a league and playoff double last season. She's sixth on the list, ahead of Danielle Cazey (988) and Mai Zilbeti (955). 
40 total players have scored at least 500 career points in D1W in the post-WBBL era, and the full list can be seen using the button below: 
All eyes will be on the Team Solent Kestrels as they look to repeat in 2023/24, with the new D1W season set to get underway in late September. 
You can keep up to date on the NBL through our social media channels, linked via the buttons below. 
.
.
.
Main image credit - Nick Winter
.

Join Basketball England for free. Whether you have a Supporter Account as a fan, follower, enthusiast or advocate, or a Full Account and have paid for a licence to play, coach or officiate in competition, you can be part of the basketball family.
Basketball has the power to change lives. Our #GameTime campaign aims to raise awareness of the positive impact that basketball can have on people no matter who they are or where they are from.