Across the recent history of the NBL, few players spring to mind as readily as the ever-present Rihards Sulcs.
The 6'3" forward has called Bradford Dragons his home since 2011, with the Latvian becoming a mainstay in both West Yorkshire and D1M. 
Sulcs doesn't just boast longevity as part of his basketball CV however, he's a team leader and an offensive threat, traits that have pushed him to the top of the D1M scoring charts. 
Thanks to the research of daveowenbasketball.co.uk, the veteran is the league's career points leader since 2003/04, the period that digital records are available from. 
Sulcs leads the way on 3,550 points, though he's closely followed by another familiar D1M name in Bode Adeluola (3,488), with the former Hemel man more recently turning out for Thames Valley.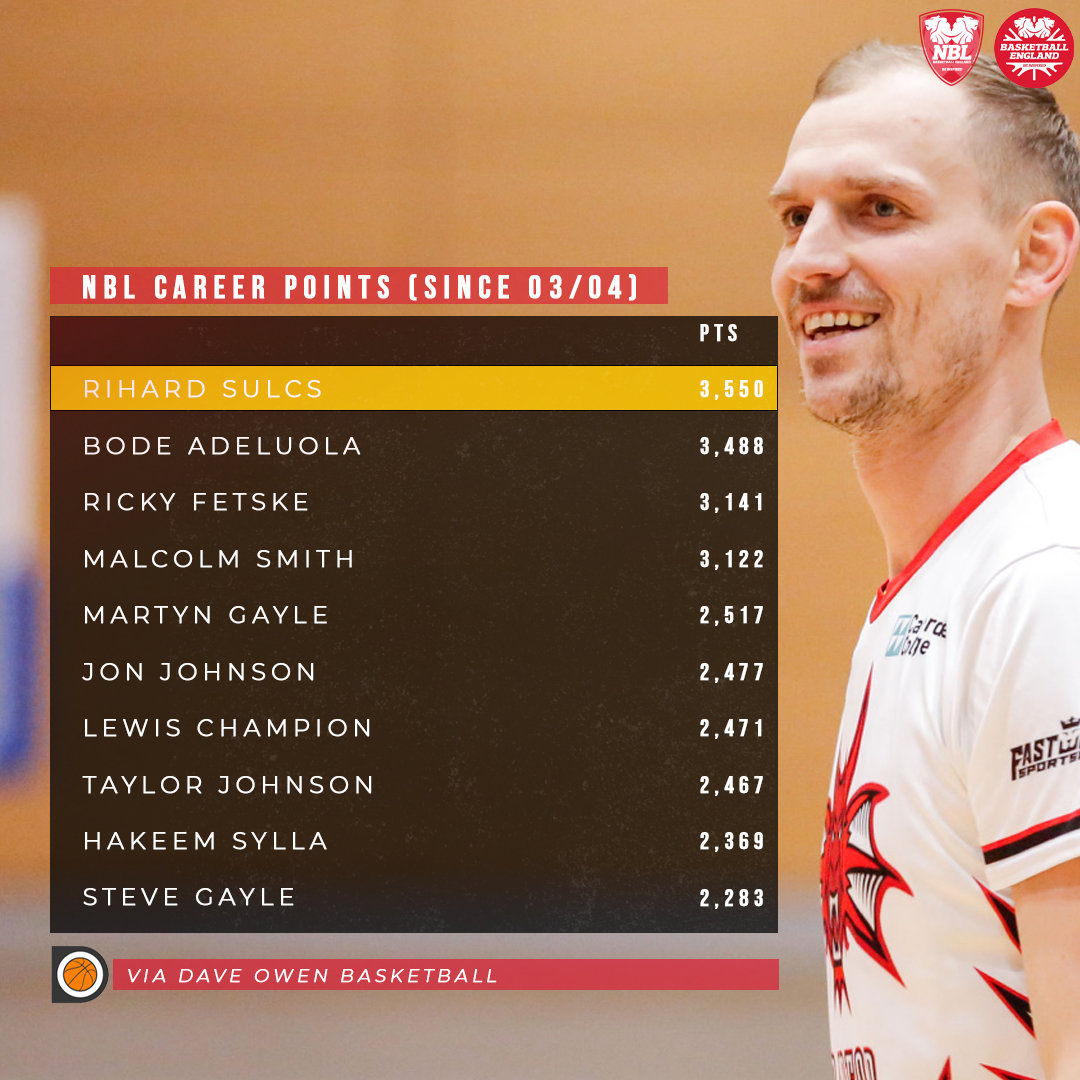 Another long-term Bradford Dragon Ricky Fetske (3,141) makes the league's top three, with former MVP Malcolm Smith (3,122) and Martyn Gayle (2,517) rounding out the top five. 
Other notable names including Taylor Johnson (2,467), Stefan Gill (2,208), Danny Carter (2,198) and Lee Linton-Hodges (1,975), who all make the top 20. 
72 total players have scored at least 1,000 career points in D1M since digital records began, and the full list can be seen using the button below: 
The pressure will be on Hemel Storm in 2023/24 as they look to follow up a historic quadruple winning season a year ago. Without the talents of Aaryn Rai and Taylor Johnson though, the chasing pack could be that much closer this time around. 
KitKing Trophy action begins on 16 September, with league fixtures getting underway in October. 
You can keep up to date on the NBL through our social media channels, linked via the buttons below. 
.
.
.
Main image credit - Luke Simcock
.

Join Basketball England for free. Whether you have a Supporter Account as a fan, follower, enthusiast or advocate, or a Full Account and have paid for a licence to play, coach or officiate in competition, you can be part of the basketball family.
Basketball has the power to change lives. Our #GameTime campaign aims to raise awareness of the positive impact that basketball can have on people no matter who they are or where they are from.