The quality performances across our top divisions continue to stack up, and week 5 was no exception.
There were some great individual efforts in both competitions this past weekend, and the Rebound NBL Team of the Week and the FocusHoops WNBL Team of the Week were both tough to select.
As always, we picked our POTWs using the following criteria:
Efficiency
Stats
Team and opposition strength
Periods of influence in the game
NBL Division One
Mike Williams - Hemel Storm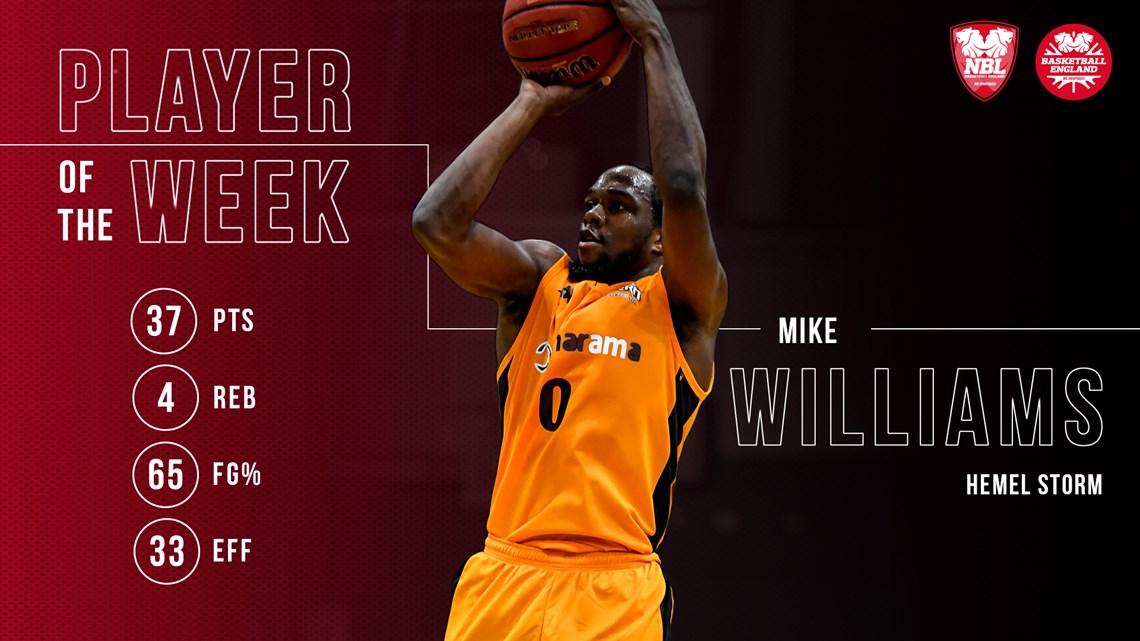 Mike Williams Jr was going for a number of his own NBL records this weekend with an impressive performance against Reading.
The American tied his single game point high with 37, almost matched an impressive mark for three-pointers made, whilst still producing his 2nd best ever FG% in a NBL D1 game.
Last season against Reading, Williams made a season best eight triples with an impressive 72 3pt%. This weekend the same opponent got off lightly by comparison, though the talented guard still nailed five triples and shot 66 3P%.
The former Rutgers' graduate showing that he means business throughout Hemel's opener, putting on a master class in shooting that resulted in a 21-point Storm lead by half time.
Reading did produce a 33-19 third quarter to close things up but it wouldn't be enough to overturn the advantage built by Williams and co. The Player of the Week's shots and assists accounted for 12 of those 19 third period points to keep Hemel in front.
"I'm honoured to receive the NBL Player of the week award," said Williams. "I would like to thank my teammates and coaches for their help putting me in a position to achieve this award.
"I also would like to thank all of my trainers back home that have prepared me and help me expand my game this season.
"Most of all I want to thank God for blessing me with another chance to play basketball at the professional level. Thank you Basketball England for this award."
Hemel coach Dru Spinks added: "In an overall, positive team performance with contributions from many, Mike had a impressive night.
"The manner of which Mike went about his work with poise, efficiency, balance and focus in conjunction with the outcome of his evening's work, it was really impressive."
WNBL Division One
Makana Stone - Loughborough Riders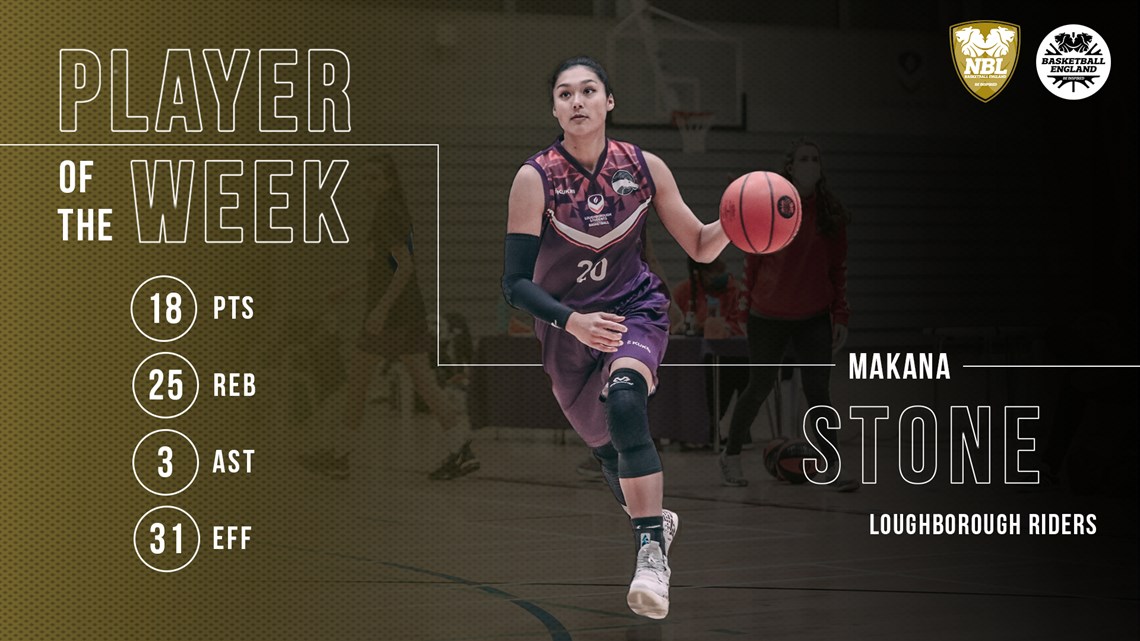 Former Whitman College star Makana Stone put in as dominant performance on her way to 18 points and 25 rebounds in the win over a spirited Reading Rockets on Saturday.
The American forward pulled down an incredible 11 offensive boards, without which, it's hard to see the Riders winning this game. The Collegiate All-American played as advertised as she willed her team to their first win of the 2020/21 season, with a huge block in the first quarter and three steals across the ball game.
Stone certainly did a lot of everything this week, leading her team to an important W. She's one to keep an eye on going forward.
"I was really stoked to be able to get on the court and play last weekend!" confessed Stone.
"Looming Covid delays really put a new spin on the 'play like it's your last game' mentality. We can't control how Covid impacts our game schedule, but we do have 100% control of what we do with the opportunity when game days do roll around.
"Last Saturday my game plan was to enjoy the opportunity and stay focused on the hustle I know I can bring to the table to be able to help my team grab the W."
Riders' head coach Antonio Quintero said: "Makana had an amazing performance, showing leadership and full effort during the whole time she was on court.
"She's adapted very well and incredibly fast to our playing philosophy and I am very sure that as the season progresses Makana will improve, adding more value to the team week by week."