There are five games for NBL fans to enjoy this weekend as three league games and two L Lynch Trophy games are spread across the two days.
Three different D1M sides are set to get their regular seasons under way, with BA London Lions, Hemel Storm and Leicester Warriors all making their first outing of the young season. 
There are also a pair of L Lynch Trophy games to look forward to as Bradford host Derby and Leicester make the short trip to face Charnwood.
For a detailed overview of all this weekend's games, including live stats and live streaming links, read on.
Reading Rockets (1-0) v Hemel Storm (0-0)
Reading host Hemel in a rematch of an L Lynch Trophy contest from just a few weeks ago.
The Storm took that contest 83-70 as American big Greg Poleon enjoyed a huge 21-point, 18-rebound double-double and Mike Williams added 19 points and five boards.
Reading's O'Showen Williams gave British fans a glance of what he could do in that contest as he finished that game with 23 points, five rebounds, five assists and five steals. That hot form continued into the American's regular season debut last weekend as he was a handful for Worthing all game long, the talented point man finished with 23 points, 13 rebounds and seven assists.
If Hemel can pull out a repeat performance remains to be seen, though Reading have momentum on their side with a league win already under their belt.
.
BA London Lions (0-0) v Loughborough Riders (0-1)
Barking get their season under way on Saturday as they host a Loughborough team that dropped their opener against Solent.
A difficult match-up for any side, the Riders went down 109-67 to the Kestrels but have since picked up a solid 83-80 win against Leicester in a rearranged mid-week L Lynch Trophy pool game.
Loughborough's Harrison Gamble enjoyed a 24-point, 11-rebound double-double in that Trophy win and he will look to keep that good form going here, with Kyle Jimenez also looking to excel. He had a classy 13-point, 10-rebound, 14-assist triple-double against the Warriors.
Concluding a tricky pre-season that saw the Lions play a pair of games in the L Lynch Trophy, BA will be hoping they can put up a good fight in their first home stand.
Their 92-78 Trophy loss to Solent was a solid effort considering the disparity between the two sides last season, whilst the more recent victory against newly promoted Essex will have breathed confidence into this young roster. The London side will be hoping that positivity caries over to tomorrow's contest.
"We are looking forward to welcoming a talented Loughborough team this weekend," said BA head coach James Vear. "We have had a good week at practice and we are all excited to get back on court and playing a competitive game."
.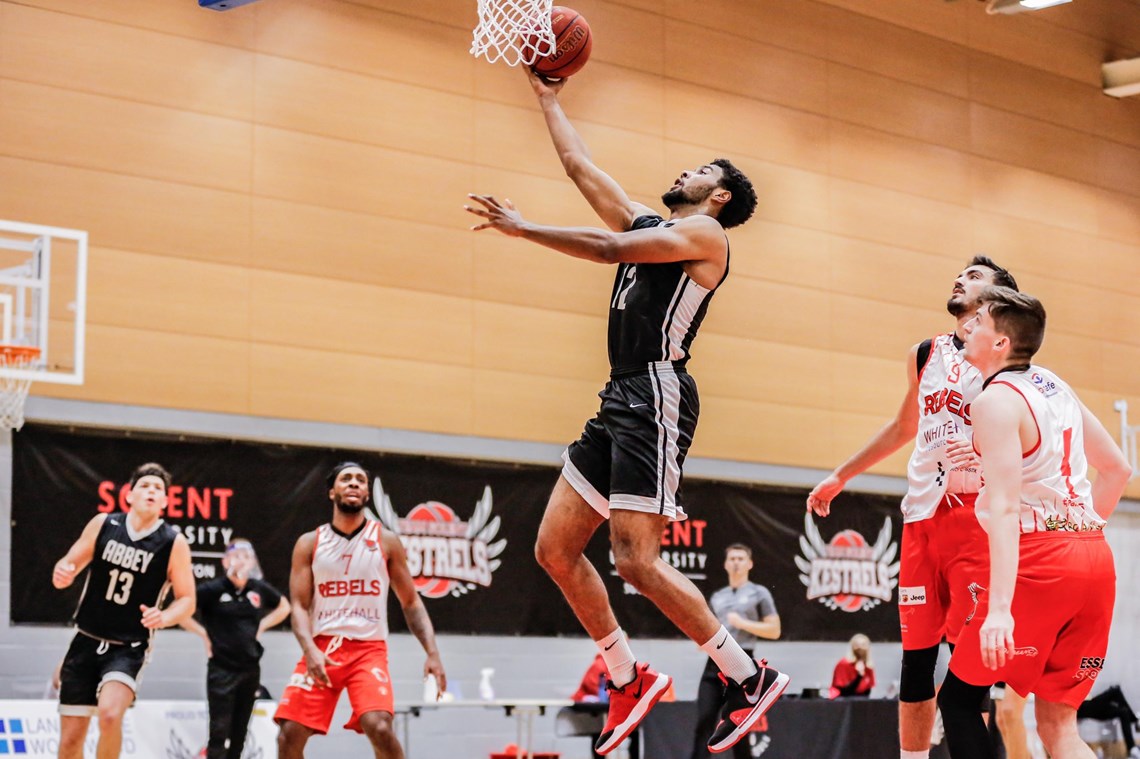 Leicester Warriors (0-0) v Team Newcastle University (1-0)
Team Newcastle sprung an unlikely shock on Derby last weekend and will look to keep that form going as they head to Leicester on Saturday.
Newcastle guard David Moya earned Rebound Team of the Week honours for his performance in the 83-73 win, finishing with 21 points, seven assists and three rebounds. The Knights also racked up 27 assists in that one, highlighting the premium that coach Elderkin's side place on ball movement and finding the open man.
Leicester allowed opponents Loughborough to shoot 50% from the floor against them midweek, no doubt the Warriors will need to bring that number down if they're to start their campaign with a win.
Carl Pearson, (12pts, 7ast), Martyn Gayle (17pts, 6rbs) and Leon Henry (19pts) all played well in that game though, the trio should be a factor again this weekend.
"We're looking forward to a tough D1M game, our first home game, against a tough Newcastle team who of course just beat Derby," said Warriors' head coach Karl Brown.
"We're excited for our new look team, with new faces to go with a few old ones, but we're just happy to keep going through this pandemic. We want to keep basketball alive, keep it going, whilst staying positive and safe."


L Lynch Trophy
Bradford Dragons v Derby Trailblazers
Bradford continue their L Lynch Trophy campaign this weekend against Derby.
The Dragons have won both their games so far in the competition, seeing off Newcastle 84-59 before recording a narrow 74-71 win against Myerscough.
Derby are also perfect in the pool, claiming their only game to date as they beat Newcastle 110-81 last weekend. That result will have gone some way to easing Derby's disappointment at losing their D1M contest against the same opponent the previous day.
Trailblazers Head Coach Matt Shaw is looking forward to facing an old adversary: "I always look forward to playing Bradford, because they're invariably great games. They have a lot of continuity from one year to the next with so many returning players.
"This year, they've added a couple of the stronger guys from Liverpool to go with what was already a very strong squad.
"They are also probably the most experienced side in the league in terms of age and how many collective years they have of playing in D1, so we will need to be at our best if we're to get the result we want."
.
Charnwood College v Leicester Warriors
It's a double-header weekend for the Warriors as they take on local rivals Charnwood in what is sure to be an entertaining match-up.
Leicester are yet to pick up a win in their two pool games, losing out 92-88 against Nottingham and 83-80 against Loughborough. Although both close games, they were losses nevertheless and coach Brown will want his team to turn a corner in their final group fixture.
Charnwood still have a few games to play and looked impressive in their only outing to date as they ran Loughborough Riders close before eventually coming up short 92-81.
If they can replicate that performance here, they could find success against the Warriors.
.
This weekend's fixtures:
Saturday 14 November
3pm - BA London Lions v Loughborough Riders - LIVE STATS
3pm - Leicester Warriors v Team Newcastle University - LIVE STATS
6pm - Reading Rockets v Hemel Storm - LIVE STATS/LIVE STREAM
2pm - L Lynch Trophy - Bradford Dragons v Derby Trailblazers - LIVE STATS/LIVE STREAM
Sunday 15 November
12:30pm - L Lynch Trophy - Charnwood College v Leicester Warriors - LIVE STATS/LIVE STREAM
Main image credit - Loughborough Riders