Third place Hemel are also without a game, meaning the likes of Derby and Newcastle could close the gap at the top.
Those two teams meet in the Midlands on Sunday, as do local rivals Leicester and Nottingham, with eight games scheduled for week 21.
We take a look at all the weekend's games below, with links to live stats and live streams at the bottom of the page.
Derby Trailblazers (10-3) v Team Newcastle University (10-4)
A pair of 10-win sides go head-to-head this weekend as Newcastle take the trip to Derby to face the Trailblazers.
Derby will be hoping to split the season series after dipping out 83-73 in the North East, with David Moya top scoring for the Knights with 21 points in that one.
Moya (15.1ppg, 5.9apg), alongside fellow American Ronald Blain (21.1ppg, 8.6rpg) have done the majority of the heavy lifting for coach Elderkin's side this season, with Brandon Federici also chipping in some valuable performances along the way.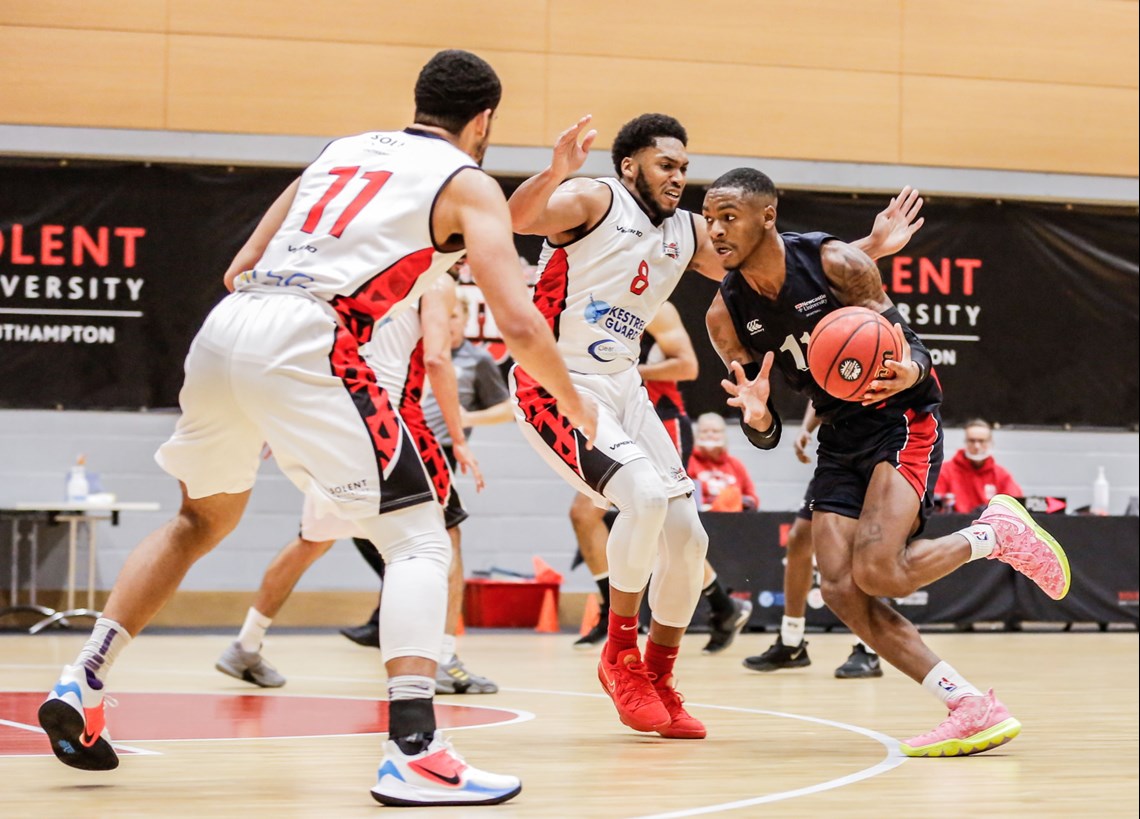 Late February losses to high-flying Thames Valley and Hemel knocked Derby off course, but Coach Shaw's side have bounced back well to win their last two outings against BA London Lions and Oaklands.
Jacob Conway's 19.4ppg continues to lead the way for DTB, with the American adding 3.9 rebounds and a team-best 1.4 steals per contest as part of a solid debut season.
Malcolm Smith (16.6ppg) and Blake Bowman (15.0ppg) both remain dependable options on offence, whilst Oliver Stanley's 11.1rpg is still good for second in the division.
.
Elsewhere this weekend
Derby begin their double-header with a trip to Bradford Dragons (5-7).
One of three teams on 10 points, and with three further teams on eight points, Bradford will be wanting to ensure they maintain their current spot in the top-eight with a win.
The Dragons have lost four in a row though, a streak they'll need to snap sooner rather than later to stop their slide down the table.
BA London Lions (4-8) are another team in that mid-table pack, they host Worthing Thunder (4-9) on Saturday.
The Lions have won two of their last three following a tough 0-7 run, bringing the East London side back into the mix on eight points. Having won just once in their last four games, Worthing could also use a change of fortunes.
Saturday's only other game sees Essex Rebels (5-7) and Reading Rockets (5-8) lock horns in what should be an exciting contest.
Yet to meet this season, the Rebels are coming off an 80-79 win over Leicester, whilst the Rockets are only two weeks removed from an impressive 98-91 victory over high-flying Newcastle.
Alongside the clash between Derby and Newcastle, there are three remaining games on Sunday, starting with the Midlands derby between Leicester Warriors (4-10) and Nottingham Hoods (2-12).
After starting the season 0-9, Leicester have won four of their last five and are one of the form teams in the division. With Nottingham's last victory coming in mid-December, the same can't be said of D1M's basement side.
These local rivals met in early February, playing out an entertaining 79-76 contest that the Warriors claimed to end their winless streak. Hopefully this matchup will offer just as much excitement.
Finally, Bradford and BA London Lions conclude their own double-headers in Yorkshire as the Dragons host the Lions, as Worthing and Essex do likewise, facing off on the South coast in what should be an intriguing contest.
L Lynch Trophy final
If you're looking for a preview of Saturday's L Lynch Trophy final between Solent and Thames Valley, we've got you covered.
There's a button to view the preview below, and the game is set to be streamed through our YouTube channel as well.
It should be a cracker!
.
This weekend's fixtures:
Saturday 20 March
2pm - Bradford Dragons v Derby Trailblazers - LIVESTATS
2pm - BA London Lions v Worthing Thunder - LIVESTATS/LIVESTREAM
3pm - Essex Rebels v Reading Rockets - LIVESTATS/LIVESTREAM
L Lynch Trophy Final - 6pm - Team Solent Kestrels v Thames Valley Cavaliers - LIVESTATS/LIVESTREAM
Sunday 21 March
1:30pm - Leicester Warriors v Nottingham Hoods - LIVESTATS
2pm - Bradford Dragons v BA London Lions - LIVESTATS
4pm - Worthing Thunder v Essex Rebels - LIVESTATS/LIVESTREAM LOCATION
5:30pm - Derby Trailblazers v Team Newcastle University - LIVESTATS/LIVESTREAM
Main image credit - Lauren Newham