Eight teams are in double-header action as part of a busy week six in NBL Division One.
All 14 teams play on Saturday before an extra four games also fill the Sunday slate, meaning there's a packed fixture list for NBL fans this weekend.
It's not just quantity on offer though. Last season's top two Solent and Thames Valley are set to clash, unbeaten Nottingham Hoods face a tricky test on the road in Newcastle, plus there are heavyweight contests between Hemel and Reading plus Worthing and Derby. Quantity and quality, what's not to love?
We take a look at all the weekend's games below, with links to live stats and live streams at the bottom of the page.
Two title hopefuls square off tomorrow as Hemel Storm travel to Rivermead to take on Reading Rockets.
Winners of four of their last five in all competitions, the Rockets come into this one with plenty of momentum on their side. That'll be handy against a side they lost to twice in 2020/21, with Hemel also taking the L Lynch Trophy game 81-78 a month ago.
The visitors may have the upper hand in the head-to-head tomorrow, but they lost last time out as they fell 94-73 at home to Derby. Allowing the Trailblazers to shoot 52% from the floor, coach Spinks will need to see more from his side defensively if Storm are going to get their title challenge back on track.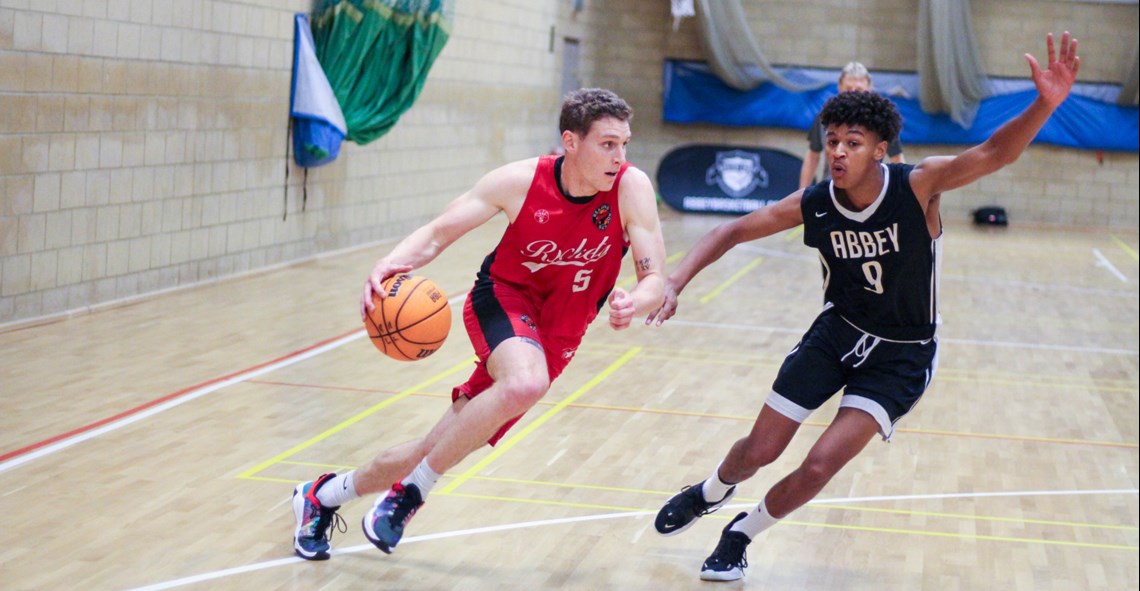 Taylor Johnson's numbers have been nothing short of ridiculous in the early going, impressing across D1M in efficiency (#1), PPG (#2), rebounds (#8), assists (#8) and steals (#2). The American brings so much to Hemel's game plan at both ends of the court and Reading will have to keep the former Thames Valley man quiet to have any chance of securing a positive result.
Reading's Tyler Cartaino has made a bright start to his NBL career, ranking fifth in efficiency behind an 18.0PPG, 9.6RPG, 2.8SPG, 2.4APG stat line through five games. The former Chaminade University alum will also lean on Meshack Lufile and AJ Basi as the Rockets look to hand Hemel a second loss in a row.
Storm currently lead D1M with a 52.4 FG% and their 99.8PPG is also the best mark in the league. Reading allow the second fewest points per game at 71.4, so something has to give tomorrow.
.
Elsewhere this weekend
The weekend begins with a pair of winless teams set to square off as Bradford Dragons (0-4) travel to Essex Rebels (0-5). With only three sides left without a notch in the W column, that number is guaranteed to shrink tomorrow.
Another winless team can also get off the mark in the Midlands as Leicester Warriors (0-5) entertain Oaklands Wolves (1-4).
The Wolves have lost three in a row and the early form of Leicester's American duo Van Turner and Demetrius Levarity suggests the Warriors may be able to turn things around sooner rather than later.
Unbeaten Nottingham Hoods (4-0) finally suffered their first loss of the season last weekend in the L Lynch Trophy quarter-finals but their D1M record remains spotless. That'll be put to the test tomorrow in a tough road game against Team Newcastle University (2-3).
Like Nottingham, surprise package London Lions II (4-1) are riding high and showing teams they're not to be taken lightly. The Lions early season form could continue against strugglers Loughborough Riders (1-4), who aren't in the best form right now.
The South coast is the place to be for big games tomorrow as Worthing Thunder (4-1) face off against Derby Trailblazers (3-2).
Derby handed Hemel a first loss of the season last weekend, whilst Worthing have seen off everyone but Solent in the early going. Two teams with bags of talent, including Derby's reigning Player of the Week Malcolm Smith, this one is not to be missed.
As if that wasn't enough, last season's champs Team Solent Kestrels (5-0) are getting a visit from 2020/21 league runners up Thames Valley Cavaliers (3-2).
These teams met recently in the L Lynch Trophy, with Solent coming out on top 98-88 to seal a spot in the semi-finals. Having already dropped two games this season, losing another at the hands of the favourites for the title might be too much for TVC to overcome, such have been the slim margins of a title challenge in recent seasons against coach Guymon's side.
Moving into Sunday, Solent are at home once again as they welcome Loughborough. The Kestrels will be hoping to be 7-0 by the end of the weekend, a likely possibility against a team they beat 109-67 in league play a year ago. 
Derby's tricky weekend continues as they entertain Newcastle to complete their double-header.
Consistently playing hard behind the talents of Ronald Blain (D1M 3rd-best 29.0PPG), Newcastle have already had to play away against Solent and Hemel, giving coach Elderkin's side an early season record that probably isn't befitting of their ability. 
If Leicester can't pick up a win Saturday against Oaklands, it may be a long weekend for the Warriors as they face one of the most difficult road games of the season on Sunday. Hemel are a tough nut to crack on their own court, and the noise is sure to be cranked up once again at Hemel Hempstead Leisure Centre.
A busy weekend draws to a close with London Lions II taking a trip south to Worthing. 
This fixture was a thriller last April as Thunder just saw off the Lions 85-82 thanks to a game-high 23 points from Zaire Taylor. The former BBL man led Worthing to a playoff victory against the same opponent a few weeks later, ending the Lions' 2020/21 season.
That should provide plenty of motivation for coach Vear's side this weekend!
This weekend's fixtures:
Saturday 6 November
3pm - Essex Rebels v Bradford Dragons - LIVE STATS
3pm - Leicester Warriors v Oaklands Wolves - LIVE STATS/LIVE STREAM
4pm - London Lions II v Loughborough Riders - LIVE STATS/LIVE STREAM
5pm - Team Newcastle University v Nottingham Hoods - LIVE STATS/LIVE STREAM
5pm - Reading Rockets v Hemel Storm - LIVE STATS/LIVE STREAM
6pm - Team Solent Kestrels v Thames Valley Cavaliers - LIVE STATS/LIVE STREAM
7:30pm - Worthing Thunder v Derby Trailblazers - LIVE STATS
Sunday 7 November
4pm - Team Solent Kestrels v Loughborough Riders - LIVE STATS/LIVE STREAM
4:15pm - Derby Trailblazers v Team Newcastle University - LIVE STATS
5pm - Hemel Storm v Leicester Warriors - LIVE STATS
7:30pm - Worthing Thunder v London Lions II - LIVE STATS
Main image credit - Joanne Charles