Rebound's Chris Hughes picks his NBL Team
of the Week and highlights
five
honourable mentions
as well as two impressive 
team performances.  
Chris, a content producer, YouTube host and commentator, casts his eye over the eight games involving NBL Division One teams from Week 22, including the NBL Live game at Oaklands. 
Have your say on this week's choices and give a shout-out to the players you think deserve one using the hashtag #NBL2021. Don't forget to tag us!    
Twitter:  @NBLengland / @Rebound__  
Facebook:  @NBLengland  / @ReboundNBL  
Instagram:  @nblengland / @reboundnbl  
How it works 
The Basketball England NBL Player of the Week goes straight into the starting line-up.    
The other four players are picked with the following factors in mind:    
Efficiency 

 

Stats 

 

Team and opposition strength 

 

Periods of influence in the game 

 
The Rebound team of the week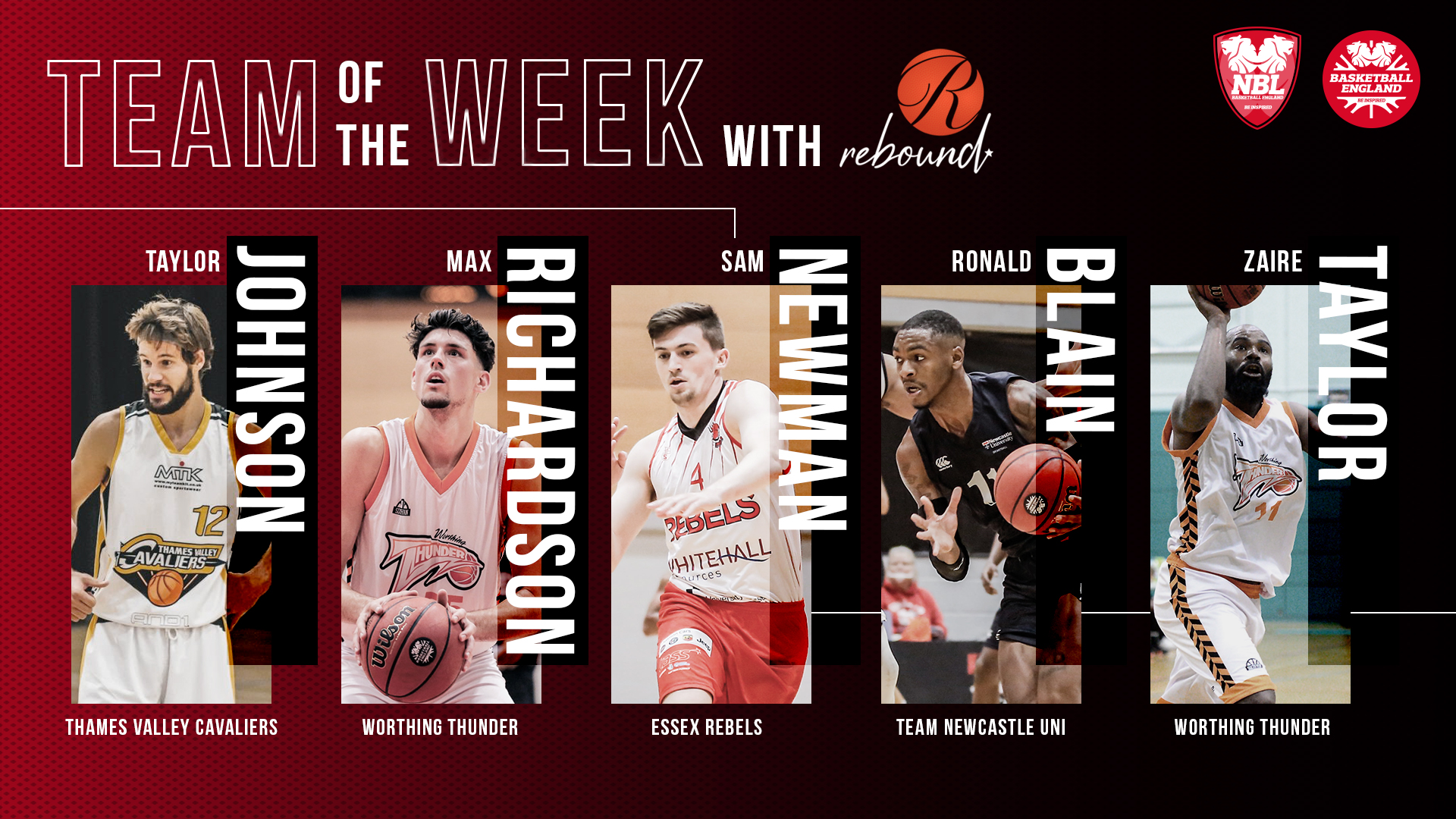 Taylor Johnson – Thames Valley Cavaliers, guard   
29 POINTS, 3 REBOUNDS, 4 ASSISTS, 2 STEALS, 30 EFFICIENCY VS READING 
18 POINTS, 8 REBOUNDS, 6 ASSISTS, 1 STEAL, 20 EFFICIENCY VS SOLENT 
Taylor Johnson put in strong back-to-back performances top land the Player of the Week award on a cumulative basis. His stat line versus Solent may not look sensational, but 18 points versus Solent is the joint third best tally from a player in a NBL Division One game against the reigning champions.  
Johnson's shooting threat also allowed for spacing that prompted the Kestrels' defence to wilt somewhat in the fourth with Lewis Champion bagging 10 of his 19 points in the final act. He was key to a historic win. 
Johnson had already had a big game against Reading in midweek and in total went 8-13 from three-point range. Both Reading and Solent applied a lot of defensive pressure on the former Dartmouth College guard, but Johnson has the ability to really hurt teams in a number of ways, one of which is off the double screen up top, even if he has to sink shots on the move. 
What really impressed in Saturday's win was Johnson's shooting in the paint as he managed to score in the kind of traffic that would not look out of place on a Friday evening on the M25. 
Max Richardson – Worthing Thunder, forward    
26 POINTS, 10 REBOUNDS, 6 ASSISTS, 3 STEALS, 1 BLOCK, 36 EFFICIENCY 
Max Richardson but on a highly efficient shooting performance to finish with a 26-point 10-rebound double-double from 15 attempts.  
The former Loughborough forward was accurate from three-point range with a 2-2 and both those threes were important. Firstly he was fouled beating the half-time buzzer to add an 'and one' that gave Worthing a 21-point lead.  
The second came shortly after in the second half after a 4-0 run by Newcastle. Coach Stanley pressed pause and Richardson got Worthing going again with another three. 
Sam Newman – Essex Rebels, guard    
22 POINTS, 4 REBOUNDS, 6 ASSISTS, 2 STEALS, 1 BLOCK, 28 EFFICIENCY VS BA 
29 POINTS, 7 REBOUNDS, 2 ASSISTS, 4 STEALS, 29 EFFICIENCY VS LOUGHBOROUGH 
Sam Newman grabbed six steals and 51 points in two games to help his side to double success and likely would have been player of the week most other weekends. 
And with playoffs around the corner, wins versus positional rivals such as BA and Loughborough are key. 
Newman seems to have found some extra inches in his vertical which has added to his scoring under the bucket as well as some highlight dunks. It has also seen him transition slightly away from a purely perimeter shooter (average trend decrease of 2.4 fewer three-pointers attempted per game).  
This weekend's scoring has helped keep his average (PPG, FG% & FT%) head and shoulders above that of the last two seasons.  
Zaire Taylor – Worthing Thunder, forward 
23 POINTS, 7 REBOUNDS, 9 ASSISTS, 2 STEALS, 32 EFFICIENCY  
The former NBL MVP put on an awesome performance flirting with a triple-double in this high-scoring shootout win over Newcastle. Since Cameron Hildreth left, the collective has had to step up for Worthing and Taylor's leadership and production at both ends impressed this weekend. 
He scored 23 efficiently from 16 shots, making seven of12 threes as Newcastle really struggled to keep Zaire and co quiet defensively. 
Ronald Blain – Team Newcastle University, forward    
36 POINTS, 6 REBOUNDS, 9 ASSISTS, 2 STEALS, 38 EFFICIENCY  
I joked earlier this season that if there was a sixth man of the year award Ronald Blain had called shotgun. Since then, the flashy forward has moved up the rotation and this weekend led his team with a mammoth 36 points from 25 shots against Worthing and can feel unlucky to be on the losing side.  
The 6ft 5ins forward almost made a perfect 10 from the free throw line, netting all but one attempt. 
As well as scoring, Blain also heavily contributed leading his side with nine assists as well claiming two steals and providing extra scoring opportunities for himself and his team. 
Blain was the only guy on his team to post over 19 points and the only volume shooter to shoot over 52%. The only relative negative was 1-6 from three-point range.  
When Worthing have four starters all posting over 20-points and the team is shooting a 53 FG% and a 50 3P% you know it is going to be a tough day for the opposition. 
Team basketball    
NEWLY PROMOTED REBELS SITTING NICELY IN sixTH 
Essex Rebels are an exciting team to watch on the court as well as a boasting solid streaming production of their live games. 
This weekend they won both their games in their double-header weekend versus positional rivals by displaying defensive steel. 
In both games they did their homework and nullified key threats. In Saturday's game no BA player got more than 12 points as they struggled to shoot greater than a 33 FG%. 
In Sunday's game, they kept all but two scorers under 15 points, with only four reaching double figures. The perimeter defence helped keep Kyle Jimenez and Harrison Gamble to a combined 1-17 from three-point range. 
Mr Triple double Jimenez struggled to get his shot going with a stat line of 4p/6r/10a. Tom Child was particularly impressive with numerous full court presses on the MVP candidate. 
Ben Winter shot well off the bench in both games deserves a mention. As does Ethan Price - his 19 off the bench on Sunday was key as he efficiently shot 70%. 
CAVALIERS SHOOT DOWN KESTRELS' UNBEATEN RUN 
As I mentioned in my preview heading into this one, Thames Valley Cavaliers could take comfort that their game plan from last week's L Lynch Trophy Final worked better this time.  
I was particularly impressed how they managed to disrupt Solent's rhythm in preventing any of their playmakers easy opportunities to rack up dimes and forcing reigning MVP Ian Smith into five turnovers. That, in turn, made easier to handle the threat of Andre Arissol and Travis Charles. 
The Cavaliers raced to an early 13-6 lead before the Kestrels found their way back but a 27-14 fourth-quarter knockout blow sealed a rare loss for Matt Guymon and co. 
Honourable mention to Lewis Champion, while Hakeem Sylla and Taylor Johnson showed their MVP credentials. 
Honourable mentions    
Howard Crawford (WOR v NEW) – 22P/13R/6A/1B/32EFF  
Kyle Jimenez (LOU vs BRA) – 10P/15R/13A/1S/31EFF 
Oliver Stanley (DER vs OAK) – 14P/22R/1S/1B/24EFF 
O'Showen Williams (REA) – 25P/7R/5A/2S/25EFF V TVC & 22P/9R/5A/3S/22EFF VS HS 
Jonas Dieterich (LOU vs ESS) – 25P/10R/3A/4S/29EFF