England has two representatives at a special Jr. NBA Camp in Rome – brother and sister
Tejan and Neve Rugette.
The National Basketball Association (NBA) today announced a four-day Jr. NBA Europe and Middle East Elite Camp will be held at Stella Azzurra in Rome, Italy which runs until Saturday. 
The Jr. NBA EME Elite Camp will feature 60 talented boys and girls ages 13-14 from 25 countries across Europe and the Middle East where Jr. NBA programs currently operate - including the including the Richmond Knights siblings (pictured), who also have also represented England.
Tejan attends Christ's School in London while Neve is student at Grey Court, both in Richmond. Both attended last weekend's Jnr. NBL Final fours in Manchester, with both players making the All-Star fives in their respective age groups, whilst Tejan was the overall MVP of the U14 Boys final.
The camp will focus on positional skill development, shooting, and skills competitions, culminating with three-on-three and five-on-five competition.   
The camp will be conducted by NBA Basketball Operations staff and coaches from Jr. NBA leagues in Europe and the Middle East.  Former NBA and WNBA players and NBA Europe Ambassadors Anastasia Kostaki (Greece), Zaza Pachulia (Georgia), Vladimir Radmanović (Montenegro) and Ronny Turiaf (France) and former NBA head coach Ryan Saunders will also attend and coach the youth players.  Saunders will also lead an NBA Coaching Clinic for the Jr. NBA coaches and invited local coaches.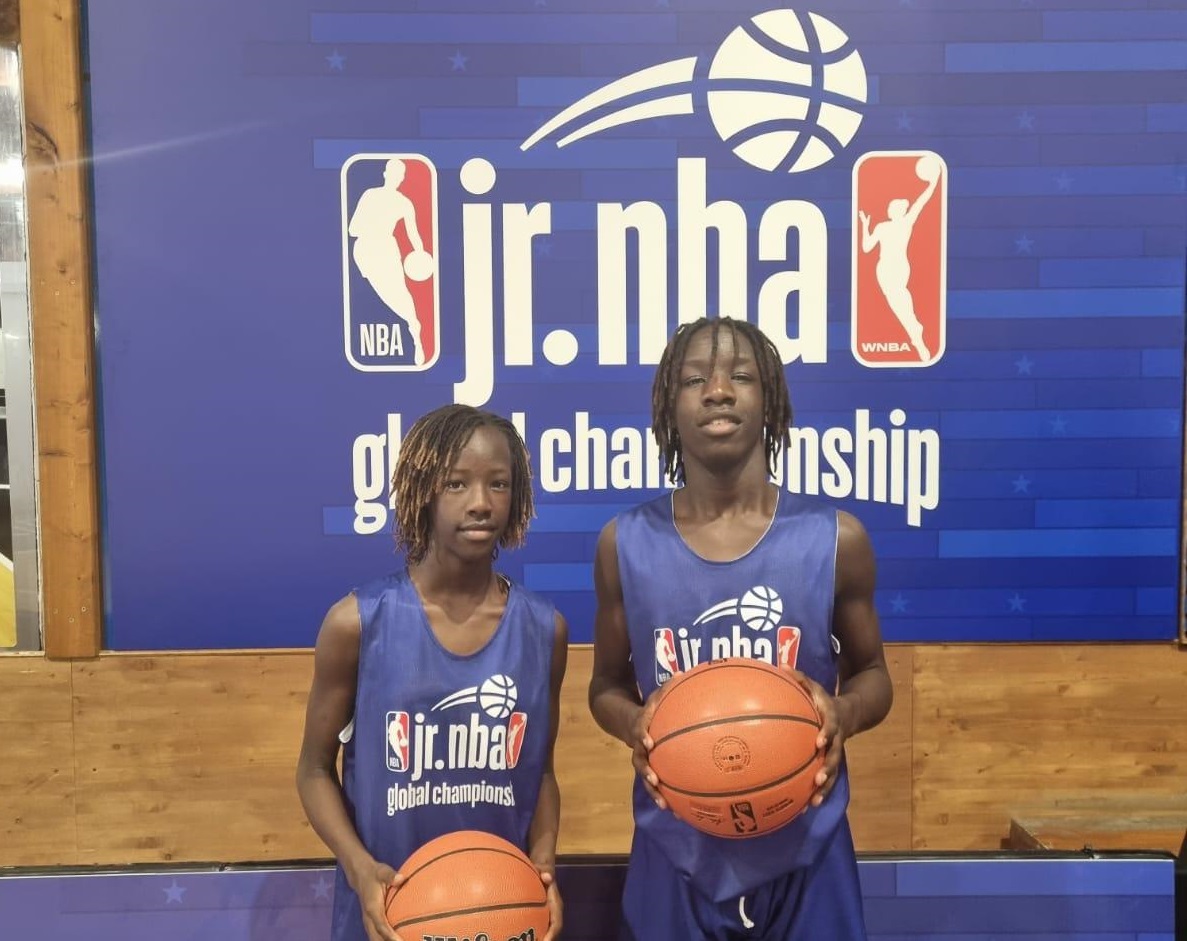 "We are excited to host 60 of the top young boys and girls from across Europe and the Middle East at Stella Azzurra's facilities in Rome," said NBA Associate Vice President of Basketball Operations, Europe and Middle East Neal Meyer.  "The Jr. NBA EME Elite Camp provides a unique and exciting opportunity for these developing players to compete alongside their peers from other countries and learn from established coaches as they advance in their young careers."
"I look forward to seeing the talent on display at this camp from young hopefuls across our region," said Pachulia.  "This kind of intensive basketball experience will be invaluable as they embark on the next stage of their basketball development."  
"It's a pleasure to help guide and evaluate these young players and support up-and-coming coaches as they strive towards the goal of becoming better players," said Saunders.  "I know they will take away lessons from this camp that will help them continue to grow as players, coaches and people in the years to come." 
The Jr. NBA EME Elite Camp will be supported by official NBA partners Nilox and San Carlo.  Nilox will sponsor the Shooting Challenge and the NBA Coaching Clinic, while San Carlo will sponsor a Special Olympics Unified Clinic and the camp's Sportsmanship Awards.  
The Jr. NBA, the league's global youth basketball program for boys and girls, teaches the fundamental skills as well as the core values of the game – teamwork, respect, determination and community – at the grassroots level in an effort to help grow and improve the youth basketball experience for players, coaches and parents.  During the 2021-22 season, the Jr. NBA will reach nearly 37,000 youth in 28 countries in Europe and the Middle East. 
Girls' roster
| | | |
| --- | --- | --- |
| Last Name  | First Name  | Country  |
| Košáková  | Eliška   | Czech Republic   |
| Fischer   | Ella Julie   | Denmark  |
| Rugette   | Neve   | England  |
| Gardziella  | Anna Frieda   | Finland  |
| Badibanga  | Elikya   | France  |
| Foirest  | Louane   | France  |
| Tialadze  | Lizi   | Georgia  |
| Heide  | Maja  | Germany   |
| Schulze  | Lilli   | Germany  |
| Foniadaki  | Efthymia   | Greece  |
| Ophir  | Noam   | Israel  |
| Zilbershlag  | Maya   | Israel  |
| Baldassarre  | Francesca   | Italy  |
| Hassan  | Isabel Mohamud Mohamed    | Italy  |
| Haziri  | Malvina   | Kosovo  |
| Miscenko  | Sindija   | Latvia  |
| Mansour  | Jane   | Lebanon  |
| Mockevičiūtė  | Justė   | Lithuania  |
| Makuła  | Marta   | Poland  |
| Pop  | Silvia Maria   | Romania  |
| Gamal  | Fleur   | Scotland  |
| Radjenovic  | Kristina   | Serbia  |
| Mrak  | Eli   | Slovenia  |
| Lostal Moron     | Claudia   | Spain  |
| Nieto Morales   | Laia   | Spain  |
| Toribio  | Ada   | Spain  |
| Mingert  | Elsa   | Sweden  |
| Awad  | Thea   | UAE  |
| Matthews   | Tamzin   | Wales  |
Boys' roster
| | | |
| --- | --- | --- |
| Last Name  | First Name  | Country  |
| Stampalija  | Toni   | Croatia  |
| Broda  | Jan   | Czech Republic  |
| Noorgard   | Noah Martin   | Denmark  |
| Ziegler  | Mads Nikolai   | Denmark  |
| Rugette  | Tejan   | England  |
| Towo-Nansi  | Aaron   | France  |
| Tatanashvili  | Saba   | Georgia  |
| Scheffs  | Jervis   | Germany  |
| Tsipourlianos  | Georgios   | Greece  |
| Saghy  | Tamas   | Hungary  |
| Hitkes  | Noam   | Israel  |
| Shmuel Aronov  | Aviv   | Israel  |
| Pavese  | Riccardo   | Italy  |
| Kastrati  | Yll   | Kosovo  |
| Kudrjavcevs   | Raivo   | Latvia  |
| Nebhan Moujaes  | Kyle   | Lebanon  |
| Pakamanis  | Ernas   | Lithuania  |
| Štombergas  | Ignas   | Lithuania  |
| Sitkiewicz  | Karol   | Poland  |
| Radu Andrei   | Cepoi   | Romania  |
| Henderson  | James Andrew   | Scotland  |
| Kovač  | Vukašin   | Serbia  |
| Marjanovic  | Stefan   | Serbia  |
| Malovcic  | Tin   | Slovenia  |
| Doucoure  | Mahamadou   | Spain  |
| Maker Bol  | Paul Ater   | Spain   |
| Torrens  | Pau   | Spain  |
| Zurita Rueda  | Marcos   | Spain  |
| Abou Jaoude  | Patrick Samer   | UAE  |
| Albora  | Ali   | UAE  |
| Balde  | Isaias   | Wales  |