Great Britain U20 Men finished in eighth place at FIBA European Championships Division B in Skopje after going down to Switzerland in the final classification game.
Coach Krumesh Patel's side finished the group stage with a 2-2 record to qualify for the quarter-finals, beating Austria 72-63 and Hungary 57-54.
But they fell to hosts North Macedonia 66-49 in the last-eight clash, before losing narrowly in their two placing games - 82-78 to the Netherlands and 82-74 to Switzerland.
James Okonkwo was a GB standout, leading the team in efficiency per game (16.4), scoring per game (12.1) and rebounds per game (9.9).
Lane Campbell and Victor Faroukou also made strong contributions.
Head coach Krumesh Patel said:
"I'm really happy to get U20 Men's programme going again. The boys did the programme proud with a top-eight finish!
"Not only that, we also had some really good individual accolades and achievements in the top 10.
"I believe we could have pushed a little higher, but I think it's great restart point for U20 Men's programme. I couldn't fault the team defence presence early in the tournament, we set a good standard and intensity that eventually got us to the quarter-finals.
"I believe there are areas we need to grow in so that next time we can push further. With the staff and players giving it all in the time we had, I can't fault too much but just look forward and hopefully continue to grow in the massive steps we've already taken this summer.
"I want to thank all players and staff for there commitment this summer and also the federation for all the behind the scenes support! We will be back better and stronger."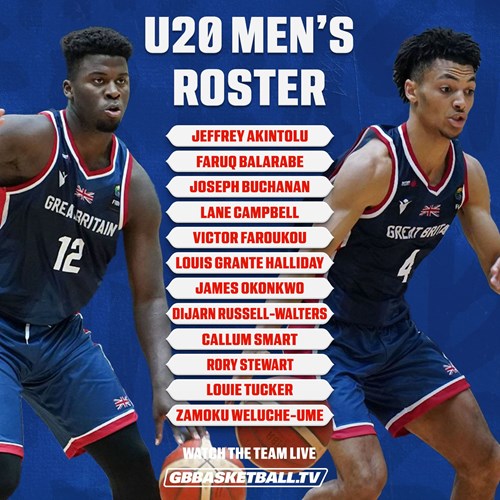 Scores
Friday, July 7 2023 - Great Britain 72-63 Austria - Boxscore
Saturday, July 8 2023 - Portugal 63-56 Great Britain - Boxscore
Sunday, July 9 2023 - Great Britain 60-67 Luxembourg - Boxscore
Tuesday, July 11 2023 - Hungary 54-57 Great Britain - Boxscore
Friday, July 14 2023 - Quarter-final: North Macedonia 66-49 Great Britain - Boxscore
Saturday, July 15 2023 - 5-8 Classification: Great Britain 78-82 Netherlands - Boxscore
Sunday, July 16 2023 - 7/8 Classification: Great Britain 74-82 Switzerland - Boxscore
More information about the Under-20 Men's Championships can be found on FIBA's competition website.
Roster
Jeffrey Akintolu – Avon Old Farms (USA)
Faruq Balarabe – Western Canada (CAN)
Joe Buchanan – Manchester Magic (GBR)
Lane Campbell – Leicester and Loughborough Riders (GBR)
Victor Faroukou – Leicester and Loughborough Riders (GBR)
Louis Grante-Halliday – Seattle University (USA)
James Okonkwo – West Virginia (USA)
Dijarn Russell-Walters – Nottingham Hoods (GBR)
Callum Smart – Bristol Flyers (GBR)
Rory Stewart – Rhode Island (USA)
Louie Tucker – Bristol Flyers (GBR)
Zamoku Weluche-Ume – Barking Abbey/London Lions (GBR)

Reserves:
Ceejay Hanson - Cape Breton (CAN)
Josiah Philip - London Lions (GBR)
 
Staff:
Head Coach: Krumesh Patel 
Assistant Coach: Liam Jefferson
Assistant Coach: Christopher Bourne
Physiotherapist: Javid Mirza
Strength and Conditioning Coach: Jordan Godfrey
Team Manager: Ruchae Walton
Media Officer: Kareem Lee