On the eve of the final day of the 2020/21 season, it's time to announce this year's WNBL Wilson Player of the Year.
Today's winner has played some remarkable basketball and was a clear favourite in this year's voting. Her performances include triple-doubles ability and stat-stuffing efforts pretty much every time she steps on court.
This morning we narrowed the field down to five with the announcement of our WNBL Team of the Year, but from that group there can be only one. For the second year in a row, the WNBL Wilson Player of the Year is Ipswich's Harriet Welham!
This year's winner will receive a commemorative gold Wilson basketball to mark their achievements this season. The award will be presented to Welham shortly before the tip of tomorrow's WNBL playoff final, with CoLA's Jackson Gibbons also being recognised for his Wilson Coach of the Year award.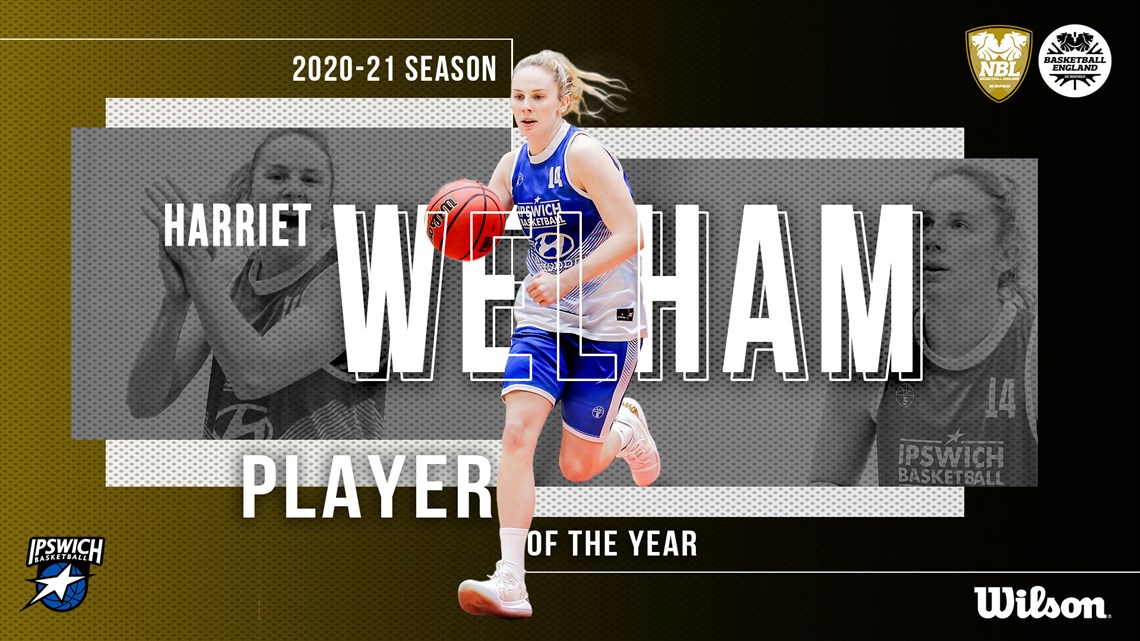 Harriet Welham said: 
"This is a complete shock, winning league MVP, there's been a high level of talent in the league this year and some real standout players.
"But I would like to share this award with my team, who have been my rock and a joy to share the court with. The coaching staff, especially Nick, everyone at Ipswich Basketball Club, who supported us throughout this season and also my family who support me through it all.
"It's been a difficult season for everyone involved, massive respect to everyone who has helped us get on court and the other teams in the league who managed to do the same.
"It's been an amazing season and this has added to that."
Ipswich's head coach Nick Drane said:
"I'm so proud of Harriet, she has been not only the face of our team but the face of this league for the last couple of seasons and has handled that responsibility brilliantly.
"To win back-to-back Player of the Year awards, both years leading the team to the league championship while putting up, frankly, insane individual numbers is testament to her talent, work ethic and commitment to not only her own performance but the teams overall success.
"I have never coached a more influential or valuable player!"
Welham etched her name on this prestigious honour as the leading vote-getter amongst D1W coaches this season and the back-to-back winner plus the four best runners up were all used to create this morning's WNBL Team of the Year. 
A number of other well-deserving players also received votes from the D1W coaches, with each head coach being given five votes to allocate across this year's nomination list, which can be viewed by clicking here.
A first place vote was worth five points, a second place vote was worth four points, and so on. A breakdown of this year's voting can be seen below, with the number in brackets representing the number of first place votes received. Congratulation to all!
Harriet Welham (IPS) - 40 points (5)
Makana Stone (LOU) - 24 points (1)
Esther Little (IPS) - 23 points (3)
Isi Ozzy-Momodu (CoLA) - 13 points
Sitota Gines Espinosa (REA) - 12 points
Katherine Goldsby (TVC) - 11 points (1)
Schekinah Bimpa (NTU) - 8 points
Katie Januszewska (LOU) - 4 points
Simona Henshaw (CoLA) - 3 points
Evi Dekker (NTU) - 3 points
Carolina Marques (WOR) - 2 points
Molly Lavin (CoLA) - 2 points
Erica Meyer (TSK) - 1 point
Candela Hermida Nunez (REA) 1 point
Inma Bautista (WOR) - 1 point
Amber Deane (CAR) - 1 point
Robyn Ainge (LOU) - 1 point
That concludes our WNBL end of season awards for 2020/21, and you can use the buttons below to recap all the honours announced this week.
Tomorrow's WNBL playoff final between Ipswich and CoLA Southwark Pride will bring down the curtain on the 2020/21 season. For more information on that game, click HERE.