After our week of NBL end of season honours, it's time to announce this year's NBL Wilson Player of the Year.
Today's winner has played some remarkable basketball and lifted their team to an incredible 2020/21 season. A standout force at both ends of the court, combining shooting, rebounding and a dominant defensive presence.
This morning we narrowed the field down to five with the announcement of our NBL Team of the Year, but from that group there can be only one, and the NBL Wilson Player of the Year is Hemel's Greg Poleon!
This year's winner will receive a commemorative gold Wilson basketball to mark their achievements this season. The award will be presented to Poleon shortly before the tip of tomorrow's playoff final, with Solent's Matt Guymon also being recognised for his Wilson Coach of the Year award.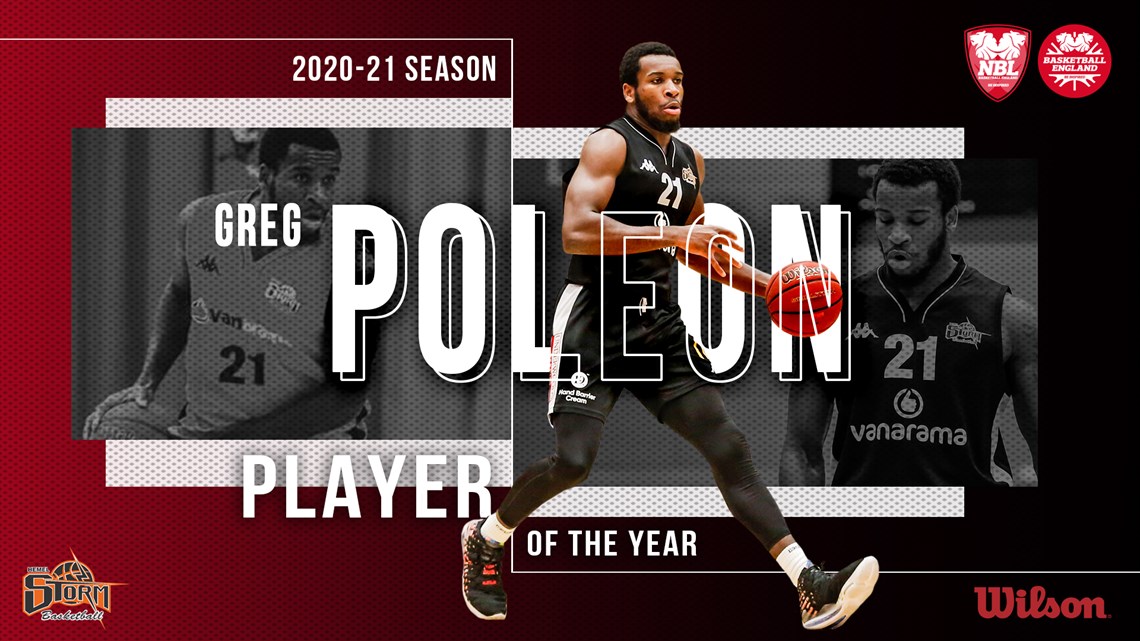 Greg Poleon said: 
"I'm extremely honoured to receive such an award, but this award wouldn't be possible without the constant help and guidance from both my teammates and coaches.
"Also I would like to thank all of the coaches within the NBL that voted for me."
Hemel's head coach Dru Spinks said:
"We are really pleased for Greg and his deserved recognition for his body of work across the whole 2020/21 season.
"Greg's approach and commitment to his craft, the club and his teammates alongside the discipline he shows in his preparation (often when no one is watching) in only his second year of his professional journey, is very impressive and he is a joy to be around.
"The consistency of his performances, week in week out, along with the efficiency of which he operates has really stood out.
"We are all excited for Greg as his game continues to grow and go from strength to strength."
Hemel's Director of Basketball Jon Burnell said:
"Greg thoroughly deserves this recognition of being awarded the Player of the Year in NBL Division 1 this season. 
"He has incredibly high standards, a wonderful team ethos and his consistency makes Greg a worthy recipient of this award.
"He has been a stand out player in our league since the get go. We couldn't be more proud of what he has achieved both for himself but vitally his contribution to the success of the team,  all of which have been achieved in the very challenging circumstances of the pandemic.
"Greg is a treasured member of our organisation and our community and we are all delighted for him."
Poleon scoops this prestigious honour as the leading vote-getter amongst D1M coaches this season and the Hemel man plus the four best runners up were all used to create this morning's NBL Team of the Year. 
A number of other well-deserving players also received votes from the D1M coaches, with each head coach being given five votes to allocate across this year's nomination list, which can be viewed by clicking here.
A first place vote was worth five points, a second place vote was worth four points, and so on. A breakdown of this year's voting can be seen below, with the number in brackets representing the number of first place votes received. Congratulation to all!
Greg Poleon (HEM) - 50 points (3)
Hakeem Sylla (TVC) - 38 points (2)
Taylor Johnson (TVC) - 36 points (2)
Ian Smith (TSK) - 30 points (3)
Travis Charles (TSK) - 26 points (2)
Kyle Jimenez (LOU) - 15 points (1)
Ronald Blain (NEW) - 11 points (1)
Orlan Jackman (TSK) - 9 points
Mo Williams (LEI) - 3 points
Sam Toluwase (REA) - 3 points
Martyn Gayle (LEI) - 2 points
Ricky Fetske (BRA) - 1 point
Sam Newman (ESS) - 1 point
That concludes our NBL end of season awards for 2020/21, and you can use the buttons below to recap all the honours announced this week.
The WNBL nomination lists were also released this week and have been linked below, with winners set to be announced from Monday 24 May.